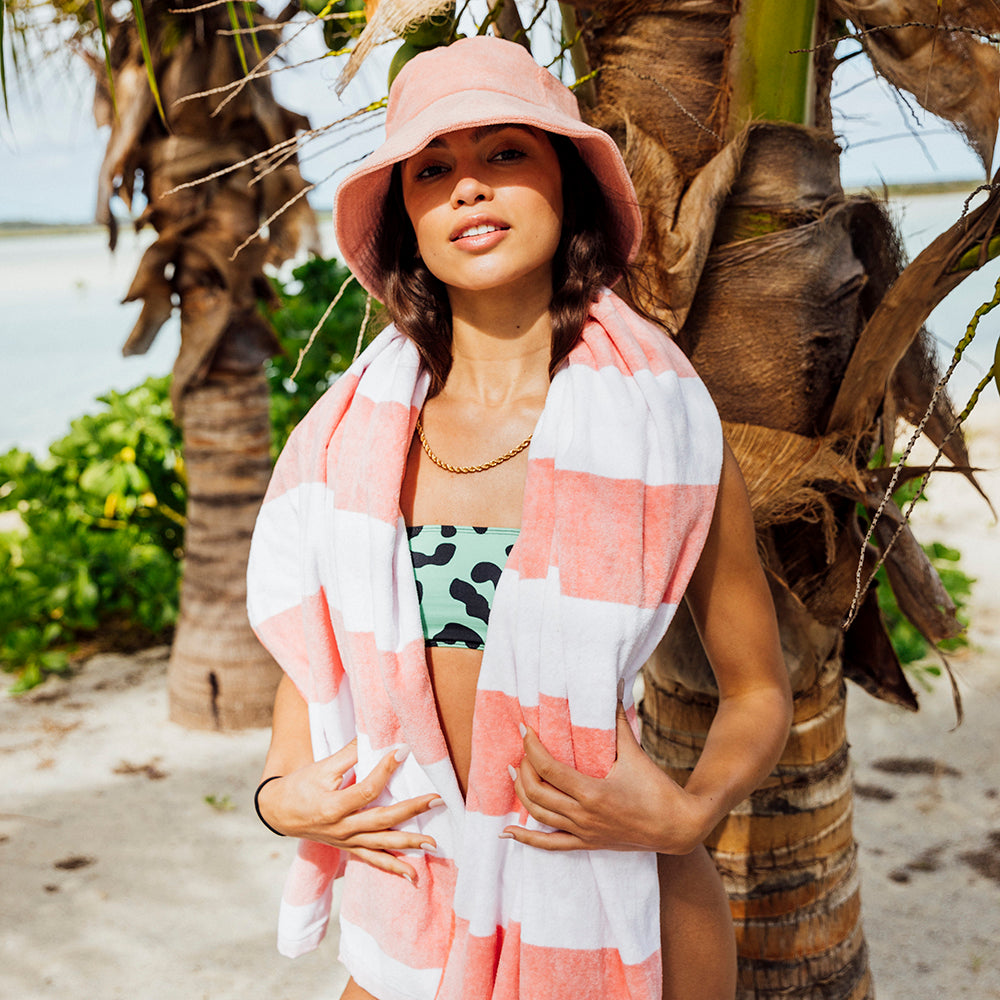 Beach Activities The Kids Will Enjoy
It wouldn't be summer without a trip to the beach. The warm sand between your toes, the kids running and splashing in the salty waves, and seagulls are hovering above, ready to steal your turkey sandwich. Ah, beach days can be absolutely awesome! But let's be honest, it's a lot of work. By the time you make snacks, pack the cooler, get swimsuits and sunscreen on, and stake your claim to the perfect spot on the beach for the day, you're exhausted and ready to relax. The last thing you want is a cranky kiddo who is ready to go home half an hour later. But it's tough because kids tend to lose interest fast— unless you've got some entertaining activities up your sleeve to keep them happy. 
Whether you frequent the beach daily or are lucky to get in one visit a summer, you want to come prepared with fun beach activities to make the trip worth it and fun for everyone— especially the little ones. Need some help coming up with entertainment? Here are some great beach activities the kids will enjoy. 
Bucket Run 
This game requires your kids to use their muscles and find their inner warrior! What you'll need are four buckets or sand pails. Fill each bucket up with sand. Next, pick a spot that your kids will run to about fifty yards out. You can use your favorite FUNBOY Retro Lawn Chair or towels as a marker. Basically, two of the little ones race each other to the markers and back while carrying a bucket of sand in each hand. If your kids are really young, fill the buckets halfway, or have them run without any buckets. The first one to make it back is the winner. 
Mini Golf
Let your tiny tot bring out their inner Tiger Woods and spend a day at the sandy links. Pick up an inexpensive set of plastic gloves and balls at your local dollar store or improvise with what you have on hand at the beach. Set up a few targets to aim for or have your child help you to dig a few holes in the sand and let them practice their short game. 
Fly A Kite 
Have you ever encountered a child who didn't love to fly a kite? No? We didn't think so! Flying a kite is a beach tradition that is sure to keep your kiddo busy for quite some time. Even if there isn't a whole lot of wind, kids can run with kites and have a great time watching them fly behind them. Kites can be purchased in toy stores, dollar stores, online, or kids can even make their own before the next beach visit. 
Beach Limbo 
The limbo dance originated in Trinidad in the 1800s. Fast forward to the 21st century and add a fun beach twist. With two people holding the ends of a jump rope, pool noodle, or boat oar, have each child take a turn trying to go under the "bar" with their backs facing the sand. After each child has succeeded at a certain height of the bar, lower it again and again, making it more challenging every round. If you can play music without disturbing other vacationers on the beach, be sure to pick a selection of fun beachy hits. 
Beach Bowling
If you've never played beach bowling with your little ones— you should. This game is loads of fun that is sure to leave your kids smiling from ear to ear, and the best part— no stinky bowling shoes required! Line up empty bottles or simply sculpt bowling pins out of the sand. Let the smaller kids line up closer to the pins and toss a beach ball with the goal of knocking them down. 
Obstacle Race
Obstacle courses are a blast to create on the beach. Let your kid's imagination soar and have them help design, build, and designate areas for each challenge. Here's an example (In between each obstacle, run 20 to 50 feet):
Do jumping jacks.

Jump over towel-hurdles.

Crawl in the sand.

Climb over a family-made sand mountain.

Do 20 lunges.

Sprint in the water.

Sprint backward to your next obstacle. 

Spin in a circle and then sprint to the finish line.
See who can finish the fastest and let the winner choose the next beach activity.
Build A Beach Fort 
The beach can get hot. Likereally hot. A fun way to cool down the kiddos is to help them build a super cool beach fort! Using the items, you brought to the beach like beach chairs, towels, and a blanket, put together a shady area where your tiny tots can sit underneath. This is a good time to reapply sunscreen to their rosy cheeks and let them get a bite to eat. 
Kiddie Pool 
Want to keep the toddlers entertained? Bring your tiny tots favorite FUNBOY kiddie pool to the beach and fill it with some seawater to create a safe play area for them. Kiddie pools are an excellent way to prevent the little ones from getting bored and will keep them cool at the same time. 
Pro-Tip:Bring a few bath toys from home like the good ol' rubber ducky to keep your tot giggling for hours on end. 
Sand Hopscotch
Bring the popular hopping game to the beach! Using a stick or rock, draw a grid on the sand and use rocks or shells for markers. If the sand is hot, make sure the kiddos keep their flipflops or water shoes on to avoid burning their little toes.
Slithery Snake Game 
Warning: this game may trigger lots of laughter! Have two adults hold the ends of a skipping rope down on the sand. Wiggle the rope slowly or quickly depending on the age of the kiddos, and have them jump over the rope without getting touched by the "snake."
Bubble Blowing
A beach is a great wide space to blow and chase bubbles. And if the sticky bubble liquid happens to spill on your swimsuit, simply head for the water and take a quick dip to wash yourself off. Kids are easily entertained by this simple yet inexpensive activity. They can chase the bubbles around and be blown away by the 'magic.' Bubble blowing is sure to keep your little ones occupied for a long time. 
Beach Scavenger Hunt
Scavenger or treasure hunts are an excellent way to keep kids entertained at the beach. Organize a simple scavenger hunt where you hide shells, leaves, feathers, or any other item for them to find. Be sure to keep all of the little 'treasures' closeby so your tiny tots don't wander too far. Promise a prize for the child who finds the most items. Nothing motivates kids more than prizes!
Beach Tic-Tac-Toe Game 
Everyone loves a game of Tic-Tac-Toe, and the best part about playing at the beach is Mother Nature provides everything you need. Just draw the squares in the sand, grab a piece of driftwood or shells, and whammo— you and you're kids are ready to play!
Do You Want to Build a Sandman?
Transfer your kid's winter skills to the beach and build Frosty's cousin: a sandman! A sandman can be decorated with shells, pebbles, sea glass, or rocks for the eyes and mouth. Children can use their creative skills to find other beach treasures such as seaweed or feathers for their sandman's nose, arms, clothing, etc. Finish their sandman off with some cool shades to help really make him come to life.
Relax On A Float  
Ah, now we're talking! Grab a large pool float like FUNBOY's Rose Gold Crown Island that can comfortably seat five people. Have your little ones sit down next to you as the waves gently roll beneath the float, making for a soothing experience in the water. Play games like "I Spy" and have your tiny tots search for fish and seaweed. Relaxing on a float with your kids as the salty waves splash next to you is definitely something that everyone will enjoy. 
Picasso In The Sand
Last on the list but definitely not least, using a stick, fingers, shovels, or rocks, have the kids draw a picture, a word, or letters in the sand. They can use any treasure that they found on the beach like seashells and rocks to really make their drawing come to life. 
Final Word
After a long day at the beach, its time to cool down. Go for a nice stroll along the water with your kids and search for eye-catching seashells that they can take home with them as a souvenir of the amazing day they had with you. Don't forget to slather them up with plenty of sunscreen throughout the day and make sure they drink lots of water to stay hydrated. Have fun with your little ones, and enjoy your beach time! 
Sources:
https://www.pgatour.com/players/player.08793.tiger-woods.html
http://www.tntisland.com/limbo.html