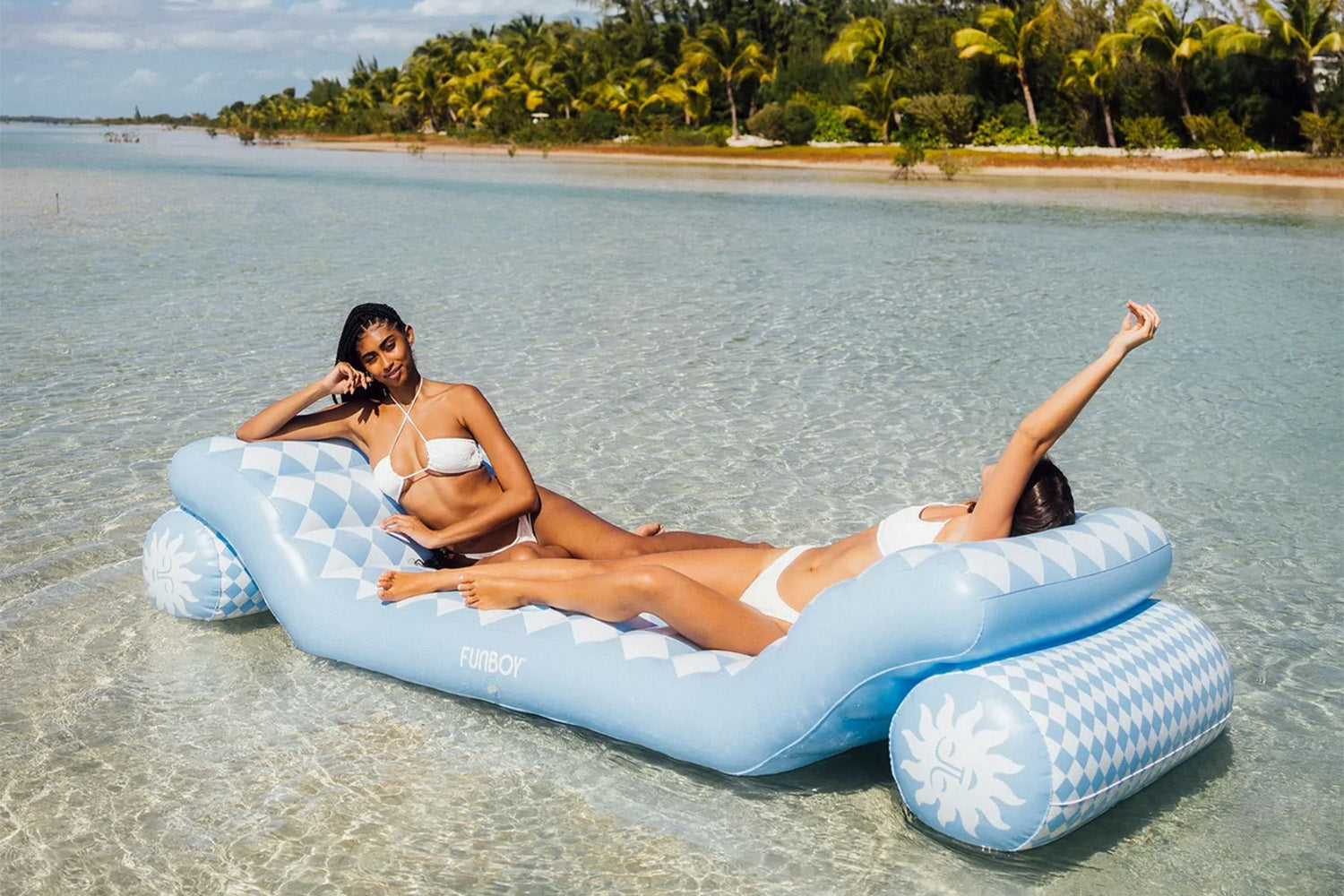 Best Beaches To Visit in November for a Perfect Fall Getaway
As autumn leaves change color and the weather starts to cool down, many people crave a beach vacation. November is a wonderful time to take advantage of the quiet beaches and beautiful scenery before the winter rush.
The weather is warm enough to enjoy, but not so hot that you'll sweat all day. Plus, fewer people are around, so you can relax without feeling crowded. Whether you're looking to escape the cold weather or just enjoy some time in nature, a November beach trip is the top way to enjoy a fall getaway.
Check out some of the hottest beaches to visit in November below:
Lahaina, Maui
Lahaina is a great beach to visit during November for Instagram-worthy pics and gorgeous scenery. The water is warm, and the sun is shining, making it an ideal time to hit the sandy shores. Dozens of activities keep you busy — such as swimming, surfing, fishing, and even stand-up paddle-boarding if that tickles your fancy.
Luxe floats such as our FUNBOY X Barbie Dream Oversize Tube Float add an extra touch of groovy joy to the experience. The scenery is breathtaking, with its white sand beaches, crystal clear water, and lush green mountains in the background. When it comes to having a good time in the sun (and relaxing), you simply can't do better than Lahaina.
Kailua-Kona, Hawaii
Kailua-Kona is famous for its beautiful beaches. November is an ideal time to visit, as the weather is optimal for surfing and sunbathing. The beach and crystal-clear water make it the best place to take fabulous pictures in chic and trendy swimsuits.
In addition to its white sandy beaches, Kailua-Kona is also home to numerous restaurants, shops, and attractions. It's a deep-sea fishing hot spot, hosting the International Billfishing Tournament in August. After you grab a bite to eat, make sure to sip a cup of 100% Kona coffee; this delicious beverage is only grown on the Kona Coast. This vibrant community has something for everyone, making it an ideal place to spend a relaxing vacation.
Driftwood Beach, Georgia
Driftwood Beach on Jekyll Island is one of the most iconic beaches for nearly too many reasons to list. For starters, the weather is usually milder than it is in other parts of the country, making it ideal for a beach day. Additionally, the water is typically calm and clear, making it great for swimming, boating, or just relaxing on the sand. However, you cannot collect any of the fame-making driftwood from this locale. 
Driftwood Beach is known for its incredible sunsets — it's not voted one of America's Most Romantic Beaches for nothing! The beautiful beach is all about watching the sun dip below the horizon. 
The sky lights up in a spectrum of orange, red, and yellow while relaxing on the golden sand with a cute and aesthetic beach towel like our colorful Blue Tie Dye Beach Towel. It's an unforgettable experience that's well worth planning a vacation around.
Folly Beach, South Carolina
Folly Beach is one of the wonderful beaches in November for several reasons:
First, the weather is still warm enough to enjoy the beach without worrying about being too cold. 
Second, the crowds are much smaller at this time of year, so you can enjoy the peace.
Third, the scenery is beautiful during this time of year, with the leaves changing color and the waves crashing against the shore. 
Fourth, plenty of activities keep you busy, from swimming to fishing and kayaking. Hit up one of the many local surf schools or fishing charters for a taste of the open waters. Or stroll on the beach and pier, and spend some change on those cutesy souvenirs we all love. 
You can relax and sunbathe near the crystal clear water on a fringed beach towel. Folly Beach is sure to take up a few scrapbooks when you come home to document this adorable location and your time there.
Gulf Shore, Alabama
Gulf Shores, Alabama, should 100% be on your Nov. vacation to-do list. First, get recreational with helicopter tours, beach yoga, or sunset strolls. Then, get educational with a visit to the nearby Fairhope Museum of History and the Conde Charlotte Museum. 
And if you're looking for a little more excitement, you can always take a walk on the pier or ride the waves on a Jet Ski. No matter what your preference, Gulf Shores has something for everyone. So pack yourself a cute tote bag like our Iridescent Beach Tote with some cute beach attire, and head on down to Gulf Shores for an unforgettable experience.
Miami Beach, Florida
Looking for a sunny escape this November? Then head to Miami Beach, where the weather is warm and the beaches are unbeatable. In fact, Miami Beach is consistently ranked as one of the top beaches in the world, and it's easy to see why.
The turquoise waters and soft sand make it a blissful relaxation destination, and there's always something going on, whether it's a festival, a parade, or simply people-watching. The architecture is totally one-of-a-kind and world-famous Cuban cuisine. 
So why not enjoy a beach party in the sun with our Blue Sol Giant Cabana Dayclub? You'll be glad you did.
Ocean City, Maryland
Why wait for the summer season to enjoy a beach vacation? Ocean City, Maryland, is one of the coolest to visit in November, thanks to its mild weather and beautiful beaches. All family members can enjoy a relaxing vacation here, with plenty of activities to keep everyone entertained.
Kids will love exploring the sand dunes, searching for shells, and enjoying the water with cute floats, while adults can appreciate the stunning sunsets over the Atlantic. With its quaint cafes and charming shops, Ocean City is the perfect place to escape the hustle and bustle of everyday life.
Hilton Head Island, South Carolina
Hilton Head Island is a superb place to visit in November. The weather is warm, the beaches are beautiful, and the golf courses are second to none. 90-minute wild dolphin tours are popular activities, as is climbing up the 90-year-old Harbour Town Lighthouse. 
Kids will love playing in the waves (there are 12 beaches on this island!) and exploring the Sea Pine Forest Preserve (adult supervision is required for everything always). Adults can enjoy the tranquility of the beaches or the pools at the resorts with our White Leisure Chair.
Pawley's Island, South Carolina
Pawley's Island is a fan favorite when it comes to fall vacations. The temperatures are mild, and the water is still warm enough for swimming. But most importantly, the crowds have dissipated, and you can enjoy the island's quiet beauty. Enjoy sunbathing on the sun-kissed sand with a cute beach towel like our 70s Wave Beach Towel.
Pawley's Island is home to several state parks, including Huntington Beach State Park, known for its pristine beaches and abundant wildlife. Brookgreen Gardens is another highlight of the island, offering nine different gardens to explore and a zoo and sculpture park. Whether you're looking for relaxation or adventure, Pawley's Island has something to offer everyone.
Pensacola Beach, Florida
Pensacola Beach is one of the superb beaches in November. Here on the western tip of Florida, the weather is mild, the crowds are gone, and the water is still warm enough for swimming. Here, fishing is the name of the game, but vacationers would be remiss not to head out for a glow-in-the-dark kayak ride or play and dine at Laguna's Beach Bar + Grill Adventure Park. 
Not to mention, there's always a chance to spot a sea turtle or two. Don't forget to pack a cute tote bag to carry your towel and sunscreen in! So if you want to enjoy a beach vacation that's both relaxing and fun, be sure to put Pensacola Beach on your list.
Fort Walton Beach – Okaloosa Island, Florida
Nestled on the Emerald Coast, Fort Walton Beach – Okaloosa Island is best known for its sugar-white sands and crystal-clear waters. However, this beach destination has so much more to offer visitors. Young and old alike will delight at the Pirate Show, featuring singing swashbucklers. Surf fishing is another top activity for people who love a taste of adventure. 
Additionally, many resorts offer special rates during this time of year, making the highly-desirable hotels on the west side of the pier more attainable. So if you're looking for a bargain, November is the time to use up your PTO. 
Bottom Line
If you're looking for a beach getaway that won't feel too crowded and is perfect for enjoying the fall weather, these are some great beaches to consider visiting in November.
From Hawaii to Florida, there's sure to be a spot on this list that will appeal to you. So pack your suitcase, grab your favorite FUNBOY float and head out for some fun in the sun and sand!
Sources:
Sun Safety | Skin Cancer | CDC
City of Miami Beach | Miami Beach FL
Driftwood Beach • Jekyll Island, Georgia • Vacation, Conservation, and Education Destination | Jekyll Island Authority