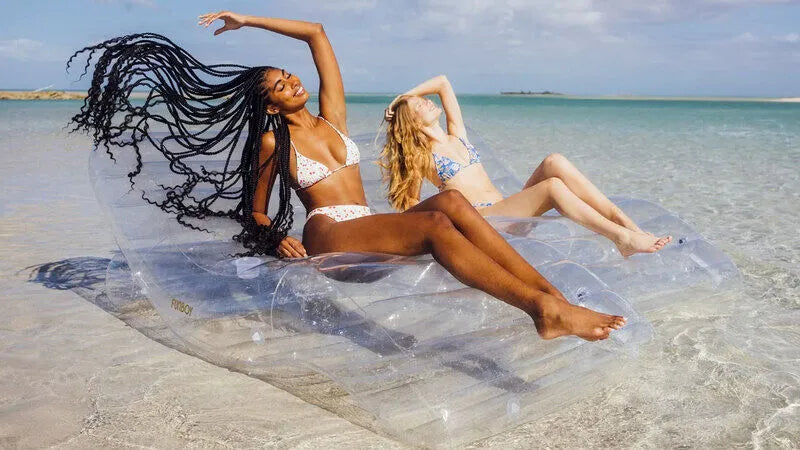 How To Throw The Ultimate Beach Party
"The ultimate beach party." What a phrase. It's magical sounding, in a way. Can't you just picture it?
The perfect sunny day at the beach, all your favorite people, exciting beach activities, snacks, and a whole day of lasting memories to be made. It can hardly wait! Start jotting down your guest list on your phone while reading through this article and gathering ideas for an unforgettable beach party. 
Invite the Best People
In order to throw the ultimate beach party, the best people in the world have to be there. It's up to you who makes the cut. If you can find a date that Harry Styles and Kendall Jenner are both available, that's a good place to start. 
However, if you aren't able to get A-list celebs to be there, your party can still be ultimate. Maybe all you need to throw the ultimate beach party is a couple of good buddies and a playlist that truly slaps. Or perhaps it's a family affair that will leave both little and big footprints in the sand. 
Regardless of who you invite or how many people RSVP, the people who show up are the ones who will make your ultimate beach party happen. After all, they are the best people in the world (especially when they show up with chips and salsa). 
Bump the Ultimate Beach Playlist
Music can make or break a party. If we're talking about the ultimate beach party, we definitely need music to add additional flavor to the atmosphere. 
Live music is probably the top option. It's tough to beat a good live performance. However, it's also a big undertaking to set up a beach concert. If you can manage live music, even if it's not to the level of KISS or something grandiose like that, it'll be worth it. 
Alternatively, you could get a DJ to perform or just bring a simple Bluetooth speaker. It really depends on the scale of your shindig. 
There are people out there who claim to have the ultimate beach playlist. You could try out their selections or see what our team is grooving to our FUNBOY Leisure Club Spotify mix.
Creating the Ultimate Snack Spread
If you're out in the sun all day, hitting the waves, dancing to some music (maybe after a drink or two), you definitely need to have some snacks to keep your energy up. The ultimate snack spread for your beach party comes down to how much effort you want to put in and your food budget.
If you're looking for quick, easy, and cheap, "ultimate" might mean raiding 7-Eleven before searching for that elusive beachfront parking spot. 
If you're like the FUNBOY team, we're heading over to Erewhon Market in Venice Beach and stocking up on a yummy selection of local eats. We love the Raw Kale Chips and the Asian Chicken Salad. 
If you want food to be a big part of the event, you might think about getting a grill set up for your party, hiring a food truck, or catering from a local seafood restaurant. 
If you potluck this shindig, remember that coordination is key; pull out that planner and make a list, check it twice (and don't let everyone cop out and only bring ice).
Picking an Elite Drink Selection
An elite drink selection for your ultimate beach party should include drinks for everyone:
Water:necessary. 
Soda: Forget traditional soda, we're currently obsessed with Olipop that's made with natural ingredients and prebiotics for ultimate gut health. 
Alcohol:basically necessary but not to the level of water. Sodas and mixers are also nice so that people can make all sorts of cocktails and mocktails. We're also digging non-alcoholic drinks like Kin Europhics (super model Bella Hadid's adaptogenic drink that aims to boost serotonin) or Drink Ghia's Apertif.
Have you ever had coffee or iced coffee on the beach? If you're a coffee drinker, add that to the list.
Need a fun way to display and store your drinks? Consider FUNBOY's Rainbow Cloud Drink Station or FUNBOY's Tropical Cooler.
Finding a Great Location for Your Beach Party
You need a beach. Ideally, a clean beach with panoramic views, crystal clear water, and a light and sweet breeze. The waves gotta be good for surfing, and the sand has to be soft but still has shells and things to discover. (Also not so hot that your feet get toasted.) 
The location will also have some bathrooms available. Finding a decent bathroom at the beach is a tricky thing sometimes, but not at this ultimate beach party. Convenient and clean beach bathrooms with no line.
What Are the Top Beach Games To Play?
A little spikeball, some beach volleyball, ultimate frisbee? Your ultimate beach party has all the best beach games that people want to play. It might even have some sort of lowkey-multisport-tournament of sorts.
Cornhole, there has to be cornhole. People love trying to toss those bean sacks through that tiny hole. 
Places To Hang in the Shade
Soaking up the sun is one of the best parts about going to the beach, but that doesn't mean that a little shade isn't nice. At your ultimate beach party, you want to set up some structures that provide a cool place to chill for a minute. 
Umbrellas are a beach vaca classic, but they don't exactly share the shade wealth. They're perfect for one to two people, but you're going to need to go big, or you'll have to go home (We don't make the rules.).
If you're looking for something that provides a bit more shade so that more people can hang out in its revitalizing sun-free zone, an easy-up/pop-up tent might be a better option. 
And, since we're talking ultimate, you can't get much better than this Giant Disco Dome Island Float. Chill with some friends floating in the water or on the sand; they'll be valuable shade coverage wherever you set it up.
Must-Have Water Toys
How come we always say, "We're going to the beach," instead of, "We're going to the ocean?" If the ocean wasn't there, would we still go to the beach, or would we just go to a local sandbox? Or would we refer to it as a desert?
Either way, the point is, for the ultimate beach party, you have to make preparations for the sand and the water. 
Instagram-Worthy Beach Accessories
Add an fun aesthetic to your ultimate beach party by including FUNBOY floats as beach loungers, a comfy solution to beach seating or sunbathing. We recommend the Rainbow Chaise Lounger Collection - perfect for lounging on the sand. 
Surfboards on Deck
The ultimate beach party might have surfboards already waiting on the shore for people to grab and paddle out. Or perhaps you just rent surfboards or bring your own.
Be safe and catch a gnarly wave. 
Boogie Boards
It might be a good idea to include boogie boards as well. They're a bit easier to navigate than a surfboard and a little better for charging waves than a pool float.
Somebody who doesn't feel like trying surfing but wants some intense wave action might fully send it with a boogie. 
Snorkeling 
Ever swam with colorful schools of fish? What about giant sea turtles? Well, at your ultimate beach party, you might get the chance to, especially if you choose one of the top snorkeling beaches in the US.
No snorkeling gear pack is complete without an underwater camera. Nothing will commemorate your ultimate beach party like a selfie with a sea creature.
Watch the Sun Set
You're tired out from playing volleyball and getting pummeled by waves all day. You just watched a colorful sunset. Now it's time to raise a glass and extend the beach party into the night. 
Pour another drink, crash in your retro lawn chair and see if you can make it till sunrise! Or, if your ultimate beach party includes getting home and in bed at a reasonable hour, that's totally fine too. 
Sand in Demand
There might be a lot that goes into your ultimate beach party. If you plan on including all the suggestions mentioned above, you've got a good amount of preparations to take care of before the party. 
But you can also pull off the ultimate beach party without doing all of these things. It's more about the attitude you go into it with — not about the scale or extravagance of your party.
If you go into it with your mind made up that it's going to be the ultimate beach bash, your approach will rub off on others. It's sure to be an epic time. 
Sources:
The Best Beach Music to Pump You Up for Warm Weather | Marie Claire
Types of Shells to Find on Beaches Around the World: Facts, Chart and Pictures | Outforia