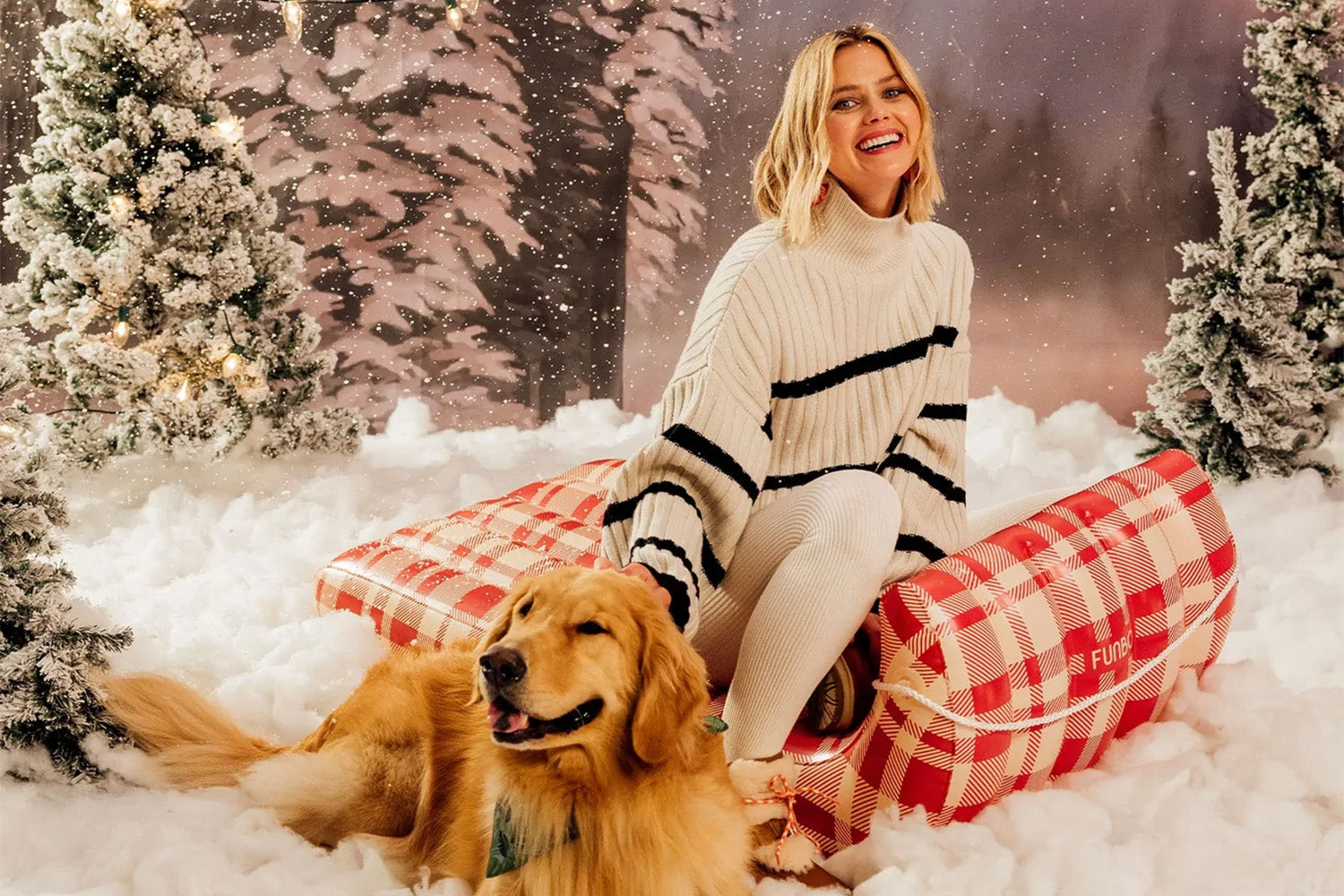 5 Best Places To Go Snow Tubing in New Jersey
Sure, snowboarding in Aspen is great, and skiing in the Alps can't be beaten — but have you ever gone snow tubing in New Jersey? We know what you're thinking: "What's so special about the Garden State?" Well, for one thing, it's home to a bunch of snow tubing parks.
In this post, we're taking a trip to the East Coast to uncover some of the best places to go sledding in New Jersey. So, if you're on a mission to surge down snow-covered hills this winter — keep reading.
Where Can I Go Snow Tubing in New Jersey?
It's time to explore the best places to go snow tubing in the Garden State.
Although there are many amazing options to choose from, here are some of our favorite parks:
1. Mountain Creek Tubing Park
This popular winter utopia boasts one of the largest tubing parks in the region (and the country, for that matter), with 30 slippery chutes that span more than five acres.
And the best part? Two convenient magic carpet lifts take you to the top, so there's no need to hike. Of course, if you had your lightweight inflatable FUNBOY sled with you, hiking back up the hill wouldn't be a problem — just saying. 
2. Fort Mott State Park
On the hunt for some of the best public snow tubing in New Jersey? Head on over to Fort Mott State Park. When there are several inches of snow blanketing the ground, you and the fam can venture out to Fort Mott State Park to sled down any of their rolling hills. 
There are a ton of hills scattered throughout the massive park. Smaller ones are great for pint-sized sledders, while the largest hills are a whole lot of fun for teens and adults. 
3. Campgaw Mountain Tubing
This New Jersey sledding hotspot is an easy trip for a day of fun-filled snowy adventures. Plus, not only can you ride your tube down the slopes, but you can ride it up the slopes as well.
There are different roller levels and pitches (think: steepness and bumps), which means the "big kids" can show off a bit. Sessions are one to two hours long, and little ones must be at least 42 inches tall to ride. 
4. Camelback Mountain Resort
If the idea of flying down a powdery slope at super-fast speeds is exhilarating to you, picture doing it at night during an LED light show. Camelback Mountain Resort's Galactic snow tubing is all that and more.
This resort is conveniently located right outside of New Jersey and offers over 40 lanes for thrill-seeking tubers to zip down the mountain. Tickets are for two-hour sessions, and riders under 14 years of age must be accompanied by an adult. 
5. Thompson Park
No need to race to a crowded snow-covered mountain hours away to sled with the fam — sometimes, the local park will do perfectly fine. Thompson Park in Jamesburg is a popular public park that's perfect for your favorite winter pastime.
You'll need to bring your own sled or tube to tube down these hills, but you won't need a ticket to ride. This experience is totally free of charge. Know that sledding is at your own risk here, and helmets are recommended — especially for the little ones.
Speaking of little ones… Does your pint-sized family member need a sled? Don't worry; we've got you covered! Our collection of Kids Winter Sleds is made from ultra-thick, durable material designed for snow.
Plus, since our sleds are inflatable, you won't strain your back carrying them around as you follow your tiny tot in the snow. We really think of everything here at FUNBOY! 
What Do I Need To Know About Snow Tubing in New Jersey?
Now that we've dived into the best places to go snow tubing in New Jersey, let's go over a few things to help make your winter vacay to the Garden State a great one, shall we? 
It's Gonna Be Cold
Is this your first time visiting New Jersey in the winter? Prepare yourself — it can get pretty chilly. How cold it gets can vary from year to year, but experts say the state occasionally drops below 10°F (or -12.2°C). 
To keep yourself warm as you play in the snow, it's important that you dress for sledding success. Hypothermia can happen within a matter of minutes, so bundling up with plenty of layers is key to playing outdoors. 
Remember, there's no such thing as bad weather — only bad clothing!
Not Thirsty? Drink Water Anyway
We don't often associate cold-weather activities like sledding with dehydration. After all, our bodies don't get as hot, and sweat evaporates much more rapidly in the cold air — so, if you're not sweating, you must not be thirsty, right? Not exactly… 
In chilly weather, our bodies' thirst response is greatly diminished. This can trick your body into thinking it's properly hydrated. As a result, you drink less water, which can quickly lead to dehydration. 
As dehydration progresses, you might notice that you feel dizzy, fatigued, or nauseated. You may experience random muscle spasms and cramps, and you can even lose your ability to focus and concentrate. 
In short, you can't enjoy all that the Garden State has to offer if you're dehydrated and not feeling well. So, keep a reusable water bottle on hand, and be sure to drink up (even if you're not thirsty). 
Be Sun Savvy
While it may feel as though the sun is in hiding during the cold months of the year, the truth is that ultraviolet (UV) rays can penetrate through the thick winter clouds and fog just as easily as they can in the warm months. This leaves your skin vulnerable to those pesky rays' harmful effects (think: premature skin aging and melanoma). 
What's more, the American Academy of Dermatology says that the risk of sunburn can also increase in the winter because snow reflects radiation — hence why it's of the utmost importance to apply sunscreen under your chin, beneath the tip of your nose, and behind your ears. 
To keep yourself safe from the sun's harmful UV rays, cover up with protective clothing and apply a broad-spectrum sunscreen with an SPF of 30 or greater to all exposed areas of skin. 
Inflatable Sleds Are Game Changers 
There's arguably nothing more fun than zipping down a snowy hill on a sled. But if you ask us, trudging that heavy sled back up the hill for another go can be a major pain in the butt. That's why we created our incredible line of FUNBOY inflatable sleds. 
Engineered performance meets next-level design to deliver the finest downhill sled for adults and kids alike. These lightweight inflatables are made from an ultra-thick material with a reinforced rubber base for the most durable sledding experience possible. 
Plus, with so many options to choose from, we have an inflatable sled to tickle about anyone's fancy. From snowmobiles and toboggans to winter sleighs and snow tubes — we even have sleds designed specifically for kids.
So, if simplicity is what you're after when you're visiting New Jersey, look no further than our luxe FUNBOY sleds. Not only are they super lightweight and awesome, but they're also easy to store and even easier to inflate — especially when you have the Electric Inflatable Air Pump or the take-anywhere Foot Pump.
That's a Wrap
And there you have it: some of the best places to go snow tubing in New Jersey. Whether you're a sledding newbie or practically a pro, you're sure to have a blast at any one of the snow tubing parks listed above. Be sure to bundle up, drink plenty of water, and slather on the sunscreen. 
If you're looking to make life a little easier, leave the trusty wooden (hundred-pound) toboggan at home and opt for a lightweight inflatable sled like the ones we offer here at FUNBOY!
These luxe inflatables are super lightweight and easy to carry. Plus, it only takes a matter of seconds to inflate and deflate for quick and easy storage. 
Ready to make your vacation to New Jersey an unforgettable one? Check out our line of high-quality snow sleds today and hit the slopes in style tomorrow. Trust us — you'll be glad you did!
Sources:
New Jersey, USA - Climate & Monthly weather forecast | Weather US
Are you more dehydrated in the winter? | Intermountain Health Care
Winter Sun Safety: What to Know About Protecting Yourself During Colder Months | The Skin Cancer Foundation