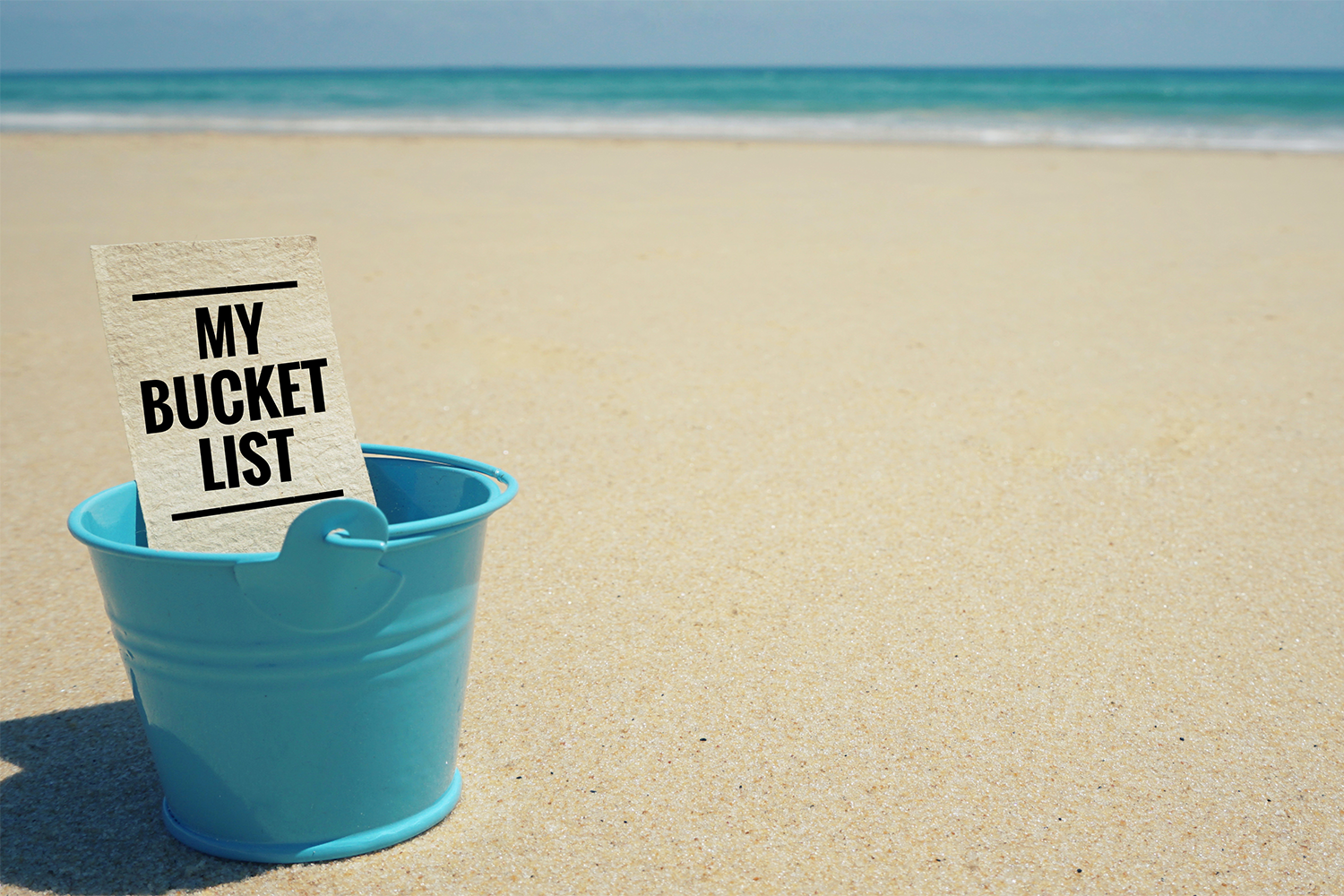 6 Activities On Your Summer Bucket List This Year
It goes without saying that you work hard. You're a pretty responsible member of society (most days), have relationships to tend to and errands to run. Maybe you're a parent, whether that be to a couple of tiny tots or a few (dozen) furbabies. Or perhaps you're in school most days, and studying most nights, with hardly any time to breathe, let alone to do something fun.
That said, summer is right around the corner, and if you ask us, we say it's time to make it your best one yet. Why? Because you deserve it-- that's why!
Whatever your passions and hobbies might be, the warm summer season is the time to try something new, whether it be traveling to a destination you've never been to, trying a new sport, or picking up a new skill - the possibilities are endless. 
If you're in need of a little bit of inspo to spice up your bucket list this year, you've come to the right place. Read on as we explore six activities that are sure to turn your summer from a total drag to totally fab. Are you ready? 
Let's dive in!
But First, Why Make a Bucket List?
Ah, summer. Classes are over, the weather is finally warmer, and the world seems bigger and brighter than usual. But just as soon as the sunny season starts, in a blink of an eye, it ends. 
Whether you're working, interning, taking extra classes, caring for little monsters, or spending the next few months of your year blissfully free of responsibility (lucky you!), it's all too easy to waste your precious free time by binging Netflix, scrolling through TikTok, napping… you get the point.
We've all been guilty of this at one time or another. That said, rather than falling victim to your comfy cozy bed all summer, you could make a bucket list to help make the most of your free time. 
What's a bucket list, you ask? 
Simply put, bucket lists are a bit like to-do lists. Basically, it's a list where you write down all the stuff you want to do. This can include places to travel, skills to conquer, people to meet, and anything else that matters to you personally.
You see, the whole point of creating a bucket list is to maximize every moment of your existence and live your life to the fullest. It's a reminder of all the things we want to achieve so that instead of spending our time on pointless things, we direct it toward things that matter to us most.
So a "summer bucket list" is simply a list of things you would like to do during the -- you guessed it -- summer.  
Some of the top benefits of a summer bucket list include:
Your summer is more organized.
Keeps you active.
You don't forget all the awesome things you wanted to do.
You have a list always on hand with activities to combat boredom.
You have more anticipation for the summer.
Makes you feel accomplished as you check activities off your list.
Awesome Activities To Add To Your Summer Bucket List
Ready to have an epic summer? Here are six activities to add to your bucket list:  
Kick It Poolside 
Can summer really even be considered "summer" without kicking it poolside at least a half dozen times? If you're lucky enough to have a pool, load up on a few awesome inflatables like the ones from FUNBOY and spend the summer blissfully floating on the water.
Whether you want to channel Malibu Barbie vibes, catch some zzz's under a rainbow, party under a disco ball, or jet off on a FUN SKI, FUNBOY has a float for every mood to make this summer your best one yet.  
No pool? No problem! Turn your backyard into your very own tropical oasis with a FUNBOY Kiddie Pool. Large enough to comfortably fit two adults or multiple kiddos, a kiddie pool is a summer essential that's an absolute must for those looking to enjoy the sun, keep cool, and relax. Ahh!
Go Boating
Who doesn't love a good boat ride? Whether you're in a kayak, going canoeing, or enjoying a relaxing day on a yacht, boating is a great way to enjoy a hot summers' day.
Spending a day on the water means you get to unplug from all the devices that keep you tethered to day-to-day life so you can truly enjoy some much-needed sunshine and fresh air. Just don't forget to bring a cozy beach towel to dry off in case you decide to go for a swim!
Have a Bonfire
Your summer bucket list wouldn't be complete without having a bonfire! Gather your loved ones, swap stories, make new memories, and enjoy each other's company around a crackling fire. Set up a few lawn chairs for seating and a table with a tasty spread of summer snacks and all the fixin's needed for s'mores.
To help keep drinks cool, we love the Tropical Palm Pool Drink Cooler from FUNBOY. This jumbo cooler fits up to 18 cans and three bags of ice, perfect for all the drinks you need to keep you and your pals perfectly buzzed, err, we mean, hydrated, all night long. 
Stargaze
The best way to see the stars is on a clear night with complete darkness, usually outside of the city. Basically, think country. The buildings and lights from the city as well as pollution can make it really tough if you don't go somewhere that's wide open.
While it might be a little bit of a drive, we promise the experience is absolutely well worth it. If you haven't had a chance yet to see what our big beautiful planet looks like with the lights off, add stargazing to your summer bucket list this year.
Trust us; you won't be disappointed. Bring a couple of lawn chairs, a telescope, and a camera with you, and prepare to be amazed!   
Throw a Backyard BBQ Bash
Fire up the grill and gather your buddies for an unforgettable afternoon this summer -- BBQ parties are an excellent way to relax, eat soul-warming food, and spend quality time with your loved ones.
Make it a potluck and ask everyone to bring a tasty side dish of their choosing and set up some fun games like horseshoes, corn hole, and bocce ball. Keep drinks chilled in a cooler, set up a few lawn chairs for seating, and let the good times roll. 
Organize a Picnic
Picnics aren't just entertaining, but they're a great way to change things up from your usual kitchen table. Take advantage of the warmer weather and get outside to enjoy a meal in the fresh air. Pack a basket full of tasty treats, lay a blanket down, and watch the clouds as they pass by.
If you want some company, consider inviting the fam and make an entire afternoon out of it. Kick a soccer ball around, play in the jungle gym, and swing on the swings. When it's time for lunch, get comfortable on the picnic blanket and enjoy each other's company while noshing on finger sandwiches, fresh fruit, veggies, and dip.
If it's especially hot out, bring FUNBOY's Inflatable Rocket Ship Sprinkler to keep the kiddos cool and entertained for hours on end. 
Soak Up the Summer Sun
There are so many things you can do to have fun and enjoy your summer to the fullest, but by working these awesome ideas into your bucket list, we're sure you'll have your most unforgettable season yet!
Always stay safe, and most importantly, enjoy every single moment of the warm weather because before you know it, it'll be time to swap out your flip-flops and pool floats for snow boots and snow sleds.  
Here at FUNBOY, everything we do comes from the heart. We create luxurious pool floats with a level of attention and care that's unparalleled to other brands. That said, we're continuously working towards our ultimate goal of adopting an entirely sustainable business model.
We're not perfect by any means, but we're constantly researching and innovating our materials, production, and quality to bring you inflatables that are not only unique but undeniably durable. Say goodbye to single-use, one-summer-and-done pool floats; our goal is to provide you with a luxe inflatable that can be used for many years to come. 
Ready for an epic summer? Check out our massive inventory of pool floats today, and start checking off activities on your bucket list tomorrow. 
Sources:
Canoeing and kayaking | Better Health
Most Polluted Cities | American Lung Association 
5 Scientifically Proven Health Benefits of Traveling Abroad | NBC News