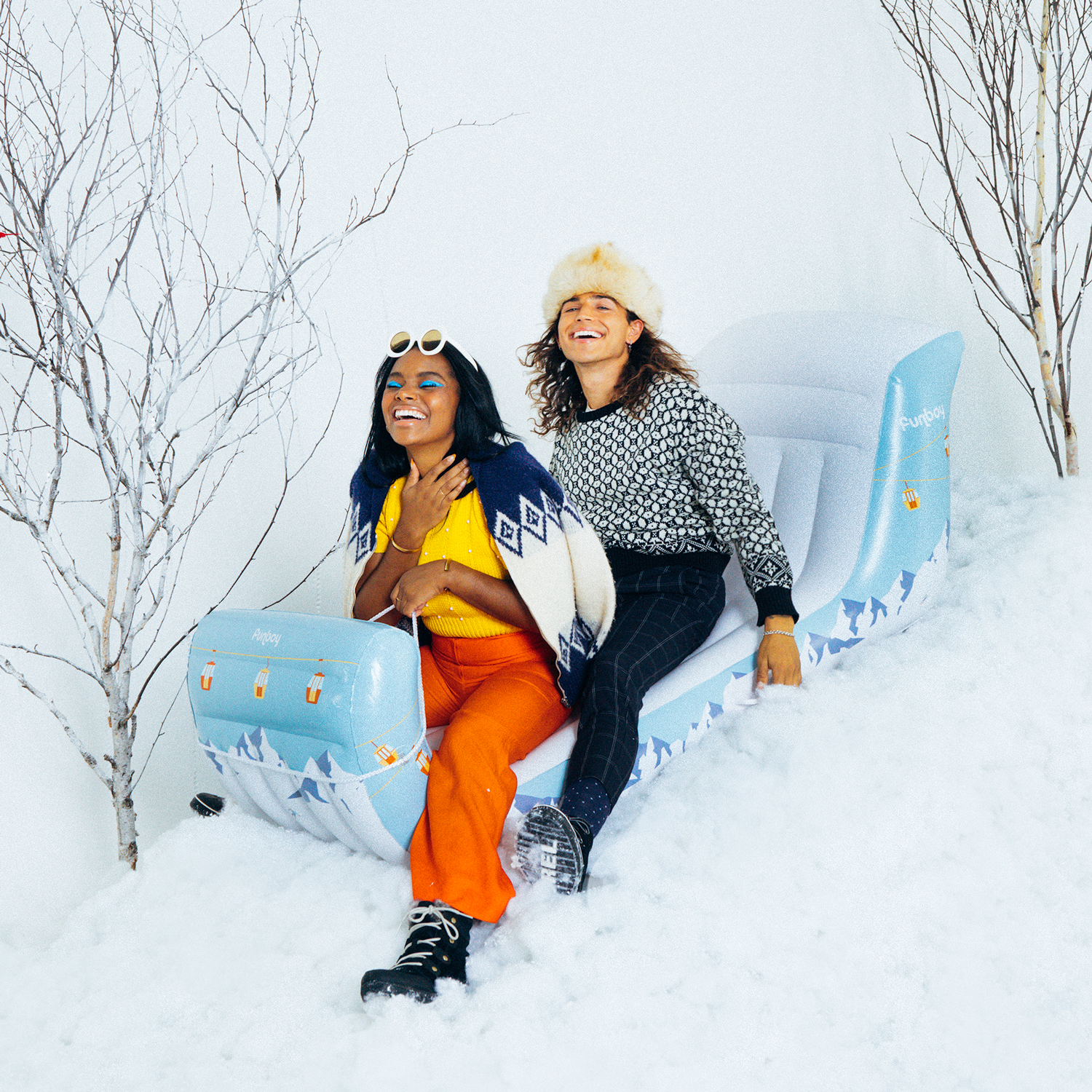 Where Can I Buy Sleds: Prepare For Fun In The Snow
It's pumpkin spice latte season again, meaning the best season of them all is only a few short months away—winter. Sure, maybe there are a few negative Nancys out there who may not agree, but for most people, winter is absolutely wonderful. Why? Because you can finally go sledding, of course!
Sledding is about the most fun that anyone at any age can have in the snow. A cool day on the hill can keep the entire family happily occupied. With so many awesome types of sled available, you can find the perfect sled for any snow condition and any level of adventure— but where can you purchase one of these magnificent sleds?
If you're prepared for some serious fun in the snow, keep reading!
Sleds, Sleds, and More Sleds 
Did you know that sleds helped tobuild the pyramids? From ancient Egypt to modern backyards all around the world, sledding has come quite a long way. Today, sledding is one of the most beloved winter activities and has people of all ages running for the nearest hilltop at first sight of snowfall. 
Before we dive right into where you can buy one of these majestic snow vehicles, it's first a good idea to familiarize yourself with the many different sled styles and models to make sure you purchase the best sled for you.
Sled Styles and Models
When it comes to sleds, there are a few great styles to choose from, and the one you pick can influence your ride down the hill.
Toboggans
When most people think of atoboggan, they picture smooth wooden slats with a curved front that would look right at home in an old Currier and Ives print. However, these individuals need to branch out because these modern-day sleds have had quite the glow-up over the last couple of decades. 
Today, toboggans are flat-bottomed sleds, typically inflatable or made of plastic or even wood. They are designed to fit multiple people, which makes them an ideal choice for groups or families looking to have a fun shared ride all the way down the hill. Although it may be a little challenging to get it down at first, toboggans can be controlled with a little shift in weight from side-to-side, and they have the potential to speed down the slopes if snow conditions are right.
FUNBOY has reimagined the traditional toboggan to create a sled that's guaranteed to give you evenmore fun.  With a Retro Plaid or Winter Bloom Toboggan, you're sure to be enjoying the snow in the best way possible— just make sure you do so safely! 
Runner Sled
A classic but potentially more dangerous sled design - the runner sled is made of wood with two steel runners underneath to glide effortlessly over the snow. Runner sleds are the best on packed snow, but struggle in deep powder. These timeless sleds can be quite beautiful in design, but as you might imagine, a wood and steel sled can do some serious damage in the event of a collision with another sledder or someone accidentally standing in the way. 
Saucers
Sure, runner sleds and toboggans might be cool, but saucers are for the adventurer! Shaped in a circle and able to fit one person comfortably, saucers are slick, quick, and offer a much faster descent than other sleds, with or without buffing on ahefty coat of wax or your mom's favorite cooking spray. Due to their round design, though, saucers aren't as easy to steer and offer very little control. But if you have an open hill with no obstacles and a burning need for speed, then saucers are the right kind of sled for you.
If you're looking for a similar ride on a better sled, try out one of FUNBOY's new Snow Tubes. These double bottom sleds are made of an ultra strong vinyl material, so they're sure to last you for as many rides as your heart desires, and they aremuch more comfortable than a hard bottomed saucer. 
Hybrids
Sometimes called a "hybrid" and sometimes called simply a "sled," these models are relatively new developments in the exciting world of sledding that incorporate the concept of traditional runner sleds with composite materials for steering capabilities and speed. They can fit one or two people and are perfect for those looking for a little extra legroom.
Foam Slider
Similar to bodyboards or surfboards in design, these modern-day foam sliders rock eye-catching graphics and a super slick bottom for speed. They are extremely lightweight because they are made of foam, making it easy to transport back up the hill for another ride. They are loads of fun but since they're made of such a lightweight material, they tend to not be as durable as some of the other sleds, so they may not be your best option.  
Materials
Once you have an awesome sled in mind that you're looking to take on your next snowy adventure, it's time to pick which material will be best for your snow conditions. Be sure to take into consideration your terrain, snow depth, and a number of potential obstacles when deciding which snow sled's material is right for you.
Plastic sleds
Plastic sleds can come in many different styles and are a very popular choice among children for their durable and lightweight qualities. Plastic sleds are also a relatively inexpensive option. However, with this low price tag comes a major downside— plastic sleds are prone to cracking and breaking, especially in cold weather. And isn't that when you're planning on doing your sledding? Plastic sleds may be convenient, but they definitely aren't the best sled material out there. 
Foam Sleds
Ahh, foam sleds! A newcomer in the sledding realm. These popular sleds offer a more cushioned ride than plastic sleds at close to the same cost. While foam sleds might not offer as fast of a ride as plastic, they are still pretty fast and can be ridden in similar terrain and snow conditions. However, because they are made of foam, depending on what kind of style you purchase, these sleds are not always particularly durable. 
Inflatable Sleds
The last material on the list to consider is vinyl, which is used to manufacture some of the coolest inflatable sleds. Picture riding down the hill in style on a super cute unicorn, reindeer, or flamingo or pay homage to classic snowmobile vibes and the colors of the 1970's retro ski era onFUNBOY's Snowmobile Sled. Vinyl is extremely lightweight and is ideal for deep, light snow conditions. If you want to have a blast sledding down the hill while getting some fun pictures riding a cool snowmobile— inflatable sleds are definitely for you!
That being said, not all inflatable sleds are created equal. Cheap inflatable sleds are prone to popping the moment that you take them outside for some winter fun, so make sure that you're investing in a quality sled that can keep up with all your winter antics. FUNBOY's inflatable sleds range from Snow Tubes to Toboggans, and are made of a super strong vinyl material with a reinforced rubber base so you can glide down the slopes without a care in the world. 
Sled Buying Options 
Bet you didn't think there were that many different styles and models of sleds, huh!? Now that you know what kind of sled you want, it's time to learn where to buy them. 
There are many places that sell sleds. In fact, once winter rolls around, it seems like sleds are just about everywhere, including out front of your local grocery store. But when it comes to buying the best sleds, it's best to check out a few of these options listed below:
In-Store
The first place to look for sleds is at your local sporting goods stores. By purchasing a sled in-store, you can try sitting on the sled first to make sure you like it. You can feel the sled with your hands, make sure it offers the right level of comfort, and take it home that very same day. The only downside of purchasing in-store is that they usually don't carry too many options, so you're stuck purchasing what they have available on the shelf.  
Online
If you hop on the web with a mission to find your dream sled, chances are you're going to be bombarded with a sea of options. Find a company likeFUNBOY with a true passion for providing awesome sleds made of high-quality materials for long-lasting fun. It can sometimes be tough buying online because it's hard to be sure of the quality of the sled that you're purchasing until you've put in some time using it. For peace of mind, be sure to buy a sled from a company that backs their product with a warranty. A manufacturer is much more confident in their product if they offer a money-back guarantee. FUNBOY offers a FULL manufacturer's warranty against defects and is an excellent company to purchase asled from—trust us, you won't be disappointed!  
Used
Lastly, if you'd prefer to skip the lines in-store and are not exactly internet-savvy, you can also purchase a used sled from your friend, family, neighbor— basically, anyone willing to sell you their old sled that they don't need anymore. This is probably the cheapest option of the three, but keep in mind that these sleds are used and come with some miles. Scratches are normal, and in some cases, they are a little worn and won't last as long as you'd like them too. 
Recap 
So, where can one buy one of these magical sleds, you ask? Sleds can be purchased just about anywhere, but we recommend starting with your local sporting goods store, checking with a friend, or buying online from an awesome company likeFUNBOY.
Before the next blizzard hits or your next snow day, be sure to pick up a sled likeFUNBOY's Snowmobile Sled for lots of laughs and long-lasting fun!
Sources:
https://www.livescience.com/45285-how-egyptians-moved-pyramid-stones.html
https://www.britannica.com/sports/tobogganing
https://ourpastimes.com/231474-how-to-make-a-sled-go-faster.html