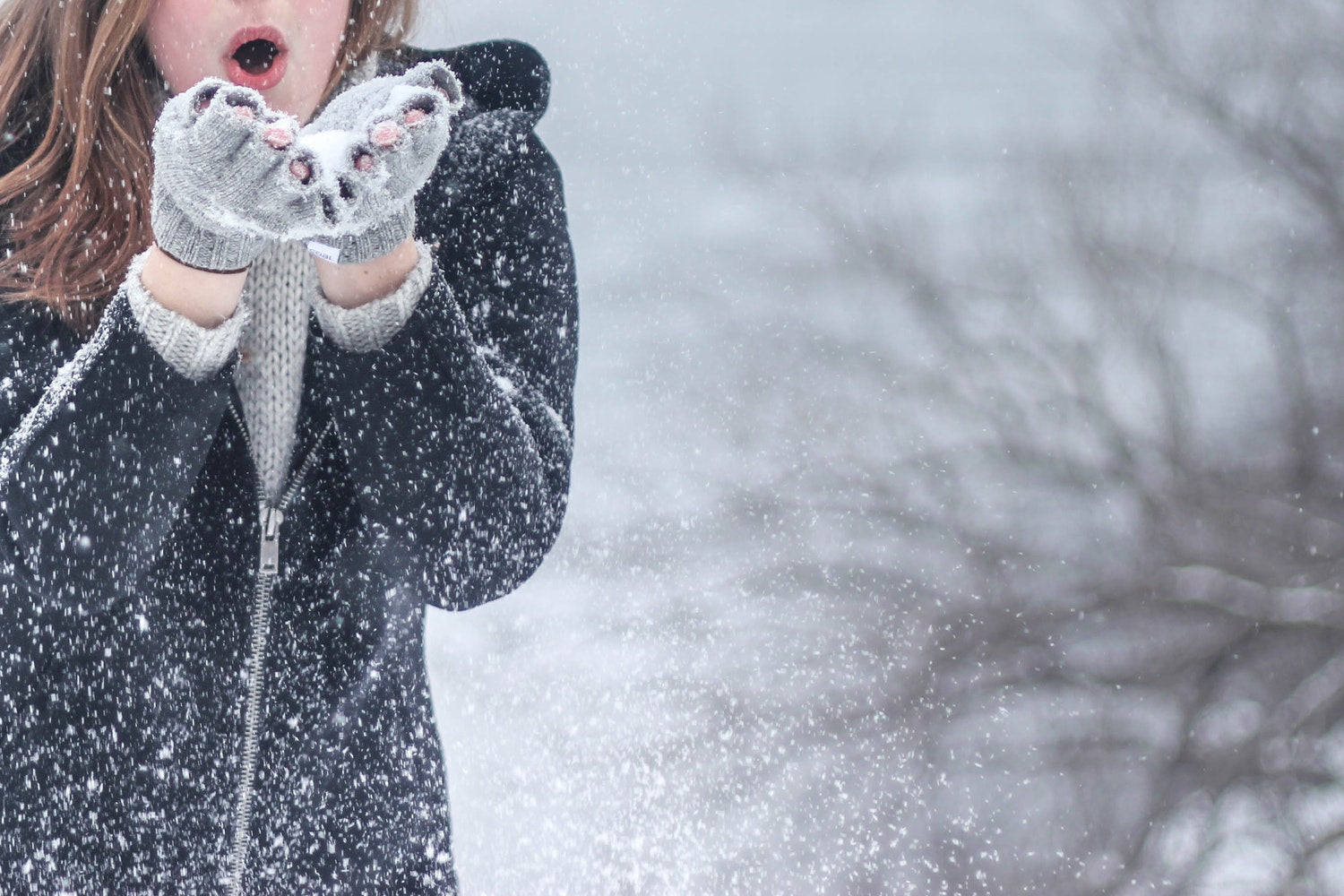 Winter Bucket List: Will You Check All These Off This Winter?
There's nothing more magical than watching fresh snow blanket the ground, sipping on a warm mug of hot cocoa (or spiked eggnog, if that tickles your fancy), and listening to cheery holiday music. But despite what many people may think, winter isn't just about singing carols and pretending to like Grandma's famous homemade fruitcake.
You see, winter is a wonderland full of enchantment — and if you ask us, it's totally underrated. Sure, it's cold, but what better excuse to snuggle up next to your crush, you know, for warmth? 
As chilly as the wintery season might be, there's arguably nothing more picturesque than perfectly white snow falling from the sky and coating the earth, turning any home into what could be a picture straight out of a magazine. And while the breathtakingly beautiful scenery is surely something to admire, sightseeing is certainly not the only activity to be had in the winter. 
From snowball fights and sleigh rides to snow tubing and skiing, there's really no shortage of activities to do when the snow starts to fall. 
That being said, don't head into the season without a plan and start putting together a perfect bucket list as soon as possible. Why?
Because there are so many fun things to do once the icy, wet stuff hits the ground, and without a solid game plan, winter will be gone before you even have a chance to hit the slopes with your favoriteFUNBOY snow sled. And where's the fun in that!?
And if you ask us, nothing is worse than enduring the gloomy days of spring and its never-ending supply of rain showers without having any fun winter memories to look back on. 
Make this winter your best one yet, and start putting together a bucket list. Or, you could always just use our totally rad winter bucket list below to help pave the way for exciting winter fun. As the experts of all things FUN, we promise our list of activities won't disappoint!
The Ultimate Winter Bucket List — By Yours Truly, FUNBOY 
Did you know that winter is theshortest season of the bunch? It's true (well, for us in the Northern Hemisphere anyway). While many folks wish the chilly season was even shorter, we wish it was a littlelonger. 
The moment snow begins to fall, it's not uncommon to hear a whole lot of gloomy complaining about the gloom. From freezing temperatures to icy roads and everything in between, we understand the snow can make life a bit difficult.
However, the truth is thathumans are wired to focus on the negatives rather than the positives. In other words, we're hardwired for negativity. (That's probably what makes watching reality TV so fun.)
Basically, what we're trying to get at here is that while there certainly are a couple of downsides to the most magical time of the year, there are even more upsides. However, it's not in our human nature to focus on what's lovely. 
And when we're feeling especially grumpy or are stuck in a winter slump, it's not uncommon to refuse the world until the sunny weather comes back. This leads to long chilly winter days doing nothing but watching the clock tick and being miserable. 
That being said, when the last leaves of fall drop and the weather begins to shift, don't go into hibernation.
Check out these awesome activities below, and justmaybe your love for winter will grow.    
Bake Cookies 
Baking cookies is a favorite winter pastime that can bring the whole family together. And the best part? Using the oven will keep everyone nice and toasty!
The scrumptious treat will surely brighten your day, and the drool-worthy aroma will leave your whole house smelling amazing. When therecipes look this good, what's not to love?
Go Ice Fishing 
Bundle up, break out your handy-dandy fishing pole and spend a relaxing day trying to catch your dinner. Ice fishing is a super popular weather sport — it's fun, inexpensive, and an amazing way to kick cabin fever to the curb. A day on the ice isn't just another fishing trip; it's a whole different fishing experience and a must-do activity in the winter. 
Build a Snowman 
The next time your neighborhood gets a nice dusting of snow, head outside and build your very own Frosty. But not just any ol' Frosty: build yoursnowman with a twist!
Instead of using the traditional top hat and carrot nose, why not give your snowman a crown using a banana or bottle cap as the nose? Or dress him up in your favorite sports team jersey. Give him a mohawk. When it comes to building snowmen, the possibilities are endless. 
So,do you want to build a snowman? Get to it! 
Grab Your Sled and Hit the Slopes 
Is there really anything more quintessential than sledding in the winter? We think not!
Sledding is an absolute blast and an activity that the entire family can enjoy. All you need is a snowy hill and an awesome sled.
Not sure where to find one? Check out our huge inventory here atFUNBOY!
From inflatable snow sleds like our uniqueSnowmobile andToboggan to the coolestsnow tubes on the planet, we have everything you need to zip down the hill in style. 
Watch Holiday Movies 
Are you tired from a long day of playing in the snow? Head inside to get warm and throw on a classic holiday movie. Snuggle up next to your S.O. under the blankets and binge all the classics until your heart's content. 
Make Homemade Hot Cocoa 
Nothing screams wintertime more than a warm mug of hot cocoa. Whip up a batch and pour yourself a cup before getting cozy next to a cozy fire. Just don't forget the marshmallows!
Host a Snowball Fight 
If you've never participated in a snowball fight — you're missing out. Not only is a snowball fight a whole lot of fun, but it's the only type of fighting that's not frowned upon. Call your friends, call your family, call your enemies and prepare to engage in snowy combat. 
Want to take your snow battle up a notch? Try your hand at building snow forts for shelter. 
Take A Dip In a Heated Pool 
What better time to enjoy a heated pool than in the winter? Grab your favorite pool floats like ourClear Pink Glitter Flamingo andDisco Dome before soaking your icy feet in the warm water. Kick back and relax on your inflatable as the steamy water melts into your cold skin and enjoy the crisp winter air. 
Go For a Sleigh Ride 
Take your holiday festivities up a notch and go for a quiet sleigh ride through the winter wilderness. Add a comfy-cozy blanket and some hot apple cider to make this experience one to remember. 
Make a List. Check it Twice. 
It's really easy to turn into a hermit when the weather gets cold, but the truth is that there are just as many fun things to do in the winter as there are in the summer. So turn that frown upside down, bundle up and get outside... a magical winter wonderland awaits.
Here atFUNBOY, we're pretty well known for our incredibly unique, high-quality pool floats. But, we couldn't let the summer season have all the fun! That's why we created our totally rad line of inflatable winter snow sleds.
From toboggans and snowmobiles to winter sleighs and snow tubes, you can count on us to have everything you need to make this season your best one yet. 
Sources: 
History of Snowman | Monroe County Historical Association
How to Overcome Your Brain's Fixation on Bad Things  | Greater Good
"I read an article that said that winter is the shortest season. Is that right? It feels like it is never going to end!" | Planetarium | University of Southern Maine