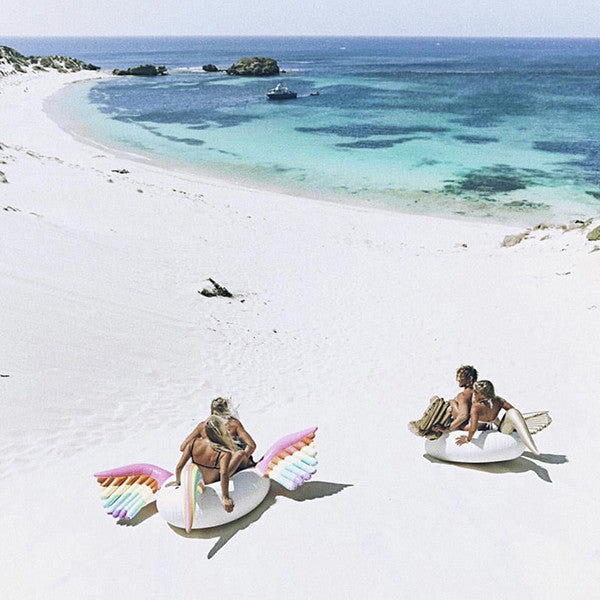 Eternal Youth: Neverlandboys.co
FUNBOY x NEVERLANDBOYS.CO
------
FUNBOY teamed up with the
Neverlandboys.co
for an epic day of the float life in Malibu, California. From the Venice Beach Boardwalk we cruised along the famous PCH Highway with the music blasting and waves crashing. Into the canyons we drove getting lost in the winding hills of Malibu. After a short hike through the State Park, we stumbled upon an oasis and knew it was going to be a good day. Check out the extreme action when the Neverlandboys.co take cliff jumping to the next level with back flips, gainer flips and
giant swan floats
. We take you inside their world as these 4 surfers from Australia search for Eternal Youth. 
------
Creative Adventure
The Neverlandboys.co like to think of themselves as a collective of individuals that represent an authentic lifestyle where adventure, travel and creativity are the norm. Jaxon, Josh, Zac and Elliott find knowledge through experience by stepping out of comfort zones and pushing the boundaries of what is possible. By documenting their daily lives, the Neverlandboys.co are able to live forever young through the memories they create and people they meet along the way. Join the journey by following @neverlandboys.co on Instagram. 
Wandering The World
We asked the boys for their top tips for wandering the world. See below for insight from the boys of Neverland. 
@neverlandboys.co in Hawaii. Photo by @koatree.
Jaxon: 
Don't plan every minor detail - keep an element of uncertainty, it adds to the adventure (disclaimer: don't be so unorganized you find your self in trouble like we have in the past - just keep enough so its fun haha).
Josh: Everything happens for a reason, if a spontaneous opportunity presents itself, don't even think twice - just do it.
Zac: Travelling by yourself can give you the freedom to do what you want, but doing it with friends is as good as it gets. You're able to froth out on the sickest moments together and share unforgettable memories. Also go somewhere different, you'll find something cool for sure.
Elliott: Follow your heart, dreams and passions. Somehow, if you don't settle for anything less, things just have a way of working out. Work hard, stay humble and feed the need for endless adventure. See ya out there! Yeww.
------