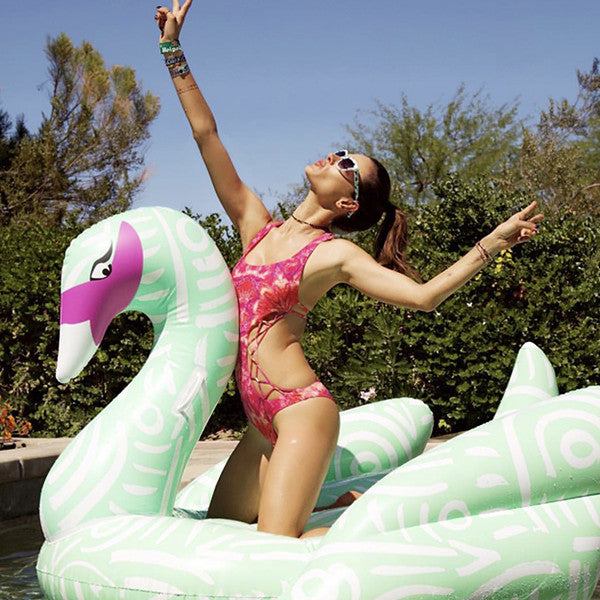 Festival Roundup: The Coolest Pool Floats, Parties and Celeb Style
That major spring desert music festival blew-up the world's social feeds for the past two weeks with sun, pool action, and tons of festival vibes. Whether you were in Palm Springs at the festival or you followed along from afar, we've got you covered with our Festival Roundup of our favorite Festival looks, celebs and pool parties featuring the FUNBOY FLOAT LIFE.

Emily Ratajkowski (aka @Emrata) rocks her casual cool Reformation style with abundant palm trees and the FUNBOY Flamingo and Artist Editionfloats soaking up the sun in the background.
Alessandra Ambrosio showed us a festival is truly a family affair weekend two with her beautiful kids in tow. The FUNBOY Gold Swan pool floatwas perfect for the afternoon festivities.
Before #Famchella, Alessandra Ambrosio struck a pose and prayed for her favorite band to be included in next year's line-up. Peace sign in the sky and peace sign to the back on FUNBOY's green and white Coachella pool float.
The Same Swim (Shea Marie's bikini brand) house got in on the action posing for shots ahead of the festival in order to cool off with FUNBOY's tribal  Artist Editionfloat. 
@
The one and only fashion blogger, entrepreneur and model Chiara Ferragni (aka The Blond Salad) goes top down for a lovely shot of the FUNBOY AlexYanes Artistmulti-colored swan float celebrating the intricate colors and pattern that made this float the standout of festival season.
Model Natalie Boras took hot pepper to a new level splashing around on the AlexYanes FUNBOY Artist float.
Creative collective and musicians The Misshapes took the Ford Estate (former home of President Gerald Ford) by storm rocking Moschino swim trunks and the FUNBOY Artist Edition floats.
When FUNBOY co-founder showed up to deliver floats as part of FUNBOY's float on-demand service he wasn't expecting supermodel and Victoria's Secret Angel Sara Sampaio to answer the door.
Neither was he expecting Victoria's Secret model Constance Jablonski, but he quickly made due and ensured their FUNBOY floats were ready for some pre-festival pool action.
How often have you wanted to roll around on fabulous towels with your swan squad pals watching you from behind? If you were Shea Marie, it would be all the time.
And if you get tired of laying around, you challenge your friends to swan races. All those early morning pilates classes working on your fitness sure do pay off when you are the last girl standing.
Who me? Yes You Shea Marie.
Erica Pelosini, model and contributor at Vogue, frames the perfect shot of festival pool vibes with crystal blue waters, pink flamingos and lush greenery. Take us back please!
We get it. After several days of festival heat, sometimes you just need to unwind by the pool with your very own cherry and winged Unicorn pool float. Cydney Morris, designer and owner of Stone Cold Fox lets her hair down poolside.
None other than Rocky Barnes showing how to rock the FUNBOY swans with friends in their own private oasis.
Few brands know how to float better than Revolve Clothing. The Revolve house was stocked with FUNBOY's classic WhiteSwanand Pegasus keeping watch over the golf coarse and beautiful party goes.
Guess who…you guessed right! Its the FUNBOY Pink Flamingochilling at the Guess house. Guess we know were we'll be floating next year.