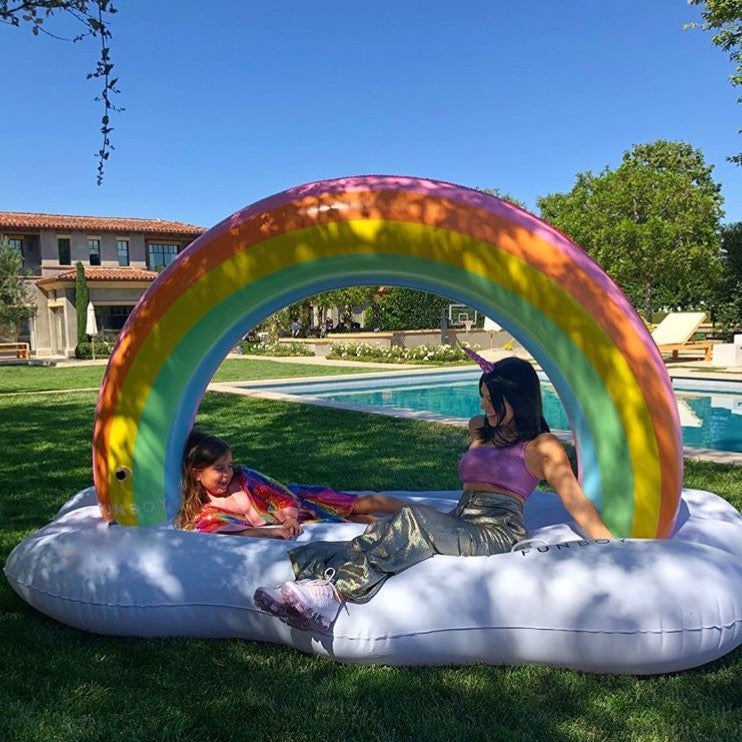 How to Throw a Party Like North West and Penelope Disick's Unicorn-Themed Birthday Bash
And, we're back with "How to Party like a Kardashian: The Rainbow Edition!"
The Kardashians, as per usual, have been crushing their party game lately. This weekend, Kim and Kourtney Kardashian threw a joint rainbow unicorn themed birthday bash for their daughters North West and Penelope Disick that most grown-ups would envy. So, we are taking inspiration from two of the country's most fashionable children (if you don't believe me, North just got TWO Alexander Wang bags for her birthday) and giving you everything you need for the perfect rainbow-filled bash. Because you are never too old for a rainbow unicorn party. Right?
So, here are our top 5 tips on how to throw an epic rainbow unicorn themed party for any occasion.
1. Rainbow outfits. While you don't have to wear matching rainbow outfits like North and Penelope, we totally recommend it.  
2. North West and Penelope Disick's Rainbow Cake. Take one look at this Rainbow Cake from Flour Shop. Need I say more?
3. FUNBOY Pool Floats. As luck would have it, FUNBOY has both Unicorn and Rainbow floats. Check out our FUNBOY Rainbow Unicorn Float and Drink Holder or our amazing Rainbow Cloud Daybed, which were the exact floats from the party! Shop the FUNBOY Rainbow Collection here. 
4. Unicorn Horns. You can't have a unicorn party without unicorn horns. Get some amazing unicorn headbands for your party guests to wear and put some ice cream cones on your other food for the full mythical effect. Bonus points if you put some unicorn stuffed-animals around the venue. Check out this pic for inspo.
5. Gorgeous decorations. To some, the rainbow-unicorn theme can be a little much. So, tone everything down with some neutral decorations for the ultimate chic vibe. White or pastel-colored balloons, fun streamers, and some pretty flowers will add an element of sophistication to your party.
Now, go plan your party stat! Have an amazing time and don't forget to take the perfect photo while you are there!