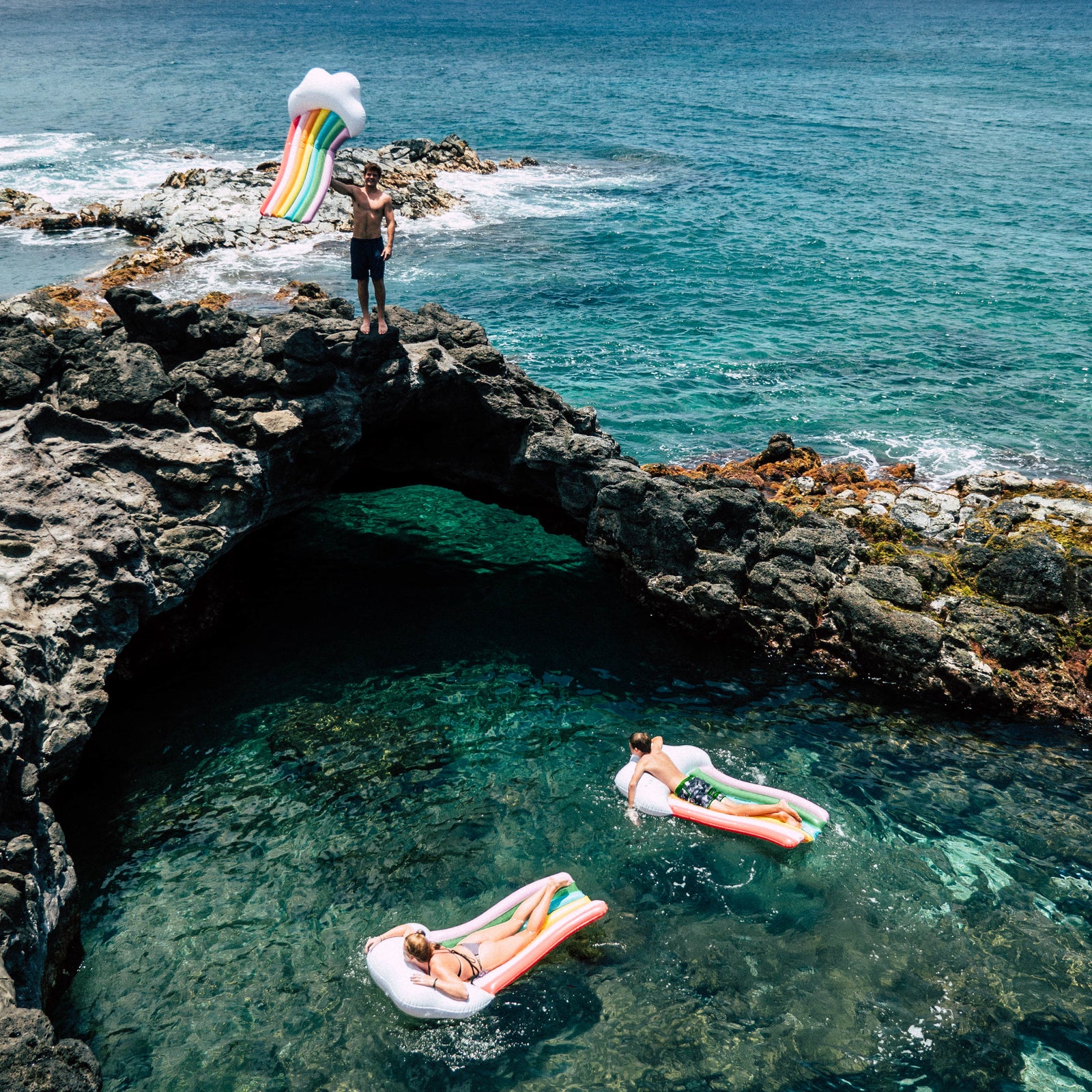 FUNBOY X HAWAII: HERE TODAY, GONE TO MAUI
Aloha! 
I was born and raised on Maui, Hawaii, an island paradise in the middle of the Pacific. I grew up with salty hair and sunkissed skin, and the ocean and the mountains were my playground. Now living in Los Angeles, it's easy to hop on a plane for a quick visit home.
Whenever I go back to the island, there are always a few special spots I can't miss.


Here is a day in my life on Maui:


We kick off our morning by heading down to Dragon's Tooth, a spot on the west side of the island. There's nothing like jumping off 25 ft cliffs into the Pacific Ocean to wake you up! In between jumps, we drift with the swells on the White Retro Convertible Float, taking in the view of the coastline.
Hidden beyond the resorts and through the overgrown cane fields, you'll find secret spots that only the locals know. This one -- called 'The Arch' -- is my favorite. Walking under a canopy of greenery, you eventually come upon a natural-formed pool alongside the ocean. Lava rock forms an arch that is perfect to jump off of and swim under. Sometimes, honu -- Hawaiian sea turtles -- will make their way into the pool to say hi. The Rainbow Cloud Lounger fit right in to the magic of this place.
In the afternoon, after hitting the farmers market for acai bowls and fresh poke, we head to Ka'anapali Beach Park, just north of Lahaina Town. Under the coconut trees, this sandy beach is a perfect place to relax with friends. The Royal Crown Island Float was perfect for the group of us to float around on as the sun set.
Cheers, 
Teak
FUNBOY Team Member