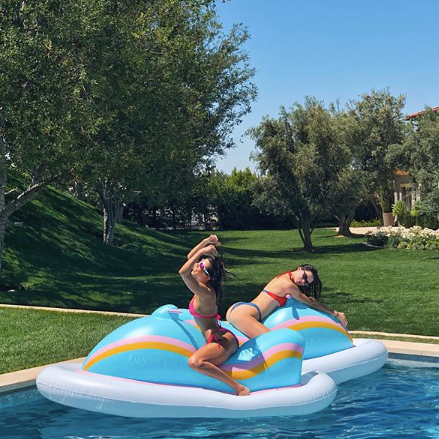 The Top 5 Things You Need to Party (Well Pool Party That Is) Like a Kardashian
Let's face it, the Kardashians are everyone's guilty pleasure. We are all secretly, or not so secretly depending on who you are, obsessed with their lives. Whether it is with the girls, the kids, the guys, or the momager, we all want to know exactly what they do to keep their lives so entertaining.
This past Memorial Day weekend, Kourtney Kardashian and Kendall Jenner showed us exactly how it's done and we took note.  Here are the top 5 things you need to throw an epic pool party like a Kardashian.
Your Squad. Everyone needs a kick-ass group of friends. Call up your besties and get let's get the party started!
FUNBOY

Floats. A must have for any pool party. We don't want you to have FOMO so check out Kourtney and Kendall on the FUNBOY  

Fun Ski

. Bonus points if you and your friends get the perfect candid on the float! 
Squirt Guns. It's "Charlie's Angels", squirt gun style. Not only do they provide for a fantastic photo, but they also are super fun. Grab a few squirt guns, fill em' up and let the games begin.
Killer Shades. Everyone needs a fantastic pair of sunglasses, especially if you are going to be hanging out by the pool. 
Drinks. Because, duh. Grab your favorite drink, non-alcoholic for the kiddos of course, and sip in style on your favorite FUNBOY float.              
We hope you have an amazing time at your pool party. Have fun, don't get too crazy (or do, totally up to you) and enjoy! Happy floating!