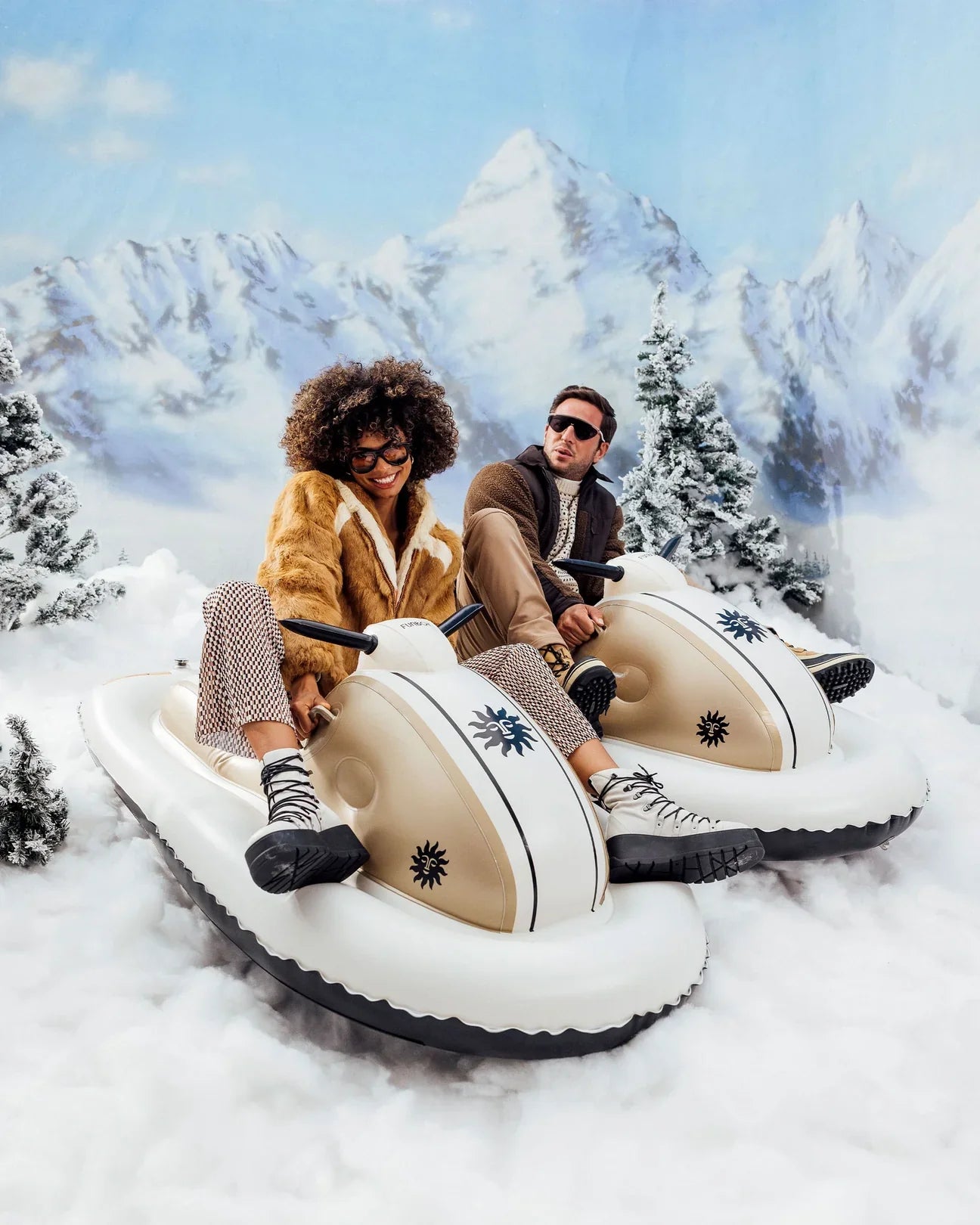 20 Awesome Winter Bachelorette Party Ideas
Winter is the perfect time of year to host a bachelorette party. Not only are there so many activities to choose from, but winter also provides the perfect backdrop for a unique and enjoyable girls' night out. 
From outdoor adventures like ice skating or skiing to cozy nights in with hot cocoa and board games, here are some awesome winter bachelorette party destinations and themes that are sure to make the shin-dig an unforgettable one:
Winter Lodge Getaway
First on the list is a cozy winter lodge getaway. Rent a large home or cabin in a wintery location and host a weekend of mulled wine, hot chocolate, and fireside chats with your best friends. Don't forget to bring a couple of Retro Snowmobile Snow Sleds to race each other down the mountain after it snows. 
Sip and Paint Bach Party
Invite all the girls over for a restful evening with wine, snacks, fun party favors, and painting supplies. Party planning for this idea is simple. All you need are some canvases, paints, and brushes from your local craft store, or order them online — there's no need to be an artist to have fun.
Get creative with each other as you sip on your favorite beverages while trying your hand at painting masterpieces together. It's sure to be a laugh-filled experience that everyone will love, and it's one of the best winter bachelorette party ideas out there.
Snowboard Trip
If you're up for some adventure, then why not plan an overnight snowboarding trip? Whether it's the bride-to-be plus her bridesmaids or the entire groomsmen and bridal party, hitting the slopes is always fun for everyone — even if it's only playing in the snow! Be sure to pack plenty of warm clothes and drink lots of water to stay hydrated. 
Snowshoeing Bachelorette Bash
Get out into nature and explore: Snowshoeing is a relatively easy activity that can be done by people of all ages and fitness levels. Rent snowshoes from a local shop, gather up your group, and hit the trails for an afternoon of fresh air and exercise. 
Pro Tip: Opt for a guided tour if you're visiting an unfamiliar area, or plan ahead and book a private tour with an experienced guide. 
Ice Skating Party
There's something truly magical about lacing up skates and gliding around an ice rink surrounded by twinkling lights and festive music — making it a perfect bachelorette party celebration. 
Whether you rent out an entire rink or simply visit a public venue during non-peak hours, make sure to bring along enough food and drinks so that everyone can stay refreshed throughout their skate session. Don't forget cameras either — this is definitely one event that'll produce tons of photos worth posting on the gram.
Movie Night
Pick out some of your favorite flicks, slip on your PJs, pop some popcorn, and snuggle up for a night of movie-watching with the girls. Or, why not host an outdoor screening in the snow? All you need is a projector and a white wall or sheet to project onto. Yup, that's everything you need.
Pro Tip:Keep everyone warm with their very own comfort lounge — simply inflate a few FUNBOY Kiddie Pools, toss in some snuggly linens, and voila! 
Cooking Class
Who says bachelorette party activities have to be all about partying? Get creative and learn something new with a cooking class. This is the perfect way to bond over delicious food and new recipes. 
Winter Scavenger Hunt
Get in the spirit of adventure with a winter scavenger hunt. Split up into teams and explore your city's hidden gems while having fun along the way. Bundle up — especially if there's snow on the ground. Of course, you can still wear your sashes, tiaras, and veils outside of your snowsuits!
Ski Weekend
If you want to go big for your bachelorette party theme, why not organize a ski weekend in Colorado or Montana? You can rent cabins in the mountains or ski resorts and enjoy a weekend of skiing, lounging in a cozy cabin, sipping boozy hot chocolate, and enjoying some party games.
Pro Tip:Want to bring on the Apres Ski vibes? Don't leave town without the inflatable FUNBOY ShotSki — the world's first and only inflatable Shotski. It's ready for the Aspen slopes or a snow-covered hill in New York City — wherever you find yourself.
Snow Tubing
Snow tubing is a classic way to get everyone in the winter spirit while having fun in the winter sun. Gather the gals and hit the local hills for an afternoon of laughter, shrieks, and maybe even a few tumbles down the slopes. You can even stop to build a snowman for old times' sake.
Stock up on a few of our super snazzy Snow Tubes ahead of time. Whether you have a need for speed or prefer a much slower descent to the bottom, we have just the sled for you!
Cozy Up for a Girls' Night In
Hosting a "girls' night in" can be one of the best ways to celebrate any special occasion, especially a bachelorette. Gather up the bridal squad, throw on flannel pajamas and beanies, pull out board games, and put on classic chick flicks — only don't forget the hot cocoa and cookies.
For a cute twist on a cute look, grab matching pajamas or assign each girl a flannel in a specific color. Or, keep the bride-to-be in white flannel and the rest of the girlies in pink (or any other color). It's bound to be one of those evenings that won't soon be forgotten.
Fondue-Themed Bachelorette Party
Who doesn't love a theme?
Having a fondue night is another awesome idea for a bachelorette party this winter. Whether you break out cheese or chocolate, it'll be an intimate evening full of sipping drinks, dipping delicious morsels into hot melty goodness, and laughing with your crew in front of the fireplace. (Hint: before the party, ask about dietary restrictions.)
Need we say more?
Winter-Themed Photo Shoot
Get dressed up in your winter wonderland best and snap some pics with your friends. You could even hire a photographer or set up a DIY photoshoot. Check out your local community college for amateur photographers, or DM your fav photographer on Instagram.
Or, bring out the props (and we mean, like, all the props) and set up a stunning/funny/totally-you backdrop. Cut out snowflakes, use duvets as mountains, and hang white lights from the ceiling. Hot tip: It's probably best to leave the glitter at home. Glitter lasts as long as love, which is a long, long time. 
This is sure to create some beautiful memorabilia for your bachelorette party. Just make sure you give photo credit when you post the pics on Insta!
Winter Picnic
Bundle up and enjoy a cozy winter picnic with the girls. Pack some warm treats, hot drinks, and blankets, then head out to your favorite spot for a fun afternoon in nature.
Pro Tip:Is it snowing outside? Grab your favorite FUNBOY Sleds and make an afternoon of it — once you've worked up an appetite, find a picnic table and enjoy a yummy lunch. 
Indoor Spa Day
If you're looking for something a tad more low-key but still special, consider giving the bride-to-be an indoor spa day. Complete the spa line-up with mani/pedis, massages, facials, body wraps, and other pampering treatments that will make her feel like royalty on her special day. 
Plus, it's always great to have some relaxation time with close friends before the hustle of wedding planning begins. This is an opportune time to practice wedding hair and makeup, too, BTW.
Winter Bar Crawl Bachelorette Weekend
Take advantage of all the cozy winter bars in town by organizing a winter bar crawl for the bridal crew. Stop by several different places throughout the evening, including pubs, breweries, speakeasies — anywhere that serves drinks (and snacks). 
Sleigh Ride Adventure
Get outside into nature by taking your group on a beautiful sleigh ride through the snow-covered countryside, followed by dinner at a nearby cabin or chalet-style restaurant. This is sure to be an unforgettable experience everyone will cherish forever!
Festive Brunch
Another idea is to plan a festive brunch at a cozy cafe. Invite all the girls to an early morning gathering filled with mimosas, breakfast foods, and plenty of laughter. This is such a simple way to show the bride-to-be how much she is loved.
Camping
If you're feeling extra adventurous, plan a winter camping trip. Of course, you don't have to rough it; you can reserve a cozy lodge, complete with a hot tub, sauna, and all the modern amenities. Then spend the day sledding and skiing before sitting around a fire pit and roasting marshmallows. 
Wine Tasting
Last but not least, why not make it an evening of wine tasting?
You can book a wine tour in iconic locales like Napa Valley or set up a wine tasting in your home. Dress up for the occasion or keep it oh-so-perfectly-casual. 
Grab a few bottles and have the girls over for an evening of sipping, snacking, and chatting. Make it a competition and see if the guests can guess popular grocery-store brands or if they can guess which sample is from the most expensive bottle. The winner gets a prize, like a fabulous new accessory! 
Conclusion
No matter what you choose to do, a winter bachelorette party is sure to be an unforgettable experience full of fun and laughter. Make sure it's reflective of the bride-to-be's personality and interests. Now break out the bubbly and get ready for some winter bachelorette party fun!
At FUNBOY, we're here to help make your bachelorette an amazing one. Whether it takes place in winter, summer, fall, or spring, you can count on us to have all the goodies needed to ensure an incredible time. From snow sleds and toboggans to pool floats and tubes — we've got you covered!
Sources:
Snowshoeing - Lassen Volcanic National Park | U.S. National Park Service
Tips on Lacing Skating Boots | ISI
How to Dress for Winter Weather | Three Rivers Park District