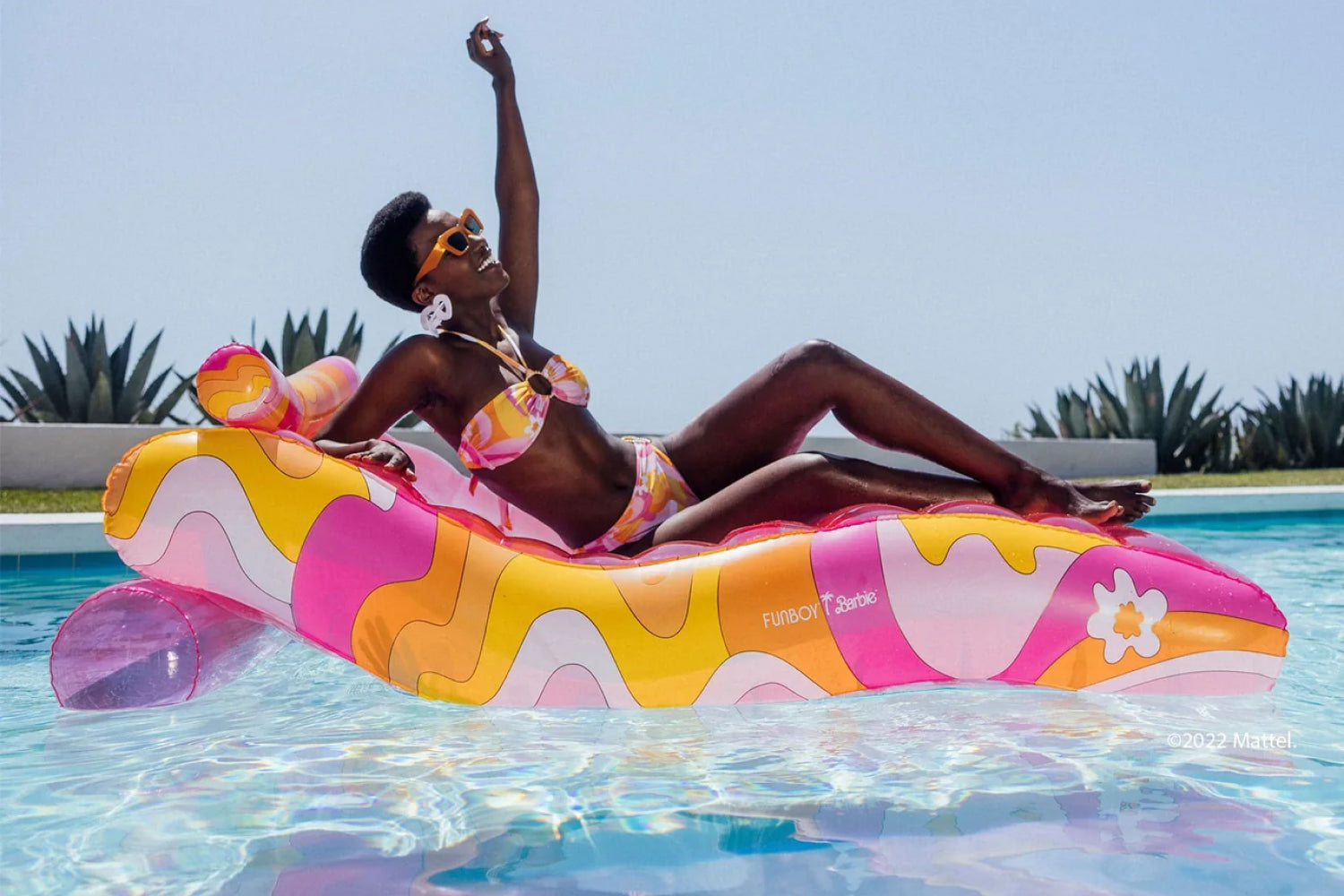 How To Throw the Best Barbie Bachelorette Party
Throwing a bachelorette party is all about having fun and making lasting memories with your closest friends before you tie the knot. But with so many ideas out there, it can be tricky to decide how to celebrate your upcoming nuptials.
If you're looking for something special and unique, why not throw a Barbie bachelorette party? It's part 90s nostalgia, part 2020s chic.
Barbie is the ultimate boss babe. No joke: She's had over 200 jobs since 1959. Barbie has been a fashion designer, ballerina, nurse, astronaut, surgeon, model, singer, and more. Who better to emulate (and celebrate) than the lady who can do it all — Barbie and you. 
Here's everything you need to know to plan the perfect Barbie-themed bash:
Venue
When it comes to Barbie bachelorette parties, the venue is vital. You want a space that looks like a magical kingdom and makes all your guests feel like they've stepped into the world of Barbie.
Consider hosting the party at a local theme park or restaurant with pink décor. If you're feeling creative, you could even transform your own home into a Barbie-themed paradise. It's not a dream house; it's a dream home. Grab pink streamers, pink, an inflatable pool, and a pink lawn flamingo (or seven). 
Theme
There are many faces of Barbie — so why not pick one to base your party around? Whether it's a classic Barbie party or a modern Pink-inspired bash, having a theme will make it easier to plan the decorations, activities, and food. Some other fabulous ideas include Malibu Barbie, Beach Barbie, or even a Barbie-inspired ball with fancy gowns and tiaras.
By having a theme, you can ensure that all your guests will be able to express their inner Barbie and have an unforgettable night.
Party Decorations 
The next step in throwing a Barbie bachelorette party is picking out decorations that match the theme. You can go all out or keep it simple, depending on your budget and time constraints. 
Some great ideas include hanging pink and white streamers and balloons, setting out barbie dolls throughout the room, or even creating a giant "Barbie" sign for everyone to take pictures in front of.
Don't forget about the cake! You can either get one from a bakery or make one yourself — just use lots of pink frosting and decorations that fit the theme. Go retro and use a Barbie herself as the front and center decoration in a throwback Barbie Cake. To be on-theme, buy a Barbie Bride!
Party Festivities
Once you have your decorations in place, it's time to pick some activities. If you want to focus on something more low-key, consider hosting a movie night featuring classic Barbie films like The Princess Diaries or Barbie in A Mermaid Tale.
For those who want something more interactive, play games like "Guess Who She Is Wearing," where guests try to guess which celebrity is wearing what outfit (hint: use pictures of celebrities wearing lots of pink). 
A Barbie pool party is also a fab idea. Stock up on pool floats from our FUNBOY x Barbie Dream Collection and prepare to snap lots of Insta-worthy shots. Sip on pineapple drinks garnished with little pink umbrellas, get comfy on a Rainbow Lounge, and play some Barbie trivia. 
Or you could host an impromptu fashion show with guests vying for prizes based on their creative outfits. Don't forget the music. Que up classic girl power songs from artists like Beyonce or Ariana Grande as background tunes throughout the night. 
Invitations and Favors
Set the tone for your party right away by sending out fun, Barbie-themed invitations. You can buy ready-made invites from a party supply store or get crafty and make your own with supplies from the dollar store.
For favors, pink bags filled with Barbie-themed goodies will help your guests remember the day for years to come. Toss in lip balms, candles, and jeweled trinkets for an extra special touch. 
Food and Drinks
No party would be complete without food and drinks. Pick buffet-style meals that guests can easily grab and enjoy. Finger foods like wings, sliders, chips and dip are perfect for an informal affair. 
For drinks, provide a selection of alcoholic and non-alcoholic beverages like mocktails and piña coladas for a beachy vibe.
Lastly, pull out the Barbie-inspired desserts. Think cupcakes, cookies, and other little treats that guests can munch on throughout the night.
Gifts
While you don't need to give out gifts at a Barbie bachelorette party, it can be a precious way to show your appreciation for your guests. Think of things like personalized Barbie keychains or a special edition of the classic Barbie doll.
Want to snap a few iconic photos with your bride tribe? Give everyone matching pink robes with your wedding date embroidered on the back. Pink fuzzy slippers and monogrammed champagne glasses are also a must.
Itinerary
When it comes to making sure everyone has a great time at your Barbie bachelorette party, you'll want to have an itinerary. You can start off the night with a fun activity such as a karaoke competition or dance-off. This will get everyone in the party mood and help break the ice if there are guests who don't know each other.
You might also arrange for your guests to have makeovers, play dress-up in Barbie costumes, or even go on a scavenger hunt. Once the mood's set, move on to dinner, drinks, and games.
At the end of the night, take a group picture of everyone in their Barbie costumes. This will be a great way to remember the night and share it with your guests afterward.
Attire
Last but not least, plan the perfect outfit! Barbie bachelorette parties are all about having fun and getting creative with your look. Suggest guests wear something pink or incorporate a pastel accent into their outfit — think statement earrings, accessories, or shoes. 
For an extra dose of glam, opt for sequins and sparkles. Add a few Barbie-inspired touches — whether it's a tiara or a statement necklace — to your own look. Whether it's a sparkly dress paired with heels or jeans paired with sneakers, invite everyone to express their individual style while still staying true to the theme. 
Tips to Keep in Mind
Ready to celebrate? Keep these helpful tips in mind:
Start planning early. The more time you have to think of creative decorations, activities, and gifts, the better.
Be sure to send out invitations a few weeks in advance so that everyone has enough time to plan and get ready. 
Make sure everyone RSVPs so that you know precisely how many friends to expect. 
Create a budget ahead of time and stick to it — you don't want to overspend.
"Plastic is fantastic," but so is latex. Bring a pop vibe to your Barbie soiree with balloon installments in a gorgeous ombre of pink hues.
Have a portable speaker with you so you can play music wherever the party takes you.
Speaking of music… pick out an amazing playlist —from classic Barbie tunes to modern-day hits, you'll want something that everyone can dance and sing along to.
Add a personal touch by decorating mason jars and filling them with Barbie accessories.
If you're having a poolside party, bring out the floaties. Not sure where to get your hands on the best of the best? Look no further than our perfectly pink FUNBOY x Barbie Dream Collection. You're welcome. 
Provide plenty of yummy refreshments and snacks for your bride tribe to enjoy throughout the night. If the Inflatable Shotski is involved — water is essential.
Take lots of pictures to capture the memories. Or better yet, capture the moment by hiring a professional photographer or having someone designated to take pictures throughout the night.
Most importantly, make sure everyone has a fun and safe time. Be mindful of your guests' limits when it comes to alcohol, and be sure to look out for each other.
Get everyone together, and let the fun begin!
The Final Word
Now that you know how to throw the best Barbie bachelorette party, it's time to start planning. With these tips in hand, you'll create an unforgettable night that celebrates friendship and love, all while staying true to the iconic doll's namesake. So go ahead — bring out your inner Barbie and let the good times roll.
Here at FUNBOY, we're pretty obsessed with Barbie. In fact, we love her so much that we created an entire collection to honor the icon. From Pink Swans to Kiddie Pools to Swimwear, we've got something for every Barbie fan.
Sources: 
Brilliant Buffets and Party Platters | Partnership for Food Safety Education
Mocktails on the Menu and Tasty Mocktail Recipes | Mount Nittany
Barbie turns 60 this year. Here are 25 of the coolest jobs she's had. | Insider