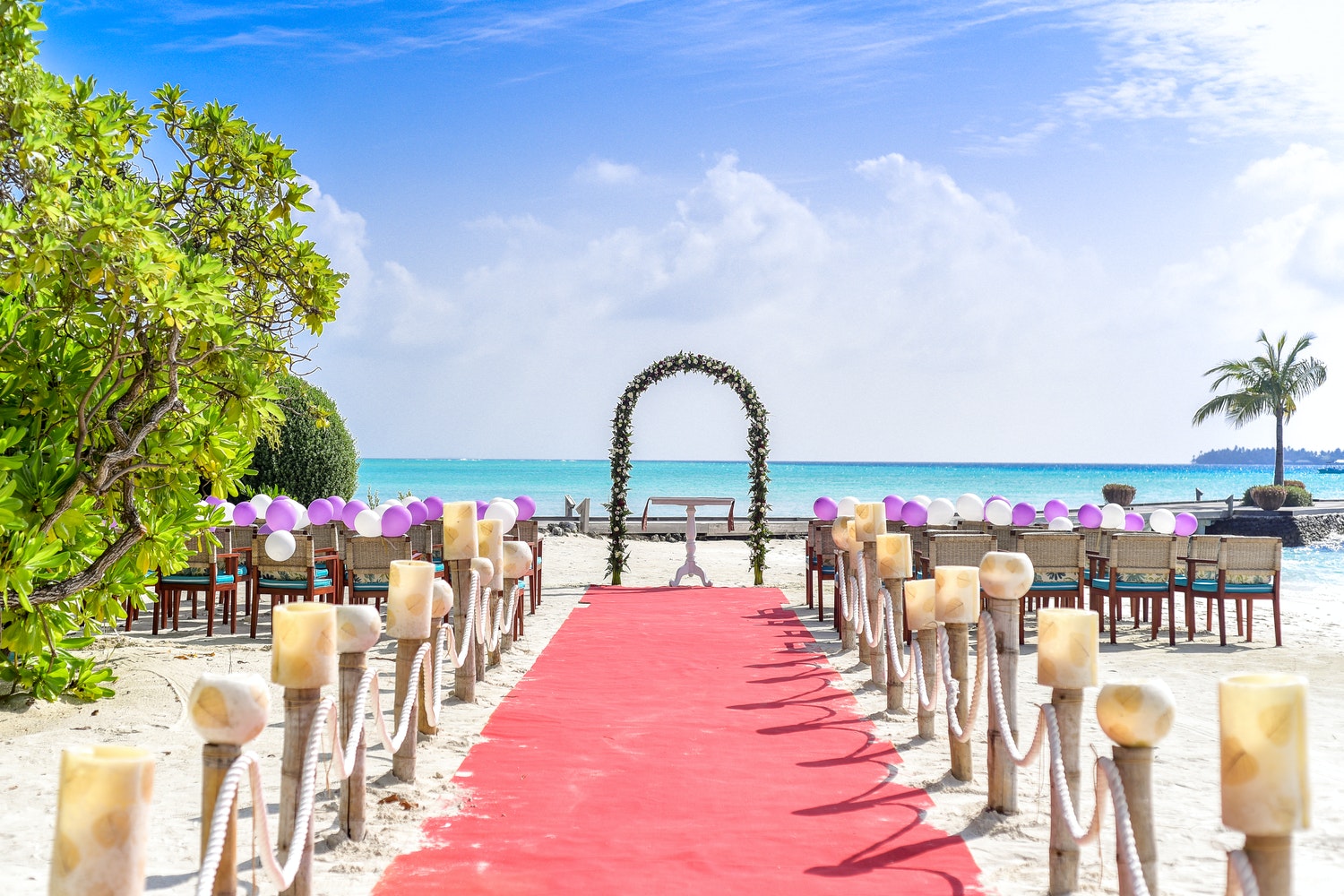 What To Wear to a Beach Wedding: 24 Great Ideas
Awesome, you get to go to a beach wedding! It'll be a lovely ceremony, not only because you're in the presence of true love and holy matrimony, but also because you're sitting on the beach. Even if the officiant takes forever, you're chillin'.
But what exactly do you wear to a beach wedding with a seaside reception? Is it a traditional suit or a swimsuit? A backless one-piece or a backless dress? Or does the dress code for a beach wedding fall somewhere in between?
Whether it's a destination wedding at a secluded resort or nearby on some local sand, there comes a time when you ask yourself: what am I going to wear?
This guide will cover beach wedding attire for girls and guys alike. It will offer tips for putting together outfits that fit capture both the laid-back vibe of the beach setting and the formality of a wedding. It will help you nail the beach wedding look that everyone who received the invite is after but unsure how to achieve.
Wedding guests, we got you covered:
What's the Dress Code for a Beach Wedding?
Beach weddings can be either formal, casual, or somewhere in between. That information is nice to know, but on its own doesn't really help you when trying to figure out what to wear to the beach wedding.
Here are some pointers about formal vs. casual before getting to the actual suggestions for what to wear to the beach wedding.
Check the invitation or the wedding website for dress code specifications. If it's beach formal, that basically means suits for male guests and long dresses for women. It's not too different from regular formal wear, except that you want to seek out light fabrics if possible, and women will wear chunky heels or formal sandals instead of stilettos.
If it's not formal, you have a lot more leeway to work with. Casual weddings what-to-wear-to-a-beach-weddingopen up the options of wearing short sleeves, sandals, and fun beachy colors and patterns. Semi-formal gives you options as well, although you want to keep some of the formal elements intact.
In any case, don't wear sneakers, denim, or cargo to a beach wedding. And unfortunately, unless otherwise specified by the bride and groom, bathing suits and beach towels are a no-no during the wedding, even if your beach trowel has shag.
Outfit Tips and Ideas for a Beach Wedding
The following sections are dedicated to elements of beach wedding attire that you can use to construct the perfect outfit. The headlines highlight general characteristics of beach wedding clothing.
Light Fabrics
Light fabrics such as linen, cotton blends, chiffon, or organza are all great options for beach weddings. Items made from these materials are not only going to be comfortable for what is hopefully a warm climate, but they often lend towards the beach wedding dress code as well.
A linen suit is a can't miss option for men and women alike. A blue or ivory linen suit is perfect for a beach wedding with a formal dress code. You can rock it if the dress code is more casual as well. Just ditch the tie, or substitute a collared shirt for a solid t-shirt instead.
Guys can wear a linen shirt with chinos or even chino shorts if it's a casual dress code. Style this combination with a pair of loafers or deck shoes, and you've got a simple outfit that fits the bill to the t.
A loose and breezy cotton dress is a cute and simple look for women. A chiffon blouse with a long skirt or a shoulderless blouse with a pleated chiffon skirt makes for a flowy and fabulous look that you can float around in all night.
Coastal Colors
It's pretty common to play it safe and conservative with your color choices when attending weddings. However, you make some fun color choices when the wedding is going down at a beach. One way you can choose lively colors and know that it won't look out of place is to go for colors you might see in nature on the beach.
Draw inspiration from a sunset over the ocean, flowers you might see along the coast, or even the colors that might lie beneath the surface of the ocean — coral pink and bright underwater ecosystems.
Guys, if you happen to have a funky-colored blazer or vest hanging in the closet, a beach wedding might be the perfect setting to bust it out and let it see some action. Wear a brightly colored blazer with a pair of neutral chinos or slacks.
What Footwear?
Footwear is a big one. There's a good chance that your choice of footwear for a beach wedding is going to be different than what you'd wear if the same couple was getting married on the same day in a different setting. This is especially true if any part of the wedding is taking place on the sand.
Ladies, you might be excited to know that heels are not required for a beach wedding in most cases. If you're on the beach, heels just aren't going to work– you'll sink into the sand. Instead, opt for some strappy sandals, chunky heels, or a pair of flats.
Loafers are a great option for guys– and you don't have to wear socks. In fact, going without socks will look even more beachy. You can go with boat shoes worn the same way if your look is more casual.
What about flip flops? If it's a casual dress code, leather flip flops might be able to pass– especially if you're going to be on the sand at all. Ladies can wear them with a long skirt or a sundress with no problem. For guys, a suit with flip flops is bold and kind of a vibe if you want to send it.
Short Sleeves
If wedding day happens to fall on a hot one, you might consider wearing something with short sleeves to help stay cool. Just keep in mind that formal dress codes usually steer clear from short sleeve options for guys and favor longer-length skirts and dresses.
Between short sleeve blouses, sleeveless tops, and sleeveless dresses women have several options and should be encouraged to go the short sleeve route if the sun is out. Remember to wear sunscreen too!
Guys might find it a bit more of a challenge to pull off a short-sleeve look for a formal wedding, but if it's a casual dress code, it's no problem. Go with a short-sleeve button-down; a polo can appear too golfy at a wedding. Short sleeves and shorts probably won't cut it for a wedding, even if it is on the beach. Opt for some lightweight pants instead.
Floral Patterns
Women can wear floral dresses to a beach wedding, especially if it uses a large flower print. A maxi dress with a cute floral pattern or a flowery sundress is ideal for casual settings.
Here's another look for guys to wear to a beach wedding that wouldn't fly at another wedding location: Wear a two-piece suit with a Hawaiian shirt underneath. If you plan on being the life of the party, this may be the outfit for you. A gray suit with a colorful floral shirt can only lead to a good time.
Beachy Accessories
Not talking about your palm tree tube float here: think beach-inspired clothing accessories. Accessories are where you can really add a touch of style and beach flair to any outfit that might otherwise just seem like a normal wedding outfit.
For example, a suit and tie is a standard thing to wear to a wedding, but make the tie a flowery tie, or a tie with dolphins printed on it, or anything else that suits the beach scene, and all of a sudden, it's a beach wedding look.
Women can flip standard wedding outfits into beach wedding outfits by putting a flower in their hair, wearing some sea-shell earrings, or a pearl necklace.
Charming Beach Wedding Looks
Love is in the air, sand is underfoot, and you look fantastic at this beach wedding. These breezy and beautiful outfits will help you look and feel your absolute best, so you can fully enjoy the fun beach wedding you've been looking forward to.
When you get a chance, snap a few photos while the sun is setting. See some old friends, make some new ones, celebrate the bride and groom, and dance the night away! If you're exhausted or hungover the next day, there's no better way to nurse yourself back to health than by relaxing in a Funboy lounge chair on the beach.
Sources:
21 Most Romantic Beach Wedding Destinations | Vacation Idea
Decoding the wedding dress code | Vox
Diverse Colors in Coral Reef Ecosystems: More Than What Meets the Eye | Coral Reefs Blog