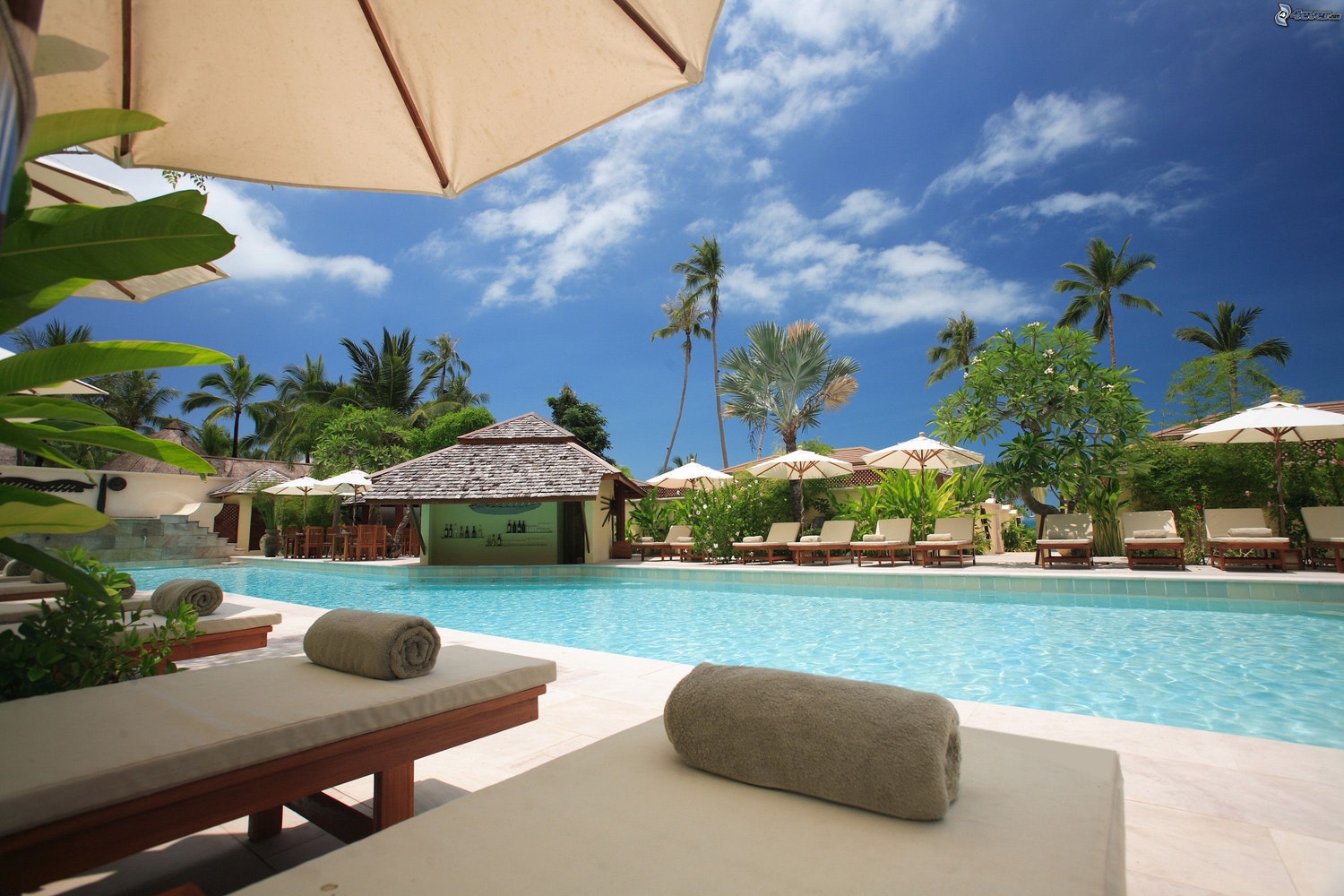 Best Luxury Beach Resorts in the USA
Where do you go to melt stress away and come back with the perfect shade of golden tan skin? Where can you stay in the finest suite, eat only gourmet food, and never be out of sight of a stunning view of the water? Or lay out on a beach towel all day, taking breaks only for a massage, pedicure, or any kind of pampering care you can think of?
A vacation at a luxury beach resort is somewhere in everyone's dreams. Even if you aren't aware of it, it's there, somewhere in the back of your mind, wishing that you'd notice so that it might someday become a reality.
Whether you're looking to escape the daily routine with your partner, group of friends, or the whole family, there is no shortage of elite destinations to choose from. Read on to get a glimpse of some of the best luxury beach resorts in the country. Whether it's along the Atlantic, the Pacific, or in a mountain lake setting — any place on this list might be the destination vacation of your dreams.
Shutters on the Beach, Santa Monica, CA
Experience one of the most popular beach hubs in the country while staying in a luxury resort with the feel of a private beachside cottage. Shutters on the beach is on the sand in Santa Monica, CA, a coastal suburb of Los Angeles.
In addition to the resort, you can explore one of the most happening cities in the world. In between your beach walks and spa sessions, you can explore local arts, performers, shopping, sights, food, and the neverending entertainment that you'll find in LA.
But you don't even have to leave the resort to live it up, soak up the west coast sunshine, and enjoy a full spectrum of beach activities and high-end relaxation. Shutters on the Beach has three different gourmet restaurants, a spa, beach cabanas, yoga classes, surf lessons, and modern art by world-renowned artists.
Four Seasons Resort Lanai, HI
Lanai is the smallest of the Hawaiian Islands but offers larger-than-life luxury at the Four Seasons Resort. Its seclusion is part of the appeal, is the exclusivity that comes with it. To reach the island, you take a boat ride from Maui that lasts about 45 minutes.
The resort itself is five-star, top-notch luxury: beautiful decor, delicious dining, and a menu of leisure activities to fill up your vacation. Golf on a Jack Nicklaus course, snorkel in the crystal clear water of Hulopoe Bay and swim in lagoon pools with ocean views.
It's a fantastic place to bring the kids as well, with a designated family pool and a fun kids club, so the parents can go exploring on their own for a bit.
Since 2012, the island has been owned by Oracle CEO Larry Ellison. He's since started an initiative to make the island a sustainable, 100% green community.
Edgewood Tahoe Resort, Stateline, Nevada
Not all luxury beach resorts are found on the ocean. The Edgewood Tahoe Resort is a perfect example of a luxury beach resort at a beautiful lakeside location.
Lake Tahoe is the second deepest lake in the country, filled with deep blue water that's beautiful to see from one of several nearby mountain tops and refreshing to swim in during the warm summer months.
The Edgewood Tahoe Resort assures your stay at this iconic nature destination is luxurious and comfortable. It has everything you might expect from a luxury beach resort: fine dining, waterside relaxation, and a rejuvenating wellness center.
It's a fantastic option to enjoy year-round and features different activities and accommodations depending on the season. Take the family during winter to build snowmen and ski at world-famous ski resorts. Autumn and summer make Edgewood the luxury option for a hiking and watersport paradise.
Ocean House, Westerly, Rhode Island
A historic East Coast stay, Ocean House is a Rhode Island landmark that offers the best of the New England luxury lifestyle. Where else are you going to find a tournament-level croquet lawn, putting green, garden to plate dining, and private white sand beach?
In the early 1900s, it was host to many rich and famous guests. It was a summer home destination for people from all over the country to participate in the elegant lifestyle and beautiful surroundings that Ocean House is known for.
In 2004 it was completely redone, staying as true as possible to the original but upgrading the structure and accommodations. To this day, it remains one of the premier oceanfront destinations in the country.
It's good enough for Taylor Swift, who paid nearly $18 million in cash for a nearby mansion.
Mirror Lake Inn Resort and Spa, Lake Placid, New York
Another top-tier lake resort, the Mirror Lake Inn Resort and Spa, offers guests breathtaking views of the Adirondack Mountains. Rooms and suites are accented with stained wood and come with private balconies with lake and mountain views. You'll be hard-pressed to find a better place to enjoy a scotch and read a classic novel.
Summertime invites guests to enjoy outdoor pools, tennis, fishing, boating, and of course, relaxing on a private beach. The only thing you could bring along with you to make the experience even better is a Funboy pool float, as this massive inflatable butterfly float.
The wintertime allows you to ice skate on the frozen lake, explore the outdoors by snowshoe, scoot down local sledding hills, and you can still swim as well in their indoor pool.
Whether you're heading here in winter, summer, or anytime in between, Funboy has the inflatable pool floats and snow sleds to add to the luxury resort experience.
LaPlaya Beach & Golf Resort, A Noble House Resort, Naples, FL
LaPlaya Beach and Golf Resort is a trendy destination that the whole family will enjoy. A tranquil spa and full-fledged gym cater to your health and wellness, while a huge swimming pool, 18-hole golf course, and kids club make for days full of easy enjoyment for everyone.
Have a bonfire at a beach fire pit and hang out deep into the night. If you get chilly, you can take a soak in the jacuzzi bathtub back in your room. The resort is luxurious but relaxed. It's beachy yet contemporary, with bright spaces and welcoming energy.
Naples is known for high-end shopping, decadent restaurants, and white sand beaches along the Gulf of Mexico. It's another luxury beach resort with a stock full of exciting and relaxing amenities; how on earth are you going to choose from this list?
Mandarin Oriental (Miami, Florida)
This is the beach resort to put on your list if you're looking for a destination that has both beach relaxation and city nightlife. The Mandarin Oriental in Miami is a flashy five-star hotel with a private white sand beach, multiple restaurants, and an infinity pool.
It is located on Brickell Key, an island east of downtown Miami. Easy access to Miami means that there's plenty to explore outside the resort, but that's only if you can justify leaving everything the resort has to offer.
Montage Laguna Beach (Laguna Beach, California)
The Montage Laguna Beach is known as a celebrity escape, but you don't have to star in movies or host reality television to enjoy the feel and be treated like a star here. It's got all the pampering you could dream of, from a eucalyptus steam room, to dry redwood saunas and outdoor whirlpools.
Hang at the pool, at the beach, or on outdoor decks overlooking the water. With three elite restaurants at your fingertips, it's like having a private chef at your disposal.
If you can manage to step away from the resort, Laguna has picturesque hiking trails along the hills that back the oceanfront. The city of Los Angeles has a lot to explore, but it might be difficult to step away from this luxurious haven.
No Last Resorts. Only Luxury.
While the luxury beach resorts mentioned are certainly not the only options for you, this list really does have something for everyone. Whether you're looking for a romantic getaway, a party weekend with the squad, or a trip with the whole family, one of these resorts is sure to be what you're looking for. There are options for winter sports lovers and golfers as well.
By now, you should have a pretty good idea of where the beach resort vacation of your dreams is located in real life; it might be even better than you imagined!
Sources:
The 25 Best Cities in the World in 2022 | Afar
Why is Larry Ellison turning Lanai, Hawaii into a 'health utopia'? | South China Morning Post
Inside Taylor Swift's $17 Million Rhode Island Mansion | Business Insider