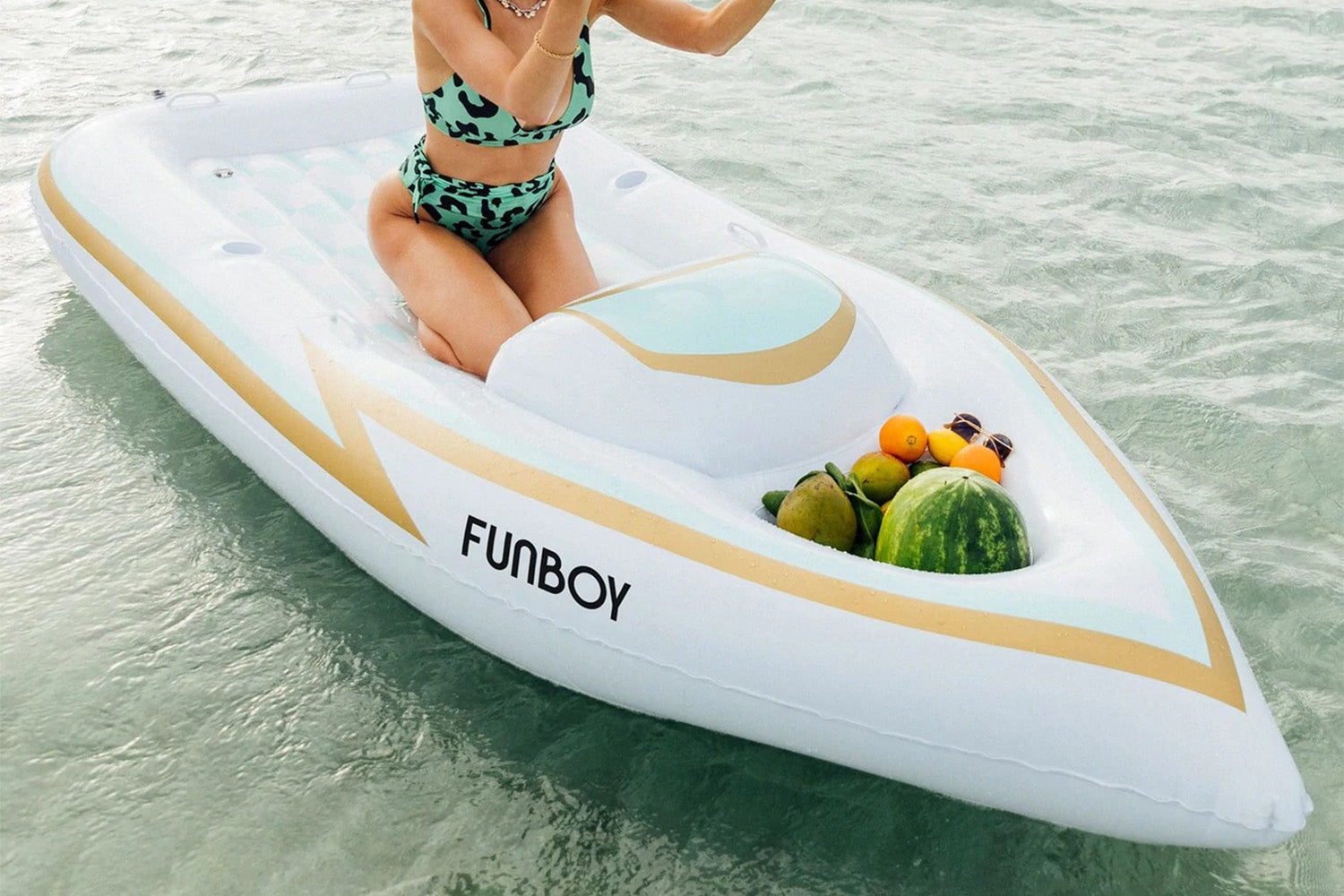 How To Charter a Yacht for a Fun Vacation Activity
You've seen them in movies, tv shows, and music videos. You've heard about celebrities escaping the noise on private yachts. Have you ever pictured yourself on a yacht?
It's actually not as far-fetched as you might think. Sure, owning a luxury yacht is out of reach (not to mention impractical) for most of us, but aren't you curious what sailing the seas on a private yacht would be like?
If so, perhaps chartering a yacht for an amazing vacation is somewhere in your future. Read on to gather tips on making this dream a reality, and until then, the incredible inflatable yacht by Funboy will hold you over in the most exciting way possible.
What Makes a Charter Vacation Unique
Chartering a yacht is somewhere in between renting a boat and going on a cruise. It's unique, and that's why it has its own fancy word. But what makes chartering different from renting or cruising?
Renting a boat usually implies taking out a smaller vessel for the day. When you rent a boat, you or someone with you is responsible for driving (or sailing) it. As long as you follow laws and guidelines, you can go where you want and make your own agenda.
Going on a cruise is like staying at a moving hotel. They're bigger than yachts, and while you might enjoy similar amenities and activities, once the trip is booked, you don't get to decide where the cruise ship goes, stops, or what they offer aboard. There are also a lot of people you don't know who are staying aboard with you.
Chartering a yacht is usually for several days at a time. It's larger than a boat you'd rent, but you still have the freedom to choose when and where you move. There are also several decisions to make as far as what goes down on board the yacht and what details will make your vacation on a yacht the best time ever.
Personalized Luxury Experience
Chartering a yacht is kind of like being in charge of your own private cruise. It's a personalized experience that requires a good amount of planning. It's not quite as simple as booking a cruise or a resort vacation; that so happens to be the very reason why you're reading this article, to begin with.
To secure a private yacht charter and plan your journey so that it will be the best vacation ever, there are decisions to be made. The main factors to consider are the size and type of the yacht, crew, and guests, location, food and drink, and activities you want to enjoy during your vacation.
Each of these details will have a say in how your awesome vacation plays out, as well as the final cost of chartering a yacht.
Where To Begin: Luxury Yacht Charter
With so many details to be worked out, where do you even start? A good place to begin is by looking into a charter broker. A charter broker is an individual or company that has connections to yachts all over the world. They are able to help you nail down the details of your trip, find the right vessel and crew for your needs, and set you up for the vacation of a lifetime.
An MYBA-approved yacht charter broker has experience and connections within the industry. They will give unbiased advice and helpful information to make your trip as smooth as possible.
Most of the time, yacht brokers get paid from the yacht owner renting out their boat; that means that you get their service and expertise without tagging on a cost.
Charter Experience Options
There are three different ways you can charter a yacht. Each varies in cost and significantly affects the overall experience you will have on board.
Crewed Yacht Charter
Chartering a crewed yacht comes not only with the boat, but the crew of people who operate it as well. The crew is filled by roles such as the captain, deckhands, chef, concierge, etc. You might also hire a crew that includes a massage therapist, diving instructor, or fitness trainer.
The size of the crew depends on the size of the boat, with larger vessels needing more people to ensure smooth sailing. Crewed yacht charters are the most expensive, as you pay for the cost of renting the boat as well as the services of the crew.
Bareboat Yacht Charter
A bareboat yacht charter includes the boat only without the crew. This means that you'll either have to hire out your own crew separately or sail the ship yourself.
To do the work yourself, you or someone with you has to know how to operate the boat. You should expect to spend a fair amount of time taking care of duties aboard the ship and a bit less time laying back and relaxing as others do it for you.
For people who love sailing or want to learn how to operate a yacht, a bareboat charter is a fun and rewarding experience. Plus, you still get to enjoy being on the yacht!
The cost of chartering the yacht without the crew is cheaper, although you should expect to do some work or enlist people who can do it for you.
Cabin Yacht Charter
Cabin charters may be a good option if you're looking for a yacht experience solo or with one other person. It's also the most affordable option for chartering a yacht.
Chartering a cabin is essentially renting out one of the rooms in a yacht. You'll share the yacht and the experience with others who do the same with the other cabins on board. Who knows, maybe you'll make some lifetime friends?
What Type of Yacht Should You Charter?
Size
The size of the yacht determines the number of people aboard and what amenities it might include. A megayacht (60 meters or longer) might include a pool, sauna, putting green, etc. But, it requires a larger crew and comes with a hefty charter price. A superyacht is slightly smaller (24 meters or longer).
A smaller yacht, like this adorable floating dog yacht, comes with a friendlier price tag.
Sailing or Motor Yacht?
Do you want to explore the ocean the old-fashioned way, with a sail, or do you want a smooth motor-powered experience with more deck space? There's definitely something magical about harnessing the power of the wind to take you where you want to go, but the extra gear requires more deck space, which means less space to chill. Fans of the Catamaran and similar water toys know this feeling well!
A motor-powered yacht means you can go straight to where you want to go without a problem. There will be extra space to spread out in, and the ride is usually smoother. The trade-off, however, is the cost of fuel.
The British Virgin Islands and Thailand are considered the best destination for sailing yachts.
Location
Where do you want to explore? Certain seas are known as ideal yachting destinations. Do some research and see what calls out to you.
When choosing your charter destinations, keep the time of year in mind.
The Bahamas
The high season for the Mediterranean and the Caribbean is in the winter. New Zealand is home to winter yacht guests (home to the world's smallest penguins — adorable).
In the summer, try Monaco in the French Riviera.
You might find better deals with a charter company and more availability during off-seasons. Take your superyacht charter to Montenegro, Croatia, or the Greek Islands in the winter.
Food and Drink
Food and drink are a huge part of the experience. Who doesn't want to lounge on the deck of a yacht, a luxuriously soft beach towel draped over their shoulders, and have their favorite food whipped up by a professional chef and served to you by a concierge?
You get to choose what food and drink you want onboard. Work with your broker to set the details straight ahead of time so that you only eat your favorite foods while on the yacht.
Activities and Itinerary
Yachts are often equipped with equipment for water sports such as snorkeling, diving, jet-skiing, etc. See what options are out there and decide what activities you'd like to have available on board.
You also need to think about where you'd like to stop along the way. Do you want to take a cooking class somewhere along the coast of Italy? Scuba diving in Greece? Hit a nightclub in Ibiza?
A Fun Vacation You Won't Forget
It takes a lot of planning, but everything you plan is for the fun and enjoyment of everyone on your yacht vacation. Are you ready to make it happen? Contact a broker today and start organizing the vacation of a lifetime.
Looking to avoid the charter fee? There are some other options for fun in the sun.
Sources:
You might be surprised how much it costs to charter a yacht right now | CNBC
Penguins in New Zealand | New Zealand.com.