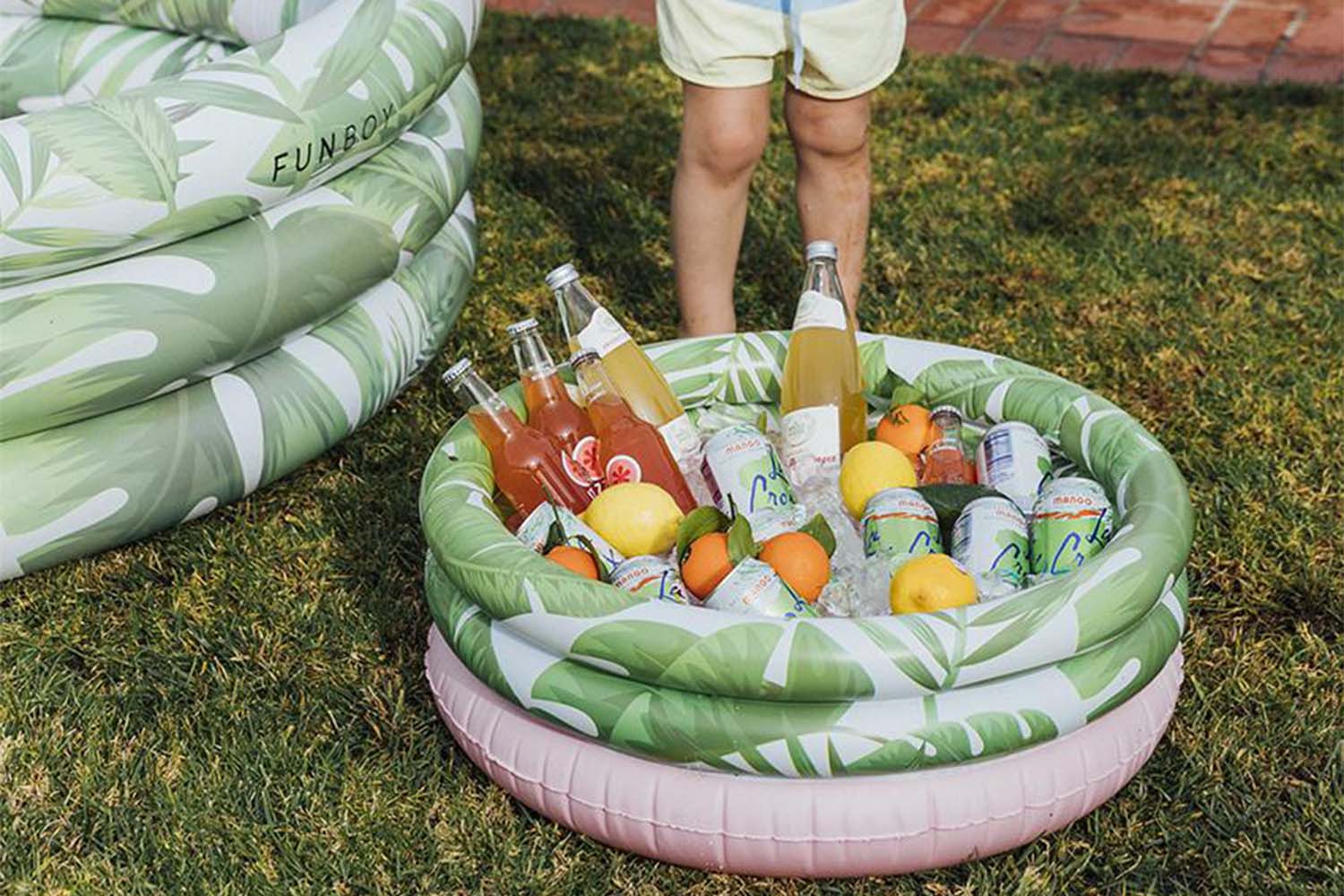 6 Fun Backyard Bonfire Ideas: It's Party Time!
Whether it's a crisp summer evening or a chilly fall night, you really can't go wrong with a backyard bonfire to celebrate a bestie or loved one's special day. 
More than just a basic bash, a backyard bonfire party delivers an exciting and unique experience that can be fun for people of all ages. 
Yup, it's true; it doesn't matter if you're two or 102 — bonfire parties are the bee's knees for everyone. After all, there's nothing quite like the magic, warmth, and fun of sitting around a crackling fire to turn any ol' shindig into a #CoreMemory that'll last a lifetime.
So, you're planning to throw an epic bonfire party in your backyard but need some inspo? Don't worry — FUNBOY is here to help. In this guide, we'll cover all the best tips and tricks to help take your bonfire from "mehh" to an out-of-this-world epic party. Are you ready?
Let's party!
What Supplies Do You Need to Host a Backyard Bonfire?
If you're new to the whole bonfire thing, you might be a little confused about what kind of supplies you'll need to be the greatest host of all time (aka the #GOAT). You want your party to be memorable for all the right reasons — it should be more of a Met Gala than Frye Festival. 
While it's totally up to you how you'd like to decorate and accessorize the party. The options are endless. But there are a few bonfire essentials that you definitely don't want to forget — here are some of the must-haves:
#1: A Fire Pit (obvi)
Here's the deal: if you're going to host a backyard bonfire, you'll need some kind of fire pit —whether it's a simple hole in the ground, a portable bonfire, an elaborate fire table, or something different. Choose the pit of your liking and the size of fire you're going for. A bigger party typically means you'll want a larger fire pit for everyone to fit around. 
If you live in a fire-prone area (hello, Southern California), you might want to reach out to your local Fire Department to make sure you're being safe. Again — memorable for the rightreasons. 
#2: Firewood
If you're using a wood-burning fire pit, you'll need plenty of logs to keep the fire burning all night long — as well as a lighter to get it started. Use local firewood to keep the whole shindig environmentally friendly. Be sure the logs are not wet otherwise you'll have a super smoky fire that'll leave your guests coughing. 
#3: Lawn Chairs
An evening under the stars calls for cozying up. Make sure to have lots of comfortable seating for guests — whether that's folding chairs, haystacks, logs, or stumps. When your guests are comfortable they'll stay longer to keep the party going. 
Our FUNBOY Retro Lawn Chairs are also an iconic option. Not only are they unbelievably comfy-cozy to sit in, but they are lightweight, fordable, and easy-peasy to carry. What's not to love? (Oh yeah, and they look fabulous on Instagram too.)
#4: Food and Drinks
Honestly, what's a party without food? Hot dogs, burgers, and brats are the quintessential bonfire foods that you absolutely need around the fire. But don't just stop there — make a tasty spread with the treats listed below to take your bonfire party menu above and beyond:
Hot cocoa
Boozy cocktails and beer (adults only)
Chips and dip
Fondue 
Popcorn
Fresh fruit (like watermelon, pineapple, and strawberries)
Soft drinks (like bottled water and soda pop)
And of course, all the goodies to make s'mores:
Marshmallows
Graham crackers
Chocolate squares
(PS: don't forget the roasting sticks)
#5: Tunes
Last on the list, but certainly not least, you'll need good tunes to keep the party alive, whether it's a Spotify playlist, radio, or even your super talented uncle who can jam on an acoustic guitar. Music is a simple yet effective way to keep the mood upbeat and fun.
Top Tips and Tricks To Make Your Backyard Bonfire a Hit
Ready for some awesome red hot tips? Here are a few ways to help take your backyard bonfire party from a boring drag to totally rad:
#1: Location, Location, Location
A bonfire needs plenty of open space to accommodate its oversized flames and party guests — safely. To properly host a bonfire extravaganza in your backyard, it's of the utmost importance to first ensure that you have enough room for safe seating (both close to and away from the fire), as well as room for friends to mix, mingle, and of course, party-hardy.
Don't have enough space in your backyard? Here's an idea for you: Why not host at a nearby beach, park, or open field, instead? Rally up the troops to a disclosed location and spark up the campfire for one heck of a good time. Just make sure you're good with local laws. A party ended by the local sheriff is no one's idea of a good night.
#2: Make It a Movie Night
Have you checked out @KourtneyKardashian's Insta lately? In one of her recent posts, she hosted an outdoor movie theater night in her backyard — how fun?! With this in mind, we thought it would be a great idea to recreate this amazingness and pair it with a bonfire party.
Here are some quick tips to make it a success:
Make a "screen" out of a white bed sheet hung on a clothesline and anchored with heavy weights or rocks. 
Set up a snack station and popcorn bar that includes all the good stuff, like chocolate chips, nuts, fruit snacks, and candy. 
Do it like Kourtney K. and set up a few kiddie pools around the movie screen before filling them with fluffy pillows and warm blankets to make your party guests a cozy place to lounge.
#3: Set Up a Hot Dog Bar
Need a budget-friendly approach to feeding people with minimal effort? Set up a hot dog bar! 
Lay out all the fixin's like the dogs, buns, mustard, ketchup, and relish. You can have guests roast their own hot dogs over the fire and dress them in any way that tickles their fancy. You can even have pre-boiled corn on the cob that your guests can roast over the fire and then finish it off with a little salt and butter. 
Easy-peasy, lemon squeezy.
#4: Choose a Theme
Give your bonfire a little extra pizazz by giving it a fun theme. You can go with the classic tiki party, make it a toga night or even stick with a simple and warm autumn ambiance.
Here are some other fun party themes that you can consider for your bonfire:
Pirate party
Wild West
Hollywood
Disco fever
Murder mystery party
Pro Tip: If you're lucky enough to have a pool, you can turn your bonfire into a backyard pool party! All you need are some cozy towels for guests to get dry after taking a dip and a few Instagram-worthy floats like our FUNBOY x Aviator Nation Yacht or White Swan Pool Float for an undeniably fun time kickin' it poolside.
#5: Play Bonfire Games
Depending on the age group of your guests, you can pick from a wide variety of games to play at your bonfire. Unleash your inner child with a round of flashlight tag or hide-and-seek. You can also sing some classic campfire songs, play truth or dare, or do an outdoor scavenger hunt. 
When it comes to party games, the options are endless. Here are some of our favorites:
Telephone
Two truths and a lie
Charades
Ghost stories
Name that song
#6: Level Up Your S'mores
Ooey-gooey s'mores are a given when it comes to bonfire parties. To make this treat extra sweet, we recommend setting up a s'mores table that doesn't only have the classics like chocolate, graham crackers, and marshmallows, but a few fun add-ins like peanut butter cups, flavored marshmallows, and even bacon, too. (Mhmmm bacon…)
You can also swap out the graham crackers for other tasty cookies, like Oreos, Chips Ahoy, and shortbread cookies. The sky's the limit — so have fun with it.
Turn Up the Heat and Enjoy
And there you have it — six totally rad backyard bonfire ideas. Whether you decide to make it a movie night with our adorable Clear Pink Heart Inflatable Kiddie Pool or choose an exciting theme like a tiki party or disco fever, your next party is sure to be a major hit.
Here at FUNBOY, we're on a mission to bring the world's best luxury pool floats to the masses. From pink swans and golf carts inspired by Barbie to the comfiest — and coolest — loungersaround, you can always count on us to have just what you need to make your poolside adventurers FUN.
Check us out today and see how we can help you to have a summer state of mind tomorrow. Trust us — you'll be glad you did!
Sources:
Requirements for Open Fires, Fire Pits, Bonfires and Open Burning | Anne Arundel County Department of Health
Campfire Safety | National Fire Protection Association