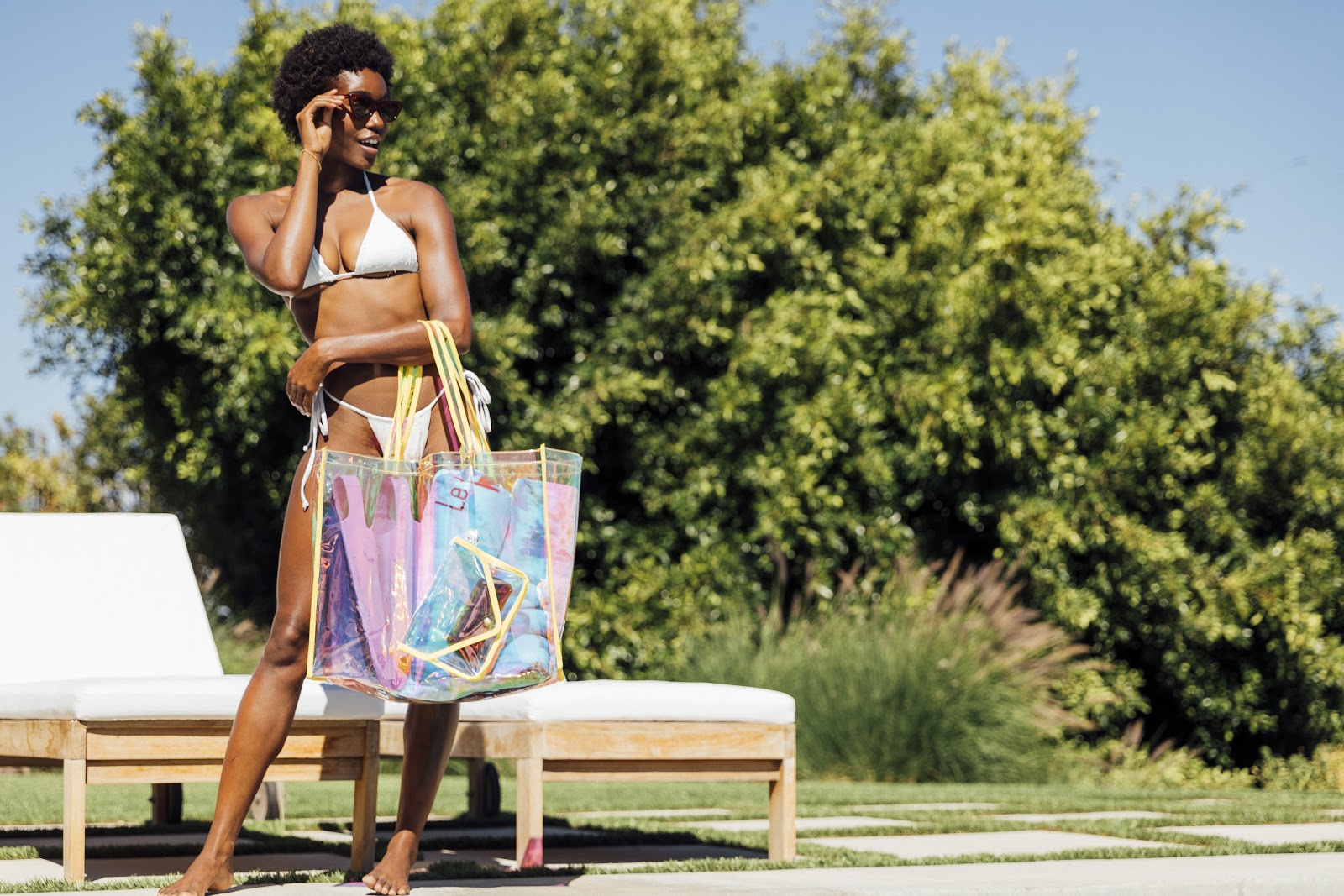 Creative beach outfit ideas to look stylish in
With warmer weather upon us, now's the time to take a relaxing trip to the beach. But, that relaxing trip can quickly turn into a nightmare when you don't exactly know what to wear. Dressing for the beach can be more complicated than just picking out the perfect bikini. So, it's only natural if you need a little bit of style guidance for your next sunny adventure spent on the sand, which is why we are here to help!
No matter what your next beach-based event may be, we've got a look that you are sure to love. From casual and cute to elegant and dressy, we have plenty of stylish and creative beach outfit ideas for you to explore. 
Beach Day Outfits
Are you heading for a lowkey and relaxing day at the beach? Choose a beach day outfit that is casual, comfortable, and fun for a fantastic look. To start, pick out a cute bikini. 
Then, partner it with something that's simple to throw on over the top, such as a beach dress orkaftan. Finally, finish with your favoriteFUNBOY Iridescent Beach Tote to carry all the beach essentials, like your sunscreen, towel, water bottle, beach read, and more. 
Sexy Beach Outfits
A beach date naturally calls for a sexy beach outfit. So, put away your adorable pink pineapple printed one-piece and choose a stunning black bikini instead. Then, cover up with just an itsy-bitsy sheer chiffon sarong, tied with a side-split to show just the right amount of skin. Finally, add some mystery to your look while remainingsun-smart with a hat and your favorite pair of aviator sunnies. 
Boho Beach Outfits
Luckily for those looking to achieve a gorgeous boho beach outfit, thebohemian style works perfectly in any sandy setting. To crush this look, let your free-spirited soul run wild with playful prints, easy-going designs, and unique textures. 
Not exactly sure where to start? Pick a printed bikini and partner it with denim cut-offs, a crocheted top, and a pair of gladiator sandals. We are also a fan of flowy floral beach cover-ups, beaded accessories, and large floppy hats. 
Cute Beach Outfits
Cute beach outfits are not only fun to create but easy—so don't be afraid to give this creative look a try. The key to nailing a totally cute beach look is to start with a super chic bikini in a bright or light color. 
Then, throw on a lightweight cover-up or a dress over the top. Oh, and don't forget to accessorize! A sweet straw hat, a beach tote, and a beautifulcozy towel like the ones found at FUNBOY will complete your look. 
Dressy Beach Outfits
Whether you are heading for a picnic with your besties or cocktails at that cool new beachfront bar you've been dying to check out, sometimes a dressy beach outfit is the way to go. 
For those occasions, a stylish dress tends to work best. Just pick something fashionable that also suits the relaxed beach vibes, such as an off-the-shoulder cotton dress. To complete your look, cute chic accessories in natural colors and materials work best. 
Beach Wedding Outfits
Summer is the season for beautiful weddings at the beach. But, while these types of weddings are incredibly scenic, they can also be a bit tricky to dress for. 
To nail this challenging dress code, select a printed or colored maxi dress in a lightweight fabric. Then, pair it with your favorite dressy sandals and chic jewelry for a practical yet gorgeous appearance. Keep in mind that it can get hot at the beach, so be sure to bring yourFUNBOY Hydrating Water Mist to refresh your skin and keep cool. 
Beach Themed Party Outfits
To create a stylish beach-themed outfit for your next beach party, you need to select a look that fits in with the beach setting without actually looking like you are going to spend a day at the beach. As such, a playsuit or a cute dress makes for a perfect choice. To complete this beachy look, add a cropped denim jacket, block heels, and a pair of playful earrings. 
All White Beach Outfits
White is such an amazing and chic color to wear to the beach. Not only does it look absolutely fabulous in the sunshine, but it can also make your beautiful golden glow look deeper and even more gorgeous. As such, an all-white outfit can make a lovely option when heading to the water. 
To rock the look, select a white bikini or one piece and add a white skirt and top. A white dress is also a good option. When it comes to accessories, be sure to opt for natural material and neutral shades. 
Plus Size Beach Outfits
If you happen to be a stunning plus-sized lady, the beach is the perfect place to show off those beautiful curves of yours. All you need to do is pick a flattering bikini or swimsuit and pair it with stylish garments and accessories. 
In particular, a halter neck one-piece or tankini paired with a cute sarong skirt, sunglasses, and your favorite pair of sandals can make for a lovely look. Tie the sarong at waist-level to nail the hourglass look that most women can only dream of.
Winter Beach Outfits
Just because it's winter doesn't mean you can't enjoy a fun and stylish day at the beach! Whether you are off for a quiet walk along the seashore or are simply watching the waves roll in, rocking a pair of jeans with simple sneakers, a t-shirt, and a casual, cozy cardigan to the beach in winter is a chic and practical idea. 
Summer Date Beach Outfits
Do you have a romantic summer date at the beach coming up? Or are you planning on having a nice date with your loved one beachside during your vacation? This calls for a beachy summer date outfit! 
Make sure this beach outfit is a little dressy, cute, and flirty. For this look, an off the shoulder dress, some cute strappy sandals, and a floppy hat are all great choices. 
Tropical Beach Outfits
There's no better place to pull out your tropical print clothing items than on a beach resort vacay! Rock the boldest of palm leaves, floral, and bird-inspired patterns. Espadrilles pair perfectly with a cute tropical maxi dress or skirt and top. Don't forget yourTropical Jungle Tube Float to complete this fun look. 
Tips On What To Wear To The Beach
You are sure to get your creative mindset flowing with our beach outfit ideas listed above. Here are some additional tips on what to wear to the beach:
Think about why you are heading to the beach, be it a leisurely day by the water or a glamorous beach wedding. Be sure to dress for the occasion. 

Choose the style that you are aiming for before deciding what to wear, such as a boho babe appearance or a sexy beach look. 

Once you decide on a style, select garments that will work with this style to create a cohesive and cute outfit.

If you are feeling stuck, start by choosing your swimsuit and go from there. Add matching overgarments and accessories as you go.

Keep things looking beachy with lightweight fabrics, bright and light colors, playful prints, loose silhouettes, and simple, chic accessories. 
With our creative outfit ideas and tips, you are sure to rock your beachy look. Just don't forget to put on sunscreen or bring yourretro lawn chair to relax in the sand. 
Also, be sure to bring your favorite inflatable floats for a truly great and relaxing time. Whether you're looking to soak up the rays in the water on aluxurious rainbow chaise lounger or prefer to catch the waves on a chicTie Dye tube float, FUNBOY has a floaty for every beach occasion. 
A Final Word
If you ask us, there is no better place than the beach! 
We hope this creative style guide has given you plenty of ideas on what to wear on your next beach adventure. From cute vacation outfits that are boho and sweet to looks for a date night that are sexy and fun, let these outfit ideas serve as your inspiration. 
Just don't forget the essentials like sunscreen, towels, lawn chairs, and of course, your favoriteFUNBOY inflatable float for maximum relaxation. 
Sources:
https://www.loveyourdress.ca/dress-blog/how-to-wear-a-kaftan-style-tips-more/
https://www.cancer.org.au/cancer-information/causes-and-prevention/sun-safety/be-sunsmart
https://www.thepearlsource.com/blog/bohemian-style-ultimate-guide/