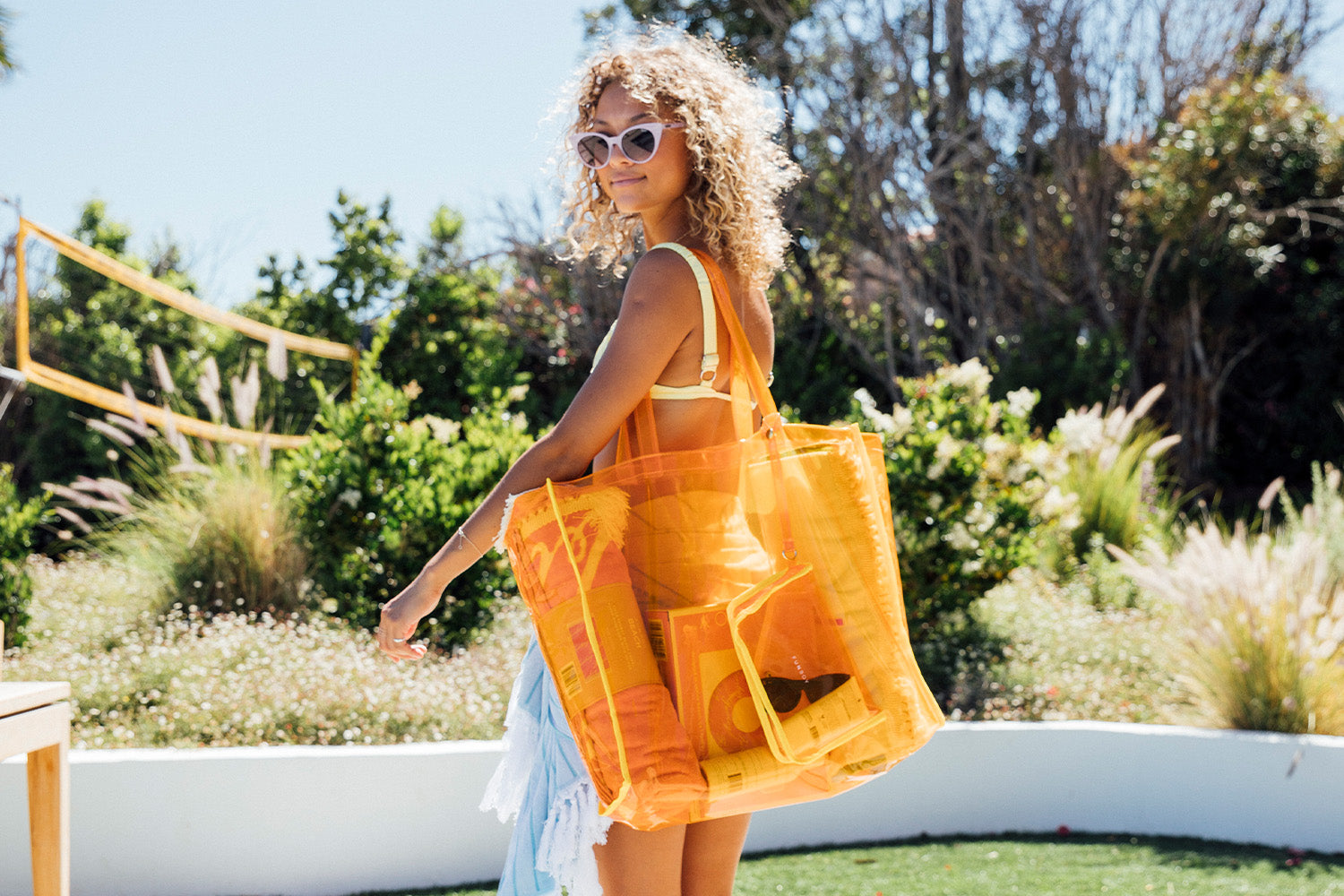 Beaches With Clear Water: The Best in the United States
Beaches with crystal clear water are a step above the rest. You can peer through the surface of the water, see the seafloor, and watch the fish swimming by.
This makes the swimming experience all that much more appealing. You can enjoy the clean and refreshing water without worrying about stepping on a rock or swimming into the open mouth of a shark.
On the other end of the spectrum, we have murky water with a layer of film sitting on top. Dirty beaches with seafoam could even be a repulsive shade of brownish-yellow. Some beaches seem like a direct runoff of the city's waste. No, thank you.
The beaches on this list have some of the clearest, cleanest, purest water you can swim in across the entire country. Make sure to throw your snorkeling gear into your beach bag because the view from underwater is just as good as it is from the shore.
Waimea Bay Beach Park, Hawaii
Hawaii has no shortage of beautiful beaches and crystalline ocean water. Waimea Bay Beach Park is one of those that truly stand out. Big wave surfers love this spot during the winter months; waves consistently get up to 30-feet high. If you're not ready to charge monster waves, hit up this spot during the summer months when it's a much calmer swim.
Something that sets this beach apart is what's waiting beneath the clear water. Sitting on the seafloor of Waimea Bay Beach Park are several massive rocks. Their size puts into perspective the vastness of the ocean and the minuscule size of us humans in comparison. Snorkeling at this spot is a win for the rocks alone, let alone the colorful fish and sea turtles that inhabited the area.
Crandon Park Beach, Florida
On the island of Key Biscayne, just a few minutes from downtown Miami lies a beach paradise away from the bustling city, complete with white sands and clear and calm waters. As close as it is to the happening city of Miami, it is a beautiful beach oasis for recreation and relaxation.
Crandon Park Beach offers two miles of white sands to find your spot, set out your beach chairs, and enjoy the surroundings. There are several watersports available, from kayaking to stand-up paddleboarding and kiteboarding. The mellow water caters to these activities, which don't require large waves.
Clearwater and snorkeling are always a great combination, and Crandon Park Beach has a unique underwater scenery to explore. The coastal barrier reef is home to the Maritime Heritage Trail, part of Biscayne National Park. Here you can dive or snorkel to discover six different shipwrecks dating all the way back to 1878.
Assateague Island, Maryland and Virginia
Assateague Island is one of several east coast islands that offer a beach island escape without flying or sailing out of the continental US. Spanning 37 miles along the Atlantic Coast, Assateague Island features white sand beaches, clear waters, wildlife, and recreational activities galore.
Something that sets this Atlantic island apart is the wild horses that roam freely about. A beach with wild horses sounds like something out of a movie! Keep your eye out for them. If you don't run into them on the beaches, you might have better luck while hiking some trails or exploring the dunes.
In addition to horses, the island is a popular birding destination for those looking to log some unique birds. There are over 300 species of birds to see on the island.
While you're there, you'll definitely want to spend time in the water enjoying your favorite beach activities like swimming, surfing, and boogie boarding. Fishing, kayaking, and paddleboarding are also options to enjoy in the water. You can also rent ATVs and ride along the beach, head out for a bike ride to explore the island.
Clearwater Beach, Florida
Okay, we can't go any further without mentioning the beach that fits this article by name. Clearwater Beach. Could there be a list of beaches with clear water that doesn't include Clearwater Beach? Could there be a beach called Clearwater Beach that doesn't actually have clear water at all?
Both would be misleading and disappointing and not cool at all.
Fortunately, Clearwater Beach lives up to its name. There's a reason it's a favorite with the locals and visitors alike. With several activities to choose from, Clearwater Beach retains its natural beauty with clean beaches and water in a way that many beaches lose when tourism takes off.
While spreading out your beach towel and appreciating the natural paradise is wonderful enough on its own, you can also enjoy all the beach activities and water sports you want.
Rip around the water on a jet ski, or float above the waves while parasailing. Let's just take a moment to appreciate how we, as a species, have decided to attach ourselves to giant kites.
If you're not looking for an adrenaline rush but still want an exciting ocean experience during your trip to Clearwater Beach, consider a dolphin tour to say hello to the friendliest and most playful creatures in the ocean. Or take the kids and board a pirate-themed cruise ship.
Carmel Beach, Carmel by The Sea, California
Clear blue water is just one of the beautiful aspects of Carmel Beach. Go from the spectacular blue water to the white sand on the beach to the vibrant green of stretching trees and unique foliage that lines the nature trails along the beach.
Get on a bike and explore the historic town of Carmel by The Sea, unless you're planning on going wine tasting at its world-renowned wineries — maybe stay off the bicycle in such cases. You can check out Pebble Beach, the legendary golf course home to the US Open, just a few miles down the road.
Mission San Carlos Borromeo de Carmelo, also known as the Carmel Mission, is one of the 21 California Missions that were originally established in the 1770s. The Carmel Mission is still standing and active today and is the burial site of Saint Junipero Serra, who established nine of the 21 original missions.
Like many beach towns, there are also plenty of local eateries and boutique shops to explore as well. Whatever activities or local establishments you visit, don't leave Carmel Beach without catching a sunset over the ocean.
Cannon Beach, Oregon
Cannon Beach is close enough to Portland for a day trip and is one of the most beautiful and underrated spots in the Pacific Northwest. There are miles of sandy beaches along a coastline characterized by large rock formations and grass-lined cliffs. Picnic atop one of these cliffs and overlook Cannon Beach as the clear water crashes against rocks and sprays into the air.
There's a massive rock at Cannon Beach, known as Haystack Rock, which had an appearance in the iconic 80's film The Goonies. It's impressive as a whole, but if you look closely, you might notice puffins nesting in the nooks and crannies of this giant seaside feature.
And to top it off, while it's not typically something you'd think of as part of your beach experience, you might spot wild elk grazing in a nearby meadow along the cliffs. Sure, you're probably not going to surf at this beach, but there is plenty it offers as a trade-off that you aren't going to get anywhere else.
Lake Tahoe, California and Nevada
Straddling the border of Northern California and Nevada, Lake Tahoe is a large lake in the Sierra Nevada Mountains and the second deepest in the United States. It's surrounded by mountains and ski resorts that are a premier destination for snow sports enthusiasts from all over the world. The snowmelt from these mountains is how Lake Tahoe has some of the freshest water in the world.
The water itself is crystal clear, and the tap water sourced from the lake has been voted the number one tasting tap water in the country. And you can swim in it. It's hard to find a better place to enjoy nature, so put your phone away and float Lake Tahoe on the FunBoy Retro Phone Pool Float instead!
There are several beaches to find along the 72-mile trail that circles the lake. Fishing, boating, waterskiing, and wakeboarding are all popular activities, as are hiking and camping in the lush wilderness surroundings.
Clear Water, Clear Skies, Good Times
Clearwater beaches are picturesque. It's the fun and reinvigorating day you dream of, and there's nothing that substitutes for it completely. If you get a chance to visit one of these beaches, jump on it and enjoy every moment!
Sources:
There's 'poop in the water' at America's dirtiest beaches | USA Today
Maritime Heritage Trail | Biscayne National Park (US National Park Service)