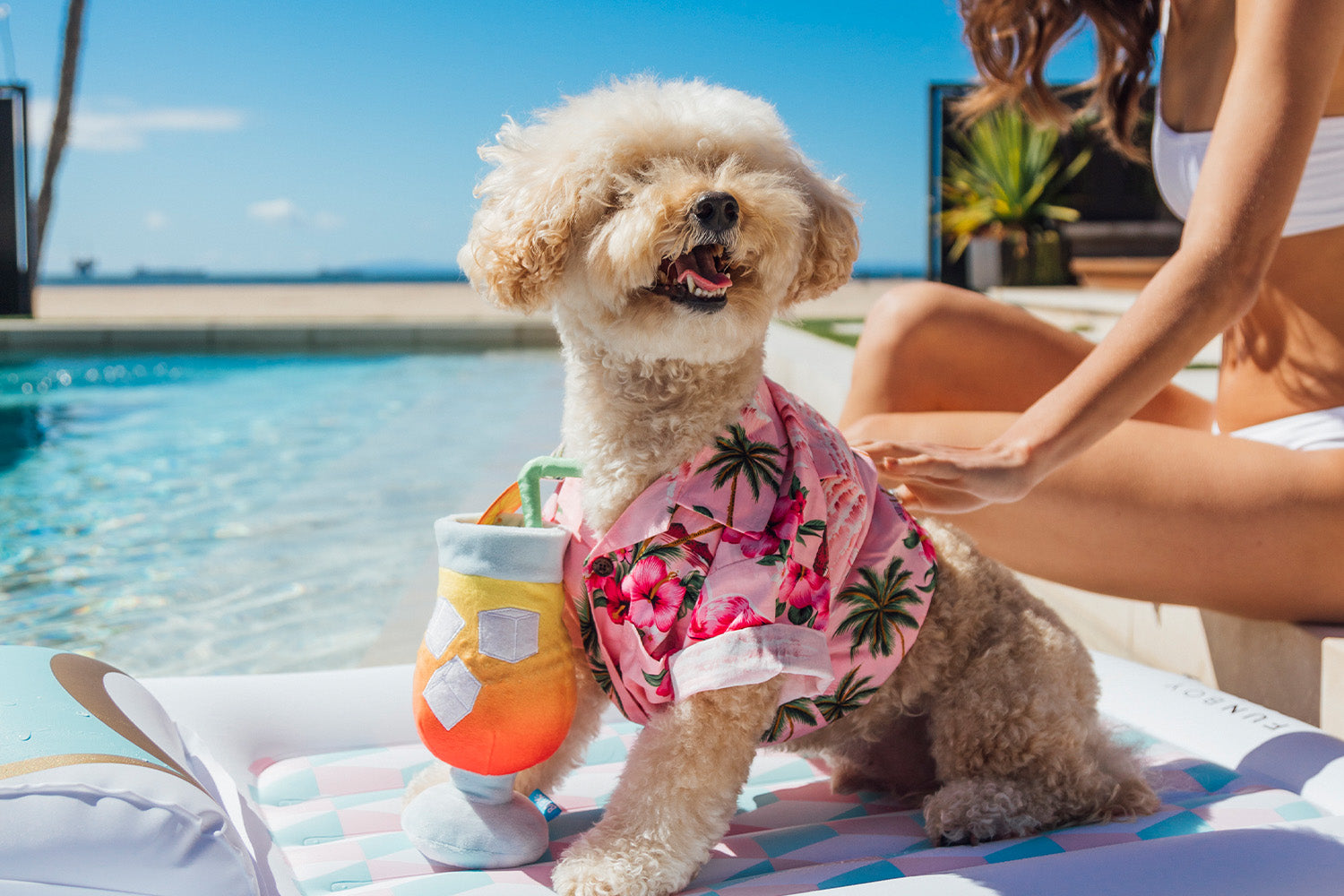 Dog-Friendly Beaches To Take Your Pets This Summer
Ruff ruff splash! Beaches are the perfect spot to bring your dog to for a day of fun outdoor exercise. Beaches practically have everything a dog could want — big open spaces, plenty of fun scents to follow, frisbees, sticks, and unlimited digging.
Unfortunately, not every beach welcomes dogs (something that may be perplexing to dog lovers). Driving to the beach with your furry friend sticking his head out of the passenger window isn't as fun if it ends with a "no dogs" sign or getting kicked off the beach. Plus, you might even get slapped with a ticket. Yikes.
When planning a beach day with your pup, it's always best to check and see that the beach you're heading to is pet friendly and follow the rules pertaining to letting your pet tag along.
There are plenty of beaches out there that welcome dogs. Dog beaches are a surefire way to enjoy the day with your pet and a good place to make new dog friends.
Check out this list of dog-friendly beaches to visit with your dog this summer.
Huntington Dog Beach, California
Neighboring Bolsa Chica State Beach (where dogs are not permitted), Huntington Dog Beach is a one-and-a-half-mile strip of the Pacific Coast that celebrates dogs of all shapes and sizes. Although the signs say that a leash is required, it's widely accepted by the locals that dogs can be off-leash as long as they don't get into it with others.
Dogs from all over Los Angeles gather here to socialize, show off their frisbee skills, and brag about how they go to the same vet as the dog that starred in Beverly Hills Chihuahua.
The beach is maintained by The Preservation Society of Huntington Dog Beach, a 501(c)3 nonprofit organization that provides doggie waste bags and water bowls for your thirsty pup. It's funded through generous donations from the community, so you might consider contributing if you and your dog enjoy it.
It really is a popular spot that dogs and their owners love. The Facebook group has over 10k members and 140k check-ins, so make sure your dog is up for a social outing with other canines.
Fort De Soto Park: St. Pete/Clearwater, Florida
Fort De Soto Park is one of several dog-friendly locations in St. Pete/Clearwater. It's one of the only locations in Florida where your dog can enjoy splashing in the waves without their leash.
The section of this beautiful beach where dogs can run free is called the Paw Playground. Dogs meet here to splash in the warm waves and talk about how thankful they are that their owners decided to move down from the cold northeast.
An additional area of the beach has two fenced-in sections for small and large dogs to play with other dogs of their own size. It includes water fountains that are the right height for dogs and showers to rinse off their sandy paws.
The Dog Bar is a nearby joint to grab a drink after a fun day at the beach, and if you stay at the TradeWinds Island Resort, you can select a package specifically for a luxury pet experience.
Bald Head Island, North Carolina
Bald Head Island in North Carolina offers 14 miles of sandy beaches: all of them your dog can run and play off unencumbered by their leash. That means 14 miles of dog paradise for your little buddy and the freedom for you to explore the island and enjoy the beautiful scenery with them the whole time.
In order to get to the island, you have to take a ferry or private boat. If your dog has never been on a boat, that'll be an exciting new experience you can share together as well. If they love the boat experience, you might need to get them their own personal dog yacht so that they can cruise on the regular.
Once you get there, you'll find that it's the perfect place to get away from the day-to-day and spend some time swimming, playing fetch, and laying out your beach towel for a doggie nap in the sun.
Do note that while Bald Head Island welcomes dogs to enjoy the beach without their leash, it does require them to be on their leash at all times during turtle nesting season.
Wildwood Dog Beach, New Jersey
Wildwood Dog Beach is one of the only beaches on the Jersey Shore that allows you to bring your dog along for an exciting day at the beach.
Your dog will be barking, "Throw stick into water! Do it again! Do it again!"
Fluffy and Fido will begin to lose their minds with excitement at the site of a giant red fire hydrant that marks the entrance of their private dog park. Within the beachfront dog park, dogs can play on obstacles and hang with other canines on or off-leash. But they can play outside the park and head down to the water if their owners keep them on their leashes.
Carmel Beach, California
Carmel by The Sea is one of the most dog-friendly towns in the United States. With that in mind, you can expect every dog amenity imaginable when visiting Carmel Beach with your fluffy friend.
Before getting into everything your dog is going to love, let's just note that Carmel by The Sea is breathtaking. With white sandy beaches, green nature trails, and picturesque sunsets over the ocean, nature invites you to enjoy a vacation of a lifetime.
And there are several attractions as well, including the iconic Pebble Beach Golf Links, Carmel Mission Basilica, and some of the best wine-tasting in the world.
Best Dog Vacation Ever?
Here's what makes Carmel Beach your dog's favorite vacation destination. Dogs can roam free, without their leashes on Carmel Beach, so long as they are under voice command. Fetching balls and sticks, swimming in the ocean, and digging to their heart's content will be vacation highlights for sure.
There are dog-friendly restaurants sprinkled throughout the beach town and 25 hotels and inns that accommodate your four-legged friend. Local establishments provide doggie water fountains, "yappie hours" for you and your dog, doggie room service, and more.
Finally, if you've ever seen a cute video of dogs surfing and wondered how on earth they could learn such a skill, you can get surfing lessons for your dogs at Carmel Beach.
If you want to give them a bit of experience with floating before their surfing lesson, you can't go wrong with this Private Jet Dog Float by FunBoy. You can get yourself a matching one, too, so that you can float around together.
Coronado Dog Beach, California
Bring your dog to Coronado Dog Beach in San Diego any time of the year for beach fun that isn't hindered by leashes or cold weather. Scenic white sands classic California breakers lead up to the castle-like Hotel del Coronado.
Running all down this picturesque beach scene with your dog, you might get the feeling that you've somehow made your way inside of a postcard.
There's just shy of two miles dedicated to off-leash dog romping. Spend the whole day exploring the beach, catching waves, playing ball, and peering into tidepools with your dog. When the sun goes down, get a bonfire going at one of the fire pits on location to keep the fun going well into the night.
There are picnic tables, bathrooms, and showers to make sure that you and your furry companion are comfortable all day long and on the ride home as well.
Baker Beach, San Francisco, California
Baker Beach might as well be called Barker Beach. It's one of the best locations in San Francisco to hang out with your dog pal. It's practically underneath the Golden Gate Bridge, so as long as the notorious SF fog isn't too heavy, the view is unmatched.
Not only that, San Francisco is considered one of the most dog-friendly cities in the world. After your time at the beach, go hang out at a cafe or bakery that welcomes dogs, and treat your little buddy to something tasty.
Fantastic Dog-Friendly Beaches For Fun Days With Furry Friends
Try saying that five times fast.
For dog lovers, beaches that welcome their pets are the only way to go. How could you possibly enjoy a day at the beach knowing how much fun your pup would be having? The good thing is, there are plenty of exciting dog beaches to choose from and visit this summer.
Sources:
It's Sea Turtle Nesting Season | Town of Bald Head Island NC
Dog Water Safety: Tips to Keep Your Pet Healthy | WebMD
Dog-Friendly Carmel-by-the-Sea, California | Visit Carmel by the Sea