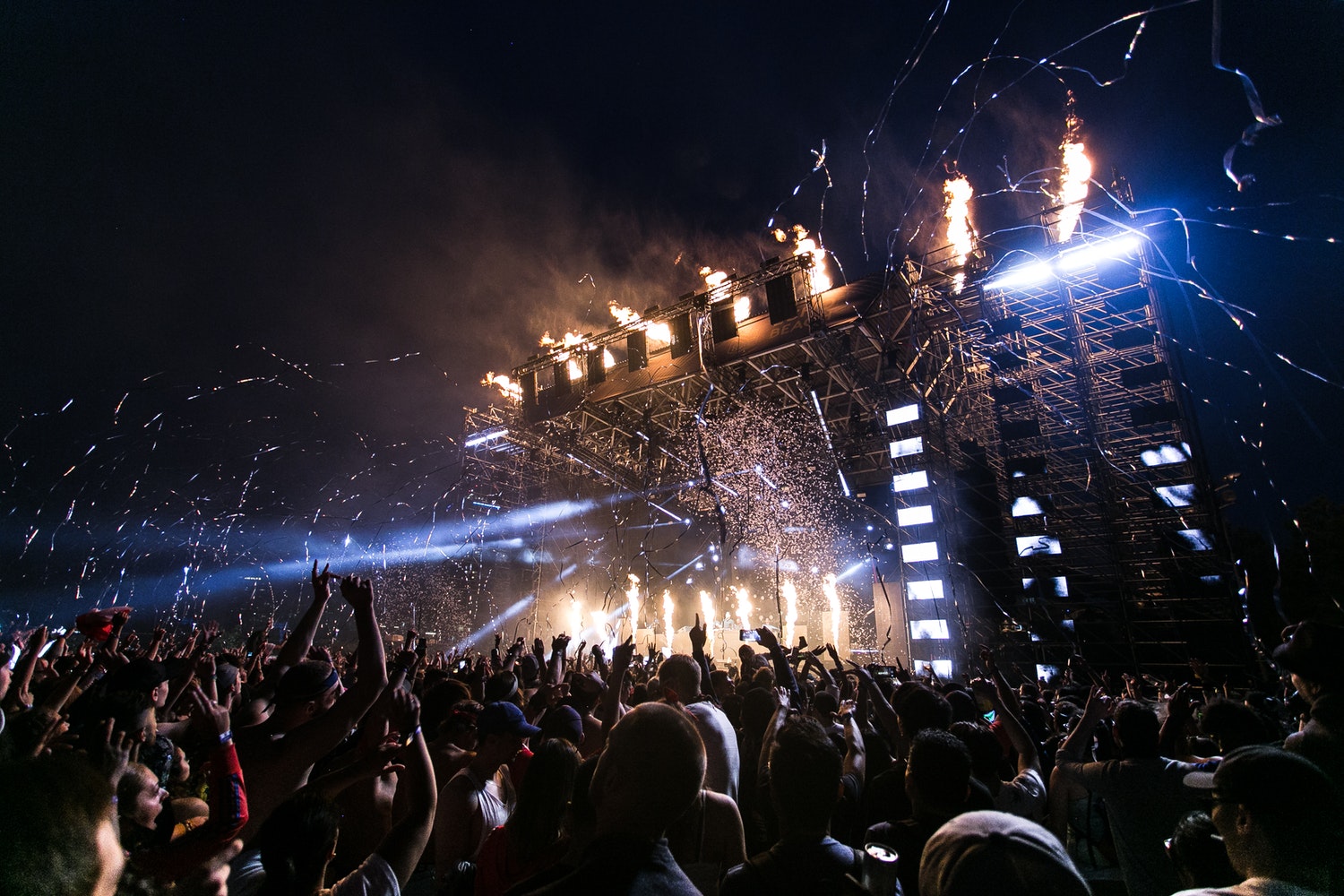 The 16 Biggest Music Festivals in the US
Seeing your favorite artists perform on the biggest stages is something that music fans live for. There's no substitution for live music, and the experience is only elevated when it's shared between thousands of like-minded people.
Festivals create an instant bond, an automatic community among strangers, all centered around having a good time enjoying the gift of music together.
The origins of large-scale music festivals that we know and love today trace back to the 1960s, with the Monterey Pop Festival and Woodstock. Since then, festivals have been established all over the world, and people travel from all over the world to attend them.
This list covers 16 of the biggest music festivals in the United States. Use it as a reference to decide which festival you're going to hit this year or as a bucket list to check off as you do.
South By Southwest
Austin, TX – March 11, 2022 - March 20, 2022
Also known as SXSW, the event floods the city of Austin for an entire week of music featuring performances from nearly 2,000 artists. It's the largest showcase for up-and-coming acts but hosts a number of established artists as well. The festival also overlaps with a film and gaming festival.
Headlining Artists: Maxo Kream, Aeon Station, Duma, Ezra Furman, Claire Rousay, Horsegirl, A Giant Dog, Delta Spirit
Attendance: South By Southwest Festival attendance is around 230,000. SXSW 2022 will be a hybrid in-person and virtual event.
Coachella
Empire Polo Club, Indio, CA – April 15-17 and April 22-24, 2022
Since its inception in 1999, Coachella has become one of the premier music festivals in the world. Each year, some of the biggest names from every genre fill the valley with enthusiastic fans. Pack up your tent and folding lawn chair and camp at Coachella for the full experience.
Headlining Artists: Harry Styles, Ye, Billie Eilish, Swedish House Mafia
Attendance: 250,000
Lollapalooza
Grant Park, Chicago, IL – July 28, 2022-July 31, 2022
Lollapalooza began in 2003 and features performances from 170 artists. It has since added festivals globally as well, including France, Brazil, Germany, Argentina, Sweden, and Chile.
Headlining Artists:2021: Miley Cyrus, Post Malone, Tyler the Creator, Journey
Attendance: 385,000
Pitchfork Music Festival
Union Park, Chicago, IL – 2022 Dates TBA
Another festival in Chicago, Pitchfork is known for its knack for curating the best contemporary indie artists. While it doesn't yield the attendance of some other festivals, it caters to fans with an appreciation for music that dives deeper than the mainstream.
Headlining Artists: 2021: Phoebe Bridgers, Thundercat, Big Thief, Kim Gordon
Attendance: 50,000
Electric Daisy Carnival Las Vegas
Las Vegas Motor Speedway, NV – May 20-22
EDC is the largest electronic dance music festival in North America. EDM fans from all over gather to dance to the hottest DJs. Proclaim love for your partner in the loudest way possible by choosing their wedding package — you can actually get married there!
Headlining Artists: 2021: Alesso, 12th Planet, The Chainsmokers, Afrojack
Attendance: 450,000
Austin City Limits Music Festival
Zilker Park, Austin, TX– October 7-9 & 14-16, 2022
With eight stages and 100 diverse acts over two weekends, ACL Festival has something for everyone. It even has a mini-fest that's just for kids, making it an exciting destination for family-friendly fun.
Headlining Artists: 2021: George Strait, Billie Eilish, Duran Duran, Miley Cyrus, Dababy
Attendance: 450,000
Bonnaroo Music & Arts Festival
Great Stage Park, Manchester, TN – June 16-19, 2022
Bonnaroo is four days of music all day and all night on a 700-acre farm. In addition to 150 performances, there are interactive art installations, an arts and crafts marketplace, and activities for festival-goers, including a 5k run. Many attendees opt for one of several on-site camping options. Plus, they tend to appreciate that this festival allows you to bring in outside alcohol.
Yes, outside alcohol. That means you should bring along an inflatable cooler and your favorite drinking game.
Headlining Artists: Tool, J. Cole, Stevie Nicks, The Chicks, Machine Gun Kelly, Flume
Attendance: 80,000
The Governor's Ball Music Festival
Citi Field, New York City, NY – June 10-12, 2022
An eclectic, genreless music festival, The Governor's Ball has been a premier music event for over a decade. With the New York City skyline as a backdrop, it lacks nothing in terms of aesthetics and location.
Headlining Artists: Playboi Carti, Kid Cudi, Glass Animals, Migos
Attendance: 150,000
Summerfest
Henry Maier Festival Park; Milwaukee, Wisconsin – June 23-25, June 30 - July 2, and July 7-9, 2022
Bringing in over one million people in 2001, Summerfest has long been one the largest music festivals in the world. It started back in the 60s, so it's been running a lot longer than other festivals on this list as well. The event's concept was born from inspiration from Oktoberfest in Germany. It's been adding to an iconic and storied history ever since.
Headlining Artists: Justin Bieber, Jason Aldean, Gabby Barret
Attendance: 1 Million (2001)
New Orleans Jazz & Heritage Festival
New Orleans, LA – April 29-May 8, 2022
New Orleans loves to party, and the Jazz & Heritage Festival is up next to Mardi Gras as the finest representation of lively New Orleans culture. The NOJAZZ festival is a ten-day-long celebration featuring the best of Creole cooks, artisans, and of course, jazz.
Headlining Artists: The Who, Jimmy Buffet, Foo Fighters, Willie Nelson, The Black Crowes
Attendance: 450,000
Life Is Beautiful Music & Arts Festival
Las Vegas, NV– September 16-18, 2022
Another top-tier music festival located in the party capital of the United States, Life Is Beautiful takes over Sin City for three days of music, art, food… and, surprisingly, learning. The 2021 festival included the option to attend a mindfulness workshop with industry leaders from the Chopra Foundation.
Headlining Artists:2021: A$AP Rocky, Green Day, Tame Impala, Young Thug, Modest Mouse,
Attendance: 180,000
Firefly Festival
The Woodlands of Dover Motor Speedway, Dover, DE – September 22-25, 2022
Produced by AEG Presents, the same company that puts on Coachella, NOJAZZ, and other big festivals, Firefly draws the big-ticket artists and energetic crowds you dream of. This September will celebrate the ten-year anniversary of the festival.
Headlining Artists: 2021: Lizzo, Tame Impala, Billie Eilish, The Killers
Attendance: 50,000
Rolling Loud Festival
Hard Rock Stadium, Miami, FL – July 22-24
Hip hop fans flock to Southern Florida for this three-day festival filled with the heaviest beats and cleverest rhymes. And, the festival is incredibly cheap compared to others on this list, with early bird tickets selling as low as $10.
Headlining Artists: 2021: A$AP Rocky, Travis Scott, Post Malone
Attendance: 80,000
Stagecoach Festival
Empire Polo Club, Indo, CA – April 29 – May 1, 2022
Held at the same location as Coachella, Stagecoach Festival is the country western brother. You'll want to bust out your cowboy boots and hat for this weekend. In addition to the music, there is a vintage boutique curated by country singer Nikki Lane, food catered by celebrity chef Guy Fieri, and a ferris wheel that overlooks the whole festival.
Headlining Artists:Carrie Underwood, Luke Combs, Diplo, Breland, Maren Morris
Attendance: 75,000
Outside Lands Music & Arts Festival
San Francisco, CA – August 5-7, 2022
Taking place in the legendary Golden Gate Park of San Francisco, Outside Lands is the largest independently owned music festival in the US. The lineup features big names and emerging artists alike, spanning genres and decades.
Outside Lands is an eco-conscious festival. The stages run on solar power, and presentations on organic farming are offered for those interested.
Headlining Artists:2021: Tame Impala, The Strokes, J Balvin, Vampire Weekend
Attendance: 200,000
Ultra Music Festival
Miami, FL– March 25-27, 2022
Ultra Music Festival consistently puts together a lineup of the world's top DJs and an unforgettable weekend. It has won multiple awards as a music and dance event for the combination of relentless DJ talent and industry-leading production. Since its inception in 2008, Ultra has put on festivals in over a dozen locations worldwide.
Headlining Artists:David Guetta, Alison Wonderland, DJ Snake, NGHTMRE
Attendance: 170,000
Which Festival Is For You?
Looking at all these music festivals on the same page makes you itch for some live music, doesn't it? There are so many to choose from, all of which ensure an electrifying atmosphere.
Whichever festival you choose, don't wait on tickets. A lot of festivals will sell out pretty quickly, and you can always resell it if plans change.
The anticipation to see your favorite artist play live is exciting and life-giving. If we've learned anything from the worldwide pandemic, it's that a world without live music is too difficult, and we must see our favorite artists at every chance we get!
Sources:
Opinion | The Greatest Music Festival in History | The New York Times
Summerfest | Encyclopedia of Milwaukee
Outside Lands Festival Stage Powered by Solar Panels | Rolling Stone