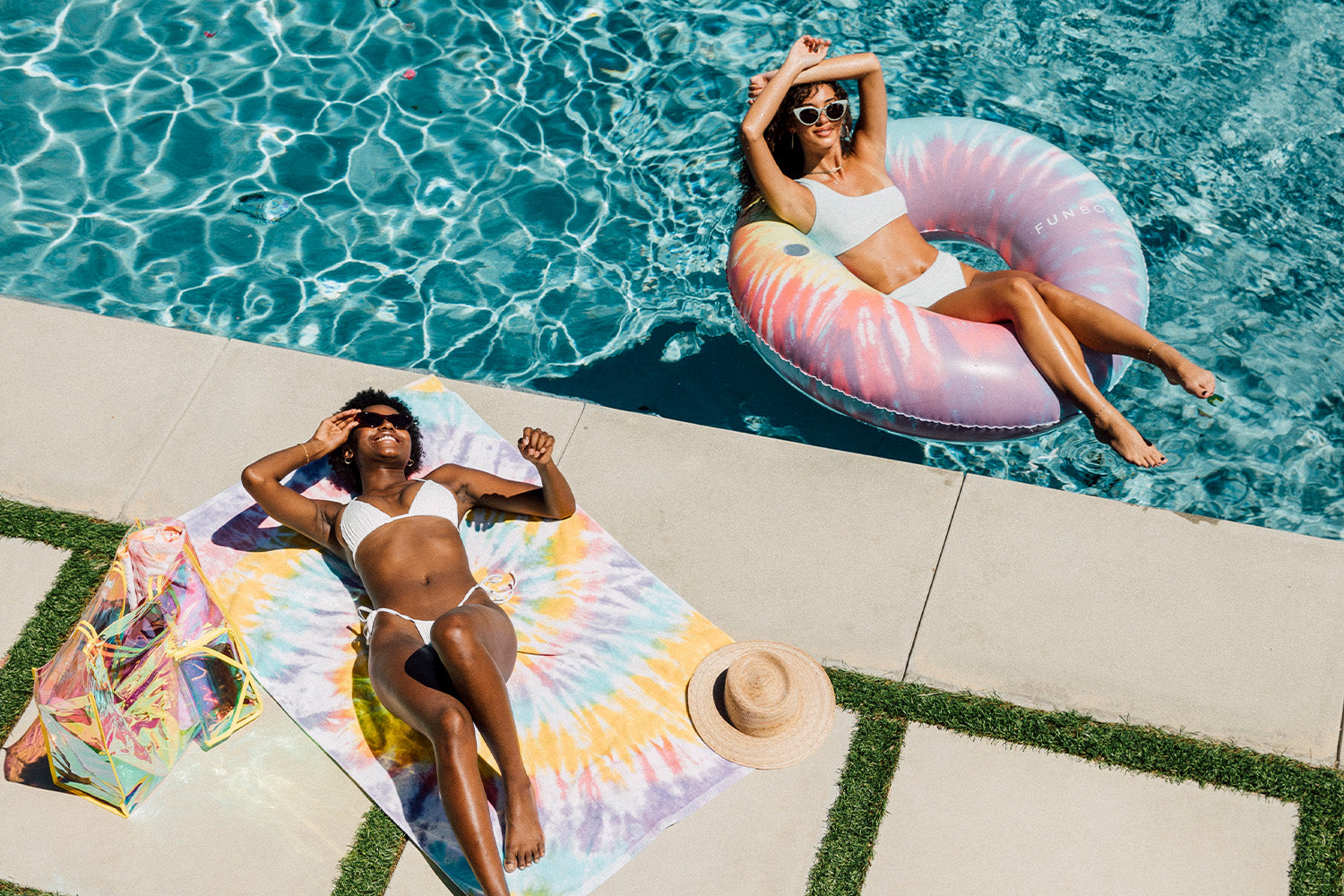 Natural Swimming Pools To Take Your Family To This Summer
Summer swims are the best. The refreshing, life-giving sensation of jumping into a pool on a roasting hot day is hard to beat. Chances are you're already looking forward to it and know what your go-to spots are.
The local pool, a day at the water park, the trip to the beach, they're all fantastic, especially if you include an epic pool float. But your bucket list for summer swims is not complete without visiting a natural swimming pool.
Natural swimming pools are a beautiful way to fully immerse yourself in nature. You can experience total tranquility and pure exhilaration all at once.
Take a family trip to visit a natural swimming pool this summer for an unparalleled swimming experience that is sure to create fun family memories that will last.
Natural Swimming Pools In the United States
There are plenty of natural swimming pools all over the United States.
Here are a few highlights to give you an idea of how nature wants you to relax.
Juniper Springs – Ocala, FL
Juniper Springs recreational swim area was constructed in the 1930s to make a natural swimming pool out of springs surfacing out of crevices in the earth. As part of Ocala National Forest, there are plenty of other activities and amenities to experience alongside your refreshing dip into the springs.
During your trip to Juniper Springs, you can camp, canoe through winding waterways, hike, and, of course, swim. The pool's bottom is lined with natural tape grass!
Rock Pool – Malibu, CA
When you think of Malibu, wide sandy beach landscapes are probably the first thing that comes to mind. Maybe laying out on your favorite beach towel completes the picture. But Malibu is also lined with rolling hills, falling leaves, and bodies of water—plenty to discover.
One of many great spots in Malibu is the Malibu Creek State Park. This location has been home to dozens of movies and TV shows, including the original Planet of The Apes and M*A*S*H. And don't forget the original homeowner: the stunning natural wildlife.
Less than 30 minutes from the busy City of Angels, you'll find a still and refreshing pool surrounded by natural rock formations. It's an excellent way to add some variation to a family trip that will probably spend a lot of time at the beach and in the city.
Barton Springs Pool – Austin, TX
Barton Springs Pool is a historic location in the city of Austin. It's massive, measuring three acres in size, so you should be able to find a swimming area even on the hottest Texas summer days.
The pool is fed from underground springs and flows into the Colorado River. The pool maintains an average of 69 degrees year-round, the perfect temperature for swimming.
The pool is lined with grass areas to hang out and sunbathe, has lifeguards on duty, and even has a diving board. Apparently, it's where Robert Redford learned to swim when he was five years old. How many traditional pools can make that claim to fame?
Cool off in the pool and explore the wonderful and weird city of Austin. Bring a pool accessory that matches the vibe of the artsy city, like this pink banana float.
Cummins Falls State Park, Tennessee, United States
Cummins Falls State Park features a beautiful gorge that's lined by a draping waterfall that is 75 feet high. Hiking and swimming at the gorge have been a favorite recreational activity for local residents for over 100 years.
Something to note about this location is that it does require a bit of work to get to. It's only accessible by two routes, a one-mile hike and a one and half-mile hike. However, if you're up for some physical activity, that's part of what makes the experience so rewarding (and even more refreshing) when you finally reach that natural swimming pond.
You'll want to plan accordingly and make sure that you purchase a permit ahead of time.
Warren Falls – Warren, Vermont
This is a favorite East Coast location for people looking to enjoy the thrill of cliff jumping. It features several great spots for cliff jumping and the deep waters required for it. The most popular jumping spots are from 10, 15, and 20 feet.
Warren Falls is free and easy to get to. This also means that there is usually a decent crowd there. Go early to beat the crowds, or make some new friends while you enjoy the refreshing natural swimming hole. The beautiful scenery that surrounds this swimming zone is a pleasant bonus.
The Homestead Crater – Midway, Utah
Visit the Homestead Resort in Utah and swim in a crater that's been developing for over 10,000 years. From inside the crater, you look up and see a dome-shaped ceiling with a hole in the middle. It filters in sunlight like a skylight (that did not require any builders to install!).
You can swim, snorkel, scuba dive, and paddleboard. Instead of the chlorine and chemicals found in the typical concrete pool, this ecosystem is rich in minerals and nutrients.
Here's what sets it apart even more: the water is consistently between 90 and 96 degrees Fahrenheit. Get that hot tub experience with a lot less maintenance and pH worries.
Sliding Rock – Brevard, North Carolina
Located near Brevard and Asheville, this natural waterslide in the mountains is something that thousands of children and adults enjoy every summer. Sliding Rock is a 60-foot rock water slide into an eight-foot-deep pool of cold, refreshing water.
This location is more about the slide than anything else and for a good reason. Where else are you going to slide down a 60-foot rock waterslide?
It is a popular location during the summer. Between noon and four are peak hours, so it's best to get there early. You'll want to secure a parking spot and get a bunch of runs in on the slide before it becomes super crowded.
You also want to wear a sturdy swimsuit and maybe consider a rashguard. It's slippery, but remember, you're still sliding on a rock. It's not exactly the pool builder-approved slide with a liner in your backyard.
Santa Rosa Blue Hole – Santa Rosa, New Mexico
The Santa Rosa Blue Hole is a phenomenon. Imagine wandering the dry New Mexico desert. Cracked lips. Dry hands. Sun beating down on your baking skin.
And then you happen to come across a hole in the ground filled with 62-degree crystal clear water. Your family blooms back to life just like water lilies.
That's what the Blue Hole was for nomadic tribes, cowboys, and Americans traveling West back in the day. It was a miracle for them.
And it still is today, although now it's a destination swimming and diving location complete with a conference center to host events of all kinds. It's a sight to behold; the water is so clear that you can see 100 feet deep. What's even better is that it invites you and your family to jump in, just like frogs.
Natural Swimming Pools Around The World
If you want to go all out on a natural pool excursion, here are a couple of iconic destinations that have inspired landscapers and pool designs all over the world.
Blue Lagoon – Grindavik, Iceland
The Blue Lagoon may be the most famous natural swimming pool in the world. It's a massive, naturally occurring pool with geothermal seawater that is luxurious and relaxing.
While the pool is entirely natural, it's been added with amenities that make for an experience like no other. Without even leaving the pool, you can grab refreshments at a bar. Or, apply the natural minerals from the water as a soothing facemask at the mask bar.
Fairy Pools – Isle of Skye, Scotland
The enchanting Fairy Pools in Scotland are a destination for people all over the world. Experience a breathtaking hike and take in sights of waterfalls, crystal clear pools, and the surrounding landscapes.
The water is cold, but it offers some of the most refreshing and exhilarating swimming experiences in the world. You can jump off waterfalls and swim beneath a natural arch. A wetsuit is generally recommended.
Natural Swimming Pool: A Summer Must
Swimming in a natural pool is an awesome experience to share with your family this summer. Not only is it a fun way to cool off and spend the afternoon out, basically any natural pool you go to is going to be in a beautiful location with exciting discoveries to be made.
Can't make a trip, but are looking for some water gardens of your own? Grab your favorite kiddie pool and set up a regeneration zone of your own.
Consider planning your summer vacation somewhere with a natural pool you can jump into. Naturally, it's going to make summer memories that you'll never forget.
Sources:
Juniper Springs Recreation Area | USDA Forest Service
Malibu Creek State Park | California State Parks and Recreation Department
Barton Springs Pool | AustinTexas.gov
Cummins Falls State Park | TN State Parks
Blue Lagoon or Sky Lagoon? What to Know About Iceland's Famous Pools | Travel + Leisure