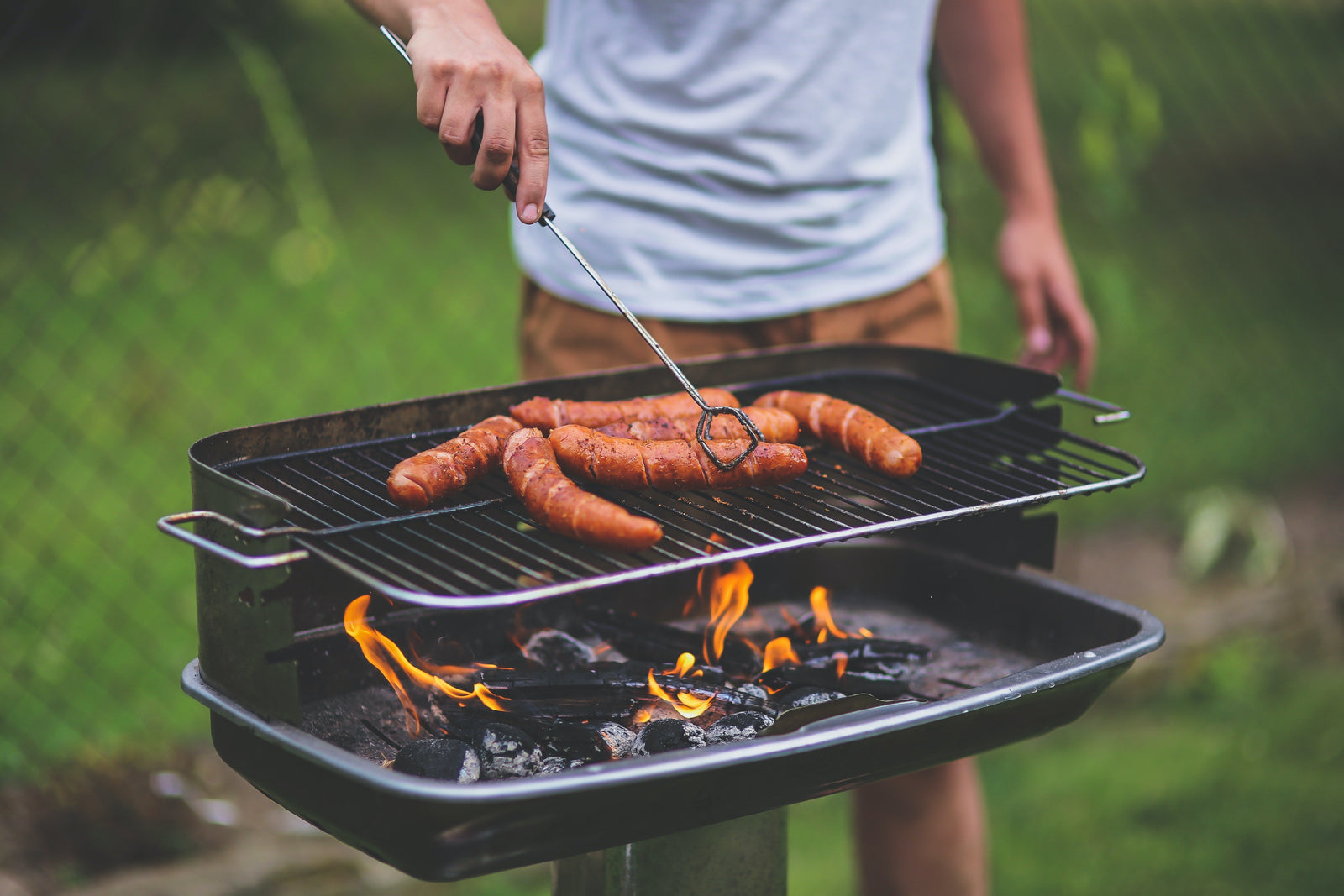 3 Different Cookout Foods You Need To Make This Summer
When the last days of spring finally come to an end and the summer's heat arrives, we celebrate the warm sunny season by spending as much time as possible outside. And this year, with more people getting vaxxed, you can guarantee that we'll be making every summery second count with endless beach days, family trips to the waterpark, and of course, cookouts by the pool. 
Ah, grilling. A favorite summertime pastime that involves hotdogs on the grill, cold drinks, good company, and lots of fun in the summer sun - what's not to love?
If you're in charge of hosting the first post-pandemic cookout this year and are feeling a little frazzled -- don't worry; we're here to help! In this article, we'll give you all the tips and tricks you need to make this cookout an unforgettable one, as well as let you in on a few awesome cookout recipes that will leave your guests drooling for more. Are you ready? 
Let's dive in!
Summer Cookout 101: What You Need To Know 
It really doesn't take a whole lot to host a successful summer cookout. All you need are some quality hot dogs with all the fixin's, chilled beverages, friends, and a reinforced "No smoking" policy near any open propane tanks, and you'll be in pretty good shape!
But why settle for mere success when you can make this cookout forever remembered as the G.O.A.T? With a few simple tips, you can level up your summer cookout game and win bragging rights for hosting the best shindig ever. 
Tip #1: Invest in Some Good Quality Outdoor Speakers 
You know, the kind that converts every corner of your backyard into a digitally enhanced musical wonderland? Yeah, invest inthose speakers. Besides, nothing sets the tone better for a good party than good music. 
That said, when you're ready to call it a day and want everyone to leave, you can just casually throw on some Nickelback and watch the crowd quickly disperse. 
Tip #2: Have a Designated Table For Essentials 
Whatever you do, don't forget to put out a table with all the summer essentials likesunblock, bug spray, and ahydrating water mist to keep guests comfortable. If the cookout happens to be apool cookout, ask your pals to bring their own towels, but just in case, have extras. 
We love the bigBeach Towels from FUNBOY because they are super soft and absorbent and come in a wide variety of unique chic prints - perfect for bringing a splash of color to the party!  
Tip #3: Break Out the Slip 'n Slide 
Or just coat an extra-large tarp with a little dish soap and sit it next to asprinkler. Either way, incorporating some sort of childhood nostalgia into the party mix will certainly up the ante. Just be sure to check the ground for shards of glass and big rocks before laying down a thin sheet of plastic for friends to slide across. 
Tip #4: Blow Up a Ton Of Pool Floats 
If you're kicking it poolside, instantly take the cookout from great to legendary with some of the coolest inflatables on the planet from yours truly here at FUNBOY. We have pool floats to tickle just about anyone fancy, from classictube floats and relaxingloungers to floatingdaybeds andpink flamingos.
We even have inflatables for thekiddos as well as your best four-leggedfriend! Just be sure toinflate all the floats ahead of time so you're not stuck doing it when you should be kicking back and relaxing. We def recommend a pump to inflate because your guests passing out from huffing and puffing to blow up a floaty is a straight nope.  
Tip #5: Don't Forget K.I.S.S. 
When it comes to hosting an awesome cookout, live by the mottoK.I.S.S. which simply means, "Keep it simple, stupid." Don't go overboard and spend your entire paycheck on fancy-schmancycuts of meat or spend hours in the kitchen whipping up a huge spread of appetizers ahead of time.
You see, a cookout is more about getting together than anything else. And chances are your pals will be too busy relaxing in the pool sipping on piña coladas or playing backyard games like badminton and cornhole than fussing over food. Make life easy and keep things simple with hot dogs, hamburgers, cold drinks, and a few tasty sides. 
Speaking of food… 
The Best Recipes For This Summer's Cookout 
If you have some free time on your hands and want to whip up a few tasty recipes for the cookout but could use a little inspiration, we've got your back!
Here are three awesome cookout recipes that you have to try this summer:
Unbelievably Juicy Grilled Burgers  
Say goodbye to the boring, dry, overcooked burgers you're used to biting into, and hello to unbelievably juicy grilled burgers. This butter burger recipe is super simple yet delivers incredible flavor. 
Start by grating cold butter into large thin pieces. Place your ground beef in a large bowl and sprinkle the butter on top. Using your hands, gently fold the butter into the beef and then shape them into patties.
Place the patties on a rimmed baking tray and season both sides with salt before throwing them onto the grill for roughly four minutes on each side. If using cheese, place a slice on each patty during the last minute of grilling and serve immediately. Enjoy!
If you've seen (or binged) a competitive baking show (or a dozen), then you know that the taste is only half the battle. That's right: we're talking aboutpresentation. Yeah, you could stack those juicy burgers on a paper plate, but this article is about "awesome" cookouts, not sad team dinners after your baseball team lost the championship.
For a dash of truly "awesome," go for the unexpected. Grab aNeon Pink Drink Holder, but do a full *wild-card* move. Instead of popping some ice-cold drinks in that baby (though that idea is still a slammer), put burgers in each cup holder. Then, to top it off, throw some fries (and more burgers) into the central drink storage department. 
Not only does thisfloaty burger presentation look amazing, but you can also float food down the pool for the guests who are having such a good time that they don't want to dry off quite yet. And with this handy-dandy floaty, they won't have to. 
Delicious Caramelized Onion Dip  
Whether added to pasta, mixed into risotto, or topped on an omelet, caramelized onions are in so many of our favorite dishes. For the caramelized-onion obsessed, however, there is one drool-worthy dish that reigns supreme: caramelized onion dip. Made with two pounds of onions cooked down to deep golden perfection, in this appetizer, onions aren't just a topping -- they are the star!
All you have to do is thinly slice two pounds of yellow onions and place them in a wide, shallow pot. Tie up one bunch of fresh parsley with kitchen string, and add the ingredient and one box of chicken (or veggie) broth to the onions. Cook on high heat, stirring occasionally until the broth is nearly evaporated (this usually takes around 15 to 20 minutes). 
Then, remove and discard the parsley and continue to cook over high heat until golden-brown in color, no more than ten minutes. Transfer to a large bowl before combining around 16 ounces of sour cream, and voila - you've made an awesome cookout recipe that's sure to disappear in a matter of minutes (so maybe make two batches!). 
Is anyone cutting onions in here? Because we have the hangry tears. 
The Best Grilled Corn EVER  
Grilled corn is definitely something to get excited about! It's amazing how a little char and a little smoke can completely enhance the sweetness to really bring out the true flavor of corn. This traditional grilled corn recipe is served smothered and covered in buttery goodness, and sprinkled with salt. 
Simply remove the husks and silk from the corn and brush each piece with olive oil. Place the corn directly on the grill and cook for roughly ten to 15 minutes turning each piece occasionally until the kernels are charred. Remove the corn from the grill and allow them to cool for five minutes before serving with butter and salt. 
A Golden Grill 
And there you have it, folks and friends - three awesome cookout food recipes to really WOW your friends this summer. Now the only thing left to do is pick the day! 
Here atFUNBOY, we come from a deep appreciation for unbridled joy - and the restorative powers of truly kicking back, unplugging, and letting loose. That's why we've created a huge line of unique inflatables that can help you to do just that.
Whether you're looking to catch some rays on alounger, take a cat-nap on acloud, or cool off on aSplash Pad, we have what you need to make this summer your best one yet. 
For all of your summery needs - whatever they might be - check outFUNBOY today. Trust us; you'll be glad you did! Just remember to shoot us an e-vite to your next summer bash!
Sources: 
Sunscreen | The Skin Cancer Foundation
A Guide to All the Cuts of Beef | The Spruce Eats