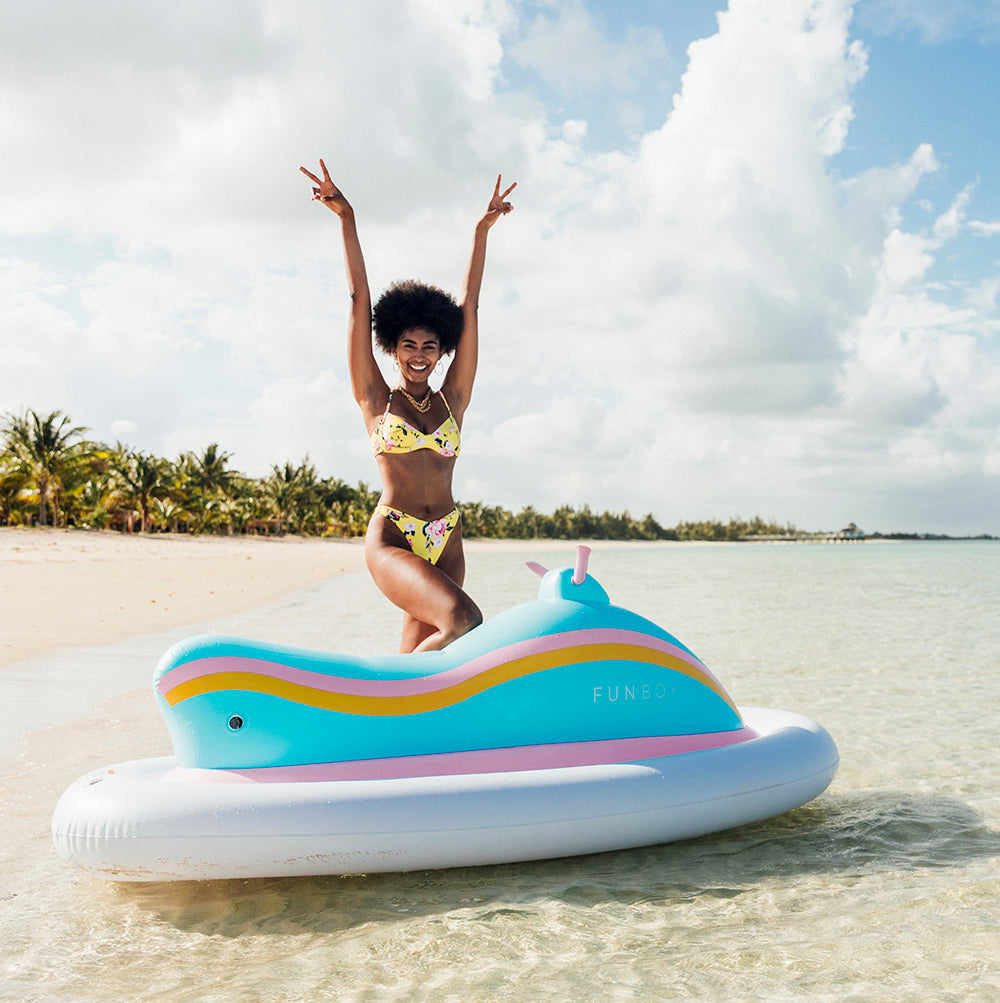 Fun Family Reunion Ideas For Fun In The Sun
Somehow you've managed to get your entire family together in one specific location on a chosen date. Congratulations! If you can do this, you can do anything— including making a plan for the rest of the reunion. However, if your family is nothing short of crazy (like most families) planning for the wacky bunch can be tough. 
If you're in need of some fun and creative inspiration, we've got your back. Keep reading for some awesome family reunion ideas for fun in the sun! 
Host A Pig Roast Dinner With Luau Games
Want to really impress the fam? Sayaloha as you host a pig roast dinner with fun luau games. This picnic-style reunion idea will feed a large family and have everyone smiling from ear to ear. The leis and grass skirts make the scene for the perfect tropical island getaway. From the luau and theHula dance, to the roasted pig and the tropical fruit, a Hawaiian themed reunion is sure to be a hit.    
Organize A Group Yoga Day Retreat 
Get zen and book a weekend of relaxation out in the sun. Yoga family reunions are gaining in popularity— and for good reason! Practicing yoga together is an excellent way to bring the family together in a healthy way through fitness. No matter your relatives' level of experience, they will enjoy a peaceful time during group yoga classes.Namaste.
Throw A BBQ Style Pool Party 
What better way to have fun in the sun than a huge pool party? Tell your family to pack their swimsuits and sunscreen as you plan for an exciting day by the pool. Spark up the BBQ and cook up some tasty brats, burgers, and hot dogs and fill the cooler with various beverages. Pump up the tunes and challenge your uncles to an exciting game of pool volleyball or take it easy and lounge on aWhite Retro Convertible Float with your favorite cousins and catch-up on the latest family gossip. But don't spill your drink! Keep your margarita safe with aRainbow Unicorn Drink Holder that will float alongside you to ensure you are just buzzed enough to put up with everyone asking about your love life— "Yes, grandma, I amstill single!" 
Plan A Baseball Bash
"Hey, batter, batter, batter,swingbatter, batter!" If you have a family that's crazy for baseball, there is nothing better than having a family reunion based on the American pastime. From the kiddies to the grownups, this active event is sure to keep everyone laughing for hours on end. Just be sure to have a cooler packed with hydrating drinks and a table full of baseball-themed snacks like peanuts and crackerjacks.Batter UP!  
Plan A Football Bash 
Is baseball not really your cup of tea? Plan a football bash instead! There's nothing like an exciting and competitive game of football to bring everyone together. Rent a stadium or head to your local community park so the games can commence. Add a twist and have everyone represent their favorite NFL team by wearing their team's jersey or make awesome matching family t-shirts ahead of time. Keep the little ones cool with theFUNBOY Ice Cream Kiddie Pool as the older kids and adults battle it out on the field.It's game time!
Organize A Beach Party
It goes without saying that summer is the perfect time for fun in the sun, so get everyone together and enjoy a weekend of family excitement at the beach. Don't live close to the water? Never fear! You can recreate a beachy oasis in your very own backyard. Usekiddie pools, Slip-N-Slides, limbo sticks,sprinklers, and hula hoops to create an obstacle course for wet and wild family fun. Decorate with beach umbrellas, beach balls, and of course, be sure to play all the best summer hits by the Beach Boys to round out the theme. Have a delicious spread of all the beach favorites like sub sandwiches, fruit trays, shish kabobs, and pasta salad. A beach-themed family reunion is sure to make waves!
Put On A Three-Ring Circus And Carnival 
Want some serious fun that is sure to keep everyone entertained the entire time? Put on a three-ring circus and carnival themed reunion and invite the family to dress in silly costumes. Decorate with balloons, tents, and circus animal cutouts, and be sure to have all those mouth-watering circus snacks like cotton candy, popcorn, fried-Oreos, candy apples, and funnel cakes. Set up different booths, like a face-painting, fishing, dart throwing, a fortune teller, and a dunk-tank. Inflate your favoriteFUNBOY Kiddie Pool and fill it up with balls to make your own DIY ball pit to keep the little ones happy for hours on end. 
Book A Winter Wonderland Retreat 
When most people think "fun in the sun," they think of warm summer weather and sunkissed tans. However, there is a lot of "fun in the sun" to be had in the cooler months, too! Book a winter-wonderland retreat at a family-friendly resort for an exhilarating time in the snow. Bring your inflatableFUNBOY Snowmobile Sleds or rent snow-tubes to race your cousins down the slopes. Build a snowman with the little ones and start a snowball war with the bigger kids. Want to warm up a bit? Whip out yourinflatable ShotSki and your favorite whisky for a superior shot-taking experience (Grown-ups only!).
Put Together A Cook-Off 
Every family has a signature dish, and chances are that there have been some arguments over whose version is the best. Now's the time to settle it once and for all! Whether it's chili, apple pie, wings, cheeseburgers, or any other tasty dish, it's war. Break into teams and pit dishes against one another in a tasting contest. Those who aren't cooking-savvy can be the judges and vote for their favorites. Anonymously, of course— we don't want to start a family feud!
Host Backyard Olympics
Competitive cooking isn't the only way to prove you're better than your favorite uncle! Some of the best reunion ideas tap into your family's competitive nature. Put your game face on and host some backyard Olympics! You can have traditional yard games like badminton, horseshoes, and cornhole or spice things up with a water balloon relay, a tug-of-war, a hula-hoop-a-thon, a frisbee throw, an egg race, and apool noodle javelin throw. Create fun team names and set up a bracket. Then, let the games (and bragging) begin.
Plan A Ice Cream Social 
Keep the family cool this summer with a tasty ice cream social for your next reunion. Set up a decadent ice cream bar with all the trimmings like sprinkles, cookie dough, chocolate syrup, strawberries, and marshmallows. Decorate with bright Neapolitan colors, and be sure to keep the little ones cool with theFUNBOY Ice Cream Kiddie Pool. Treat the adults to a mouth-watering spiked root-beer float and challenge your cousins to some messy-but-delicious fun and have an ice cream eating contest.
Plan A Bubbly Brunch  
Some families want something a little more elegant or sophisticated than the good ol' BBQ for their family get-together. Normally reserved for bridal and baby showers, we think a picnic-style bubbly brunch can work for any occasion! Set up a mimosa and bloody mary bar with juices and champagne and include traditional brunch food like muffins, quiches, fresh fruit, waffles, and of course, bacon.A catering company can help with the food, or you can purchase a few catering dishes with warming canisters to do it yourself.
Throw A Wild Western Jamboree
When your family comes over for the reunion, they'll be transported back in time to the wild, wild, west. Have fun in the sun and entertain your guests by creating"horses" out of pool noodles and challenge your family to a race. Shoot toy guns and arrows at targets (or your least favorite cousin) and serve classic eats like spare ribs and hamburgers. And of course, remind everyone that they need to dress the part and come wearing a bandana or their favorite cowboy hat.
Throw A Fiesta 
Getloco and throw a colorful fiesta! Hang up some pinatas filled with candy for the kiddos, play pin the tail on the donkey, and challenge your family to a hot chili pepper contest or taco battle. Set up a nacho and fajita stand with all the fixings and a margarita bar with your favorite tequila. Fill yourFUNBOY drink cooler with ice and Mexican sodas, which are perfect for parties. Consider renting a Mariachi band and greet guests with their very own sombrero. 
Final Thoughts 
Family reunions are all about catching up, sharing stories, and making memories. If this is your year to plan the annual shin-dig, you won't go wrong with one of our creative ideas listed above. Have fun in the sun, and make this reunion one to remember! 
Sources:
https://www.gohawaii.com/hawaiian-culture/hula
https://www.hallmarkchannel.com/home-and-family/how-to/marks-diy-pool-noodle-javalin-toss
https://www.pbs.org/parents/crafts-and-experiments/turn-a-pool-noodle-into-horse-stick