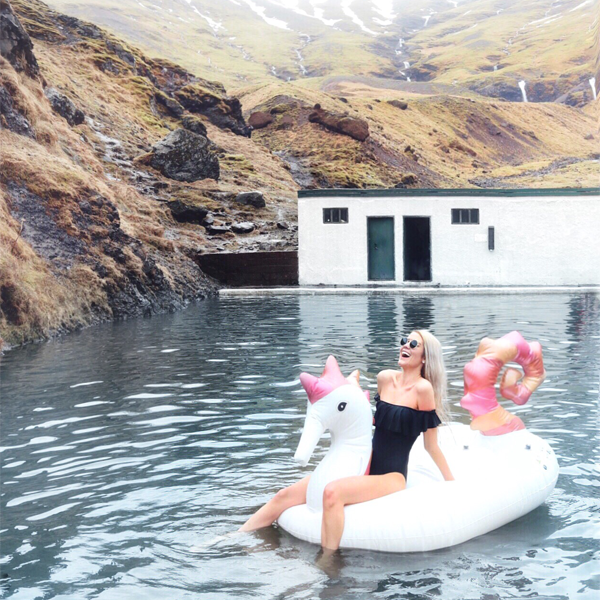 FUNBOY adventure club: Floating the oldest geothermal pool in Iceland
Native Icelander & travel blogger Ása Steinarsdóttir takes you on an epic adventure into Iceland's volcanic mountains to float the oldest geothermal pool with the FUNBOY Seahorse! Read below...
This past weekend, my friends and I went for a getaway at our cabin in south Iceland for a floating adventure. A bit of background on my amazing country...swimming is very popular in
Iceland
both by locals and visitors.
Icelanders
swim in open air pools year-round, no matter how cold it is! Almost every little village around
Iceland
has a swimming pool.
Seljavallalaug is one of the oldest geothermal pools in
Iceland
, built 1923, it was the first pool used for swimming lessons. Seljavallalaug is based in a narrow valley on the south coast very close to our friendly volcano/glacier Eyjafjallajökull. Its one of those hidden gems in
Iceland
that not every tourists go to or know about but I highly recommend it. 
We wanted to do something that no one has done before and bring the
Funboy Seahorse
with us to the pool. However in order to get to the pool you need to hike up a canyon for around 20 min. You also need to cross few rivers and streams. When we went for the hike it was raining and foggy. But that just made the mission even more fun. So we hiked up there with the inflated Seahorse.
It was all worth it when we made it to the pool which is warm all year around and is heated by a natural spring. When we reached the pool we jumped in and had a great time. Other hikers laughed as it was a little bit absurd to see a inflated Seahorse in the
Icelandic
nature. But everyone loved it and other guests wanted their photo taken riding the Seahorse!
Read more about this hidden gem
HERE
and check back for more FUNBOY adventures!