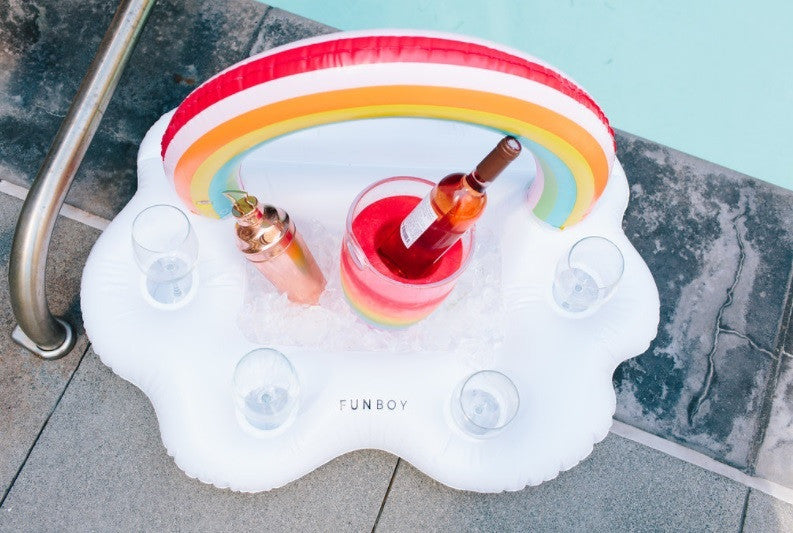 FUNBOY X FOOD LA LA: Get your Frosé on
Frosé On Rainbow Ice Anyone?
To celebrate an endless summer, we've teamed up with Lindsay Kinder aka @food.la.la for seasonal entertaining tips and the most refreshing FUNBOY Frosé recipe, yes please! Check it out below...
Meet Lindsay:
As a classically trained French chef, Lindsay is the brains behind Food La La. She lives in San Francisco teaching sold out French macaron workshops and private in-home cooking classes. Lindsay shared some of her favorite summer entertaining obsessions below:
 Ice Ice Baby!
"This year I'm obsessed with ice. There's so much you can do with it from flavor, to color, to shape. Try freezing baby roses into large ice cubes as a sweet touch for any baby or bridal shower. To match FUNBOYs Rainbow Cloud Floating Bar I layering colored shaved ice to make a frozen rainbow champagne bucket! My latest experiment is executing perfectly clear ice." 
Lindsay's Homemade FUNBOY Frose Recipe:
When selecting your wine, choose a brut rosé that's light in color—lighter pink usually indicates a less sticky sweet taste—and, of course, a beautiful bottle is a must for summertime entertaining. Hello, FUNBOY rosé!
Serves:  3
Ingredients:
½ bottle FUNBOY rosé (750 ml)
½ cup sugar 
6 stems lavender
2.5 small lemons, squeezed
Steps:
Pour FUNBOY rosé into ice cube trays and freeze for 8 hours or overnight (note: this will not freeze solid).
Combine sugar and ½ cup water in a small pot and bring to a boil.
Reduce sugar and water to a simmer and stir until sugar has dissolved.  Add lavender and remove from heat.
Transfer lavender simple syrup to a heatproof glass bowl and bring to room temperature.  Then place in refrigerator to chill until cold.  (WHY? #1) Remove and discard lavender.
Add rosé cubes, lemon juice, 2 TBS simple syrup, and 1-cup ice to a food processor and pulse until smooth.
Transfer frosé to a pitcher and freeze up to 60 minutes, or until frosé has thickened.
Return to food processor and pulse a few times to achieve a frosty consistency.
Pour into individual glasses and garnish with slice of lemon and remaining lavender.
 Recipe notes:
If you do not cool the simple syrup before adding to rosé it will melt the rosé ice cubes.
If you don't have a food processor, try using a high-powered blender instead.
Save the remaining lavender simple syrup in a glass jar in your refrigerator.   Use the syrup in other cocktails, or toss a tablespoon into a berry salad.
Go on, enjoy the endless summer. August is only heating up and what better way to cool off than with FUNBOY & frosé.  
Have the ultimate summer recipes? Share them with us at hello@funboy.com -- Cheers! 
Team FUNBOY