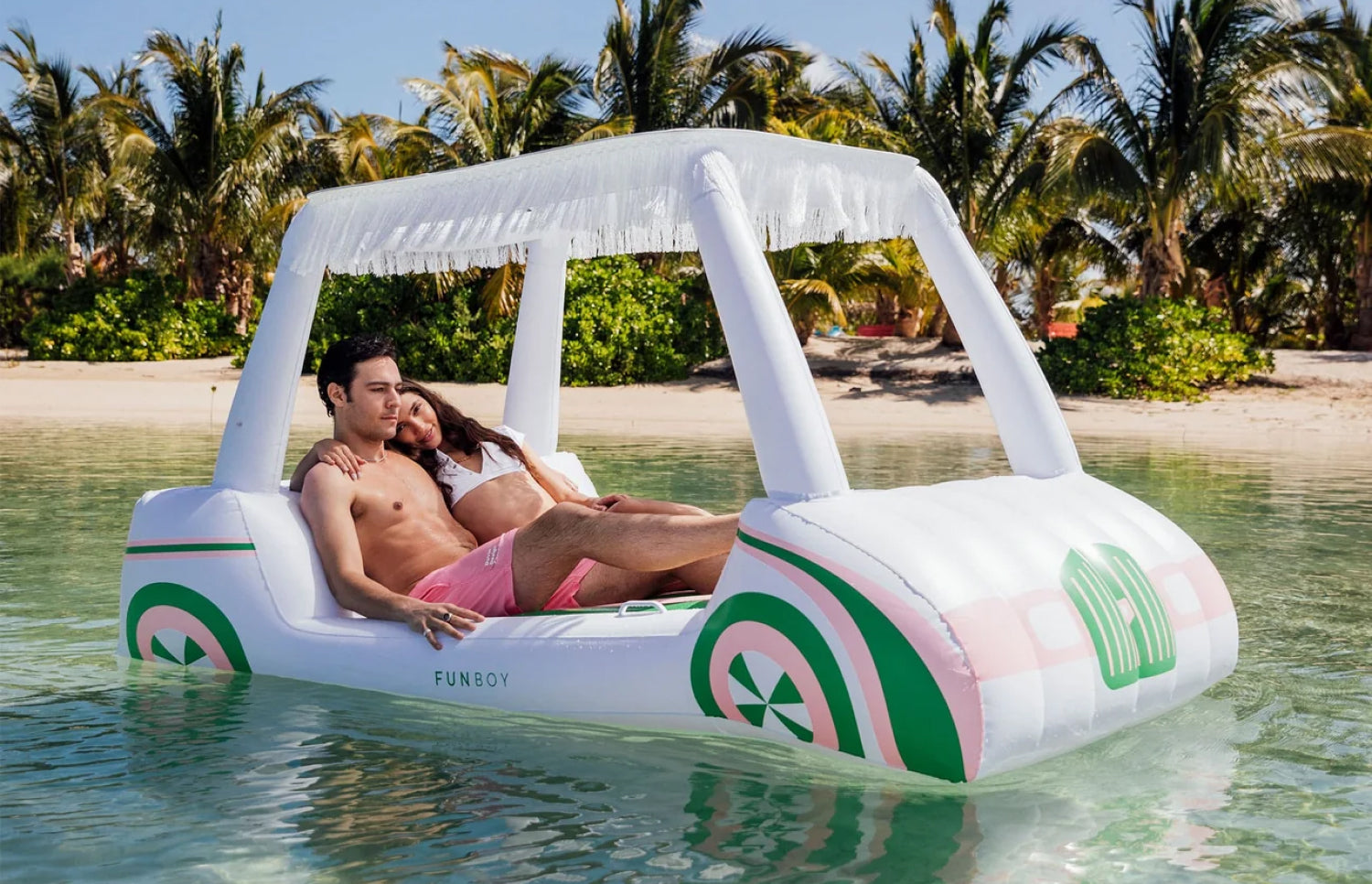 Golf-Themed Party Ideas for This Year's Masters
Every year, golf fans around the world look forward to The Masters. It's a tournament like no other, and if you ask us — it's the perfect opportunity to gather your friends and celebrate with a golf-themed party!
Whether you're an avid golfer yourself or simply want to take advantage of the hype surrounding this major tournament, here are some ideas that will help you throw the best golf-themed party for this year's Masters. 
But First, What Exactly Are the Masters Anyway?
Not Tiger Woods? Don't worry; you don't have to be a golf pro to throw a golf-themed party. But since the shin-dig is sure to attract a few golf fanatics — friends — it can be helpful to have a basic understanding of the event. So, what are The Masters?
The Masters is an annual golf tournament known as one of the four major championships in professional golf. It is held at the Augusta National Golf Club in Augusta, Georgia, and features some of the best golfers in the world. Each year, The Masters attracts a huge television audience and captivates golf fans around the world — hence why it's the perfect time to party!
Let's Par-Tee — 8 Ideas To Celebrate The Masters
Now that you know what it's all about, let's get to the fun stuff. Here are some ideas to help you plan the perfect Masters-themed party:
1. Invitations: Set the Scene
First things first — the invitations. Set the scene of your party with golf-themed invites.
You can either go for a traditional golf tee-off look with a miniature golf course on the invite or have some fun with it and throw in some clever puns about golfing, like "Tee Time for a Party" or "Fore Fun Times Ahead." Maybe tape a mini golf pencil to the card that says "Pencil This Party In" for part prize, part invitation. 
In the invitations, be sure to include information like the date, time, location, and theme of your party. You can also include hints at what activities will be included in the gathering to stir up some excitement.
2. Decorations: Get Into the Masters Mood
Create a golf-themed environment by decorating your space with green, white, and yellow colors as they have at Augusta. Hang up a tournament poster and decorate your tables with golf flags and flowers. You could make a makeshift green in the backyard and let your guests practice their swing with some inflatable golf clubs.
3. Attire: Look the Part
Encourage your guests to dress their best for the occasion. Ask them to put on their fanciest golfing attire and bring a golf club or two. Or better yet, encourage them to dress up like their favorite golfer or the pros at The Masters (think colorful polos, pleated trousers, and visors).
You can also provide some golf-themed accessories like hats, sunglasses, and pins to get everyone in the spirit.
4. Food: Tee Off the Menu
Your party needs some grub to keep everyone going for 18 holes. Have your guests chip in and provide a variety of snacks and drinks. A golf-centric menu should include finger food, like mini sandwiches and snacks, as well as various sweets. 
Serve up some beer and coffee for your guests, and don't forget to make a signature cocktail inspired by Augusta. You could even create a Masters-themed charcuterie board to add a touch of class. Yum!
5. Host a Pool Party
The Masters takes place in the spring, making it the perfect opportunity to tee off the season with a pool party! Fill up the pool with golf-inspired floats like our luxe Golf Cart Pool Float — perfect for lounging and soaking up some rays.
If you don't have a pool, lawn games like mini golf, cornhole, and horseshoes are a lovely touch. Be sure to have plenty of cozy towels for guests to dry off and a few chairs to relax in.
6. Activities: Get Ready To Play
No golf-themed party would be complete without some awesome games! Here are a few ideas to consider:
Play a Game of Mini-Golf
You don't need to hit the green to have a good time. Set up a few obstacles and put your guests to the test. Make sure everyone is split into teams so you can crown the ultimate mini-golf champions at the end of the night. Of course, you can absolutely still go to the putt-putt course near your house!
Recreate the Masters
Bring out your inner golf pro and recreate legendary shots from the tournament with the help of a green screen or cardboard cut-outs. Not only is this a fun activity to do with friends, but it also helps bring the tournament alive. Can you say Instagram-worthy picture?
Longest Drive Competition.
Who has the longest drive? Head down to your local driving range and see who can hit their ball the farthest. This is also a great time to flaunt your iconic outfits and poses — just saying. If you can, book an hour of instruction from a golf coach from the club to get everyone's swing in top-shop shape.
Have a Putt-Putt Challenge.
Set up a few putting challenges throughout your party. Putt for prizes, play with different clubs, and see who can sink the most putts in a row. You can use golf clubs or make it extra tricky with things like pool noodles or softball bats. 
Play Some Masters Trivia.
Test your friends' knowledge of golf and The Masters with a game of trivia. Make sure to include questions about the tournament, golfers, and past winners.
Who Can Score the Hole in One?
Set up a mini-golf hole and let your guests putt for glory. Award points for getting the ball in the hole and extra points for those who can do it in one shot. 
Guess the Golfer.
It's a classic game of name that golfer!Give each guest a set of pictures of golfers and let the guessing begin. Award points for correct answers and bonus points for the most creative guesses. Pull out the Guess Who board game and tape pictures over it, or print the pictures on massive poster boards. 
Golf "Hit or Miss"
Turn on the game and split your guests into teams. Have them take turns guessing whether a golfer will hit the ball or miss it. Get creative with the wagers, and have plenty of rewards for the winning team.
Golf Cart Races
If you're lucky enough to have access to a golf course, then why not hold a golf cart race? Split your guests into teams and have them race through the fairways. The first team to make it back to the clubhouse wins. Drive safely and clear this with the club ahead of time. 
Pro Tip:Can't get onto a golf course but have access to a pool? Trade your wheels for a few Golf Cart Floats and race from one side of the pool to the other. 
7. Photo Booth: Say "Cheese"
Set up a photo booth complete with props, like golf bags and clubs. Let your guests cut loose and take silly pictures that capture their Masters spirit. You can even print out the pictures and have them sign a memory book for a special keepsake.
8. Favors: Send Your Guests Off in Style
You can't end the night without sending your guests off with a golf-inspired party favor. Fill up some Masters-themed gift bags with goodies like golf tees, souvenir flags, and ball markers. It's a top-tier way to show your guests how much you appreciate them being part of the festivities.
The Final Word
Whether you want to go all out or keep it simple, there are plenty of creative ways to celebrate this year's Masters Tournament with friends and family. 
Get creative with decorations, plan some exciting games and activities, and don't forget those special touches like our Golf Cart Float — they will make the day memorable. With these tips in hand, it'll be easy to plan the perfect golf-themed party for this year's Masters Tournament. Happy planning!
Here at FUNBOY, we're on a mission to bring FUN to the masses. From pool floats and innertubes to the Floating Cabana Bar and loungers, we have just what you need to help your party thrive. 
Check us out today and experience the FUNBOY difference tomorrow — trust us; you'll be glad you did. 
Sources:
Masters Tournament | New Georgia Encyclopedia
Let's Ring In Spring With The Masters Golf Tournament | NPR
30 DIY Photo Booth Ideas Your Guests Will Love | Brides
Golf-themed food for PGA Championship | Milwaukee Journal Sentinel