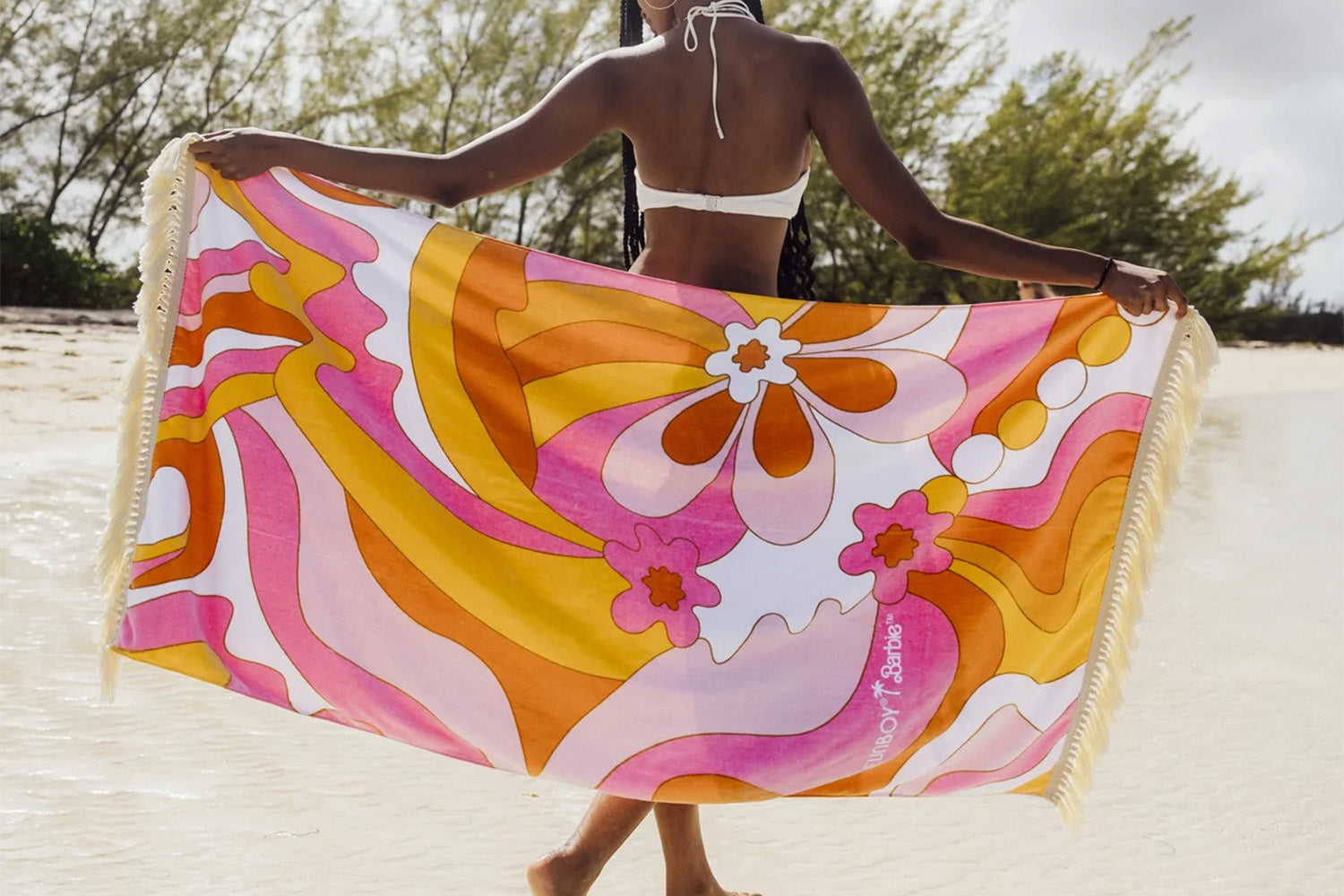 The Top 6 Fun Spotify Playlists for the Beach
If you ask us, there's just about nothing better than a day of fun in the sun at the beach. From splashing recklessly through the waves to relaxing in the sand with a good read (or podcast), beach days are arguably the best days — especially when fun music is involved.
That said, if your beach tunes don't put you in your feels or make you want to get up and dance in the sand, it's time to find a new playlist. Need some help? FUNBOY has your back.
Read on to discover the best Spotify playlists that are sure to amplify the fun on your next beach trip. 
But First, Let's Talk Beach Essentials, Shall We?
When it comes to the beach, bringing beachy beats along is a given. Sure, you could leave your speakers at home and just enjoy the natural sound of the waves crashing along the shoreline, but if you're aiming for fun — you'll need some happy tunes. We're talking the lofi, indie, rock, and rap that says, "I am in my happy place."
Here are some other essentials that can help make your beach day a great one:
#1. Sand Toys
Whether you have a few kiddos or you're living the #SoloLife, sand toys (think: bucket and shovel) are an absolute MUST for the beach. From our POV, it doesn't matter if you're two or 82 — building sandcastles and digging for buried treasure never gets old. 
Pull out your best Disney/Little Mermaid vibes and tell everyone about your amazing new treasures (aka tent stakes and rocks).
#2. Cozy Towels
After taking a refreshing dip in the ocean, there's just about nothing we love more than getting nice and snug in a super cozy beach towel — especially when it's oversized like our ultra-luxe beach towels. 
Plus, not only are our towels a deliciously wonderful size, but we have some fun designs that are sure to bring a smile to your face, like the FUNBOY X Barbie Dream Beach Towel and Disco Shag Lip Towel. 
Original? Check. 
Comfy? For sure. 
Fun? Absolutely!
#3. Cooler
There's nothing fun about being hangry. So do yourself and all of your beach pals a favor and pack a cooler with snacks and drinks for the beach. Not sure what to pack? 
Here are some of our favorite beach refreshments:
Fresh berries
Granola
Pretzels
Frozen grapes
Jerky
Bottled water
Juice boxes
Canned soda pop 
Don't want to lug a heavy cooler through the sand? Check out our Square Cooler Connector — it's literally light as air because, well… It's inflatable! Blow it up when you find your perfect spot at the beach before filling it with ice and up to 12 cans. 
It also works as a connector to our FUNBOY Clear Chaise Loungers — you can use it to attach up to four of them so that you don't float away from your friends.
#4. Sunscreen
We know what you're thinking, "what's fun about sunscreen?" And to that, we ask you this, "what's fun about sunburns?" While this may not be the most exciting essential on the list, sunscreen will protect you from the sun's harmful UV rays to keep your skin from burning to a crisp. 
Unless, of course, you're into looking like a red lobster (which, to each their own), then you certainly do not want to forget your SPF when having fun in the sun. 
Note:When shopping for sunscreen, experts recommend opting for one with an SPF of at least 30, which blocks 97 percent of the sun's UV rays.
#5. Fun Floats
Who said pool floats are just for the pool? Certainly not us!
For a guaranteed fun time in the sun, we definitely recommend bringing a few awesome floats like our gorgeous Clear Pink Glitter Flamingo float or the FUNBOY x Aviator Nation Yacht. These eye-catching inflatables are a whole lot of fun and so undeniably comfortable. 
Prefer some shade as you lounge in the salty waves? Check out our 70s Wave Bali Shaded Cabana Island — beautifully shaped for ultimate relaxation, comfort, and privacy with our groundbreaking removable mesh shade. Ah, what's not to love?
#6. Beach Games
If your idea of fun is some healthy competition, then beach games are definitely the way to go. 
Some of our favorites include:
Frisbee
Limbo
Volleyball
Water bucket relay
Scavenger hunt
Towel tug-of-war
Soccer
While some beach games are more chill and others are more action-packed, they'll all make your time spent at the beach a little more fun. So pull out the frisbee, turn up the tools and play!
Which Spotify Playlists Are Best for the Beach?
Now that you're up to speed on what to bring to the beach for hours of fun in the sun, it's time to explore Spotify to uncover the best playlists to make your day even better. This streaming service does us a service with their fabulous curation for the beach, making every moment seem like a music video.
Although there are many, here are six fun playlists to check out at the beach:
#1. Summer Hits
Featuring all the hits you'll need to make your summer sizzle, this colorful playlist is a fan fav with more than one million likes. It has 100 upbeat songs from big energy artists like Lizzo, Doja Cat, and Pitbull, providing over five hours of happiness.
Perfect for summer days spent shoreside. We also love it for a New York brunch vibe that brings a little rap and hip-hop to our mimosa morning. 
#2. Hawaiian Dreams
With soft background vibes and the soothing sounds of the ukulele, Hawaiian Dreams is the perfect soundtrack for all of your summer hangouts at the beach.
If you're on a mission to escape to somewhere new or simply looking to set a sophisticated summery tone, this playlist is a fantastic option. After all, nothing says "summer" more than Hawaiian music.
#3. Beach Vibes
There are a ton of playlists that you can find on Spotify, but when it comes to the beach, there's arguably nothing better than Beach Vibes.
This collection of laid-back jams includes a fun mix of feel-good songs like "Life's Been Good" by Dirty Heads, "Walk Away" by Ballyhoo! and "All or Nothing" by Rebelution and Busy Signal.
#4. BBE
Looking for a fun playlist that embraces your inner baddie? Skip the summer vibes/love songs and check out BBE — aka "Bad B**** Energy." 
A playlist featuring more than 100 artists like Drake, Doja Cat, Outkast, and Rihanna, this collection of trending, spicy songs is sure to make you feel like you're on top of the world. It's also great if you're in need of a little confidence boost — those vocals are absolute bangers.
#5. Throwback Jams
For those who want to relax and reminisce about the "good ol' days," Throwback Jams is the perfect playlist for you.
Featuring some of the biggest hits from the early 2000s by T-Pain, Lil' Wayne, TLC, Sean Paul, Ciara, and more, you'll be saying, "I used to LOVE this song!" all day long. Next, you'll be reminiscing about Tumblr, early 2000s memes, and the first Ed Sheeran concert you went to. 
And who can blame you? You've got great taste (including) musical taste.
#6. This Is the Beach Boys
Last on the list, but certainly not least, if you're looking for a playlist that the whole gang is sure to love, you really can't go wrong with The Beach Boys. 
Spotify's "This is The Beach Boys" has all of the essential tracks in one ready-to-play collection like, "Wouldn't it be Nice," "California Dreamin'," "Good Vibrations," "Kokomo," and of course, "Surfin' U.S.A." 
Even if someone in your group isn't familiar with this legendary rock band from the Golden State, there's no chance that they won't fall in love with them after listening to their fun, beachy hits. 
New Music and Throwbacks
And there you have it — six fun Spotify playlists for the beach!
Whether you're a pop princess, obsessed with the classics, or prefer the soft sounds of the ukulele, the playlists listed above are sure to make you smile. Just don't forget to pack all the beach essentials like a fun inflatable (or two!), sunscreen, and a cozy towel to really make your beach day shine.
Here at FUNBOY, we're on a mission to bring awesome high-quality inflatables to the masses. From glittery flamingos and gorgeous swans to giant lips and colorful yachts, you can always count on us to have just what you need to level up the FUN. 
Ready to hit the beach? Check us out today to float in style tomorrow. Trust us — you'll be glad you did!
Sources:
Sunscreen | The Skin Cancer Foundation
Sunscreen FAQs | American Academy of Dermatology
Hawaiian Music | Music of Hawaii