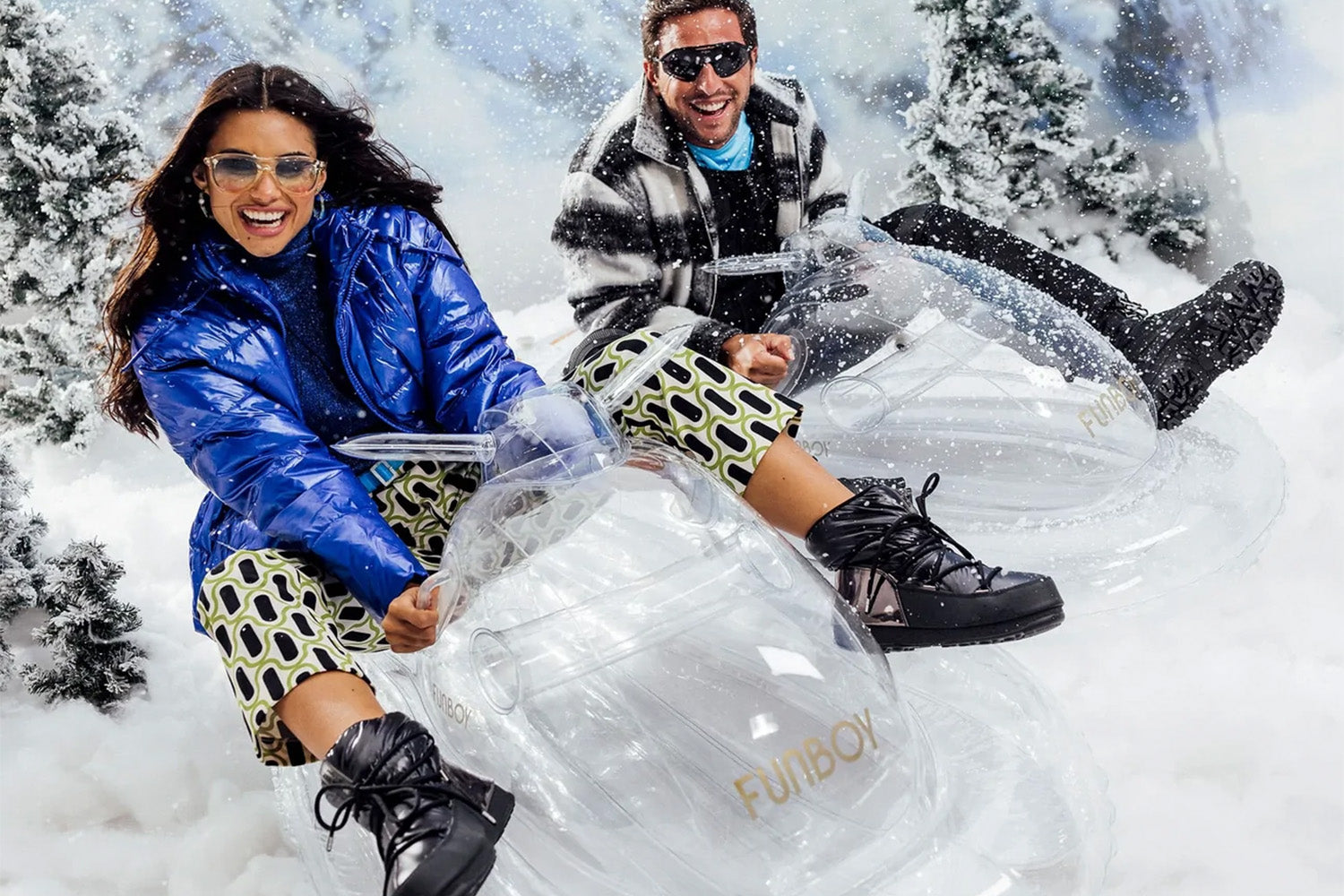 Where To Go Snow Tubing in North Carolina
Between the breathtaking mountain views, stunning coastlines, and rich culture, it's no wonder why North Carolina is such a destination hot spot. If you're lucky enough to visit in the wintertime, you'll find no shortage of snow-covered hills to sled down. 
Looking for an unforgettable snowy adventure? The Tar Heel State is also home to a ton of iconic snow tubing parks — here are the ones you've gotta check out.
Moonshine Mountain Snow Tubing Park
With over 500 feet of snowy, steep fun and excitement, Moonshine Mountain Snow Tubing Park is ideal for the adventurous spirit looking to take on some of the steepest slopes North Carolina has to offer.
This Hendersonville winter attraction allows riders to tube as many times as they'd like during their two-hour session, and since Moonshine Mountain makes its own flakes, a snowless day won't stop the joy.
In addition to tubing, the park also features tasty snacks from the Haus Heidelberg Food Truck, as well as homemade hot cocoa by the fire inside the lodge.
Prefer something a bit more boozy? Grab your bestie, drink of choice, and the inflatable FUNBOY ShotSki for a superior shot-taking experience (please drink responsibly). 
Wolf Ridge Snow Tubing Park
Tucked away in Mars Hill near Asheville, the Wolf Ridge Snow Tubing Park offers one massive slope without lanes. This means that tubers can join forces to ride down with their loved ones. 
After taking a ride up the slope via the magic carpet, you'll enjoy over 300 feet of snowy awesomeness. With drinks, snacks, and lighting for late-night rides, the good times never stop at Wolf Ridge.
Pro Tip:There are four beautiful nature trails and two diamond runs to enjoy — dress warm, and don't forget your favorite FUNBOY Snow Sled.
Frozen Falls Tube Park
Located at Ski Sapphire Valley, Frozen Falls Tubing Park is a family-focused resort that is excellent for beginning skiers. It's also a super wild place to go snow tubing. The park's tubing run is 500 feet in length and offers a fast vertical drop of 60 feet.
There's also a moving sidewalk to get you and your snow tube to the top, so you can get the most out of your tubing session. And if you're looking for even more laughs and adventure in the snow, the park also offers Winter Zipline Tours.
Sugar Mountain Snow Tubing
Sugar Mountain is widely known for some of the best skiing North Carolina has to offer, but if you're in need of a break from the slopes, the resort also has snow tubing runs. 
A quick slide down one of Sugar Mountain Resort's tubing lanes is sure to be a thrill. These super slippery lanes are a whopping 700 feet in length and are serviced by a convenient Magic Carpet lift. The excitement can last well into the night, with lights set up for rides until 10 pm. Pretty sweet, huh?? (pun intended.)
Jonas Ridge Snow Tubing
If steep slopes and short wait times are music to your ears, snow tubing at Jonas Ridge is definitely for you. The 400 ft long slopes are super steep and incredibly fast, allowing tubers to squeeze in more runs so you can get the most out of your snow tubing experience.
They even have a conveyor belt that'll carry you and your tube to the top with ease. This way, you can quickly get to the top to enjoy more rides to the bottom. 
Hawksnest Snow Tubing
With over 20 fun runs, Hawksnest Snow Tubing is an energetic winter wonderland utopia and the largest snow tubing park in the East. The chutes range from 500 to 1,000 feet in length, meaning no matter your comfort level with snow tubing, you're sure to find a lane you love.
When it's time for a break, the enormous viewing deck has tasty refreshments to warm you up, like coffee, tea, and of course, hot chocolate. Mmm!
Pro Tip: Bringing your little one along? Don't forget to pack their favorite FUNBOY Sled from our Kids Winter Sled Collection. From tiny toboggans to mini sleighs, we have an inflatable sled that your pint-sized human is sure to love.
Zip N Slip Snow Tubing Park
Located in Mars Hill, only 20 minutes from Asheville, this popular seasonal attraction features four tubing lanes with a run that's more than 800 feet long. Each tubing session lasts up to two hours, and the park also offers nighttime rides with well-lit slopes. 
Need to take a break? Zip N Slip offers a cozy solarium with a fireplace for those looking to get warm. Hot chocolate and yummy treats are available to keep your energy levels up. Then, when you're ready for more tubing adventures, a conveyor belt can help tired tubers make it back to the top of the slope.
Beech Mountain Resort Snow Tubing
Towering at an incredible elevation of more than 5,500 feet, this popular resort resides in the highest town east of the Rocky Mountains. Located at the base of the ski slope, the tubing runs are around 700 feet long, with a state-of-the-art magic carpet lift to the top. The snow tubing facility includes snow guns for the perfect amount of snowfall and lights for nighttime rides. 
Sessions are one hour and 45 minutes long, but the fun doesn't have to stop there — the cozy Alpine Village is right next door, with ice skating, shopping, and dining for the whole family. 
Highlands Outpost
Formerly known as the Scaly Mountain Outdoor Center, this winter hot spot has some thrilling snow tubing that simply can't be beat. Plus, when Mother Nature doesn't cooperate with white powder, the park has top-notch snow-making equipment to make sure the tubing goes on! 
The tubing course features a magic carpet lift to the top as well as a Kiddie Slope for those under the age of four. The Outdoor Center also offers ice skating, trout fishing, and gem mining. 
Tube World
Arguably the best destination for the whole gang, Tube World in Maggie Valley offers fun for adults to even the littlest family members — those who can't meet the height requirements can explore Tube World's Wee Bowl Snowplay Area. The Wee Bowl Snowplay area is a safe and easily accessed area right near the Snow Tubing Park.
Unlike many ski resorts, tickets to enjoy Tube World are very affordable. And to help make your journey to the top of the hill a little easier, you can ride the Magic Carpet lift before tubing your way down the snow-covered run.
Note:Before heading outside with your favorite FUNBOY sled, take a moment to make sure that you're dressed appropriately. Do you have warm undies on? What about a snow-proof jacket? Mittens? Catching a cold can keep you from enjoying all that North Carolina has to offer. So be smart and bundle up!
Ready To Vacay?
And there you have it — some of the best snow tubing parks in North Carolina! From small runs and bunny hills to steep slopes and long, windy chutes, the Tar Heel State has something for everyone. Just be sure to plan accordingly, as most of these parks are first come, first serve. In other words, reserve your spot to snow tube ahead of time or risk not being able to tube at all. 
Not to worry, though, if the snow tubing parks are completely booked. Simply grab your favorite FUNBOY sled and head outside to make some fun of your own. Whether you're a speed demon and like to feel the wind in your hair as you zip downhill or prefer to take things nice and easy on a comfy Toboggan, you can count on us to have the perfect sled for you. 
Plus, with our Foot Pump for Go Anywhere Fun, you can inflate your FUNBOY inflatables in a matter of seconds, so you can start having fun sooner rather than later (you're welcome). 
Ready to make your winter vacation to North Carolina an unforgettable one? Explore the snow tubing parks listed above and check out our luxe line of inflatable sleds. Trust us — you'll be glad you did! 
Sources:
How to Dress Warm in the Winter | Maine.gov
The Health Benefits of Ice Skating | Play Kettering