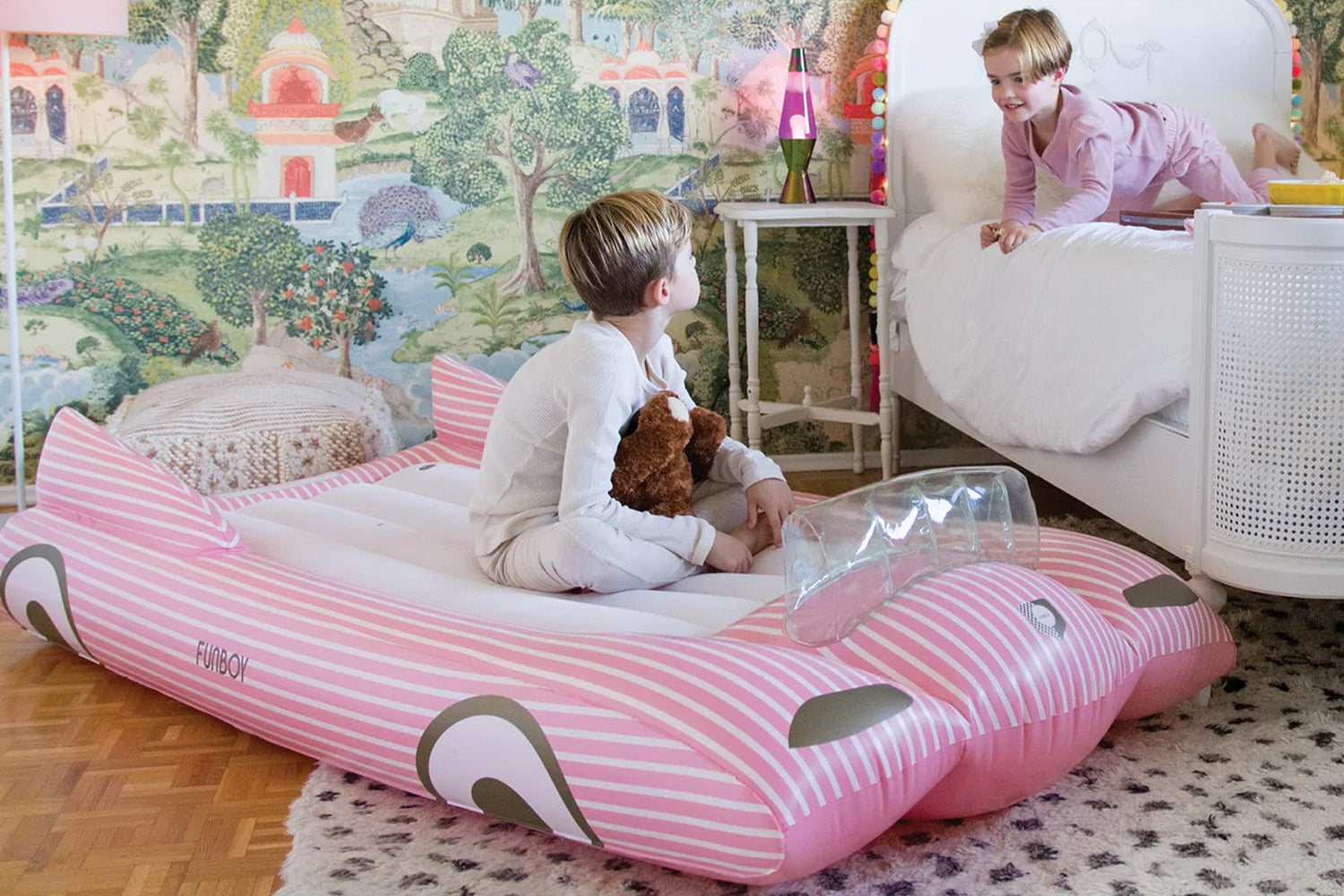 10 Fun Sleepover Ideas for Teens & Tweens
When it comes to sleepovers, teens and tweens just want to have fun. Wondering how to take a sleepover from snooze-fest to dream-worthy?
You're in the right place. Whether it's a birthday celebration or weekend slumber party extravaganza, we've got you covered with ten fun sleepover ideas that are sure to be a hit.
1. Movie Marathon 
Put together the coolest movie night around! Comfy pillows everywhere for ultimate comfort, premade popcorn covered and smothered in butter, cute plushies to snuggle up with, and cozy blankets to stay warm.
Bonus points if you do it like Kourtney K and convert your FUNBOY kiddie pool into an Emmy-award-worthy lounge. Dim the lights and let the good times roll!
Some teen-appropriate flicks to consider for movie night include:
The Must-Have Air Mattress 
When it comes to picking the movie of the night, we would argue that everything is better when it's on theme. And yes, that can totally include your bedding! No, you don't need to make eight wooden race car beds because your tween invited their entire scouting troup — you're busy enough!
Instead, turn on Herbie the Lovebug (the 1968 or the 1997 or the 2005 version). Then, line up the FUNBOY Kids Sleepover Beds at the starting line.
The Pink Convertible Kids Sleepover Air Mattress is on-point. Just like Chitty-Chitty Bang, it's soft as a feather bed (but with FUNBOY's cozy flocking this time). No need for gas: Simply grab the Inflate Anywhere Foot Pump, and it's time to rev your engines. 
Or, if your family believes the sky's the limit when it comes to sleepover parties, the Airplane Kids Sleepover Air Mattress will pair perfectly with Planes or Chitty-Chitty Bang Bang(yes, that movie 100% counts for both).
These air mattresses are tested by a third party for unparalleled quality and come with their own storage bags (perfect for too-small hotel rooms and grandma's house). 
2. Indoor Glamping
Not particularly fond of camping in the wilderness? Bring the sleepover inside for an unforgettable indoor glamping experience. A fake fire pit, s'mores in a cup, sleeping tents, and a crafty activity like building birdhouses or painting pinecones can really set the scene. 
Need more ideas? Have a cornhole competition, play capture the flag, tell spooky ghost stories, and sing fun camp songs like "On Top of Spaghetti" (aka "The Meatball Song"), "B-I-N-G-O," and, of course, "She'll Be Coming 'Round the Mountain."
Pro Tip:If the sleepover falls on an especially clear night, take the kids outside for some star gazing! Point out constellations like Orion, Ursa Major, and Centaurus. If you're lucky and have a good eye, you might even catch a glimpse of a shooting star.
3. Tea Party
Ain't no party like a TEAparty! Tea parties used to be a rite of passagefor many youngsters, but in today's society, teens may never experience the joy of sipping tea with their pinky up.
Hosting a tea party is a fabulous opportunity to bring a group of friends together and make them feel special. Set up a small table and chairs in the living room and host a tea party complete with delicate cookies, elegant teacups, and tasty finger sandwiches.
Pro Tip:Create a positive tea-drinking experience with a wide variety of teas to try from. Fruit and herbal teas are usually best, especially if you're working with novice tea drinkers. But feel free to include traditional black or green teas in your spread as well.
4. Karaoke Night
If your kids can sing until the cows come home, a karaoke night would be a really fun sleepover idea! Set up a karaoke machine and let them belt out their favorite tunes.
Some fun songs that are great for karaoke night include:
"Since U Been Gone" by Kelly Clarkson
"I Want It That Way" by the Backstreet Boys 
"Truth Hurts" by Lizzo
"Don't Stop Believin"' by Journey
"A Thousand Miles" by Vanessa Carlton
"Summer Nights" by John Travolta and Olivia Newton-John
"Dangerous Woman" by Ariana Grande
"I Got You Babe" by Sonny and Cher
Anything by Britney Spears (obvi)
5. Video Game Marathon
Truth be told, you probably can't go wrong with a video game sleepover, even more so when teenagers are involved. Pick out a few multiplayer games (think: Super Mario Kart, Fortnite, or sports games), put out some gaming chairs, floor cushions, and beanbags, and enjoy a night of friendly competition.
Pro Tip:Only have single-player games? Plan a "video game tournament" with the winner of each round playing the next teen in line and seeing who comes out on top as the superior gamer. 
6. Snow Day
If you're lucky enough to live in a region that gets snow, why not use Mother Nature to your advantage and plan a sleepover around a snow day? Invite guests to bring their favorite sled and take the party to the local hill for some sledding fun.
Set up a snack table with a bunch of soul-warming refreshments like hot chocolate, warm vanilla milk, and apple cider. Build snowmen, start a snowball fight, and make snow angels. 
After an exhilarating day of zipping downhill, head back indoors to get warm and fill up on pizza. Maybe throw on a movie, but chances are everyone will be exhausted from outdoor play, so you can pretty much count on an easy breezy bedtime. 
Best Sleds for Winter Parties
Want to earn brownie points toward the "coolest parent of the year" award? Consider these cooler-than-cool snow sleds for the sleepover party:
Nordic Snow Sleigh Sled — paying homage to classic winter sleighs, this sled is everything you want in a sled: it's chic, it's comfortable, and it's fast. In short, this sleigh slays.
Happy Face Snowmobile Sled — tested on the slopes of Alaska's famed Talkeetna Mountains and perfected for your backyard snow days, this black and white sled provides a smooth air-cushioned ride that's second to none. 
Candy Striped Snow Tube — perfect for speed demons and comfort chasers alike, this commercial-quality snow tube works as great as it looks. It's super strong, incredibly comfy, and features a flat base for silky-smooth downhill sledding.
Retro Plaid Toboggan — a twist on a classic, this luxe toboggan is an ultra-portable yet durable inflatable sled that's not only perfect for photo ops but hours of backyard snow play and downhill action, too!
Red Racer Snow Sled — fantastic for kids and adults, this cool snow sled features a soft air-cushioned ride and a grooved rubber base for enhanced performance and durability. What's not to love? 
7. Bake Cookies
What's a sleepover party without some sweet treats? Whip up a batch of tasty cookies and let everyone decorate however they want. You can even host a cookie-making contest to see who can decorate the best-looking cookie.
Here are some things that you might need:
Frosting
Sprinkles
Chocolate chips
Candy pieces
A sweet tooth
Pro Tip:After the sleepover, send guests home with a little goodie bag of the different cookies that were made. 
8. Board Games
There are some things in life that tweens and teens won't outgrow — and board games are one of them. 
The best part? There's a whole new slew of board games on the market that's perfect for those sleepovers with the besties. That said, you can never go wrong with the classics.
Here are some of our favs:
Monopoly
Pictionary
Yahtzee
Connect 4
Scrabble
Clue
Sorry
Candy Land
9. Spa Night
Who doesn't like to get pampered? Have the kids make their own face masks for a fun beauty activity.
For the best DIY face masks, stick with the skin-nourishing ingredients below:
Oatmeal — super soothing; great for dry, itchy skin. 
Avocado — boosts moisture and protects against free-radical damage. 
Honey — helps with exfoliation and reduces redness and irritation. 
Green tea — combats acne, premature aging, UV damage, redness, and irritation. 
Milk and yogurt — nourishes and calms inflamed skin. 
Give each guest chilled cucumbers for their eyes, a tasty refreshment to sip on, and provide a variety of fun polishes to paint their nails.
Note:Check for allergies before making homemade face masks to prevent a scary allergic reaction. 
10. Dance-Off
Last on the list but certainly not least, host a dance-off. After all, there's only one thing to do after singing to Beyonce, baking cookies, and getting pampered — and that's to dance the soles off your feet! A dance-off between guests can turn a regular sleepover into a P-A-R-TAY.
Pro Tip:Teens loveTikTok these days, so why not let them make a few fun dance videos? They can plan out their outfits, curate some groovy dance moves, and with any luck — go viral. Just make sure the parents are A-OK with it before filming or taking it to social media. 
The Final Word
Sleepovers provide a great opportunity for kids to bond and have some fun. The list above is merely a sample of ideas to get you started. But be warned: If you use any of them, you'll likely become the permanent sleepover house among your teenager's group of friends! 
Here at FUNBOY, we're pretty big fans of all things FUN. From sleepovers and slumber parties to snow days and pool days, you can always count on us to have precisely what you need to make any occasion a blast.
Sources:
Now You Know: Why Is 'Teatime' in the Afternoon? | TIME
Oatmeal benefits for the skin 2022 | Medical News Today
Why Can I See Some Planets in the Sky and Not Others? | The Children's Museum of Indianapolis
We're currently obsessing over these Kardashian-approved, Insta-worthy pool floats | Yahoo
10 Homemade Face Mask Recipe Ideas - How To Make A DIY Face Mask | Elle