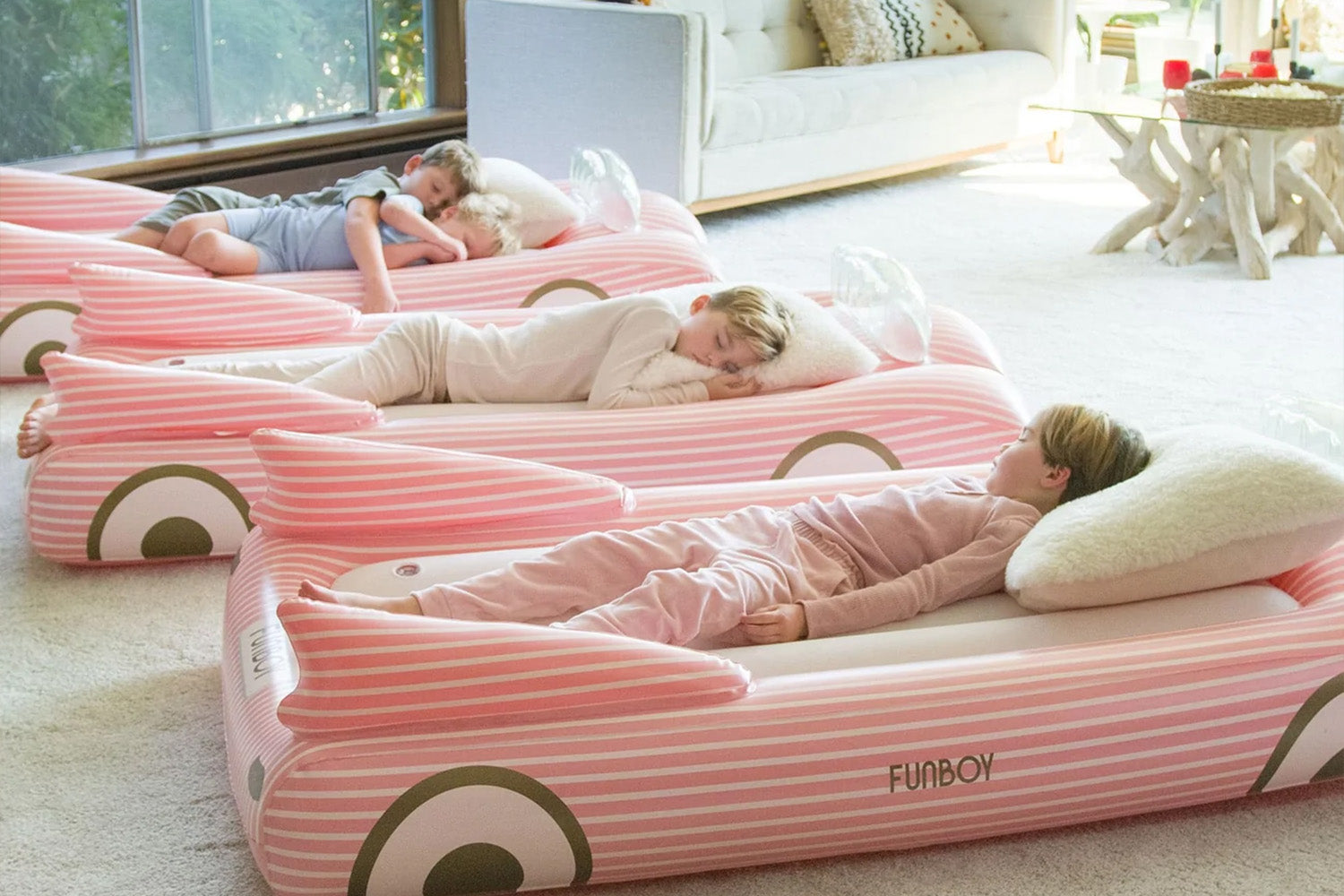 How To Throw the Best Slumber Party: 12 Sleepover Ideas
There's just about nothing we love more than reminiscing about sleepovers from when we were kids. You know, the ones where everyone would gather to tell spooky ghost stories, play games like "light as a feather," munch on one too many sweets, and watch movies like Grease. 
Ah, those were the good 'ole days, but guess what? Just because you're all grown up now doesn't mean you can't throw an epic slumber party.
In fact, if you ask us, sleepovers as an adult could be the best of the best because, well, you can *legally* sip on White Claws and stay up until dawn without a parent nagging you to hit the hay. So, why not call your besties over for a throwback slumber party? 
Need some inspo to help make the night an unforgettable one? We've got you covered.
Here are 12 awesome ideas to take your sleepover to the next level:
#1: Make it Cozy
When planning a slumber party for adults, comfort is key. None of this sleeping in treehouses or on the hard floor — give your guests a cozy place to catch some Zzzs and relax. Provide air mattresses, foamies, or even a giant bean bag. 
You could also inflate a few kiddie pools and fill them up with soft blankets, sheets, and pillows to give each guest their very own comfy lounge like #KourtneyKardashian did. Not sure where to find top-quality kiddie pools? Check out our adorable Clear Pink Heart Inflatable Pool or our FUNBOY x Malibu Barbie Dream Kiddie Pool — Kardashian-approved. 
Kids Inflatable Mattresses from FUNBOY
Love the pool float feel but want something a tad more sweet… dreams? We've got you. Check out the FUNBOY Kids Sleepover Mattresses. No more wrestling the twin-sized mattresses down the stairs so the party can sleep in the living room. These inflatable mattresses are cozy (thanks to the soft flocked surface) and supportive (thanks to the internal crossbeams), and adorable (thanks to our awesome designers). 
Between the Pink Convertible or Airplane, your kids will be saying, "Sleeping bags, who?"
#2: Get Boozy With a Cocktail Contest
If you and your buddies are all of legal drinking age, there's no reason why you can't spice up the night with a little booze. Whip up a big batch of cocktails ahead of time, or better yet, why not mix things up with a friendly cocktail contest? Invite your pals over and tell them to create the most elaborate boozy beverage they can think of.
When it's time to try everyone's liquor-fueled creation, hand out scorecards to each friend and rate the drinks. The cocktail champion is the person with the most points. 
#3: Camp Out With S'mores
Stock up on all the good stuff (marshmallows, graham crackers, chocolate squares, and other candies) for an unforgettable night of indoor glamping.
If you have a fireplace, you can toss on a few logs to roast the marshmallows over a burning flame, or you can bake the s'mores in the oven. Either way, you can't go wrong with s'mores at a slumber party.
Pro Tip:Arrange all of your goodies on a charcuterie board for an elevated twist on a classic treat. 
#4: Make Friendship Bracelets
It's not like the BFF bracelets you made as a young sprout were ugly; it's just that your taste in jewelry has significantly changed for the better since then.
That's why incorporating some decorative beads and fancy-schmancy thread can make the prettiest friendship bracelets you've ever seen these days.
Making friendship bracelets are not only super simple and a whole lot of fun, but you and your besties can have them as souvenirs of your awesome time together. 
#5: Build an Epic Fort
Yep, you read that right, build a fort. But not just any fort — an EPIC fort. Grab all of the pillows, blankets, and sheets you can get your hands on to create architectural marvels. 
Once you've finished building your masterpiece, grab a couple of flashlights and a bottle of vino for a few spooky ghost stories.
#6: Have a Bake-Off
If you're anything like us, you and your besties probably watch endless episodes of Chopped on Food Network, binge the Holiday Baking Championship, and obsess over Cupcake Wars.Well, it's time to put what you've learned to the test during your slumber party and have yourself a fun-filled bake-off.
Decide on a single recipe, or have everyone make whatever tickles their fancy and choose one member of your crew to be the judge (perhaps the winner from the cocktail contest?).
Best dish takes the cake! 
#7: Bring Out the Good Snacks
It wouldn't be a sleepover without the junk food. While popcorn, chips, and cookies are slumber party mainstays, give them a grown-up twist — spice up the popcorn with various spices, opt for specialty chips, and stock up on decadent cookies or dark chocolate fudge. Mmmh!
Even with delicious food and fun times, nothing can prepare you for the morning after an all-nighter partying with the pals. Be kind to your disheveled self and prepare a tasty breakfast spread ahead of time so that you don't have to cook first thing in the morning. 
#8: Break Out the Karaoke Machine
Dance parties are always a solid choice at a sleepover, but karaoke really gets the crowd going. Throw on your favorite mixtapes and sing-along to an epic throwback playlist, like "Toxic" by Britney Spears, "Yeah!" by Usher, and of course, "Wannabe" by the Spice Girls. 
Perhaps you'll even make your own not-so-official music video to an epic remix featuring your best friends (maybe next time, Ariana Grande and Nicki Minaj).
#9: Take a Dip in the Pool
Pajama parties are a classic for a reason. But, let's talk about swimsuit parties. 
If you're lucky enough to have a swimming pool, then why not take your party poolside? Nothing beats a refreshing dip in the water when partying with the pals — especially when fun pool floats are involved. 
For lots of laughs and tons of TikTok or Insta-worthy content, we recommend any float from our New Barbie Dream Collection. Inspired by a mix of Barbie's vintage and modern DreamHouse designs, these gorgeous inflatables are not only gorgeous but unbelievably comfortable. 
Pro Tip:Set up a pool station fully equipt with cozy beach towels, sunscreen, and bottled water for your guests. This way, they won't need to drip water into the house when searching for something to help them get dry or quench their thirst.
#10: Have a Pamper Sesh
Who doesn't like to get pampered? Pamper your friends in style with an overnight spa party. This is one of those classic sleepover ideas that never fails to induce a good time. Just make sure you have plenty of face masks, cucumbers, moisturizers, and a wide variety of nail polish colors to treat everyone to mani/pedis and mini spa treatments. 
Rolling on a budget? Make DIY face masks and lip scrubs with ingredients that you already have in your pantry. For example, if you have honey, you can mix it with a bit of apple cider vinegar to make a soothing face mask. Easy-peasy, lemon-squeezy!
#11: Plan a Movie Marathon
What's better than snuggling up on the couch with all of your besties and binging movies? Whether you stream something new from Netflix, such as a recently released rom-com, or rent some classic films like Clueless or My Fair Lady, movie marathons are always a hit at slumber parties.
Not quite into movies? Go for a video game competition. Whip out your Xbox 360 and pull out early 2000s arcade racers like Midnight Club: Los Angeles or Dance Dance Revolution.
#12: Set Up a Refreshing Breakfast Bar
You don't have to go out for brunch to get bottomless mimosas. Heck, you don't even have to get out of your pajamas! For your slumber party, you'll likely have endless snack tables and probably some specialty cocktails, too. But when everyone wakes up in the AM, you don't want the party to stop. 
Put together a mimosa bar with freshly-squeezed OJ, a few bottles of bubbly, and maybe even some cute garnishes. Accompany this with fresh fruit, muffins, and bagels with all the fixin's like peanut butter, honey, and jam.
To keep everyone refreshed and de-stressed, make sure to have some non-alcoholic beverages and snacks for everyone (veggie and gluten-free).
A Final Word
And there you have it, 12 sleepover ideas that are sure to make your next slumber party an unforgettable hit — so go forth and throw a sleepover.
Here at FUNBOY, we have a deep appreciation for unbridled joy — and the restorative powers of truly kicking back, unplugging, and letting loose. Whether you're on a mission to host the best slumber party ever or simply looking for the coolest pool floats on the planet for a poolside experience that's second to none, you can always count on us to help bring on the FUN. 
Sources:
Sunscreen | The Skin Cancer Foundation
Slumber Parties and Folklore | JSTOR Daily
"Glamping" gains popularity during this pandemic, but will it last? | Marketplace
Homemade Face Mask Recipes - How To Make Your Own Spa-Worthy Face Masks At Home | Elle