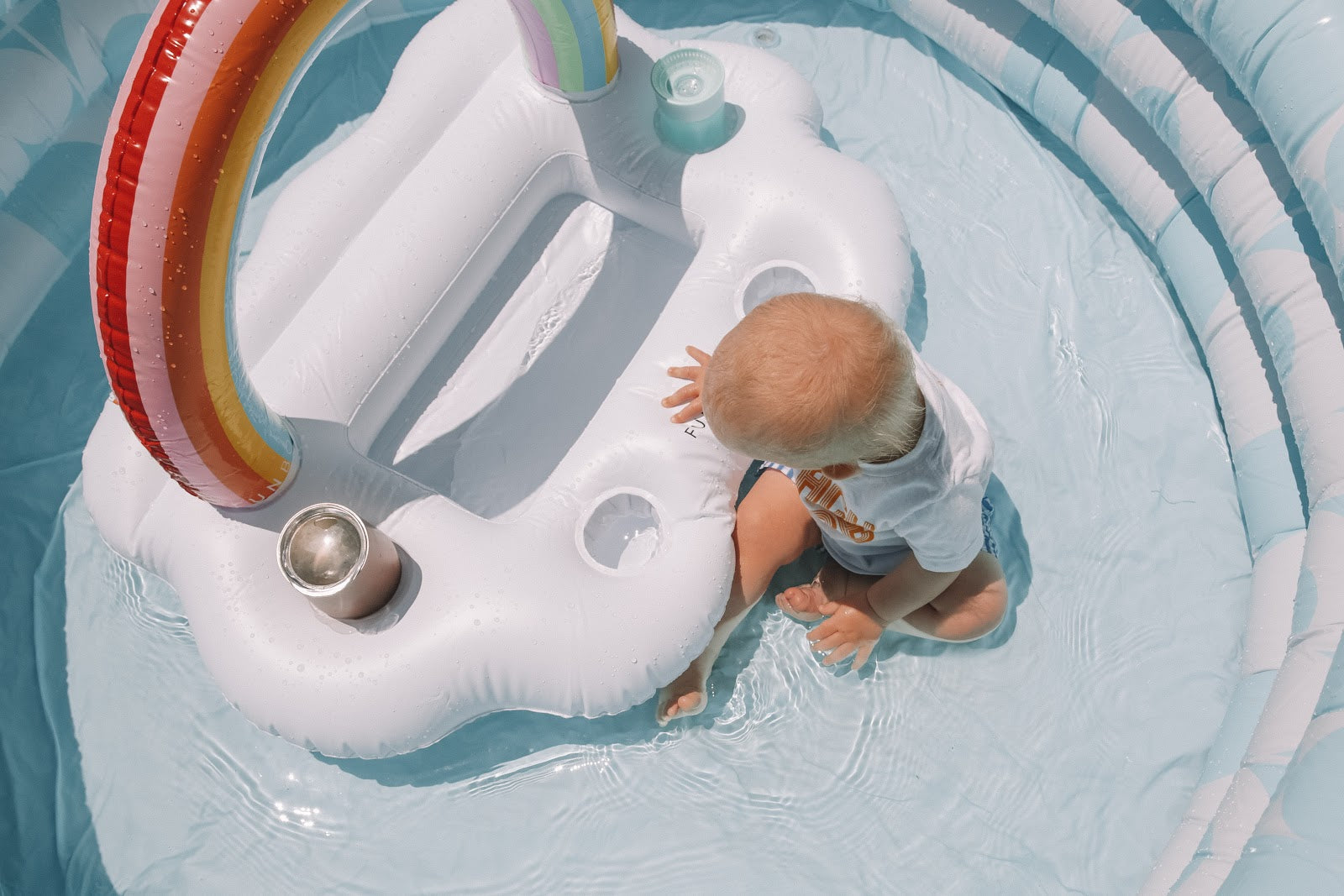 How To Drain A Kiddie Pool Without Making A Mess
Move over pool floats; there's a new hot commodity in town that we just can't get enough of. Can you guess what it might be? 
Kiddie pools. 
Yup. You read that right! And no, we don't love them just because they are an effective way to keep the little ones busy for hours on end -- although that's definitely a bonus! We love kiddie pools because they are an excellent way to beat the heat for people of all ages. However, if you've ever owned a kiddie pool, chances are you're no stranger to draining them. In fact, some may say that just comes with the territory of owning one -- but we're here to tell you otherwise. 
Read on to learn how to drain your kiddie pool without making a mess. 
Kiddie Pool 101: Everything You Need To Know
Here at FUNBOY, many people know us as the leader in high-quality luxury inflatables, creating some of the coolest floaties on the market. And while this is totally true (not to toot our own horn, but --toot, toot), we also like to think of ourselves as the ultimate experts on summer fun because we have everything you need to make your sunny season a memorable one. 
Giant pool floats?Check.
Cozy beach towels?Check.
Retro lawn chairs?Check. 
Chic beach totes?Check.
Hydrating water mist?Check. 
Need we say more?
With spring coming soon, people are going to want to be poolside—that's just how it goes. However, since the world still isn't quite back to normal, you might not want to be around tons of people while you're lounging in the sun. Well, ladies and gents, it's time to dust off your pool accessories because we're taking the season back with kiddie pools.
How To Drain Your Kiddie Pool Like A Pro
If you're new to the world of kiddie pools, there are a few things you should know-- like how to drain your kiddie pool without making a mess. Not sure how? We've got your back. Follow these steps below to drain your kiddie pool --mess-free. 
One surefire way to drain a kiddie pool is by using a small garden hose. Here's how:
Begin by hooking one end of your garden hose to a nearby water spiggot. 

Hold the other end of the hose above the rest of the hose, and wait until you see water coming out the other end (we want to make sure all the air is out of the hose, so it sinks to the bottom of your kiddie pool).

Unhook the garden hose off the faucet, keeping the other end pointing up so that the water doesn't come out of the hose (basically, hold each end of the hose in each hand, keeping all the water in your hose). 

Submerge one end of the hose inside the kiddie pool, close to the center. 

Lay the other end of the garden hose lower than the kiddie pool, leaving it in the location where you want to release all the water. 

The water flow should then reverse, and the kiddie pool will begin to drain. 
Using a small garden hose is a great way to drain a kiddie pool, but if you happen to have one of our awesome FUNBOY Kiddie Pools, we help to make life a little easier and have included a drain plug on each design for quick draining. All you have to do is pull the plug, and voila -- your kiddie pool will drain in a matter of minutes.
Frequently Asked Questions 
Now that you know how to drain your kiddie pool like a pro, here are some of the most common FAQ to help make your kiddie pool experience nothing short of amazing:
What Are Kiddie Pools Made Of?
There are a ton of kiddie pool options on the market. Some are made of hard plastic, while others are made of vinyl. But if you're anything like us, comfort is of the utmost importance -- that's why we prefer kiddie pools made of the latter. Here at FUNBOY, all of our kiddie pools are made utilizing industry-leading safe, non-toxic, soft-touch vinyl that is free from harmful chemicals.   
How Frequently Should You Drain Your Kiddie Pool?
It doesn't matter if you use your kiddie pool for a minute or for three hours -- it is of the utmost importance to always drain your kiddie pool after each and every use. This will help to keep your pool in tip-top condition. Additionally, if you have little ones, leaving your kiddie pool full of water is potentially a safety hazard. 
How Frequently Should You Clean Your Kiddie Pool?
We recommended cleaning your kiddie pool after each use. This will help to keep it in pristine condition so you can enjoy it for many years to come. Not sure how to properly clean it? Here's how:
After you drain your kiddie pool, make a soap solution using eco-friendly dish soap. Take a clean sponge and scrub your kiddie pool, making sure to get all the nooks and crannies. Then, take a hose to rinse out all of the soap and grab a clean towel to pat it dry. Finally, set your kiddie pool in the sun for three to four hours.  
Can I Turn My Kiddie Pool Into A DIY Ball Pit?
Absolutely! Any of FUNBOY's Kiddie Pools can easily be converted into your very own DIY ball pit. All you need to do is inflate your kiddie pool, add ball pit balls, and you're good to go. 
Playing in a ball pit allows little ones to strengthen their muscles and supports their fine motor development. Additionally, ball pits are excellent for sensory play. FUNBOY's Ball Pit Balls are premium XL white 3.15 inch balls made of a clean and safe formula that exceeds children's product safety standards -- which is rare to find these days! They are BPA-free, lead-free, and free from ten harmful phthalates. Crush-proof, premium molded design, these ball pit balls are sure to bring a smile to your tiny tots face. 
We recommended 240-428 balls to pair perfectly with FUNBOY's Tropical Palm Ball Pit or Heart Ball Pit.   
My Inflatable Kiddie Pool Has A Hole. What Should I Do?
If your kiddie pool has a hole, drain the water immediately and set it out to dry thoroughly. We recommended patching the holes with PVC patches, which are included in all FUNBOY float boxes. However, if you need new patches, you can purchase them at most sporting goods stores or from Amazon. 
How Should I Store My Kiddie Pool?
Done relaxing in your kiddie pool for the day? Once you drain the water, scrub it clean, and let it dry, simply store your deflated kiddie pool in a cool, dry place with no UV exposure to protect it against sun damage.
One last thing to note: Changes in air temperature will cause air to contract or expand. This can cause serious damage to your inflatable. Please use caution when leaving your kiddie pool in direct sunlight, as the sun will heat the pool and cause the air to expand. You may need to release air from your pool if it gets too hot. Conversely, you may need to add air when in-contact with cold water.  
A Final Word
So, how does one drain a kiddie pool without making a mess, you ask? 
It's easy: Simply use a small garden hose and allow gravity to do its thing to fully drain your pool. OR, if you have a FUNBOY kiddie pool, pull the drain plug and watch your kiddie pool drain in a matter of minutes. 
Whether you're looking for a fun pool float or an awesome kiddie pool, FUNBOY has everything you need to make this summer your best one yet!
Sources:
Swans. Pineapples. Angel wings. How the novelty pool float conquered Instagram. | Washington Post
Summer: The Warmest Season | LiveScience
Phthalates are everywhere, and the health risks are worrying. How bad are they really? | The Guardian.