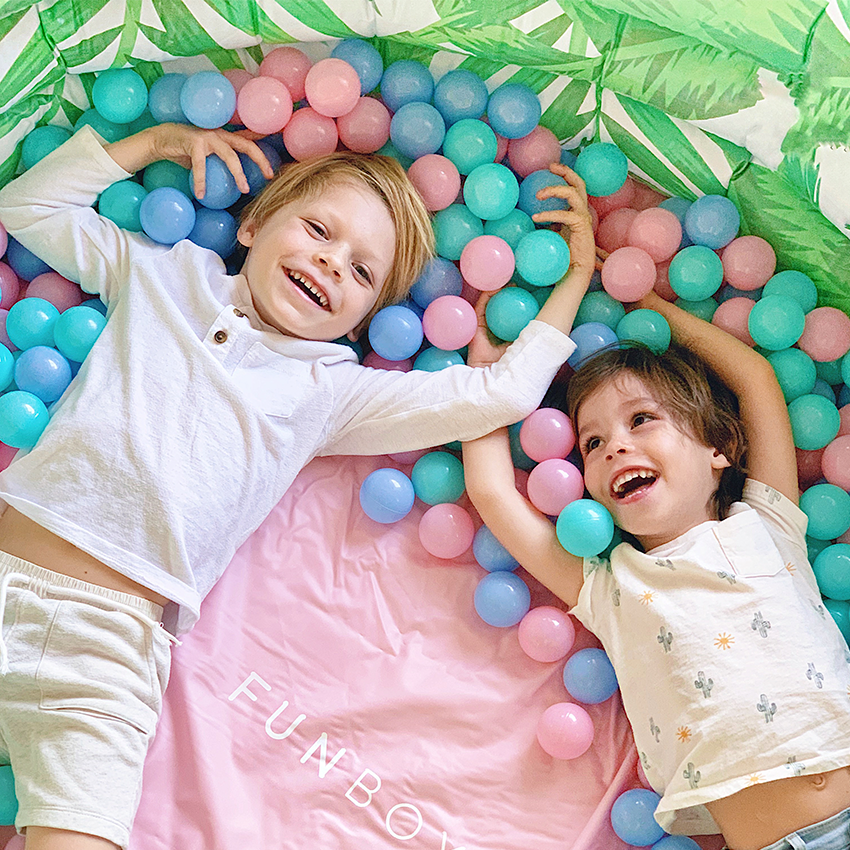 Stay at Home - Activities for Kids!
Now more than ever, creating an oasis of FUN in your home or backyard is essential to your family's health and well-being. As your partner in FUN, we asked Seattle mama, Christiana Hauser, how she's been managing the Coronavirus Quarantine with her four children Isola (9), Cruz (6), Cove (4) and Sur (1). See what she had to say below and for more daily inspiration follow her at @Simplyshe_IC on Instagram!
What does an average day under quarantine looks like?
Wake up (my hubby lets me sleep in a bit while he makes breakfast for the kids), breakfast, morning crafts/art project, homeschool, lunch along with 91,2345 snacks throughout the day, laundry, dishes, housework, lots of nursing, naps, diapers and baby snuggles, a few (sometimes more than a few) tantrums and tears, family walk or outdoor time (if the weather is agreeable), and then dinner and family movie night and/or books and bedtime!
Creative indoor and outdoor activities for the kids at home:
Making stained glass rainbows out of melted crayon shavings
Planting your own herb garden
Jewelry making
Creating a home country fair with old fashioned games and prizes
Making s'more pops
Writing original books/plays and reading/performing them
Making learning based "placemats" with markers and butcher paper
Making figurines out of air dry clay
Creating a fairy house out of things found in nature
Painting Easter eggs ( or anything) with watercolor paint
Tell me about an unexpected bright spot during this time?
We spend a lot of time at home (my husband already works from home), so the extra family time is already something we have been able to embrace and enjoy. Homeschooling my curious and eager kindergartener has been way more fun than I anticipated. Watching his wheels turn and seeing him thrive and grow before my eyes  has been so rewarding—though it hasn't gone as smoothly with ALL of my other children...
Mom, school teacher, wife, cook, cleaner - how do you keep it all together and maintain your sanity?
Let's just say, a lot of the time I don't! This time in life isn't easy for anyone, and lot of this kind of multi-tasking doesn't come naturally—especially for those who are used to being at work and/or having little breaks from their kids and spouses. There have been many days where I've had to push the house/school work aside to simply be present and snuggle up with my kids. I haven't been able to exercise, drink as much water or eat as healthy as I'd like and rather than feeling like I have all this "extra" time at home, I often feel overwhelmed with the workload that simply comes along with taking care of four kids! I am a STAHM so you'd think I'd be thriving and in my comfort zone, but I still encounter challenges daily. Thank goodness I have a very helpful, hands-on husband/dad who always makes dinner and gives me breaks while simultaneously working on a treatment for COVID-19!
When we got our pool the kids were more than excited to take it out on our deck and fill it up with water...but since our weather here in Seattle has been a bit less than "Springy,"we decided to inflate it indoors and fill it with balls to make our own ball pit! My kids have been thoroughly entertained for days now! Also, with a Easter coming up a great idea would be to fill it up with plastic Easter eggs!