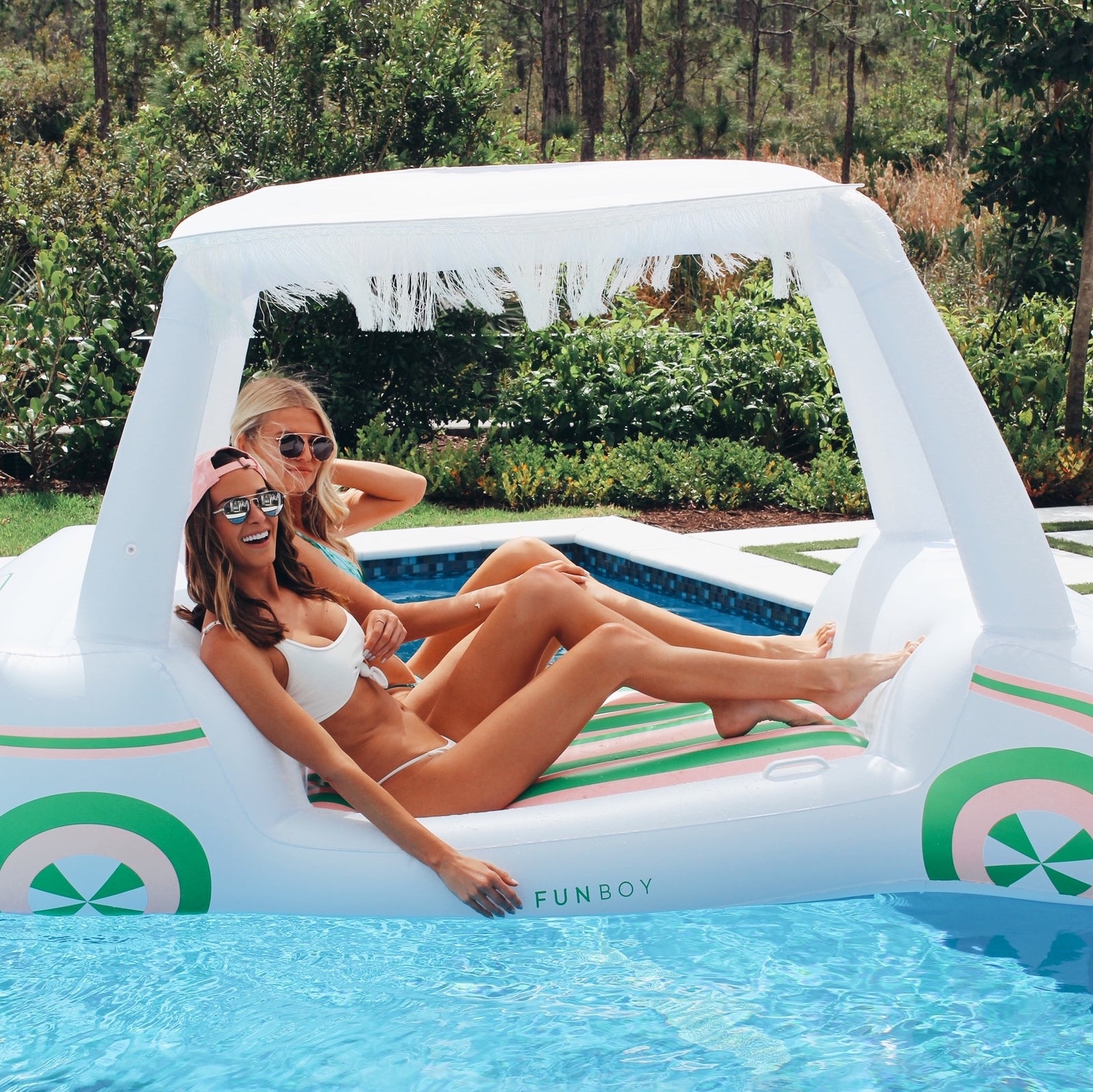 Meet the FUNBOY Golf Team!
To celebrate the launch of theFUNBOY Golf Cart, we teamed-up with some of the golf world's most FUN leading ladies to showcase how they rock the Golf Cart while at home. While you can't spend the day on the Golf Course right now, you can bring on the GOLF vibes in your own backyard with the world's first floating Golf Cart by FUNBOY. And without further ado, the FUNBOY Golf Team
1. Hailey Ostrom
Hailey is a professional golfer on the Cactus tour and has a dream of playing on the LGPA! Her favorite golf course is Cross Water in Sun River, Oregon and her fav pro golfer is Tony Finau (woo Tony!).  Be sure to check out Hailey's Instagram @haileyostrom
2. Lindsay Hoskins
Lindsay is a PGA Professional and the Topgolf Las Vegas Director of Instruction! Her favorite golf course is Tory Pines where she played in the Junior World Tournament (nbd Lindsay) and is a major Tiger Woods fan! You can find Lindsay, and even book a lesson, on Instagram @lindsayhoskinspga
3. Chelsea Lynn Pezzola
Chelsea is a badass professional golfer, co-host of Fox Sports Swing Clinic, and Golf Editor for Jet Set Magazine! Like Tori, Cheslea's spirit animal is a dolphin--they are fun, bubbly, and cute but also extremely intelligent. Her favorite golf courses areThe Emirates Golf Course in Dubai and Puerto Los Cabos in Cabo. Be sure to check out her Instagram for her latest updates!! @clpezzola
4. Jena Sims 
Jena is an actress, model, philanthropist, former Miss Teen Georgia USA and self-proclaimed Krispy Kreme Connoisseur! She is also the founder of Pageant of Hope, a non-profit aimed at raising the self-esteem of children facing cancer and other challenges. And of course, her favorite golfer is her boyfriend, Brooks Keopka! She's also BFFs with another member of our FUNBOY Golf Team, Tori Slater! Check out Jena on Instagram @jenasims 
5. Tori Slater 
Fellow FUNBOY Golf Team member Tori is a realtor out of Jupiter, FL. Her spirit animal is a Dolphin because they are very playful—Tori thinks everyone should approach life with joy and laughter! Amen, Tori! And of course, her fav pro golfer is her boyfriend, who happens to be a pro golfer on the PGA Tour, Daniel Berger!
6. Francie Kaufman 
Last, but certainly not least, Francie! Blogger Francie started Fairwayfinds to share her new adventures, healthy living advice and of course, her delicious food finds. When she's not traveling the world with husband and pro golfer Smylie Kaufman, you can find her at Shoal Creek Golf Course in her hometown of Birmingham, Alabama! Check out her IG @fairwayfinds and her blog franciefairwayfinds.com!
A huge thank you to all the members of our inaugural  FUNBOY Golf Team! We are so excited about the launch of our new luxury pool float. Here at FUNBOY, we aim to bring a little joy to your lives during this crazy time.
Stay home, stay safe, stay FUN! 
Big Love,
Team FUNBOY