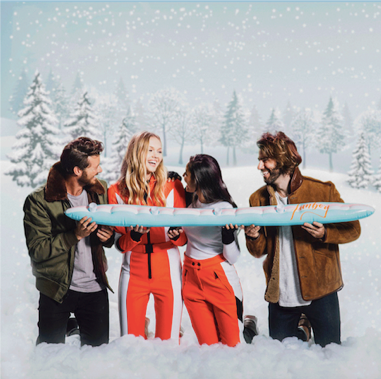 The Top 4 Most Festive Shots for Your FUNBOY Shot Ski
Finally, winter is upon us! It's officially December, which means the leaves are changing colors, it's a little colder and the holiday season is about to start up in full swing. What does that mean for you? Holiday parties! Bring your FUNBOY ShotSki  to your next festive get- together to really get the party started. And, don't worry. We came up with the top 4 most festive shots to put in your shot ski that will take you straight from November all the way through the new year. Whether you want to embrace your inner boujee socialite or go full rachet with it, we've got you covered. Without further ado, the top 4 most festive fall shots.
The " PSL, please" Shot
 Not going to lie, we're huge fans of the good ole' PSL. But, it can be pretty boring after a while. This is the grown-up version that has all the wonderful flavors of pumpkin spice in a tiny shot package. Shout out to TipsyChickens for the great recipe…feel free to customize and make your own!  
Ingredients:
1 oz. Fulton's Pumpkin Pie Liqueur
1 oz. Kapali Coffee Liqueur
Whipped Cream
Cinnamon
Instructions:
Shake Pumpkin Pie Liqueur and Coffee Liqueur over ice until chilled
Pour I nto one of the shot ski shot glasses
Top with whipped cream and a sprinkle of cinnamon
Enjoy! 
The "Mint to Be" Shot
 The Christmas equivalent of the PSL, peppermint is the quintessential feeling of the holidays and just oozes festive spirit. This one is quick and easy—just a shot of peppermint schnapps and you're good to go! If you want to dress it up a little more, dollop a little whipped cream on top.
Ingredients:
1 oz. peppermint schnapps of your choice
Instructions:
Pour in to one of the shot ski shot glasses
Throw on a Santa hat and enjoy!
The "Champagne All Day" Shot
 This time of year is for celebration! Whether you are excited about a new job, finishing up school or ringing in the new year (2020 whoop whoop!), this shot is perfect for celebrating all that you have to offer. It's simple and classy… well as classy as you can be while doing a shot.
Ingredients:
1 oz. champagne of your choice (you can also do Prosecco!)
Instructions:
Pour into one of the shot ski shot glasses
Enjoy!
The "Polar-Bear" Shot
 As the weather gets colder, so do your party shots! Think of this shot as a peppermint patty in liquid form. Cool and delicious! The SpruceEats came up with this recipe and we have to say, it makes a perfect final addition to the shot ski!
Ingredients:
1/2 ounce ​crème de cacao liqueur (white)
1/2 ounce peppermint schnapps (or crème de menthe)
Instructions:
Shake the liqueurs over ice until chilled and combined
Pour in to one of the shot ski shot glasses
Enjoy!
That's it for our top 4 most festive shots…now bottoms up! Remember, drink responsibly and let us know what your favorite festive shots for your shot ski are!