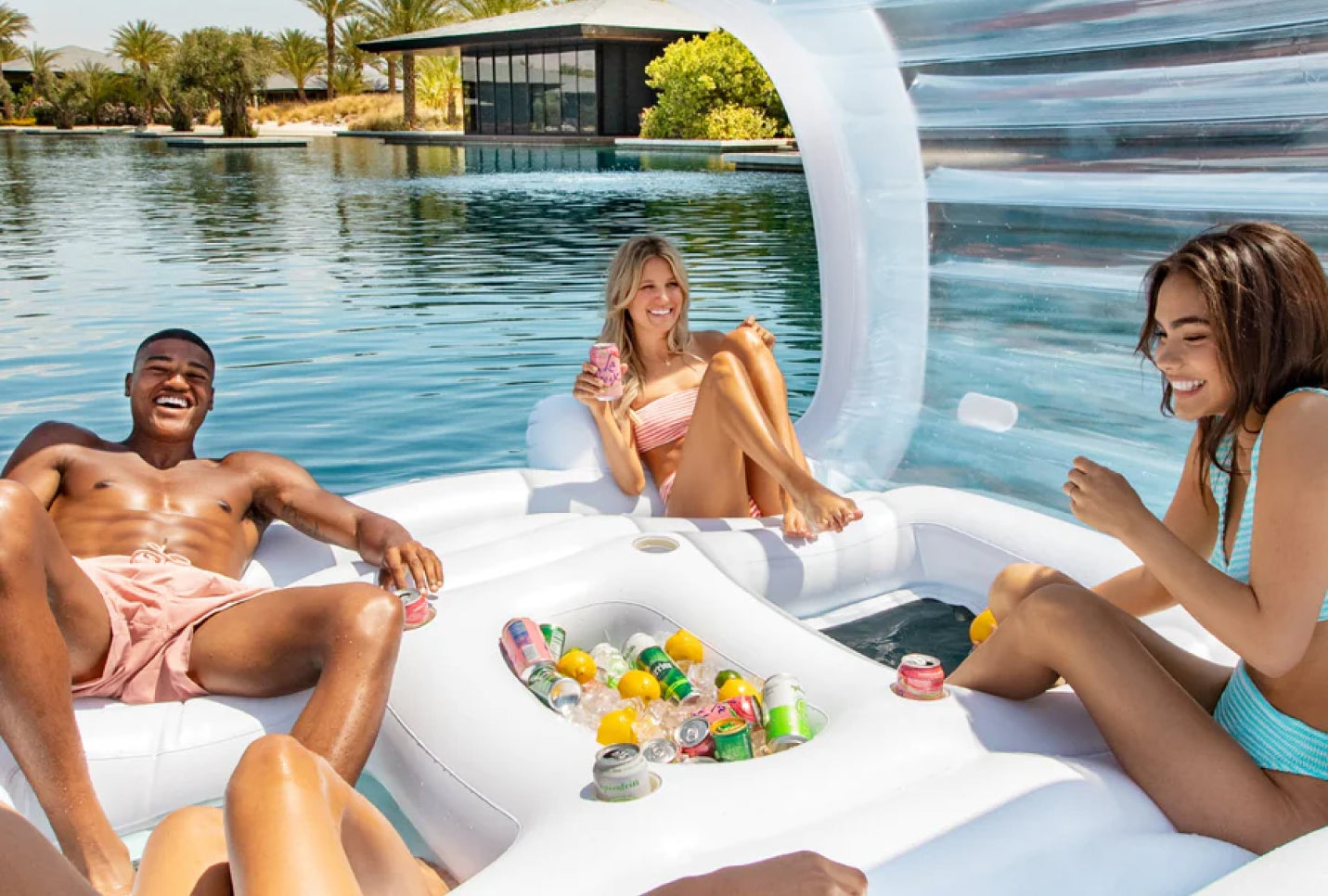 10 Party Decor Ideas You Haven't Thought About
Are you planning a bash? A get-together? A birthday party, perhaps? We're excited just thinking about it! Parties are the perfect chance to bring people together, celebrate, and, most importantly, have fun.
At FUNBOY, we believe that the secret to throwing a memorable bash lies in its decoration. Yes, the party decorations: They set the mood, spark conversations, and reflect your style. Still, we also understand that finding the right decorations can be a bit overwhelming. Not to worry; we've put together a guide to help you get started on your party planning. 
Here are some delightfully unique decoration ideas for your next party. Trust us — your guests are going to be wowed.
1. Unleash Your Party Theme Superpower
A party without a theme is like a cake without icing. Whether it's a Blast From the Past '90s baby shower, a glittering Hollywood star-studded birthday party, or an underwater mermaid adventure, a fun party theme is the ultimate guest magnet. It's like your party's secret superpower that makes everything else fall into place, like decor, attire, food, and beverages.
Just like the perfect playlist setting the vibe for your celebration, your chosen theme transforms the venue into a whole new universe that'll have your guests gasping in awe and whispering, "This party is dazzling!"
2. Create Mesmerizing Centerpieces
When it comes to centerpieces, the possibilities are endless. They're the heart of your table decor and have the power to instantly uplift the look of your party. You can add your personal touch by creating DIY centerpieces. 
How about a balloon garland centerpiece for the dessert table? Balloon garlands aren't just for arches and doorways. Gather balloons in your party's color scheme, mix in different sizes, and voila! You have a whimsical centerpiece that's sure to be a conversation starter.
But why stop at the table? Picture this: our Floating Cabana Bar bobbing in your pool, adorned with tropical flowers. Now that centerpiece is on another level! This refreshing oasis doesn't just wow your guests but invites them into a tropical paradise right in your own backyard. It's summer sophistication at its finest.
3. Funfair of Streamers and Confetti
Streamers and confetti are the unsung heroes of party decor. They're inexpensive, versatile, and immediately scream, "Party time!" Rather than hanging streamers from the walls and throwing confetti in the air, why not consider more DIY projects to make these party staples pop?
Consider creating a wall of colorful paper streamers for a dynamic, colorful backdrop or using tissue paper to make your own confetti in unique shapes and colors. You can even create confetti-filled balloons or clear boxes for a festive surprise. 
These projects are not just easy and affordable, but they also add a charming personal touch to your bash. The best part is that they fit into any party theme. From a lively birthday party to a festive Valentine's Day bash, these streamer and confetti ideas are sure to add some extra flare to your party!
4. Set the Mood With Lighting
When it comes to setting the right party atmosphere, never underestimate the power of lighting. Fairy lights draped across trees for an outdoor party or strung up indoors around windows or along the ceiling can create a magical ambiance. And don't forget the power of LED candles. They can transform a simple dinner party into a fancy soirée. 
If you're throwing a themed party, lighting can play an even more important role. Imagine a Halloween party lit only by jack-o-lanterns, or a New Year's Eve party with a colorful light show at midnight. With a little creativity, your lighting can be one of the most memorable aspects of your party decor.
5. Capture Moments With Creative Backdrops
A party isn't complete without those picture-perfect moments, and there's no better way to frame them than with a creative backdrop. You can go big with a party balloon wall or keep it minimal with a sparkling sequin curtain. You can also use one of our giant inflatables for a backdrop that's both fun and functional!
Whatever backdrop you choose, don't forget to set up a selfie station with a Polaroid camera and a few party supplies, like sunglasses, signs, and headbands. Your guests will have a blast posing in front of your backdrop and will leave with a fun party favor to remember the bash.
6. Dreamy Slumber Parties With FUNBOY
Planning a slumber party for the kids or a chill movie night with friends? Don't just make it a sleepover; make it a FUNBOYsleepover! Create a comfy and stylish sleeping space with our snazzy Sleepover Beds. They're not only cozy, thanks to the flocked material for sleeping, but also super easy to set up and pack away with the included carrying bag.
These inflatable beds come in a variety of cool designs that will add an extra layer of fun to your sleepover party. Pair them with some comfy blankets, soft pillows, and a stash of late-night snacks, and you're all set for an unforgettable night.
7. Make a Splash with Pool Floats
Summer parties and pool floats go together like ice cream and hot fudge. If you're throwing a pool party, whimsical pool floats are a must. Our Glitter Unicorn Float is an Instagram star, guaranteed to make your party pop. Meanwhile, our inflatable Rainbow Daybed Float not only serves as a fantastic photo prop but also as a relaxing oasis for your pals.
You can also take it up a notch and set up a floatie race for some hilarious, friendly competition. Finally, don't forget about the little ones. We've got a whole selection of kiddie floats that are just as cool. You'll have every guest grinning from ear to ear, no matter their age.
8. Throw in Some SURPRISES!
Who doesn't love a good surprise? Picture this: Your guests are enjoying the party, and then bam! A local celebrity or your local high school mascot walks in. Maybe halfway through the party, you unveil a gigantic, newly-inflated FUNBOY float that makes everyone's eyes widen in awe. Kids can enjoy a hidden treasure hunt or be enchanted by a surprise magic show. 
Infusing your party with these unexpected twists will not only create a lot of laughter and conversation but will make your bash an unforgettable story for years to come. 
9. A Food and Drink Station To Remember
No party is complete without delicious food and drinks, right? But rather than just setting up a traditional buffet table, why not make it part of your decor? Yes, we're talking about a food and drink station that's as fun to look at as it is to devour.
For instance, create a dazzling donut wall where guests can pluck their dessert right off the hooks or a rainbow fruit skewer station that's as colorful as it is healthy. For drinks, set up a bubbly mimosa bar with colorful straws or a craft-your-own cocktail station where guests can mix their favorite drinks. You can even hire a local food truck for that added "wow" factor.
Tie in the theme of your party with matching tablecloths, napkins, table runners, and even food and drink labels. Your food and drink station won't just be a hit with your guests; it'll be the talk of the town.
10. Interactive Decorations
Here's an idea that'll really get your party buzzing: interactive decorations! After all, why should decorations only be for viewing when they can also be for doing?
For your younger guests, set up a face-painting booth complete with mirrors, face paints, and brushes. Let their creativity flow as they turn themselves (and their friends) into whimsical creatures, superheroes, or anything else that fits your theme.
For the adults, try a photo booth, complete with props and costume pieces. You can even set up a decorate-your-own party hat or mask station. These hands-on activities will entertain your guests and allow them to create unique mementos of this special night.
Remember, the best parties aren't about more than decorations; they're about creating an atmosphere where guests can interact, let loose, and make unforgettable memories. So, get creative, have fun, and let the good times roll.
Fun-Sized Party Extras To Make Your Bash a Blast
Having covered the ten sensational party decor ideas you might not have thought of, let's keep the fun going with some fabulous bonus tips. After all, the real centerpieces are the memorable experiences we create. 
Cake Topper Magic: Ditch traditional candles and bring in DIY cake toppers. Use party banners or pom-poms to jazz up your cake and cupcakes.
Fun-Filled Piñata: Add a colorful piñata to your birthday decor. The surprise it bursts with will bring joy to kids and adults alike.
Natural Touch: Infuse freshness into your event with greenery. Whether in centerpieces or as a backdrop, it's a fun way to enliven your space.
Origami Flowers: Origami paper flowers are an inexpensive way to add color and fun to your party.
Seasonal Decor:Incorporate holiday décor for that extra festive feel. From paper lanterns for Diwali to a candy-filled piñata for Easter, your guests will love it!
With these tips, your next party will surely be memorable. Have fun planning and enjoy the celebration!
A Final Word
There you have it, party planners: our top decoration ideas are guaranteed to take your bash from ordinary to extraordinary. Whether you're throwing a colorful summer party with a balloon arch, DIY-ing a Halloween centerpiece, or adding some bubbly excitement to a bridal shower with our decor ideas, FUNBOY has your back.
So grab your confetti, inflate those floaties, and let your creativity run wild. It's time to create a party that's not just a celebration but a bona fide spectacle. 
Cheers to an unforgettable bash!
Sources:
Valentine's Day | World History Encyclopedia
When fashion comes full-circle | Spartan Shield
NYE History & Times Square Ball | New Year's Eve