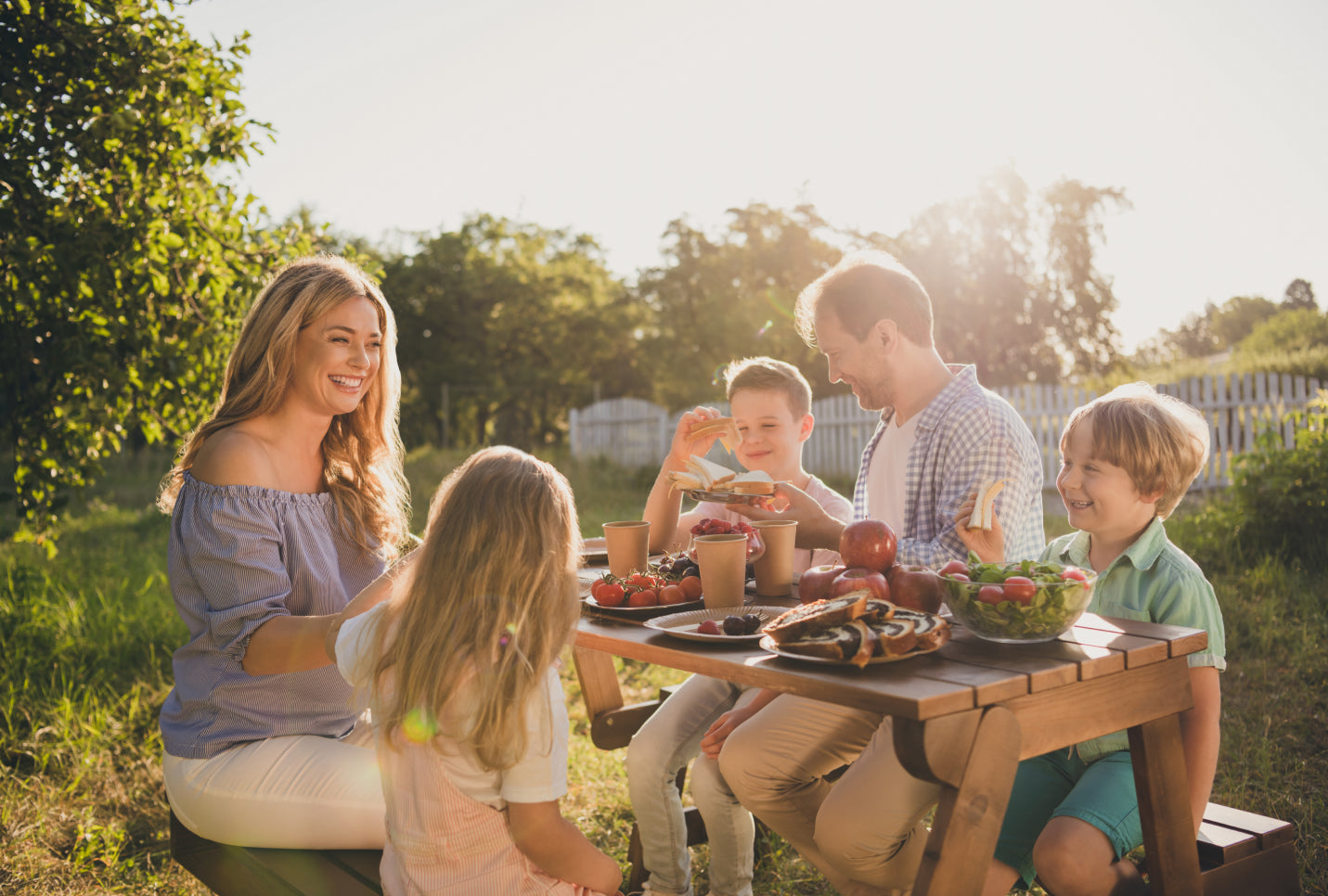 10 Backyard Picnic Ideas for the Whole Family
Nothing quite spells summertime fun like a delightful family picnic in the comfort of your own backyard. These treasured moments of togetherness — marked by laughter, shared food, and carefree games — can turn an ordinary yard into a magical paradise. As they say, the family that picnics togetherstays together.
This summer, FUNBOY invites you to embrace the joy of outdoor living with our top 10 backyard picnic ideas. Whether you're a family of foodies, game enthusiasts, or nature lovers, we've got you covered. Dive in and discover a wealth of inspiration that will make your family picnic as unique as the memories you'll create.
Why Are Family Picnics So Important?
Family picnics aren't just about great food and fun activities. They're about unplugging from the hustle and bustle of daily life, spending quality time together, and forging connections that last a lifetime. What could be better than basking in the sun, surrounded by the people you cherish, all while creating laughter-filled memories?
Planning and preparing for a picnic can also be an enjoyable family activity. The kids can help pack the picnic basket while the adults set up the perfect picnic spot. Next, let's not forget the thrill of an impromptu game of frisbee or a friendly tug-of-war contest that gets everyone's competitive spirit pumping! 
When it comes down to it, family picnics are like a mini vacation packed into a day: a fabulous fusion of fun, food, freedom, and unforgettable moments.
1. Choose the Right Picnic Spot
Creating a magical picnic spot starts with choosing the right location. Find a flat, shaded spot in your backyard, away from any ant hills or other potential nuisances. It could be under a tree, a pergola, or even a strategically placed sun umbrella.
Once you've found your ideal spot, lay out a few picnic blankets for seating. For a more comfortable alternative, consider our Clear Blue Chaise Lounger, a perfect blend of comfort and style. Add some outdoor cushions for extra comfort, and you've got a cozy picnic haven.
2. Set the Scene
Set the scene with whimsical decorations that capture the picnic spirit. A few colorful paper lanterns hanging from tree branches, a garland of bunting strewn across the fence, or a handful of helium balloons bobbing gently in the breeze can add to the festive atmosphere. 
In the end, your backyard should be a reflection of your family's tastes and personalities. Make it your own and create a welcoming space where everyone will feel at ease.
3. Choose a Theme
Who says a picnic can't be a theme party? Shake up your picnic style by selecting a fun theme that all family members can get excited about. How about a Hawaiian luau complete with grass skirts, leis, and tropical fruit skewers? Or perhaps a superhero-themed picnic where everyone shows up in their favorite character's costume?
The theme doesn't have to be extravagant. It could be as simple as a color theme, where everyone dresses in shades of blue, or a food theme like "A Day at the S'mores," where you roast marshmallows and enjoy s'mores in different flavors. The world is your oyster. Have fun with it!
4. Pack a Picnic Feast
Now, onto the most delicious (and important) part of a picnic: the food. Make your menu a mouth-watering mix of healthy, easy-to-eat foods that everyone can enjoy. Think fresh fruits, cheese and cracker platters, finger sandwiches, salads, and some delightful desserts like brownies or fruit kebabs.
For that refreshing touch, whip up some homemade lemonade or iced tea. Finally, elevate your picnic experience with our Floating Cabana Bar. It's an ideal way to keep your drinks and snacks within easy reach while adding a stylish touch to your backyard setup.
5. Bring the Fun With Games
No picnic is complete without a dose of playful competition. Using what you have around the house, invent your own fun family games. Maybe it's a goofy race involving three-legged runners, or a hula-hoop competition, or a classic game of Simon Says.
For families with a creative streak, a DIY treasure hunt around the garden can lead to hours of fun. Leave a trail of clues and let the fun unfold as everyone tries to find the 'treasure'.
Got some chalk? Turn a patch of your backyard into a giant game of Pictionary or Tic-Tac-Toe. And for those with a sporty inclination, an impromptu mini-soccer match or badminton game can get the adrenaline pumping and ensure everyone's active and involved.
Most importantly, these games aren't just about winning — they're about laughing, working together, and making wonderful memories. So go ahead and let the good times roll!
6. Hit Play on Your Picnic Playlist
What's a family gathering without some foot-tapping melodies setting the mood? Music is the soul of any party, and your picnic is no exception. Spend some time curating a playlist that spans genres and generations, featuring tunes everyone in the family loves. 
From current pop hits that the kids can't get enough of to timeless classics that never fail to bring a smile, your backyard will come alive with the sound of music. And if you're feeling particularly adventurous, why not use these tunes to stage a spontaneous family dance-off? 
7. Create a Relaxation Station
After all the food, games, and laughter, you'll want a tranquil space where everyone can wind down. Set up a relaxation station with a couple of our Floating Cloud Daybeds where folks can stretch out, chat, or simply bask in the sun. 
You could also provide a stack of books or magazines for those who prefer to spend their post-picnic hours lost in a good story.
8. Plan a DIY Photo Booth
Let's turn your family picnic into an event that's going to light up your Instagram feed. A DIY photo booth is your ticket to selfie paradise. It's easy-peasy! 
Just find a sunny corner in your backyard, jazz it up with some props, and make your camera the star of the show. You could even dress up the space with a backdrop that fits your picnic vibes. Superheroes, tropical islands, you name it, you create it.
With everyone striking their funniest, sweetest, or most dramatic poses, these photos will be way more than just pictures. They'll be souvenirs of happiness from a day packed with laughter, love, and a whole lot of family fun. 
9. Indulge in a Sweet Treats Table
It's not a picnic without dessert! Set up a DIY dessert station where everyone can customize their sweet treats. You could make a sundae bar with a variety of ice cream flavors, toppings, and sauces or create a "candy shop" with jars of everyone's favorite candies.
If you want to keep things simple, try a s'mores station. Roasting marshmallows and crafting the perfect s'more is a fun and delicious activity that the whole family can get involved in. Let's be honest: Who doesn't love a good, gooey s'more?
10. Screen an Outdoor Movie
As the sun begins to set, keep the magic of your family picnic going with a delightful twist — a backyard movie night. Begin by repurposing one of our inflatable kiddie pools. Rather than filling it with water, pack it with an array of plush cushions, soft blankets, and even a few comfy pillows. 
The result? An irresistibly cozy movie-watching nest that's perfect for kids and adults alike.
Once you've set up your unique seating, all you need is a projector and a white sheet for your screen. With popcorn in hand and the stars twinkling overhead, huddle up in your comfy kiddie pool lounge for a cinematic experience like no other.
Whether you opt for a heartwarming family classic, the latest animation hit, or a superhero epic, this extraordinary movie under the stars will wrap up your picnic day on a truly enchanting note.
Bonus Idea: Funboy's Floating Fun Zone
For those who like to include a bit of splash to their outdoor fun, turn your pool into a floating fun zone with our range of whimsical inflatables. From our Golf Cart Float for relaxing on the water to our Stars & Stripes Mesh Chair for soaking up the sun, we've got all the ingredients for an unforgettable poolside picnic.
Top off your floating paradise with our Inflatable Cooler to ensure everyone's favorite beverages are just a quick paddle away. What's not to love?
A Celebration of Togetherness
Backyard picnics are all about celebrating togetherness, seizing the day, and making the most of the sunny outdoors. So, throw off the bowlines, dive into the FUNBOY experience, and set the stage for a backyard picnic that's every bit as special as your family.
Whether you're lounging on our comfy inflatables, striking a pose in your DIY photo booth, or ending the day with an outdoor movie, remember — the magic of these picnics lies in the shared laughter, the fun-filled games and the simple pleasure of being together. 
Here's to a summer filled with joy, love, and unforgettable family picnics. Let the adventures begin!
Sources:
Why Spending Quality Time With Your Children is Important | South Dakota State University 
How Music Bonds Us Together | Greater Good
Importance of Sun Protection: 5 Ways to Protect Your Skin from Harmful UV Rays | Agape Family Health