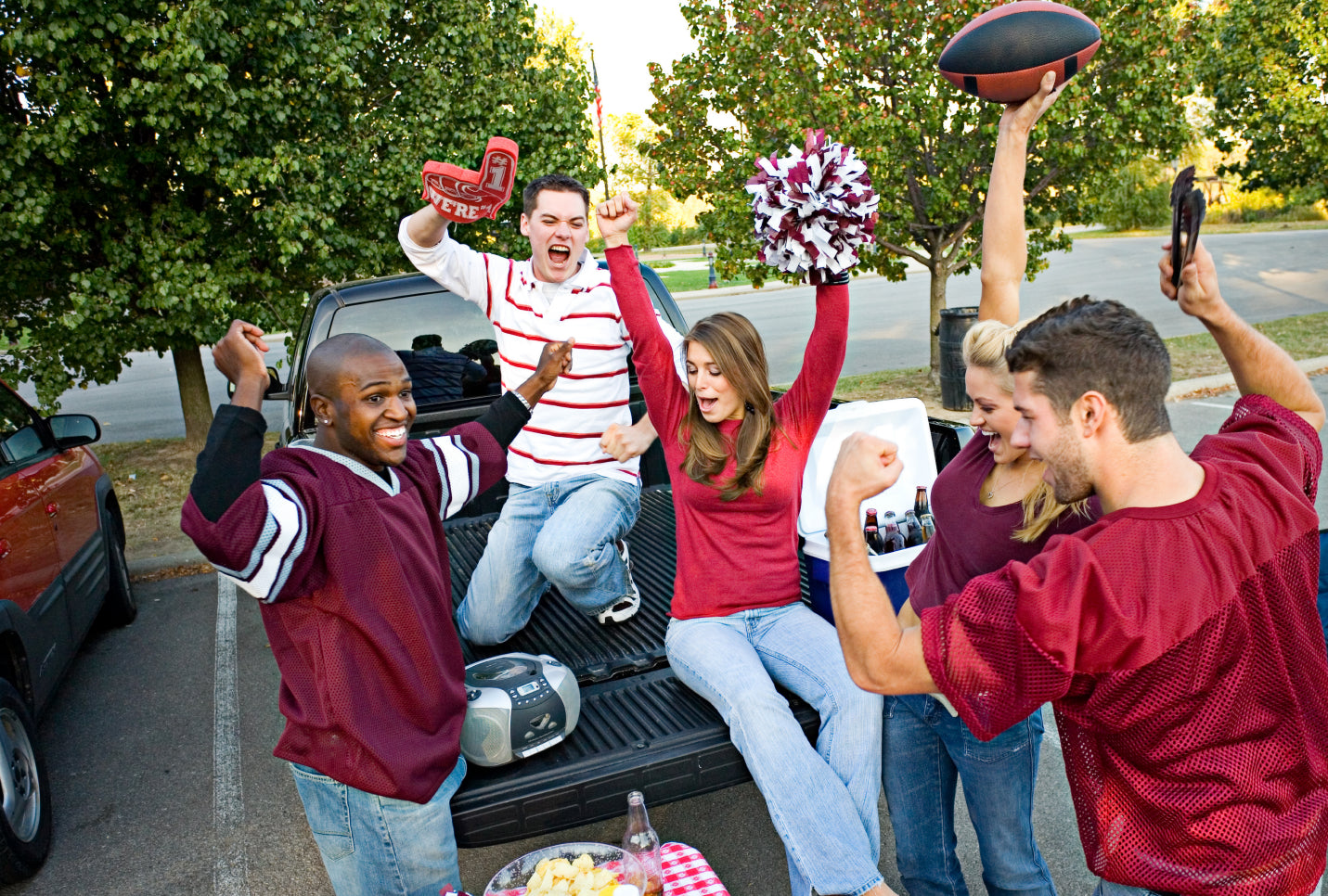 Tailgate Party: 10 Ideas for This Year's Season
Hey there, sunshine seekers and parking lot party lovers! Ready to take your tailgate game to the next level? Of course, you are. 
Tailgate parties are the unsung heroes of sporting events, the rambunctious rendezvous before the big show. They're where rivalries fade, friendships are forged over hot grills, and of course, where everyone gets pumped for the game.
What if we told you that there's a way to make your tailgate shindigs even more epic? Yes, you heard that right. Get ready because we're about to throw a hail Mary pass of fun and share with you our top 10 tailgate party ideas for this year's season. No need for a playbook — just bring your game face and a sunny attitude!
1. Tailgate Party Essentials
Before you hit the gas pedal and cruise toward tailgate glory, let's make sure your car is packed with the right stuff. Forget the rookie mistakes of past seasons; this year, you're going pro.
Consider this your tailgate party starter pack: your trusty grill, a solid cooler (filled with all your favorite beverages, naturally), enough seats for your squad, and a canopy or umbrella for some much-needed shade. We also recommend a portable Bluetooth speaker to keep the tunes pumping and the energy high.
Now, picture this: You've arrived at your designated tailgate spot, you pop open the trunk, and there it is, the star player of your tailgate setup — the Yellow & White Striped Floating Cabana Bar. Sure, it's designed for pool parties, but it's a game-changer at tailgates. Imagine a stylish bar that keeps your drinks cool and within reach. Plus, let's not forget its high-quality, inflatable design ensures it's a breeze to transport.
When it comes to safety (we've got your back), remember your sunscreen and a good hat. After all, nobody likes a burnt hot dog — or a sunburnt buddy.
2. Gourmet Grilling Ideas
Nothing beats the sizzle of a grill at a tailgate. The aroma of grilled goodies is practically the official fragrance of tailgating. You don't have to be a pro to elevate your grilling game from basic brats and burgers to gourmet status.
Think marinated skirt steaks with a tangy chimichurri sauce, or zesty shrimp skewers, or even grilled portobello mushrooms for your plant-loving pals. Experiment with flavors. After all, tailgate parties are all about the fun and unexpected.
The goal is to create a vibe that's laid back yet buzzing with excitement, just like the last few minutes of a nail-biting game. Now let's keep the ball rolling with even more tailgate party ideas!
3. Theme It Up
Let's switch gears here. Ever thought about giving your tailgate party a theme? Now's the time! A theme adds a layer of hilarity and a dash of the unexpected to your party, making it one to remember.
Could it be a Hawaiian Luau with leis, tropical punch, and inflatable palm trees? Or perhaps a retro 80's party, complete with neon leggings, bandanas, and big hair wigs? The possibilities are endless, and the results are always Insta-worthy. 
4. Fun & Games
Spice up your tailgate party by setting up games to entertain guests of all ages. This can range from classic tailgate games like ladder toss or bocce ball to trivia or a friendly wager on the game's outcome. Make sure to have a variety of options so everyone has something they can enjoy.
For the kiddos, our Tropical Palm Kiddie Pool is an instant hit. Fill it with water or even transform it into a fun ball pit. It's not just for the kids, though. Adults can also relax in it and cool off during those hot summer days. 
Remember, when you're partying with FUNBOY, it's all about embracing your inner child and having a blast. Let the games begin!
5. Drinks on Point
No tailgate party is complete without a selection of thirst-quenching beverages. And we're not just talking beer here, although a few cold ones are a must. Think about fun, refreshing cocktails, and don't forget to include some non-alcoholic options, too.
Remember our Yellow & White Striped Floating Cabana Bar? It's just as perfect for serving up your cocktails as it is for chilling beers. 
The keywords here are fun and refreshing. Consider fruit-infused water, classic lemonade, or even a special tailgate punch. Your friends will be talking about your tailgate party for seasons to come.
6. Create a Comfort Zone
As we all know, comfort is key at a tailgate party. That means plenty of chairs, blankets, and even a few inflatable sofas if you want to take things up a notch. Don't forget pillows and throws to keep cozy when the sun dips.
Pro Tip:Use your inflatables outside of the pool. Our Inflatable Rainbow Daybed is a cozy and whimsical addition that offers you and your friends a comfortable space to kick back, relax, and enjoy the festivities. Plus, it adds a pop of color and a touch of FUNBOY flair to your tailgate setup. 
7. Music Makes the Party
A tailgate party without music is like a pool without water. From pumping everyone up before the game to maintaining a vibrant atmosphere during the event, music is absolutely essential. So, get a portable speaker and create a playlist that includes everyone's favorite tunes. Aim for a mix of genres that will keep the energy levels up and the mood light.
If you're up for it, karaoke can be an unexpected twist to the tailgate experience. Be prepared for laughter, a lot of off-key singing, and, of course, lots of memorable stories to tell later.
8. Grilling Good Times
Let's talk food. At a tailgate party, it's all about the grill. This is your opportunity to show off your BBQ skills and bring together a spread that's worthy of your team. Burgers, sausages, chicken wings, grilled veggies — you name it, you can have it!
For an extra dose of fun, hold a friendly BBQ competition. Invite your fellow tailgaters to bring their A-game and their secret recipes. Not only does this ensure a variety of food, but it's also another chance to bring some healthy competition into the mix.
9. Night Game? No Problem
If the game starts late or goes into overtime, make sure your tailgate is ready for the night game. Fun lighting, such as solar lanterns or LED string lights, can create a cozy and festive atmosphere.
Of course, don't forget about staying warm. Having a few extra blankets on hand or even a portable fire pit can ensure the party keeps going, no matter how late it gets.
10. Swag and Favors
As the party winds down, it's time to thank your fellow tailgaters for coming with some themed swag or favors. This could be something simple like a team-colored bracelet, a mini foam finger, or even just a memorable photo taken during the day's festivities.
Remember, it's not just about the game; it's about the memories you create with your friends and family. And with FUNBOY, those memories are guaranteed to be filled with laughter, good times, and the sunny vibes that only a tailgate party can bring.
Game Day FAQs
Before you get started on your next tailgate adventure, consider these commonly asked questions — and always be prepared! 
What Should I Do If I Forget Something Important for My Tailgate?
A little game day accident happens to the best of us. The best solution is to make a checklist and pack the night before. If you do forget something, don't panic — tailgating is about camaraderie and having fun, someone else might have what you forgot, or you can just roll with the punches and make a fun story out of it.
Can I Bring My Pet to the Tailgate?
That's a tricky one! While Fido might enjoy the party, not everyone is comfortable around pets. It's best to check with your friends and the venue's rules before bringing along your four-legged buddy.
What Should I Do if It Rains?
Rain, rain, go away, right? If the forecast looks gloomy, it might be wise to pack a tent or some large umbrellas. And hey, a bit of rain never hurt anybody. If anything, it makes the party more memorable.
Do I Have to Know About Football To Host a Tailgate Party?
Absolutely not! Tailgating is about more than just the game. It's about food, fun, and friends. As long as you bring the enthusiasm, your guests are sure to have a blast.
How Can I Make My Tailgate Party Unique?
Get creative! From theme ideas to our own fun FUNBOY Floats, the possibilities are endless. Don't be afraid to step out of the box and mix things up.
Touchdown!
In the end, tailgating is about creating memorable experiences with your favorite folks. It's about the anticipation, the communal spirit, and, of course, the game. So, go on, shake off the conventional, embrace the unexpected, and make your tailgate party the main event. 
With FUNBOY, the party starts long before the whistle blows and lasts well after the final touchdown. Stay sunny, stay happy, and keep those good vibes rolling. 
Game on!
Sources:
Tailgating: How the Pre-Game Tradition Can Be Traced to Ancient Times | HISTORY
Here's how you can stay warm outside this winter | NPR
Benefits of Grilling Vs. Frying Your Favorite Foods | Wesley Enhanced Living