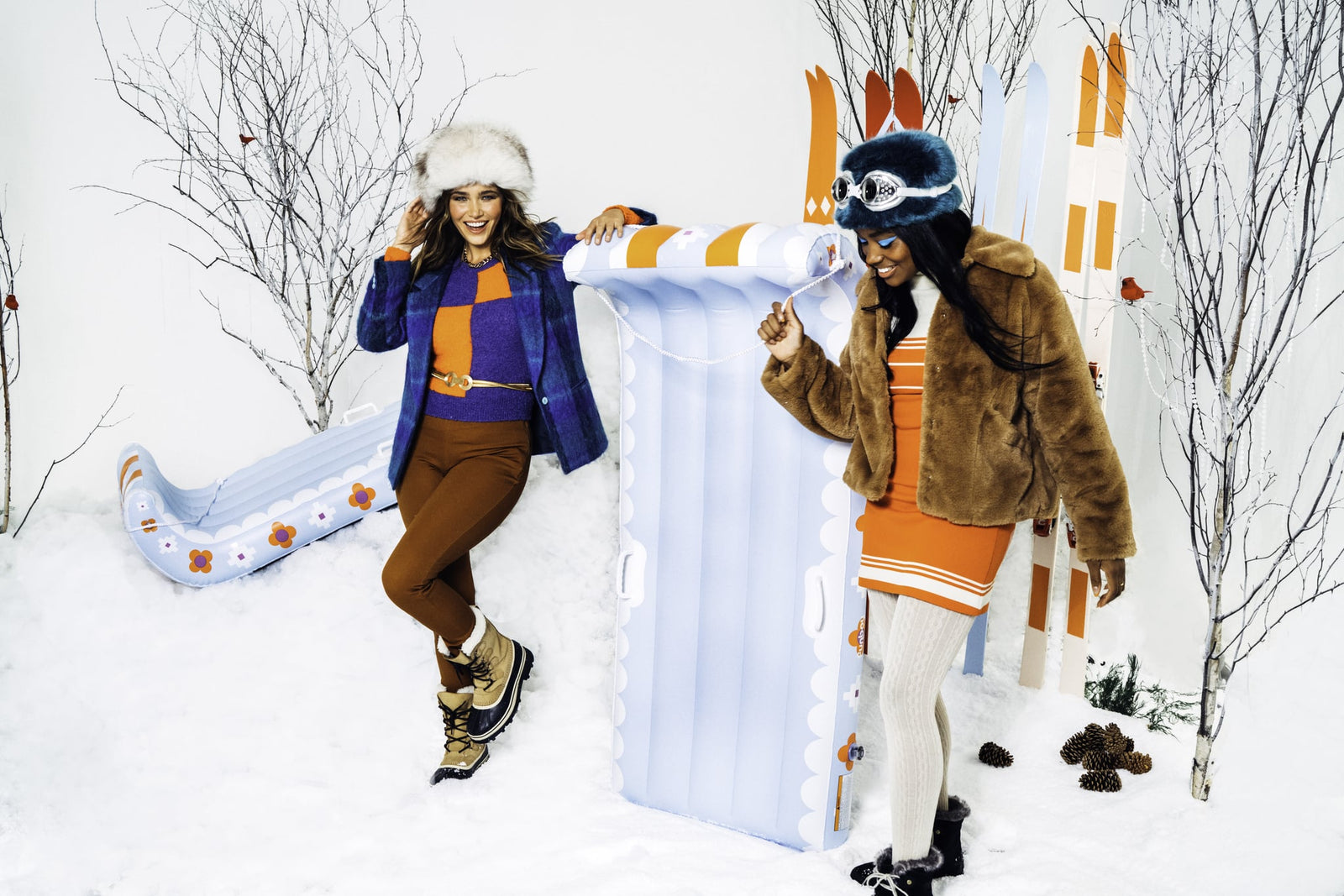 The Best Snow Toys To Play With This Winter
Winter is fast approaching! Leaves are falling, and the familiar feeling of crisp autumn air is reminding you of reasons to be excited about the winter season. This is the year to take your outdoor activities to new levels of fun with playful and unique toys from Funboy!
Find out what toys you need to make this winter season one to remember. 
Inflatable Snowmobile, an Instant Classic 
Take one look at cheerfulretro-styled inflatable snowmobiles, and then hours of snow hill fun begin to race through your mind in a 70s inspired blur. Strap on some matching goggles, and you're sure to stand out as the coolest in the middle of the cold. 
It's not just the fresh take on classic styling that will sit effortlessly on your Instagram feed; this ride performs just as nice as it looks.
Gone are the days of bumpy plastic sleds; this fun machine is crafted with an ultra-thick material, a rubber-reinforced base, and full air suspension. This ensures a smooth and sturdy ride that will support one or two people up to 250 lbs.
The snowmobile design is excellent for kids as well as adults. Kids will love getting a chance to "drive" a high-powered machine. Adults will feel like kids again while sitting upright in a comfortable position, zooming down the snow hill!
Sleigh Snow Sled 
Far away from your local sledding hill, thesled has its origins in ancient Egypt as a tool to help construct the pyramids. It has also been utilized by an evil witch in Narnia and a Jolly Old Elf from the North Pole, typically pulled by reindeer. The sled is an elegant way to travel over snow. Its unique history brings about a magical sort of sentiment that is perfect for the ride into the winter holidays. 
This version of the sleigh could be the most iconic variation since its inception! Cruise downhill in comfort and style in houndstooth—winter fashion staple or a playful alpine snow scene sleigh. A rear backrest allows you to lean back for comfort and extra speed! 
In addition to its style and performance, thisinflatable winter sleigh snow sled will take up only a fraction of the space of a traditional sleigh. Inflate and deflate quickly for easy setup and transportation that will save room in the car for more loved ones to ride. Perhaps even better, it'll save room in the garage when you switch over to your summer floats. 
You and a loved one are not only going to have days full of downhill exuberance but will also have the cutest holiday pictures that capture priceless winter fun. Move over,Mall Santa!
The Toboggan 
What is the difference between a sleigh and a toboggan, anyway? Traditionally, a sleigh is equipped with ski-like runners to help control the vessel and can be quite large and drawn by horses or reindeer. Toboggans are smaller and run directly along the path of the fallen snow without the use of runners. 
Additionally, a toboggan usually has a front end that curves upwards and makes the whole thing look like the letter J if you see it from a certain angle.
You've seen this before:think of a classic sledding hill depiction of rosy-cheeked children having a grand 'ol time. This is basically what you might see on a Christmas-themed puzzle or something—the toboggan is straight-up iconic. 
The toboggan has its origins as a method of transport for the Innu and Cree Indians of modern-day Northern Canada. It was that iteration that evolved into the Olympic bobsled, and now the FUNBOY inflatableToboggan Snow Sled. You have the choice of three fashionable patterns: cardigan, retro plaid, and winter wave. All of them are the right choice for your downhill activities this winter. 
The Snow Tube 
A snow tube is an excellent option for a solo downhill run. Like our other FUNBOY products, the comfort and style are unmatched.This snow tube will have you looking fantastic regardless of how unflattering your puffy ski jacket might be. 
It's perfect for backyard use, or you can easily deflate it for transportation if you have to drive or fly to get to your destination sledding hill. The portability of the snow tube makes it possible to bring it along with you to Whoville, The North Pole, or wherever your winter adventures take you. 
The snow tube is unique among other sledding options as it has the capacity to spin while maintaining speed and control. Hang on tight to the durable rubber handles on each side and enjoy the ride! But, of course,safety first.
FUNBOY also offers them in packs of two if you're looking for a race.
The Inflatable ShotSki 
Bring the party with you this winter with theinflatable ShotSki. What is a ShotSki, you ask? It's only the funnest way to warm up a winter gathering quickly.
The ski inflates in just a few breaths and has four-shot glass holders. Fill them up and count to three. Then, turn the ShotSki up for a fun bonding experience with friends, family, or the people you just met at the holiday shindig.
Perhaps you've never heard of this unique way of drinking, but it's actually something that people are quite passionate about.
In October 2019, theworld record for the largest number of people to participate in a single ShotSki was achieved at the Ullr Festival in Breckenridge, CO. 1,320 people downed shots of bourbon at the same time. It took 440 skis (well worth it).
While the ShotSki has been around for quite a while, there is much debate over its origin. There is no debate on the most portable and practical ShotSki.
Think about it: an old wooden ski is not the easiest thing to fit in your sedan and bring it to a crowded holiday party. However, the inflatable design from FUNBOY makes the ShotSki a memorable tradition you can take with you wherever the party is hosted.
If it's skiing, or drinking, or hosting a great time— whatever your winter hobbies are, you'll want one of these at your holiday parties this winter. Drink responsibly, of course, and don't pressure anyone into drinking who doesn't want to.
But, aside from that, drink up and make sure that everyone gets a chance with theShotSki. That's what it's made for, and it is also conducive to a party that could possibly be remembered (perhaps vaguely remembered) as the best holiday party of the season. 
Funboy Foot Pump 
To make inflating your winter toys just as easy as they are sure to bring lasting memories, we have a simple solution to get all of your favorite sleighs or sleds ready for the hill.
Thefoot pump comes with adapters for each of your toys, as well as an inflate/deflate valve to make packing a breeze as well.  Save your breath for the laughter that comes with the joy of sledding!
Something Everyone Can Enjoy 
The best toys are something everyone wants a chance to play with. That's what makes FUNBOY winter toys the way to go this winter season. Inflatable sleds are something that all your friends and family will enjoy. What a winter classic, getting people together for a day on the sledding hill.
Just beware that people will want a turn, and they will ask where you got your remarkable sledding vessel. And rightfully so. They are the Cadillac of the snow hill that looks awesome and glides smoothly and effortlessly down the slope. 
In the spirit of the most wonderful time of the year, let them have a turn, especially if it's your kid asking. But after their turn, get back up the hill and have another go. Go further up the hill than anyone has ever gone before (or just as far as you feel comfortable with), and make sure to get it on video!
Final Verdict 
We learned from the Grinch that the meaning of the season doesn't come in packages, boxes, or bags: thank you, Green Friend.
However, the best winter toys for this season come in packaging markedFUNBOY. They go hand in hand with what the winter season is all about: enjoying all that the cold season has to offer and making fun winter memories with others. 
If that's not enough, just think about how cool these inflatables are! A retro snowmobile? Toboggan, sleigh, or tube? It's like winter Mario Kart; choose your vehicle! After the race, you can warm up with a drink from the ShotSki. Three, two, one, go!
Sources
The History Of Sledding | Grunge
The Origin Of Mall Santas Explained | Grunge
Summit Suds: Ullr Fest revelers break unofficial shot ski record | Summit Daily