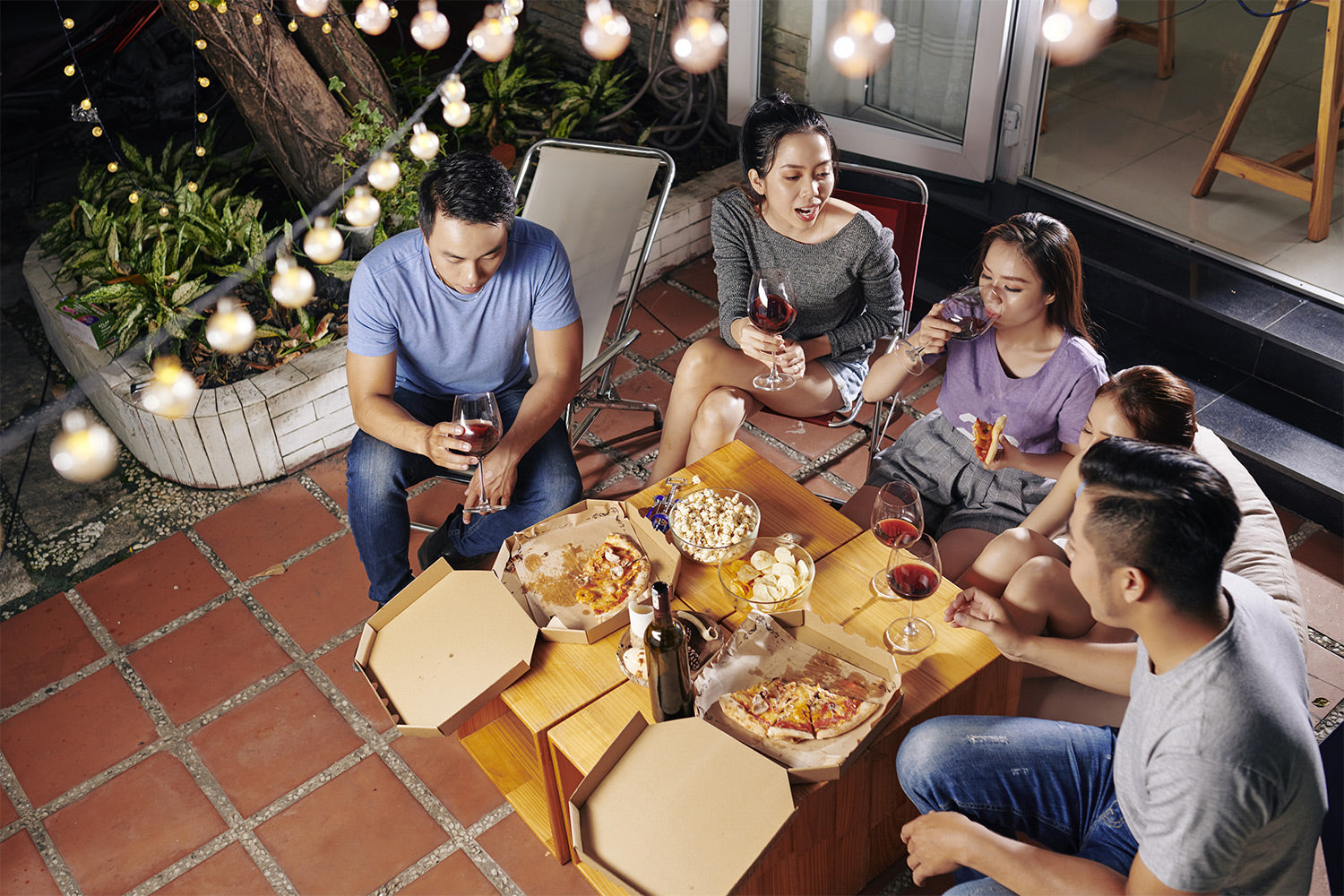 Fun Backyard Movie Night Ideas For This Summer
There's something special about watching a movie outside. It could be the simple fact that we're accustomed to watching movies indoors. Hosting an outside movie night takes a familiar activity and completely changes the environment in which it usually happens. It's different, it's exciting, you could say it even feels surreal. 
Outside movies also open the door for several ideas that are perfect for summer nights. Read on to find out solutions for all you need to set up a backyard movie night and ideas that could make it one of the best nights of the summer.
What Do You Need For a Backyard Movie Night? 
Watching a movie outside usually requires a bit more effort than watching from the living room couch. The outdoor movie setup is what makes it what it is. There are a few necessities and a number of ways you can take your setup to the next level for a movie night you'll never forget. 
How Are You Going To Show the Film? 
First things first, you need to decide how you're going to play and display the movie. The standard choice is to use a projector and a screen. See below for options as far as projectors and screens go.
Alternatively, you can bring a TV outside, which could be easy or inconvenient depending on your TV setup. A TV that isn't mounted on the wall should be pretty easy to take outside and set up on a table.
Screen 
If you're going to use a projector, you'll need a blank surface to project the image on. There are different options you can purchase that will be ideal for a backyard movie night, if you don't mind paying for it. Or, if you work somewhere that might have one already, perhaps you could borrow it for the night; just make sure to ask first!
If you don't have access to a screen that's built specifically for use with projectors, don't worry. There areseveral DIY options for creating screens ideal for outdoor movies. 
Projector 
Using a projector for outdoor movie nights is part of what distinguishes it. It provides an exciting viewing experience, even if it might not be as clear or bright as the flat-screen television on your wall. There's definitely something nostalgic about watching movies on a projector outside... Perhaps it brings up memories of camp or drive-in theatres. 
Projectors range dramatically in price. You can spend thousands, or you can pick one up for as little as $100. As to be expected, quality varies as well depending on how much you spend. If you don't have a projector available and you want to get creative, you can create a projector that actually works using your phone display and a few basic materials. Thisphone-projector DIY is easier than you would think and is a great way to bring a little science into your evening.
Speakers 
You need audio along with visuals. If you're playing the movie from a projector, it may have its own built-in speakers, but these are usually not very loud. You'll want to find speakers that are compatible with your projector. Look into wired or BlueTooth options. You may find that the exact solution you need is something you already have.
Comfortable Seating 
Comfortable seating will make or break your outdoor movie night. Sitting on the grass will get uncomfortable and itchy pretty quickly. You'll want to set up your outdoor theater with comfy spots to watch the film and enjoy the summer night. 
Lawn Chairs: 
Lawn chairs are an easy and classic option to quickly organize seating for the backyard. These
retro-inspired lawn chairs
are a stylish and comfortable option that folds up for convenient transportation and storage.   
Blankets and Pillows: Blankets and pillows are a fun and cozy option for watching movies under the summer night sky. Under your blankets and pillows, lay down a tarp or somelarge beach towels to prevent moisture from the grass from getting to you. 
Inflatables: Pool floats are the perfect solution for outdoor movie night seating. Kick back in this
rainbow chaise lounger
, or sit next to your bestie on this
inflatable red lip couch
. If those choices don't match your vibe, perhaps you'd rather chill on an
inflatable plane
while you watch a flick.
Fun inflatable options for sitting and lounging are a sure way to make your outdoor movie night unique and memorable. Make sure to get pics of this awesome setup!
Kiddie Pool: 
Fill up a 
kiddie pool
with blankets, pillows, and stuffed animals to make the ultimate comfort pit. You'll be so comfortable and cozy, don't be surprised if you fall asleep during the movie with a smile on your face.
Snacks 
Last but not least, you need movie snacks! While you can really go any direction you want to with the snacks, people tend to appreciate the classic popcorn and candy options. Plus, these won't cost an arm and a leg like they do at the theater. Fill up acooler with sodas or other tasty drinks, and you've got all the best movie snacks and more. 
Little kids often pick the snacks as their favorite part of the movie-going experience. To make this experience something extra special for them, set up your snacks with labels that show a price. You can use Monopoly money, pennies, or poker chips as their play money. This is a fun way to help them learn how to count money and pay for something on their own, and also understand that movie snacks ain't free!
Add a Theme To Your Backyard Movie Night 
A basic backyard movie night is going to be a hit. It's casual fun that's hard not to enjoy. But if you're trying to throw a truly unforgettable party, you can take your backyard movie night to the next level by adding a theme to the night. 
Pajama Party 
A pajama dress code will make your backyard movie night more silly and more cozy. Something about wearing pajamas and watching a movie just feels natural. It also might increase the chances of people falling asleep, but that's not a bad thing.
Follow The Theme of The Movie 
Watch a movie marathon of your favorite franchise and invite people to dress up as characters from the movies. This is particularly exciting for people who are hardcore fans and will allow them to nerd out in a fun and inviting way.
Do an anonymous vote on who has the best outfit and champion them with a simple party favor that acknowledges their love for the chosen movie. 
Backyard Camping Theme 
Backyard camping and backyard movie nights go hand and hand. Invite people to set up tents in the yard and crash for the night after the movies are done. Slip into sleeping bags while you watch the movie under the stars and roast marshmallows over a fire—that's something you definitely don't get to do at a regular theatre.
70's Theme Movie Night 
Watch films from the 1970s and have people dress up in the grooviest outfits possible.This list of the best '70s films should inspire some movie and outfit ideas. If anyone has a classic white van, project your movie on the side of that.
Use thisinflatable retro phone as seating that compliments the theme. 
Backyard Drive-In Movie Night 
Pull vehicles into the back yard and use them as seating for an homage to classic drive-in theatres that were once so popular. Since you probably won't be sending out a radio signal to play the movie audio inside the cars, face the rear of the cars towards the screen and stuff them with pillows and blankets.
Trucks are the ideal option here. Truck beds make the perfect comfy fort for drive-in movies. Hatchbacks or SUVs can work just as well. 
Best Backyard Movie Night Ever 
In preparation for the summer season, it's hard not to love the idea of an outdoor movie night. Make sure that you have the audio and visual equipment needed to get your movie up and running, unique options for sitting and lounging while you watch the movie.
Last but not least, create a spread of all the best movie snacks. Invite all your family and friends because fun and laughter are multiplied when you share them!
Sources:
DIY Outdoor Movie Screen Materials and Ideas for Any Yard | BobVila
How to Turn Your Phone into a Projector | TechBout