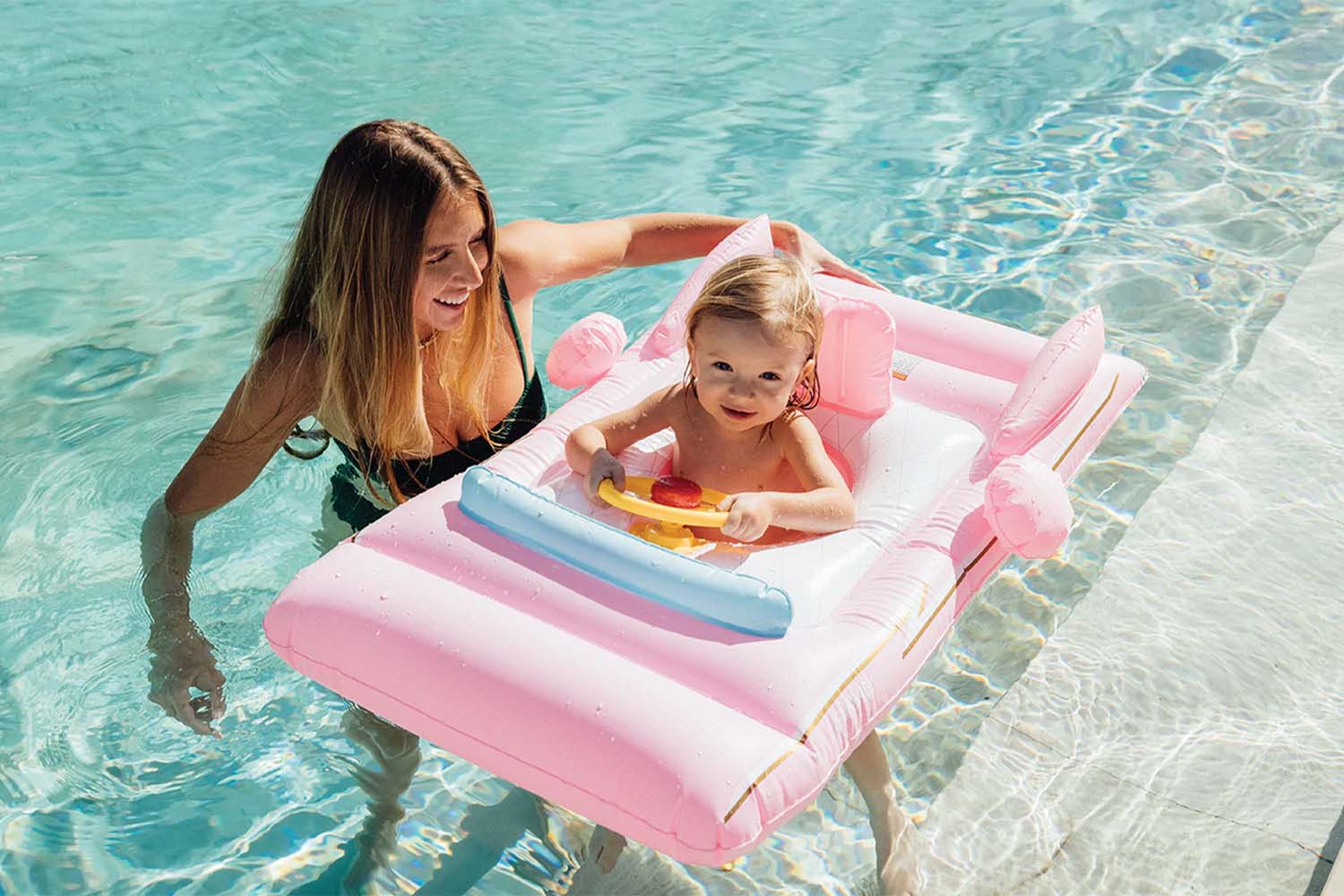 The Best Travel Pool Floats To Take with You on Vacation
Many of the top vacation destinations around the world feature swimming pools as part of the draw. Makes sense, right? A fantastic vacation should include a pool, shouldn't it?
A vacation without a pool could very well leave you with a paradise-shaped hole right through the fabric of your trip. So you just have to make sure there's a pool to jump in wherever you're planning on escaping to. 
But that's not all. There's one more thing you can add to your pool + vacation combination that will make absolute paradise a sure thing, regardless of where you're heading to. Whether you're planning on chilling in a luxurious private pool at an exotic location or dipping into a hotel pool not too far from home, there's one special ingredient you don't want to leave home without. 
You simply must bring a pool float with you on vacation! A travel-friendly pool float lets you bring paradise with you on any vacation, no matter the pool, no matter the destination.
Here are the best travel pool floats to take with you on your next trip: 
Magical Mystical Glittery Fun
There's an all-encompassing rule of life that's been around for millions of years and goes something like this: 
If you have a glittery unicorn, you should never leave it behind when going on vacation. 
You may not have guessed it, but a glittery unicorn is one of the first things you should pack to bring with you on vacation. The reason is that it will only add a magical quality to your vacation that exponentially increases the amount of fun you have at the pool. 
You don't need to have a horse trailer to bring your unicorn on vacation either or a pasture for it to graze in while you enjoy vacation activities. We're talking about the Clear Pink Glitter Unicorn from FunBoy. 
It packs easily, so you can bring it with you whether you're traveling by car, bus, train, plane, or on horseback. Imagine that… traveling by horseback with a horse in your backpack — sounds like a great start to an unforgettable vacation. 
Remember To Bring Your Phone
You probably do want to bring your cell phone with you on vacation, even though you might not want to spend much time on it during vacation. It can be really nice to unplug while on vacation. 
….But we're not talking about your cell phone. It's actually closer to a house phone if anyone remembers those. 
It's the one and only inflatable retro phone. Whether you want to leave your phone in the hotel room and float in the pool tech-free or FaceTime your homies to catch up and show them how you're living it up — this portable pool lounger doesn't drop calls.
It only drops you straight into vacation bliss when you pull it out of your bag and inflate it poolside. 
Classic Donut Shape in Trendy Patterns
Ah, the classic donut-shaped pool float. Like the one you might use at the lazy river, except it's in a whole other league. The O-shaped tubes from FunBoy only come in exciting patterns. 
You won't find another tube at the pool as cool as yours— unless, of course, the owner is team FunBoy as well. They have several options to choose from, from collaborations with Barbie to nautical themes to groovy 70s vibes and more! 
Choose the one that calls out to you, and you'll have a classic pool tube that's almost as unique as you are. Maybe try to color coordinate with your swimsuit? Just be ready for people to ask where you got it— they stand out in the best way. Nobody does it quite like FunBoy does. 
Lay Out and Cool Off at the Same Time
Laying out in the sun and getting your tan on (safely) might be the thing you're looking forward to most on your vacation. But there's something that usually happens as a result of laying in the sun that forces you to get up after a while. It gets hot.
No big deal, that's part of the game. It's enjoyable and has an easy solution: Just hop in the pool. Layout, swim, lay out, swim, that's a recipe for a great vacation. It's a pattern that we don't mind repeating. 
However, there is another way. It is actually possible to lay out and cool off at the same time. All you need to do is pack a Clear Orange Sherbet Mesh Lounger in your bag and whip it out at the pool. 
The mesh lounger from FunBoy lets you float on the water, just like the other fantastic floats they offer, but it also lets a bit of water on board via the mesh center. That means you can be half in and half out of the water while you simultaneously tan in the sun and cool off in the pool. So hot. So cool.
Can You Bring a 9-Foot Butterfly in Your Suitcase?
Before beginning to answer that question, let's just take a moment to picture it. A butterfly with a nine-foot wingspan. That's equivalent to the wingspan of the American White Pelican and the California Condor, which happen to be the largest birds in North America. 
A wingspan of that size allows you to float in all your whimsical glory for as long as you want, no problem. It'll bring you to new heights of fun and relaxation without even leaving the pool.
Plus, when you lay in the middle of it, you look like the wings might actually be attached to your body. Like you might just get up and flutter out of the pool through the air. Make sure you get some cute pics. If that's not the perfect IG photo, we don't know what is. In fact, if you take that pic, DM us that on Instagram; that sounds instantly iconic. 
But can it fit in your suitcase for travel? Probably, yes, it can. And although it may not be specified exactly, TSA does approve the transport of giant inflatable butterflies via air travel. 
Lounge on Top of a Rainbow
It doesn't get much better than floating in a pool without a care in the world. Maybe the only thing better would be floating in the clouds in the middle of a rainbow.
But wait: you can actually do all of those things at the same time. The rainbow cloud lounger lets you float in a colorful paradise. And when you bring it with you on vacation, you can also tell people you packed a full rainbow in your suitcase.
Just open it up to unleash the magic. Close your eyes in the pool, and you might get the sensation that you really are chilling atop a rainbow!
Judy Garland in the Wizard of Oz wondered what it was like to fly over the rainbow. With this float, you can find out. 
Matching Dog Float
If you're bringing a furry friend along with you on vacation, bring them a doggy-sized rainbow float. The two of you will be the most adorable and most tasteful duo the vacation pool has ever seen. 
Because Vacation Is for Lounging
You're totally justified in packing an inflatable chaise lounger to take with you on vacation. Why? Because vacation is for lounging. 
Yes, the pool probably has something to sit on, but it won't be near as cool, trendy, comfortable, or floatable. Heck, it's so comfortable you might even set it up when you get back to the hotel room as well. 
Whatever Floats Your Boat
In conclusion, the question is not whether you should bring a pool float with you on vacation, but which one. Or which ones — because anyone who goes with you will surely end up sneaking sits and floats in yours. 
It may be hard to choose between a number of fantastic options, but fortunately, FunBoy presents you with options that don't let you down. No matter the FunBoy float you choose to pack and take with you on vacation, whether you go for a giant butterfly, a classic tube, a rainbow, phone, unicorn, or chaise lounger. They all fit perfectly into your suitcase and into your dream vacation!
Sources:
6 Tips for Letting Go of Your Phone on Vacation | Conde Nast Traveler
How to Safely Tan in the Sun Faster | Healthline