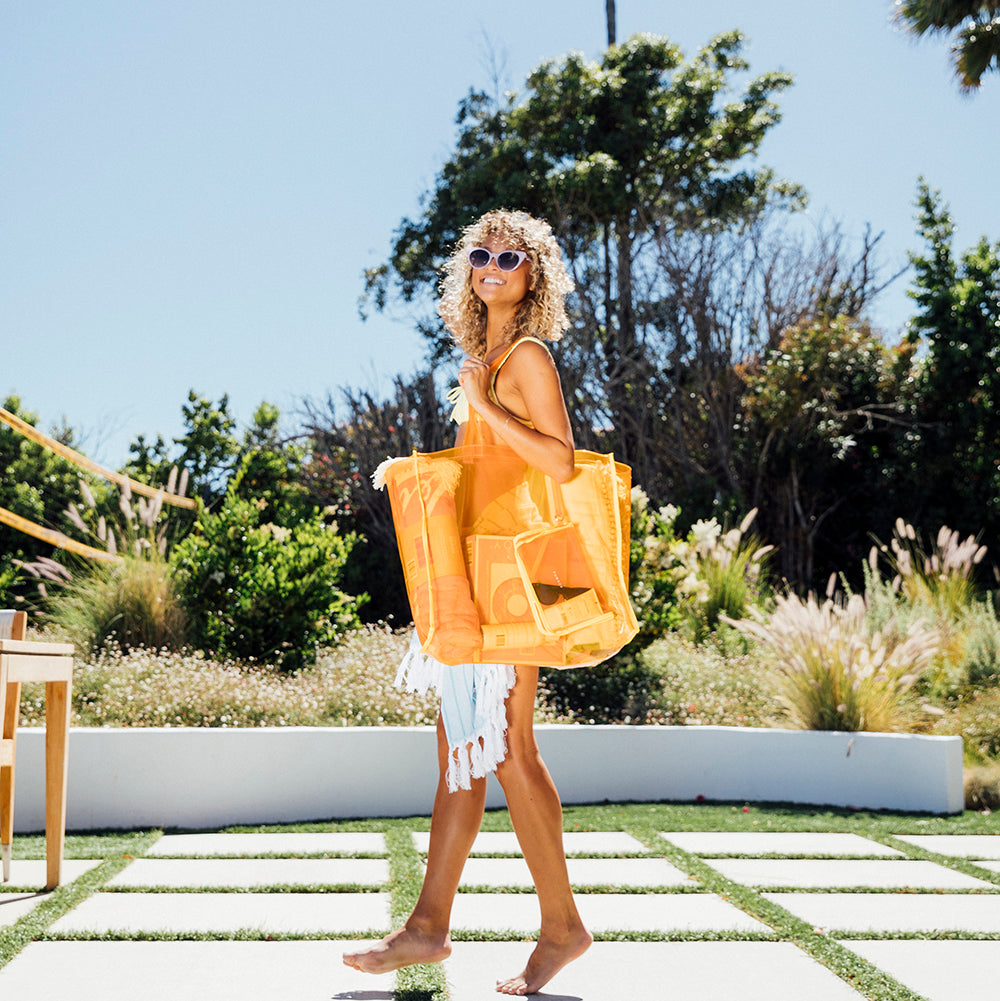 16 Things You Need To Bring Every Time You Hit The Beach
 When the sun is shining, and the temperatures rise, many families head to the beach. They go to enjoy a day of building sandcastles, swimming and splashing in the salty waves, flying a kite, or throwing a frisbee. What's not to love, right? Well, if you don't plan accordingly, a fun-filled day at the water can quickly turn into a miserable nightmare. From hungry bellies to sunburns, to cranky kids and wet clothes, when visiting your favorite beach destination, you need to be prepared for just about anything. Did you pack the sunscreen? What about snacks? Beach chairs, towels, and an extra set of clothes? 
If you're planning for some fun in the sun, keep reading - here are 16 things you need to bring every time you hit the beach. 
Sunscreen, Sunscreen, and More Sunscreen
Since skin cancer is on the rise, with about 5.4 million basal and squamous cell skin cancers diagnosed each year, protecting your skin from the sun's harmful UV rays is of the utmost importance. Skin is delicate and should always be protected, regardless of complexion. Be sure not to leave home for the beach without bringing a broad-spectrum sunscreen with an SPF of 50 or higher. Don't forget lip balm with SPF as well!
First Aid Kit
Besides a broad-spectrum sunscreen, it's good to be prepared for other small injuries and ailments. You should always keep a first aid kit in your car and take a small travel-sized kit along with you when you travel to the beach. Sometimes, it's tough to see if there are any sharp objects like glass or sticks poking through the sand. Having a first aid kit on hand will surely help when incidents occur.
Beach Towels 
You can't go to the beach without a large cozy towel that will help to keep you dry after dipping your toes in the water. Pack your favorite FUNBOY beach towel FUNBOY spiral tie-dye towel that features an energetic kaleidoscope of colors. These towels are as comfy as they are beautiful and will gently wrap you from head to toe in warmth. Every FUNBOY towel is super soft and super absorbent— perfect for a day of splashing in the salty waves.
Flip Flops 
Shoes are like little feet prisons and are not very comfortable to wear in the sand. Free your toes, and be sure to wear your favorite pair of flip flops when you hit the beach. The moment you reach the sand, you'll want to kick off your shoes, and flip flops happen to be the easiest way to go. Plus, they protect the bottom of your feet from the hot sand—bonus! 
Extra Set of Clothes 
It goes without saying that you're going to get wet at the beach. Do yourself a favor and be sure to pack an extra set of clothes. Nothing is worse than putting wet clothes back on and having to sit in them for a bite to eat. It's uncomfortable! If you're bringing the kiddos along, make sure they all have an extra set of clothes as well to avoid fussy babies.
Beach Tote 
When you head to the water, sometimes having two hands is not enough to carry everything you need for a fun day at the beach. Rather than making multiple trips back and forth to the car to perfect your beach set up with all the essentials, bring your FUNBOY iridescent beach bag, which can easily carry everything you need. From large towels to sunscreen, to a first aid kit and a change of clothes, this super bag will help transport all your favorite beach essentials with ease. 
Beach Chair
If you plan to spend the entire day soaking up the sun's rays, don't forget to bring a beach chair like FUNBOY's Retro Lawn Chair. These chairs are super lightweight, foldable, and easy to carry, making for a perfect addition to any beachy summer hangout.  
Floats 
If you want the whole family smiling from ear to ear, never leave for the beach without your favorite inflatable FUNBOY pool floats. From pink glitter unicorns to red sports cars, and pink metallic lips to gigantic flamingos, FUNBOY has a float for everyone. Heading to the beach with the whole squad? Reign over summer and check out FUNBOY's giant Rose Gold Crown Island float that can easily carry up to five friends for a relaxing experience in the salty air. 
Kiddie Pool 
Are you bringing the little ones with you to the beach for some serious family fun? Although toddlers may be too small to enjoy everything that the beach has to offer, you can keep them entertained for hours by simply bringing your kiddie pool from home and inflating it at the beach. Fill it up with just a couple inches of water and throw in a few toys like a beach ball, plastic shovel, and sand pail. Your tiny tots are sure to have a blast, and this is also a great way to keep them cool.
Portable Hand-Held Fan 
It gets hot on the beach, and sometimes the breeze just doesn't offer enough relief. A portable hand-held fan is an easy and inexpensive way to help keep yourself and the kids cool. Look for a fan that is rechargeable to avoid having to mess with batteries. 
Lots and Lots of Drinking Water 
If you're heading out for a day of fun in the summer sun, keeping yourself hydrated is crucial. Dehydration can easily set in if you are not guzzling down plenty of H2O throughout the day, and trust us; this medical emergency doesn't feel good by any means. Headaches, fatigue, dizzy spells, and nausea are just a few of the symptoms associated with dehydration. Be sure to keep the entire family hydrated and bring lots andlots of drinking water. Sports drinks that are rich in healthy minerals are also great to bring to the water as well to help replenish the electrolytes you lose through sweat and keep dehydration at bay.
Cooler Bag 
A day at the beach isn't ever complete without a steady supply of cold beverages and tasty snacks. Keep everything fresh in an easy to carry, packable cooler bag. This is the best way to transport your refrigerated items to the beach. Some great snacks that you can bring to the water in your cooler include sandwiches, fruit, carrot sticks, salami, and cheese sticks. Be sure to avoid packing sweet treats that will attract bees. No one wants to get stung while enjoying a day in the sand. 
Beach Umbrella
It's definitely wise to bring some sort of shade from the sun so that you can take breaks from the heat and UV exposure. Grab an umbrella that anchors into the sand so it won't blow away, and make sure it is large enough to provide a lot of shade to more than one person at a time. Need an extra hydrating cooling boost? Keep your FUNBOY Hydrating Water Mist on hand to easily hydrate and refresh your skin anytime you need to cool off.
Waterproof Bluetooth Speakers 
Amp up the fun by blasting some beachy tunes with a waterproof Bluetooth speaker. Many of them have a wireless connection range around thirty feet and a battery life up to twelve hours— enough to enjoy your favorite hits all day long at the beach. 
Beach Toys
Can you say sandcastles? No family beach outing is complete without a bucket and shovel. Make your time in the sand even more memorable by bringing some fun sand molds for the kids. You can find different shapes like stars, fish, turtles, seahorses, crabs, and more. Dig holes, build sandcastles, make a moat, and build a sandman. If you're heading to the beach with the whole family, whatever you do, be sure you don't forget the beach toys!   
Baby Powder
Want to know a little beach secret? Sand hates baby powder. So if you happen to dislike tracking sand into your car after a long day of fun in the sun, meet sand's arch-nemesis— baby powder. If you sprinkle it on, the sand falls right off your ankles, feet, and other parts of your body. This will prevent you from having to make a trip to the carwash to have your vehicle vacuumed—Hallelujah! 
Recap  
Now that you've got your list of things to pack for the beach, it's time to load up the car, pile in the kids, and get on your way! 
Beach days are the absolute best, but if you're not prepared, your fun-filled beach day can turn into a nightmare. Be sure to pack these 16 things listed above every time you hit the beach to keep everyone happy. Trust us— you'll be glad you did.
Sources: