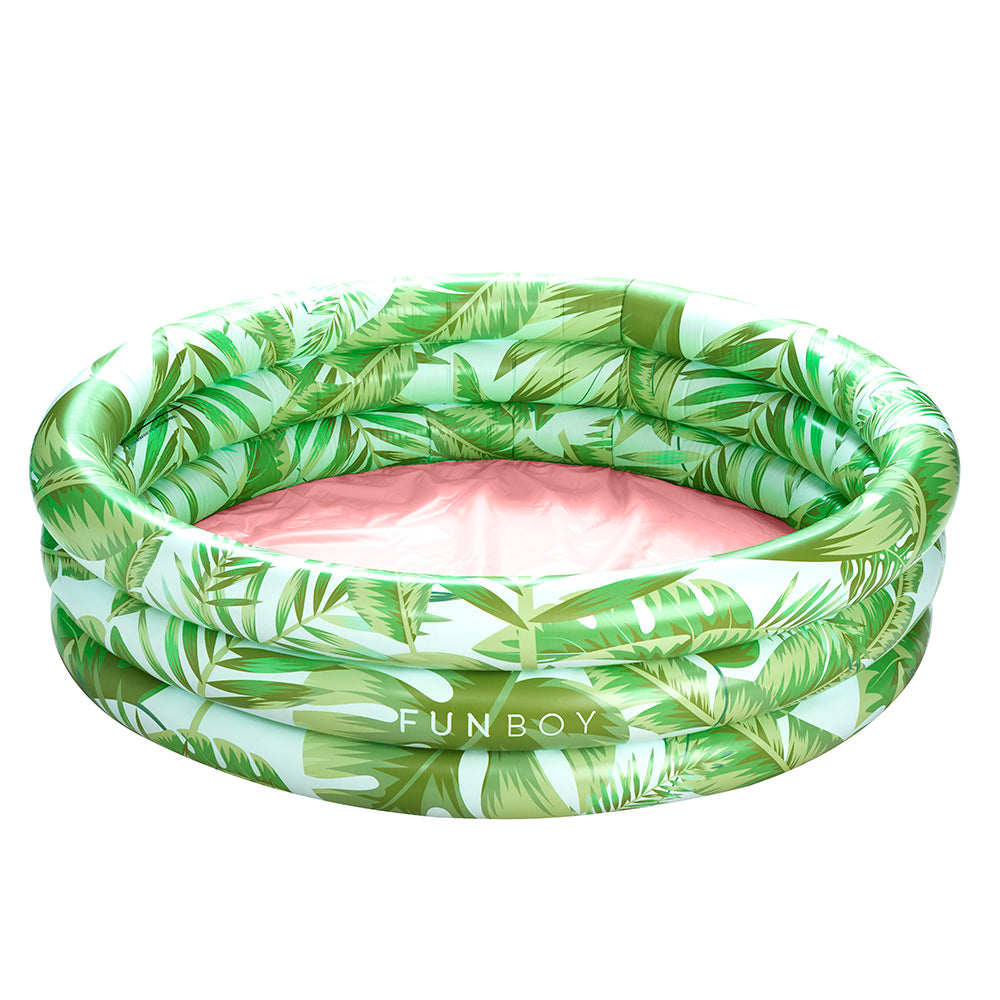 What's The Best Way To Clean A Kiddie Pool
Can we chat about summer for a second? It's officially in the air, and we areso excited! Just imagining all the fun times ahead like backyard barbecues, bachelorette weekends, pool parties, and birthdays - let's just say we're sliding into prime season for some serious outdoor entertaining. And while everyone is giving super fun inflatable pool floaties love (us too!), we've got a new obsession: kiddie pools. 
Yup, you read that right! Kiddie pools.
If you're scratching your head trying to understand how we could love something so much that's meant specifically for kids, then you're in for a real surprise because these super versatile pools are ideal for people of all ages - not just the little ones.
Think about it: rather than sitting in your lounge chair sweating or dashing in and out of the air-conditioned house every time you desperately need a reprieve from those harsh UV rays, why not just invest in a kiddie pool? You can submerge yourself in the cool, shallow water, sip on your favorite drink while enjoying a good book. Doesn't that sound nice? We think so too!
Kiddie pools make for an excellent and simple way to beat the summer heat - but how exactly do you clean them?
If you're looking to keep cool this summer in an incredibly comfy kiddie pool but are not exactly sure how to take care of it to keep your pool in the best shape all summer long -FUNBOY's got your back! Keep reading to learn the best way to clean a kiddie pool. 
How To Clean Your Kiddie Pool 
If you just purchased your first kiddie pool, then we couldn't be more excited for you! Kiddie pools are ideal to beat the heat and relax your tired feet. However, they do require a little TLC and cleaning from time to time to keep them looking clean all summer long. 
Many people like to use bleach or chlorine in their kiddie pools but we prefer to stay away from chemicals and use more natural methods. Besides,bleach and chlorine are not recommended for these types of pools anyway because a large portion of the water can be quickly lost through splashing or from spilling out, making it pretty challenging to figure out how much disinfectant should be added.Not only are chemicals bad for you and your kids, given the water can splash everywhere, you'll avoid hurting your grass and plants!
Here is how to clean your kiddie pool:
Always Clean Your Pool After Each Round Of Splashing Around 
This is pretty obvious for pint-sized pools, right? The good news is that with just a few minutes of care, your kiddie pool will not only last longer, but also stay crystal clean for the next use.And the good news is that these small pools are really easy to empty and clean. In fact, all of FUNBOY's pools including the FUNBOY Tropical Palm Kiddie Pool, come with an integrated drain plug to make draining a little easier. 
Requirements:
Soap (Dish soap or even baby shampoo will work just fine)

Hose

Bucket

Sponge
Procedure:
Start by draining all the water from your kiddie pool. 

You can pull the drain plug for a gradual drain or deflate the pool and let the water spill over the deflated sides. 

Next, grab a bucket and fill it with water.

Add a few drops of soap to the water and stir well until it gets nice and soapy. 

Dip the sponge in your soapy water and begin scrubbing all the surfaces of the pool. Be sure not to forget all the nooks and crannies!

Give the kiddie pool a good rinse to clear and residual soap.

Your next step is drying the sides and the insides. Just grab a clean towel for this and wipe it down.

Lastly, let the kiddie pool dry in the warm summer sun for about four hours. This is the most crucial step on the list since bacteria and other germs love growing in wet environments. 

Make sure you deflate, fold and store inside away from UV light to ensure your pool lasts time after time. 
Andvoila! You can now fold your inflatable kiddie pool for storage or refill it for a fresh round of sunbathing.
Additional Tips and Kiddie Pool Cleaning Advice
Some people may tell you that it's okay to leave a kiddie pool full of water for multiple uses, but the truth is that this will create a breeding ground for germs and harmful bacteria. Simply spend ten minutes when you're done relaxing in your kiddie pool to drain it, followed by a good wipe down.
Don't forget to leave your kiddie pool in the sun to dry because the sun's UV rays are actually a natural disinfectant. No germ or bacteria can withstand the power of the summer sun!
Before entering the kiddie pool, wipe your feet off on a towel to prevent tracking in any mud.
Benefits Of Having A Kiddie Pool 
Now that you know how to clean your inflatable pool properly, let's explore all the benefits of having aFUNBOY kiddie pool:
You don't have to share it with other people's kids.
Forget a public pool full of crazy kids. Purchase a FUNBOY kiddie pool that you can use in the privacy of your own home that can fit no more than two large adults.
You can create an oasis in your very own backyard.
Fill up your kiddie pool with water, turn up the tunes, and relax all season long with your favorite summer drink in your very own backyard. Staycations are the best, and kiddie pools can help make them that much better. Just don't forget to layer on the sunscreen!
Pro Tip: Add a few bucks of warm water from the sink to help warm the water in your kiddie pool. Better yet, call the handy-man and have him install a hot water spigot on the outside of your house so you can easily add warm water to your kiddie pool. Never sit in icy-cold pool water again! 
You can take it to the beach. 
Have you ever thought about taking your inflatable kiddie pool to the beach? Bringing your kiddie pool to the beach is an excellent way to soak up the rays while still enjoying the salty air without ever having to deal with seaweed. Plus, if you have kids, a kiddie pool makes for a great way to keep them cool. Just throw in some fun beach toys, and voila - they will be entertained for hours. 
 You can make a DIY ball pit. 
Speaking of the little monsters, one great way to keep them busy is to make your very own do-it-yourself ball pit using your kiddie pool. Bring your inflatable kiddie pool inside and inflate. Then, all you will need are plastic balls to fill up the pool, and there you have it! You just made your very own FUNBOY ball pit that is sure to keep the little ones busy all day long. 
It can fit in small places. 
If you have a backyard that doesn't provide you with enough room for a full-sized swimming pool, get yourself an inflatable kiddie pool. FUNBOY's kiddie pools are 66" in diameter and 18" tall, which is perfect for any small backyard or deck. They are perfect to fit two adults or multiple kids and utilize industry-leading safe, non-toxic, soft-touch vinyl that is free from harmful chemicals.
It's a summer activity that involves ultimate relaxation.
Life can get a little crazy. People are frequently on the go with busy work schedules, parent-teacher conferences, and everything in between. Take it easy and enjoy a summer activity that can really help you to relax. Not sure how? Get yourself a FUNBOY kiddie pool, fill it up with water, and rest your tired feet. Sitting in the cool water while soaking up the sun's rays will instantly calm your busy mind providing you with ultimate relaxation. 
Did you know that going outside and soaking up the sun's rays provides many different health benefits? It's true. Just twenty minutes of sunlight is all you need toincrease the happy hormones in your brain. Additionally, the sun provides us withvitamin D, which is an essential vitamin for bone health. So do your body some good and head outside. Inflate yourFUNBOY kiddie pool, slather on some sunscreen and soak up those healthy rays.
RECAP
Gone are the days where kiddie pools are meant solely for, well, the kiddies. These extremely versatile pools are thebees-kneesand a great way for ultimate relaxation - regardless of your age! Just be sure to clean your kiddie pool properly, following the tips we listed above. Taking care of your kiddie pool will help to keep it in good condition for multiple years to come. 
Lounge in luxury this summer season and get yourself an inflatableFUNBOY kiddie pool. Trust us - you'll thank us later.  
Sources:
https://www.cdc.gov/healthywater/swimming/swimmers/inflatable-plastic-pools.html
https://ods.od.nih.gov/factsheets/VitaminD-HealthProfessional/
https://www.healthline.com/health/depression/benefits-sunlight#mental-health