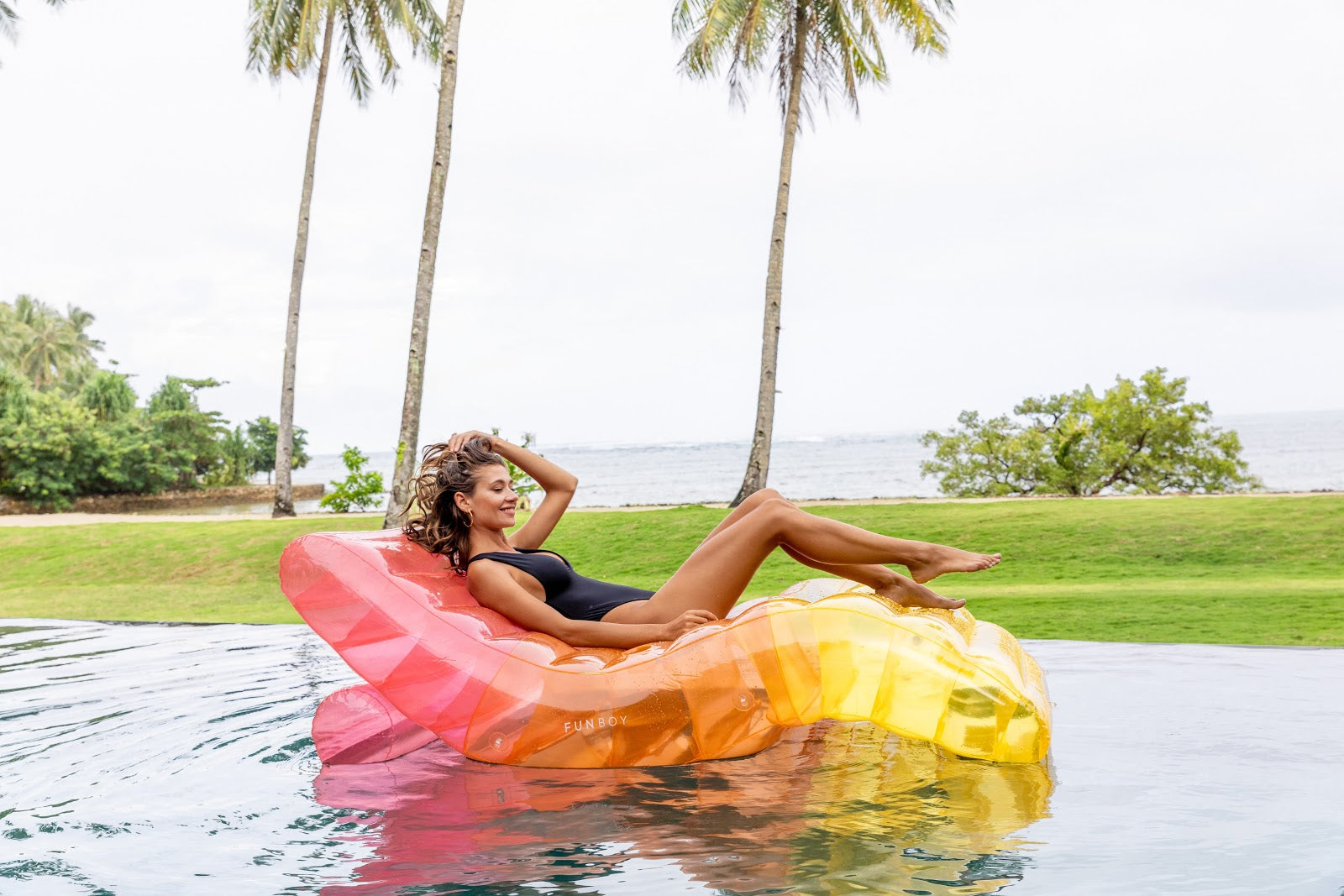 What to do at the beach: a guide for kids and adults
For many, trips to the beach follow a simple regime of sunbathing, sleeping, reading, drinking, and sunbathing some more, along with the occasional saunter to the ocean for a float around in the shallows. An appealing way to recover from the stress of everyday life,  if you ask us. 
But surely there is only so much of it you can do before you turn into a sun-baked, beach-couch potato. Well, thank goodness for beach games and activities as, for the rest of us, time at the ocean means endless hours of fun that can be equally as stress relieving as all that relaxation!
So, the next time you're stuck wondering what to do at the beach, give one of our awesome ideas a try for an incredibly great time.
Play Frisbee
First on the list is a good old game of frisbee! Frisbee is a classic beach activity that people never get tired of enjoying together. There's only one prop needed—a frisbee—and it's very easy to get. You can even play with your four-legged friends if you happen to be on a pet-friendly beach. There are also more advanced versions like Ultimate Frisbee, Aerobie, and Frisbee Golf, but the basic version will do just fine for lots of laughs by the water. 
Beach Picnic 
Who doesn't love a good picnic? Sure, there are usually a lot of food vendors near popular beaches, but sometimes it's nice to pack yourself a homemade picnic with fresh fruits, crisp veggies, and fancy cheeses to indulge in by the seaside. If you're going with a large group, make it a fun and delicious potluck where everyone can contribute an easy beach-friendly dish. Besides, a variety of summer foods makes for the best beach picnics, if you ask us! 
Just don't forget your FUNBOY Tropical Palm Inflatable Drink Cooler, which fits up to 18 cans and three bags of ice. Perfect for all the drinks you need to keep you and your besties hydrated at the beach.  
Jump Rope
Or play catch. Or fly a kite. Or hula-hoop. Engage in some sort of child's play, using cheap toys that you can easily pick up from a nearby store. This is sure to bring on the nostalgic feels and the wonder of what it was like going to the beach as a kid. It's also just really fun and doubles as great exercise.
Feeling a little winded after crushing your bestie in a hula-hoop competition? Take a minute to catch your breath and relax or FUNBOY's Clear Rainbow Chaise Lounger. You can either lounge in the sand or take this versatile float to relax in the ocean. The extra-thick, smooth, transparent material is special and will allow you to see through the chair and into the water—creating unique color hues that change throughout the day depending on the light. Whether you're looking to relax in the water or the sand, this luxe lounger can help.
Build A Sandcastle
You can't go to the beach without building a sandy masterpiece! Sandcastles and sand sculptures can be elaborate or simple, but all are so much fun to build, regardless of your age. 
And the best part? No special tools are needed—just water, sand, your hands, and a little bit of creativity will do. That said, pails, cups, and plastic shovels are helpful tools, especially when digging or carrying water, to help make your creation. Build a deep moat around your castle when it's done to protect it from the rising tides and search for rocks, shells, and feathers that you can use to decorate it.  
Go Surfing
Surfing is, without a doubt, a great water sport. Get out on the water and have an adventure rather than catching some zzz's under your beach umbrella. Not sure how to surf? No worries, there are usually surf instructors on the beach that can provide you with a lesson or two. You could also try any other kind of fun water sport, such as jet-ski racing, kitesurfing, and waterskiing. 
Have A Beach Bonfire
Bonfires are a ton of fun—especially at the beach! Make sure that your specific local beach allows for fires, though, because many of them don't. For the ones that do, however, it's a lot of fun to have a crackling fire going on a cool night. You can hold a gathering where family and friends come together to play music, dance, have good conversation, share laughs, roast marshmallows, and just have a great time. 
Be sure not to forget to bring a few great-quality lawn chairs like the ones found at FUNBOY for plenty of seating around the fire. These vintage-inspired lawn chairs are lightweight, foldable, and extremely easy to carry, making them a perfect addition to any bonfire. 
Tug Of War 
The beach is arguably the best place for a competitive game of Tug-of-War. Why, might you ask? Because when everyone collapses into the sand at the end of the game, there won't be any nasty injuries, that's why! 
Additionally, as much as it's just a bit of fun, this classic game is also one of the best beach activities for team building. If you don't happen to have a rope to play, you can always tie a few large beach towels together—but good luck trying to untie them after the battle!
Read
A trip to the beach is supposed to be completely relaxing. Park yourself on top of a cozy towel under a shady umbrella, enjoy the warm salty breeze, and read a few magazines or indulge in a novel. There may never be enough time during your regular day-to-day schedule to flip through the pages of a good read, so take advantage of the opportunity you have at the beach. 
Fishing
Fishing is probably one of the most relaxing activities you can do at the beach, and something people have been enjoying for centuries. It's something that you can focus on or just leave in the backdrop—your choice. And the best part is you just might catch yourself dinner! Sprawl out on your Retro Lawn Chair with some bait and your lucky pole, and enjoy this activity the next time you hit the beach. 
Float 
If you ask us, nothing is better than floating on top of the salty waves than with a deliciously comfortable inflatable from FUNBOY. Whether your goal is to soak up the rays on a colorful tube float or relax in luxury on a floating daybed, FUNBOY's got your back. 
From Giant Red Lips and a Retro Pink Convertible to a luxe Pink Mesh Lounger and an Inflatable Rainbow featuring over 50 square feet of lounging paradise, FUNBOY has a float to tickle just about anyone's fancy. 
Go Hiking 
Another great idea for the beach is to simply go on a hike. Many beaches offer trails where you can hike to or from the water. This offers excellent exercise, and the water is good for cooling down afterward. On top of that, you get to catch some mesmerizing views while being immersed in nature. Just don't forget to pack your FUNBOY Aqua Hydrating Water Mist, infused with rosehip to cool, hydrate, and refresh your skin.   
Look For Dolphins 
While you're on your hike, you can also keep an eye out for dolphins. Many beaches all over the world offer the chance to see these mysterious animals right from the shore—that is, if you know what you're looking for and when to look! Do a little bit of research ahead of time to see if your beaches apply, and if so, check the best times to go and visit. And whatever you do, don't forget to pack your camera in your beach tote!
A Final Word 
The truth of the matter is that going to the beach is going to be fun—no matter what you do there. You're getting away from real life for a bit and can kiss your troubles goodbye as you immerse your toes in the sand while breathing in the fresh, salty air. 
The next time you find yourself wondering what to do at the beach, give one of our totally awesome ideas a try! Whether you decide to soak up the rays on your favorite FUNBOY lounger or throw a frisbee for hours on end, you are sure to have an amazing—and memorable—time. Guaranteed.  
Sources:
https://www.healthline.com/health/sunbathing
https://usaultimate.org/about/