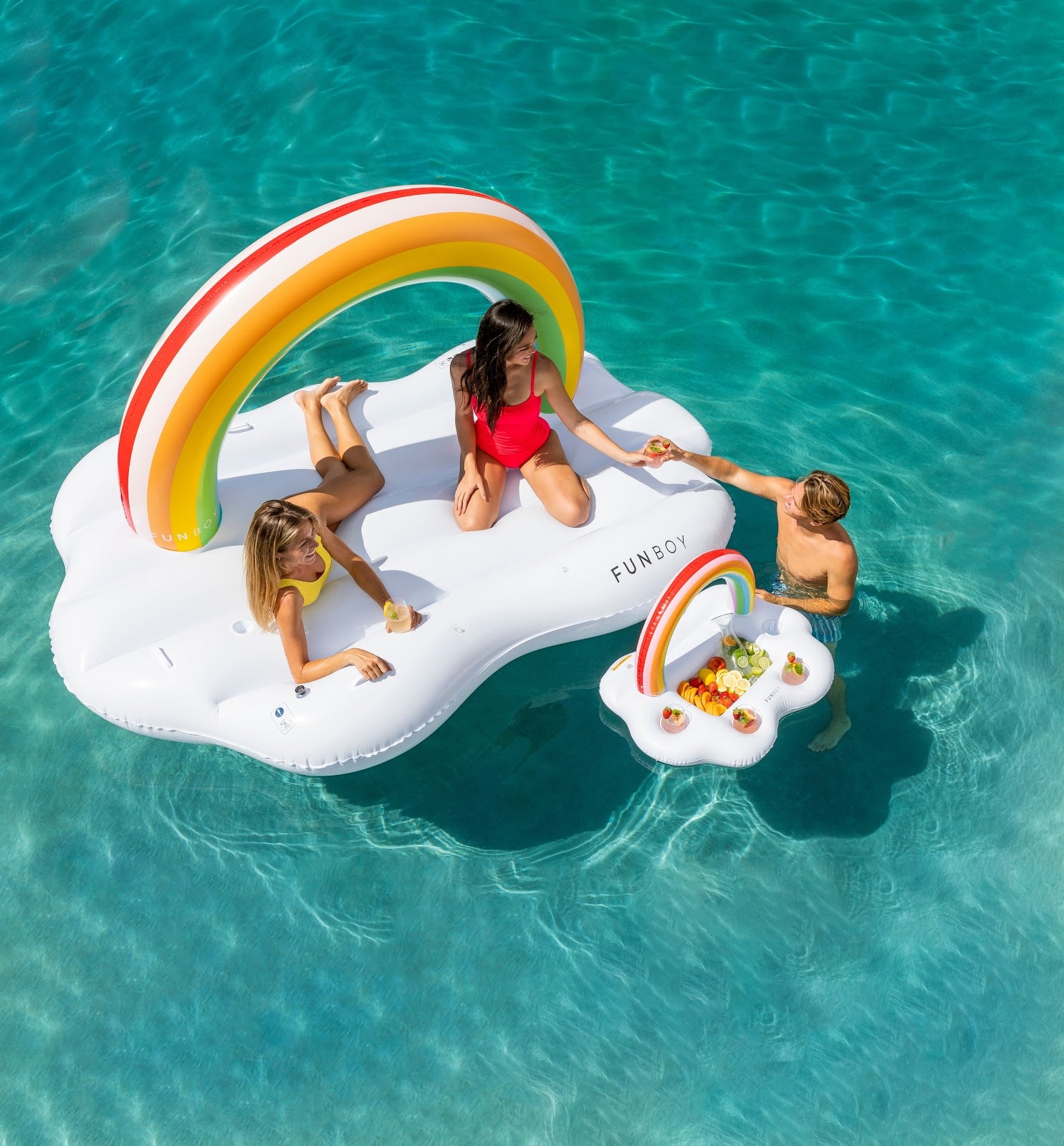 Best Pool Floats For Adults For Staying Cool All Summer Long
When it comes to thewarm summer months, nothing is better than slipping into your favorite swimsuit and taking a dip in the swimming pool. And if you happen to be lucky enough to have a pool in your backyard or have access to one, you're obviously going to want to maximize your fun in the sun with a few totally rad and comfy pool floats.
In addition to your besties, tasty cold drinks, and of course,sunscreen, good quality pool inflatables are an excellent way to spend your afternoon lounging in the crisp pool water. There are a ton of fun floats to choose from, including options for babies, tiny tots, and even your four-legged pals—but what about the adults? 
If you are getting ready for the warmer months ahead and are searching for ways to stay cool all summer long, you came to the right place! In this article, we'll dive into some of the best pool floats made specifically for adults to help make this summer season your best one yet. 
Besides, why should the kids have all the fun?
Best Pool Floats For The Summer
Basking in the sun while gliding across the smooth glassy surface of perfect pool water—is there any better way to spend a summer afternoon? Pool inflatables have become exceptionally versatile—perfect for the little ones who are ready to play, parents who are ready to snooze, and everyone in between. They are a necessity for a summer spent poolside—the only question really is: which one is best for you? 
There are a ton of pool float options on the market. You'll find a never-ending variety of designs, materials, as well as styles. You'll find some that allow you to sit up or recline, cool off in the pool water, or stay nice and dry. With so many incredible options, the only thing left to wish for is a summer that never ends, so you can try them all!
Here are some of our favorite pool floats youhaveto try this season:
Lounger Floats
We all know how important it is to get our daily dose ofvitamin D. Thankfully, pool loungers can help you to do just that! With a good quality pool lounger like the ones found atFUNBOY, you can read a good book, deepen your glow, or catch up with your besties while you float aimlessly around the pool. When it comes to the best pool loungers for adults, here are our top picks:
Clear Pink Mesh Lounger
If your goal this summer is to lounge from sun-up to sun-down, theFUNBOY Clear Pink Mesh Lounger is for you. This simple yet deliciously luxurious float has a perfectly sculpted shape that provides the feeling of laying in your very own mini-hammock. Coupled with the elongated mesh bottom, this pool float will help to keep you cool while you soak up the sun's rays. 
Oh, and the best part? It comes with a drink holder to keep your favorite summer drink firmly in place and a comfy, cozy headrest for ultimate comfort and relaxation.Ahhh!
Clear Rainbow Chaise Lounger
2021 is the year for pool loungers, and if you want one that will provide you with an unbelievable comfortable floating experience, look no further and get yourself theClear Rainbow Floating Lounger from FUNBOY.
FUNBOY's unique tri-color design is like no other, creating a breathtakingly beautiful ombre effect on the water, melting your troubles away. The smooth, extra-thick transparent material will let you see through right through the chair and into the clear pool water, creating stunning hues that tend to change throughout the day depending on the light given off by the sun. 
And that's not all. In addition to being arguably one of the best pool floats on the market, this versatile floating chaise can also be used comfortably on land. So feel free to use it on the grass for backyard hangs or simply bring it with you to the beach for some serious comfort in the sand. 
Fun Pool Inflatables
If you've been searching high and low for an inflatable that is as fun-in-the-sun as it is Insta-worthy, look no further and get yourself a unique inflatable from FUNBOY. Colorful, easy-to-carry, and loads of fun, pool floaties bring a touch of whimsy and color to your summer afternoon. From gigantic unicorns to mystical butterflies and everything in between, there is a fun inflatable for everyone! Here are a few of our favorite designs that you should definitely consider this summer: 
Clear Pink Glitter Unicorn
If you're on social media, chances are you've seen an inflatable unicorn or two grace the presence of your Instagram feed—but have you seen the FUNBOYClear Pink Glitter Unicorn?
Trot into summer this year with FUNBOY's classic unicorn with a glittery pink remix. Filled with glitter for a wild metallic ride, this inflatable is nothing short of amazing. The clear translucent material is tinted with a stunning millennial pink and includes a reinforced cup holder to keep your favorite summer beverage exactly where it needs to be—right in front of you. 
Golf Cart Float
After a day on the golf course, you can bring the GOLF vibes to the pool with the world's first floatingGolf Cart Float, by yours truly, FUNBOY. Two friends can lounge and stay cool under the fringe lined removable meth sunshade while dreaming of brighter days. 
To help lighten the mood, enjoy your favorite drinks, and keep them firmly in place with two front cup holders. The integrated backrest is so lusciously comfortable, providing the optimum upright lounge positioning with enough room to fully extend your legs. 
Giant Red Lips Pool Float
This summer, kiss and tell (or don't!) with the exclusiveFUNBOY Lips Pool Float. Finally, a fun summer fling that won't let you down! This massive inflatable measures over six feet in length and is, without a doubt, a perfect float for poolside relaxation. 
Pink Banana Tube Float
We can't have a list of totally awesome inflatables without including the classic tube float! Go B-A-N-A-N-A-S this summer and sink your teeth into this wildly fun newPink Banana Tube Float from FUNBOY. Featuring big, vibrant bananas on a pastel pink tube float, this oversized design is nothing short of boring. And of course, it comes with a cup holder to keep your favorite fizzy drink perfectly in place while you relax. 
Rainbow Cloud Daybed
Unless you've been hiding under a rock this last year (which we don't blame you, 2020 was a mess), then you knowrainbows are all the rage these days. And it's easy to see why. With such gloomy days due to thepandemic, rainbows are a surefire way to brighten one's mood. So with that in mind, what better way to float this summer than on a rainbow? 
Last on the list, but certainly not least, for anyone looking to take luxury to a whole new level, the Rainbow Cloud Daybed was made for you! Featuring over fifty square feet of lounging paradise, this breathtakingly beautiful float is uniquely designed for those looking for ultimate relaxation. Grab your best pals and float blissfully on the snowy cloud beneath the magical rainbow—and don't forget to pair your float with the dreamy Rainbow Cloud Floating Bar to gently carry all of your favorite summer treats for a truly relaxing experience. 
A Final Word
There is a wide variety of pool floats on the market, but the truth is that most of them are designed for the little ones. That's why we went ahead and created some of the most unique, luxurious, and beautifully crafted floats—made specifically for adults.
If you want to have your best summer season yet, look no further and check outFUNBOY—the leader in fun inflatable floats!
Sources:
https://www.skincancer.org/skin-cancer-prevention/sun-protection/sunscreen
https://www.livescience.com/24592-summer.html
https://www.nhs.uk/conditions/vitamins-and-minerals/vitamin-d
https://www.webmd.com/cold-and-flu/features/what-is-pandemic#1