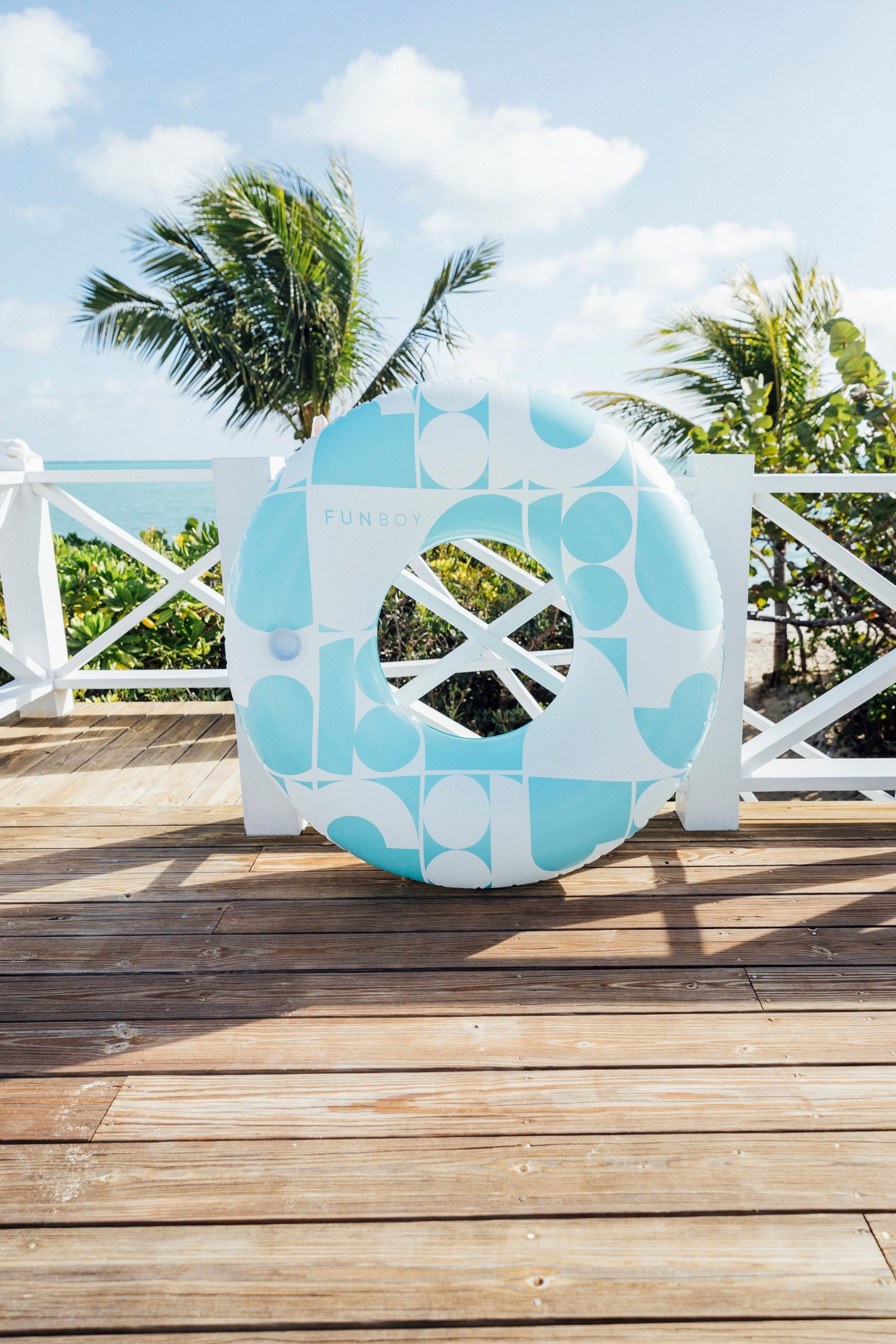 Funny Pool Floats That Will Make Your Next Pool Party A Hit
Truth be told, we probably couldn't love the sunny summer season any more than we already do. However, the one thing that's been making it even better is all the unique pool floats we've been eyeing all over social media. 
But where exactly did these totally awesome inflatables come from? It seems like for the longest time, we were all perfectly okay with the boring solid blue foam raft for the last several decades, and then all of a sudden,POOF, unique pool floats became a recent trend. From celebrities to influencers and everyone in between, fun pool floats are just about everywhere these days, and whatever the reason might be—we aretotally here for it.
This summer, pool floats have taken it upanother notch, and we are now beginning to see some of the funniest floats out there hit the water. From vibrant banana tube floats to giant red lips, you just might be a bit surprised to learn what silly floats you can bring home this year. 
Planning a party by the pool and want to incorporate a few giggle-worthy floaties? We can help! Read on for the funniest pool floats that will make your next pool party an absolute hit.
Pink Retro Convertible
Beep! Beep! Arrive at the pool party in style this year with FUNBOY's Retro Pink Convertible Float. With the wind blowing through your luscious locks and the crisp pool water between your toes, this queen-size daybed is sure to bring on some major giggles. 
Fully equipped with a massive front cooler for ice, fizzy summer drinks, tasty snacks, and more, you definitely don't want to forget this fun pool accessory. This super float is as comfortable as it is luxurious and is designed to resemble a chic, classic convertible, fitting up to two-party friends for a fun floating experience. 
Clear Pink Glitter Unicorn
Want a truly magical floating experience this summer? Of course, you do! And with this hilarious and adorable unicorn-shaped pool float, you can do just that while working on your tan. 
But this isn't just any giant unicorn float like the ones you see all over your Instagram feed. FUNBOY took the classic unicorn and gave it a fun glittery pink remix! It's made with a clear translucent material tinted with vibrant millennial pink and is filled to the brim with glitter for a wild metallic ride. Trot into summer in style on this unique, funky fresh float—trust us, you'll be glad you did!
Golf Cart
If you asked us, some of the best giggle-worthy floaties come in the most creative designs, sizes, and shapes. Take the one and only Golf Cart Float in the world, made by yours truly, FUNBOY. How funny would it be to see your friends casually glide across the pool water on a massive inflatable golf cart? While you can't bring the entire golf course home to the party, you can bring some major golf vibes to the pool with this super float. 
Two pals can lounge effortlessly under the fringe lined removable mesh sunshade while sipping on cool summer drinks. The deliciously soft integrated backrest provides the optimum upright lounge positioning with enough room to fully extend your legs for ultimate relaxation.Ahhh!
Yacht
Don't have a huge, magnificent yacht? Never fear! Pull the anchor and set sail to the pool party with FUNBOY's super luxurious Yacht Float instead! Get on the water in style with the sexiest, sleekest—and dare we say, funniest—float of the season. Featuring a comfy, cozy daybed for two, convenient dual drink holders, and a double reinforced front cooler to fill with ice and your favorite fizzy drink—this float has it all! 
Oh, and the best part? You can bring your fur baby to the party, too, with the matching FUNBOY X Bark Yacht Dog Float! This incredible pup-sized float is engineered with dog-safety in mind and is made with a thick puncture-resistant material. It can carry furry friends up to fifty pounds and comes with a reinforced front treat compartment. With this amusing matching floaty, you will never have to float and party without Fido again!
Pink BananaTube Float
There are definitely some unique floats on the market today that feature fun prints, but our favorite—hands down—is the Pink Banana Tube from FUNBOY. Why, might you ask? Well, for starters, this float"is bananas, B-A-N-A-N-A-S"! 
If you want to bring some serious laughter to the pool party this year, look no further and get yourself this wildly fun Pink Banana Tube Float. With vibrant bananas adorn a chic pastel pink tube and a reinforced cup holder to keep your summer drink firmly in place, once you plop down on this simple yet luxe float, you'll never want to leave the party. 
Giant Red Lips 
Don't feel like floating on a Pink Banana Tube? Never fear! FUNBOY's Giant Red Lips Pool Float is just as comfy and is sure to crack a smile or two. This massive inflatable measures over six feet in length and is ideal for total poolside relaxation. You can lounge on the water with your crush or relax solo with a fizzy drink. However you decide to float, this eye-catching inflatable is sure to leave you and your friends laughing for hours on end. 
Oh, and don't forget the matching FUNBOY 3-Pack Lip Drink Holder—the perfect poolside trio to gently carry your beer, your cocktail, or your favorite summer bubbly. 
Rainbow Cloud Lounger
Want a fun float that is as beautiful as it is comfortable—all while still putting a big smile on everyone's face? Then you need the Rainbow Cloud Lounger from FUNBOY. This incredibly well-designed inflatable is arguably the most comfortable solo pool lounger on the market and is an absolutemust for your next pool party. 
With this float, your party guests will find themselves at the end of a magical rainbow with their heads in the clouds. The oversized cloud pillow will gently cradle their head as the rainbow base delicately floats their body in the water to help keep them cool under the hot summer sun.
Clear Pink Glitter Flamingo
Are you finding that you're no longer the talk of the town with your favorite oversized donut floaty this year?Do-nut worry! You can easily regain their praise with an even more hilariously awesome inflatable. We bring you: the FUNBOY Clear Pink Glitter Flamingo! 
As we're staying inside daydreaming this year due to the pandemicsweeping over the nation, this super fun floaty is a great way to bring the tropics to your pool party. Filled with glitter and perfectly pink, it inflates in less than two minutes and comes with a reinforced cup holder to keep your beer, cocktail, or soda pop firmly in place. 
Pink Retro Phone
Don't worry about taking this pink retro phone into the pool because it will help you dial up an afternoon of fun in the sun! Totally 90's and perfectly pink—the Pink FUNBOY Retro Phone pool float is so cool, you'll definitely be getting tons of summer rings when you float with these flirty digits. As if you need to know more—it's even got a cup holder and a super comfy built-in headrest, so you and your party guest will be straight chillin'. 
A Final Word
If you ask us, laughter is and always will be the best form of therapy. So make your next pool party a hit with a steady dose of hilarious FUNBOY pool floats. Whether you go for the Golf Cart, Red Lips, or Rainbow Cloud Lounger, you can never go wrong when FUNBOY'sgot your back!
Sources:
https://www.livescience.com/24592-summer.html
https://www.who.int/emergencies/diseases/novel-coronavirus-2019
https://www.helpguide.org/articles/mental-health/laughter-is-the-best-medicine.htm
https://www.wonderopolis.org/wonder/how-hot-is-the-sun
https://www.washingtonpost.com/lifestyle/swans-pineapples-angel-wings-how-the-novelty-pool-float-conquered-instagram/2019/06/27/90f99422-91d8-11e9-b570-6416efdc0803_story.html