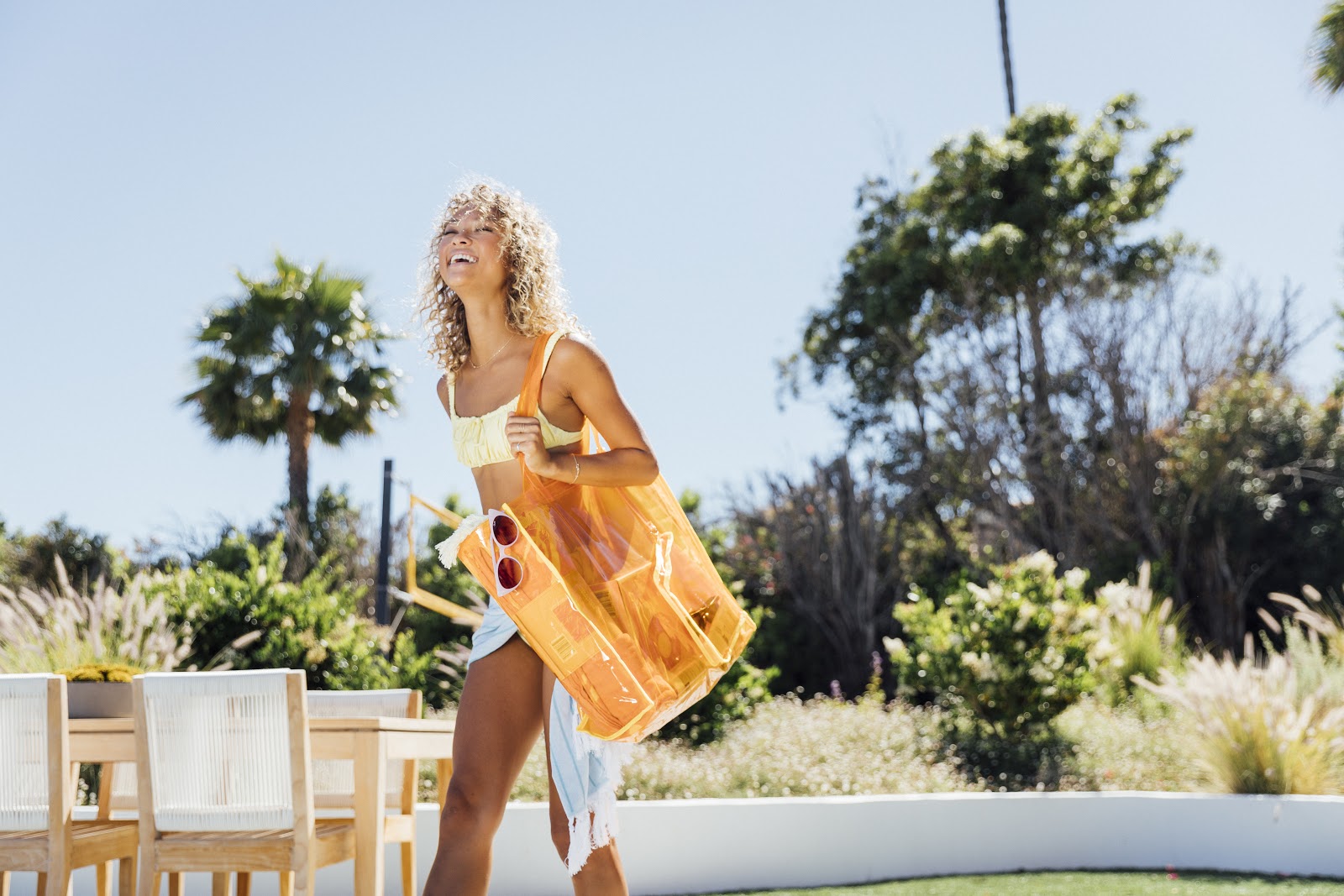 What to wear to a pool party: The Ultimate Do's and Don'ts guide
June 21st marks avery important day. Can you guess why? Because it's the official start of the summer season, of course! And you know what that means, don't you? It's the season for picnics at the beach, backyard barbecues, and of course, pool parties. 
Now, the all-important question of, "What the heck do I wear?" may be lingering in the back of your mind, but luckily, FUNBOY's got your back! We've put together a simpledo'sanddon'tsdressing guide for all of the aforementioned occasions—from the best BBQ-friendly ensembles to wear to today's focus: easy-breezy pool party outfits to try this summer. 
So get comfy and keep reading—let's dive in!
Pool Party Don'ts: WhatNot To Wear
Summer is, without a doubt, the ultimate season for super fun times around the pool. But quite a bit can go wrong if you are not properly suited for the occasion. That's why it's crucial to follow the basics of poolside etiquette in order to make sure you don't draw unwanted stares from other guests. Whether you are hosting a pool party or going to one, there are easy rules to follow if you want to make the right impression by not wearing the wrong thing. 
No matter how much you're tempted,don't wear:
Swim Briefs
If you're going to a pool party and you're not an Olympian, swim briefs (aka the speedo) are a bad call. While this trend is popular in Europe, it hasn't quite made it to American backyards just yet. Go for swim trunks that resemble shorts. These days, they come in a wide variety of colors and patterns designed for the non-professional athletes of the world. 
Oversized Tees
Down-to-your-knees t-shirts should never ever be worn to a pool party, let alone to go swimming. Always dive in the pool without covering up your favorite swimsuit—and don't forget to apply lots of sunscreen before and after hitting the water. 
Hotel Bathrobes
Okay, wearing your hotel bathrobe is just tacky. It shows you're a thief and provides free advertising for the last hotel you spent the night at. Instead, shoes something a little more casual that doesn't scream, "I steal more than just mini bottles of shampoo!"
Leather Bags
Unless you are aiming to ruin an expensive purse or pocketbook when your bestie performs a surprise cannonball, you shouldn't ever bring anything made of leather to a pool party. You can still look great with a great beach tote that can easily accommodate the essentials like sunscreen, a towel, and valuables. 
Stillettos 
High heels are 100% a no-go by the H2O. What if you happen to slip and fall on your way to a chaise lounge? Not good at all. Reach for waterproof sandals that make walking on slippery wet ground way easier.
Excessive Perfume 
Overdo the perfume, and you run the risk of being mauled by bloodthirsty mosquitos once the sun starts going down. Instead, use your favorite fragrance sparingly and enjoy the night itch-free. 
Wool hats 
Sure, wool hats may be hip and trendy, but they are totally not so cool on a blazing hot day. Why not reach for a straw hat instead? Or perhaps something made of canvas to keep you comfortable all day long. 
Flannel 
Flannel is great if you're a lumberjack or gearing up for brisk fall weather. Not so good when the sun's rays are beating down on you, and it sticks to your skin. Try lighter fibers like cotton blends and nylon. 
Excessive Accessories 
Whatever you do, don't overload yourself with big earrings and layered body chains. If you decide to take a dip in the pool, you'll be extremely uncomfortable, and if you're walking around drowning in heavy chains, you'll just look silly. Stick with simple and dainty jewelry instead. 
Pool Party Do's: WhatToWear
To achieve the perfect pool party attire, one has to get just the right mix of sexy yet classy, beachy vibes without looking like they tried too hard. Consider wearing the following:
Wedge or Sandal 
Skip wearing your favorite pair of heels and opt for a cute wedge or sandal instead—anything else just looks out of place. If you're not a fan of wedges, cute strappy sandals will do for a more casual look. But slipping on your favorite nude wedge can make your legs look a mile long. So choose your shoes wisely. 
Maxi Dress Or Cover-Up 
You don't want to show up at the pool party wearing nothing but your swimwear. Wear a flowy maxi dress or cover-up, something easy to throw on over your bikini and take off once you're ready to take a dip in the pool. Keep in mind that it gets pretty hot in the summer, so you don't want to be uncomfortable in tight clothing. Light and airy are the keywords to remember.
In addition to a maxi dress or cover-up, you can also opt for a cute towelthat doubles as a sarong. We love the Villa FUNBOY Beach Towel because it is as beautiful as it is cozy and can be placed in the sand, on a lounger, or worn as a wrap—it's the perfect summer accessory! 
Simple Accessories 
As we mentioned a little earlier—you donot want to over-accessorize with heavy jewelry. Instead, wear simple earrings and dainty jewelry that compliments your outfit. If you go for a trendy body chain, simplicity is key. You may not be lounging around reading a novel all day, but you're still at a pool, so save your favorite statement pieces for the LBD you're wearing Saturday night. 
Beach Tote 
It gets hot in the summer, like,really hot. So when you're heading out to the pool party, it's important not to forget to pack all the summer essentials like sunscreen to protect your skin, a hat to protect your head, and water to keep yourself properly hydrated. Obviously, you don't want to walk into the party trying to balance all of these items in your arms, so get yourself a cute beach tote. 
Not sure where to find one? Add some iridescent pizazz to your look with the FUNBOY Iridescent Beach Bag. Designed in an iridescent transparent PVC with a canary yellow trim, this bag is ready for chic summer fun and is the ultimate accessory to bring to your next pool party. 
The Right Swimsuit
Don't ever leave your house in something you aren't comfortable in. Wear a swimsuit that makes you feel confident and attractive. We're all for teeny-weeny bikinis—especially when you're on vacation—but if you aren't going to feel relaxed in it, then wear something with a little more coverage. Trust us—nothing is sexier than confidence.
Need help finding the right swimsuit? We can help!
If you have a small chest:Finding a suit that flatters your bust can be a bit of a challenge. The best bet for a gal with a smaller chest is to go for a swim top with ruffles or embellishments to give the illusion of a fuller chest. Alternatively, a suit with padding can also help to give you a little something extra. 
If you have a large chest:For the girls with thebig girls, string bikinis are probably not your friend. Underwire and cup sizes will offer you the support you need, so your 'girls' won't be all over the place when you take a dip. Also, keep an eye out for thicker swimsuit straps and double-stitched bands for the most flattering results. 
If you have a tummy pouch: Hiding a tummy is actually much simpler than most people think. A full-piece swimsuit with ruching can easily help to conceal your stomach. Choosing any one-piece with a plunging necklike will also help to keep the focus upwards, rather than on your mid-section. 
If you have a compact, athletic body: The goal here is to give the illusion of more curves, which thankfully can be done easily with a swim top with cups, padding, and gathering, and by picking bright, colorful prints. Don't go for straight-across bandeaus, shapeless full-pieces, or boy-cut briefs, as this will only enhance your athletic figure (unless, of course, that's what you're going for!). 
A Final Word 
Don't get overwhelmed the next time you're invited to a pool party because you don't know what to wear. Instead, follow our list of do's and don'ts, and you'll be good to go!
Sources:
https://www.thespruceeats.com/backyard-bbq-party-recipes-2215728
https://timesofindia.indiatimes.com/life-style/health-fitness/home-remedies/5-scents-that-mosquitoes-really-hate-and-5-things-they-are-attracted-to/photostory/68851472.cms?picid=68851727