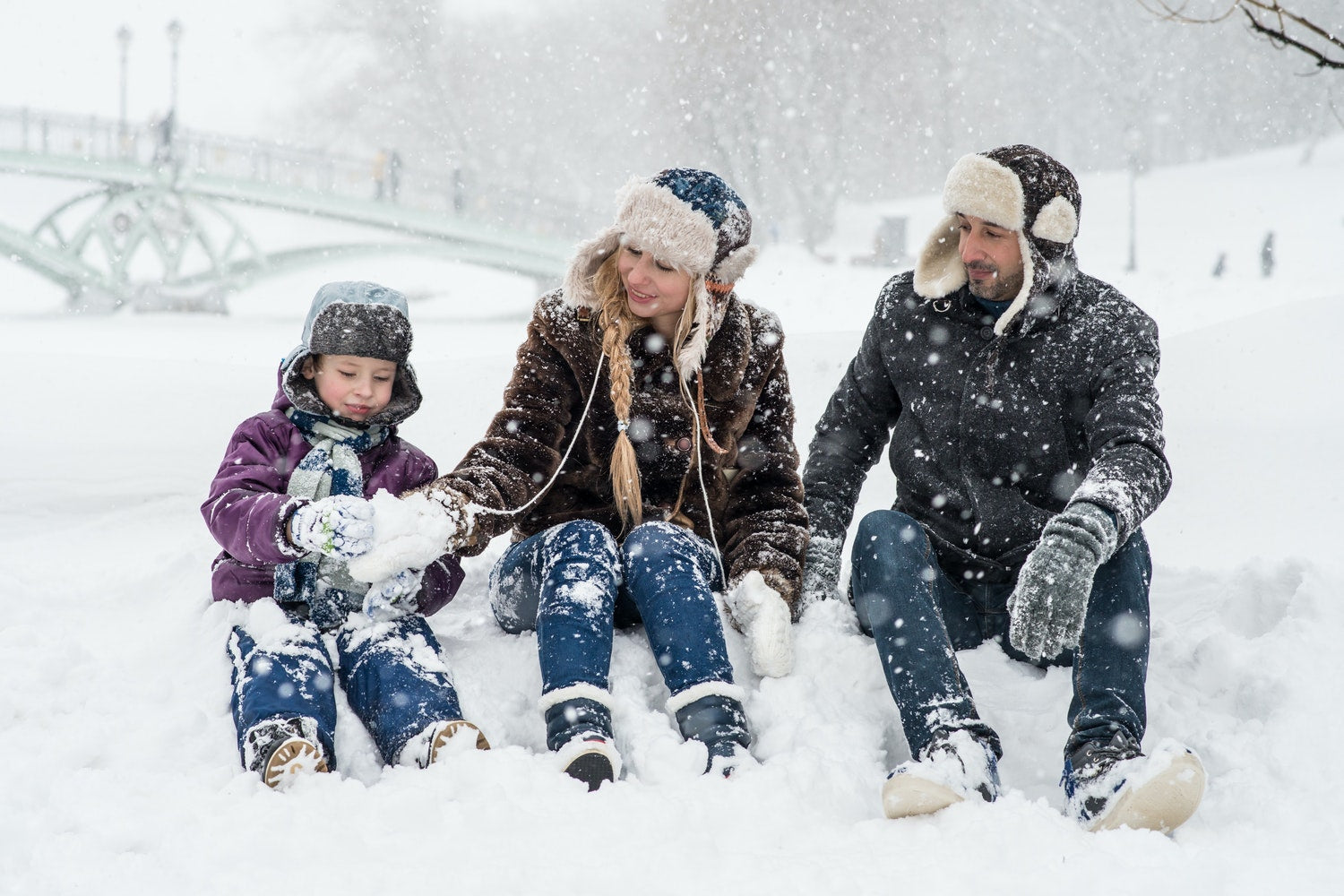 Winter Scavenger Hunt Ideas For Kids and Adults
Winter is almost here… you know what that means, don't you? It's time to stock up on warm clothes, firewood, and epic sleds! 
Here at FUNBOY, we love the magical season and all the joy it brings. From the holiday cheer to spending time with loved ones and incredible activities like sledding, snowball fights, and building snowmen. 
In addition, the most wonderful time of the year makes it socially acceptable to drink hot cocoa on a daily basis, wear ugly sweaters embellished with tinsel, and freeze your gym membership to go snow tubing instead: what's not to love about winter? 
For many folks, however, winter is nothing more than a season dedicated to hibernating indoors. And while the saying goes, "To each, their own," we embrace the chilly weather and couldn't imagine staying cooped up in the house for more than a week.
To add to that, research shows that it's not uncommon to feel down in the dumps as a result of confining yourself to the couch for extended periods of time. The solution? Bundle up and get outside! 
That being said, if you're someone who is not particularly keen on sledding, building Frosty, or taking a snowball to the face, why not try a different winter activity — like a scavenger hunt!
Scavenger hunts have been around for ages. They're a super popular choice for people of all ages and can quickly turn a boring afternoon into an adventure. Need some inspiration to host a hunt of your own? We can help!
Read on to discover the best winter scavenger hunt ideas that the whole family will enjoy. 
How To Host a Legendary Scavenger Hunt 
Whether you're new to the snow or you're a cold weather pro, don't let chilly weather stop you from having a blast this season. A scavenger hunt is a fantastic way to kick monotony to the curb and unleash your true winter spirit in the great outdoors.
And the best part? You can do a hunt just about anywhere: the local park, a walking trail, and even your own backyard!
Hold Up — What Exactly Is a Scavenger Hunt? 
If you've never had an opportunity to engage in a scavenger hunt, then you're in for a real treat.
This exciting activity is a game in which the players (either teams or individuals) compete to see who can obtain the most items from a list. 
Sounds easy peasy, right? Well, not necessarily… 
Usually, the scavenger hunt organizers come up with a list of very specific and sometimes strange items. What kind of items, you ask? It could be literally anything. 
Some examples might include a feather, beach towel, bar of soap, a coin from a specific year, or a pink flamingo pool float.
But that's not all. On a scavenger hunt list, there could also be interesting challenges that you would need to perform, such as giving a compliment to a stranger, dancing down the aisle at the local market, or having to chug a bottle of water before moving on to the next task. 
To make things even more challenging, there are often rules such as:
Item purchases are not allowed.
You must snap pictures of the items.
If you're on a team, no splitting up to go on solo missions to find the scavenger hunt items.
In most cases, the winner of the contest is usually the first group (or individual) to have successfully hunted down all of the items on the list. In other cases, the scavenger hunt is timed, and the champion is usually the team (or individual) who gathered the most items within that set period of time. 
Sounds a Whole Lot Like a Treasure Hunt… 
While the two types of hunts are pretty similar, they are different:
A scavenger hunt is an activity that has participants run around trying to find and collect different items, as well as perform silly activities or challenges from a predetermined list. 
On the flip side, a treasure hunt typically involves participants finding clues one at a time. Each clue leads the group to the next clue and so on until the treasure is ultimately found. 
Makes sense? OK, great — moving on!
Tips, Tricks, and Ideas: The Ultimate Winter Scavenger Hunt 
Now that you know exactly what a scavenger hunt is, it's time to explore the best tips, tricks, and helpful hints for both kids and adults. 
Plan, Plan, and Plan 
The difference between a good scavenger hunt and a great one all boils down to planning. 
First things first, decide on a day and time for the scavenger hunt and invite all of your friends and family members. If you have little kids running around and want to include them in the festivities, make it known that the event will be kid-friendly and encourage your pals to bring their tiny tots along.
Before the scavenger hunt, plan on providing a few refreshments to keep everyone's bellies full and happy. If you would like to make things easy, make the gathering a potluck and ask everyone to bring a warm dish. 
Whip up a batch of soul-warming hot chocolate and spiced apple cider to keep the chills at bay. If the scavenger hunt will take place mostly outside, set up a few lawn chairs for seating, and if you have a fire pit, stock up on firewood.
 If a winter walk around the neighborhood seems too chilly in these cold winter months, there is no need to summon your inner backpacker and go on a hike. In the frigid months between November to January, you can absolutely take your outdoor scavenger hunts and transform them into an indoor activity.
Host your own winter scavenger hunt in your house. Then, after you can host a movie night and sleepover in your family room (this is especially great for younger children). Perhaps a prize for completing the mission could be picking the movie!
Keep It Wintery 
As mentioned earlier, there can be literally anything on a scavenger hunt list. However, since this is a winter scavenger hunt, you'll want to stick with fun things that spread holiday cheer.
You can make your own list that can involve crafts or looking for winter items. Note that some categories on the checklist are not things you can carry (like bare trees or bird nests). In that case, encourage the big kids to bring a smartphone or camera to snap pictures.  
Here are a few awesome ideas that the entire family will love:
Make a cup of hot cocoa and drink it
Decorate a cookie
Grab your FUNBOY sled and zip down the local hill two times
Take a picture of a icicles
Collect 10 pinecones, leaves, or berries
Take a break to use your inflatable shotski (adults only)
Knock on a well-known neighbors door and sing a holiday carol
Make 20 perfect snowballs
Grab some crayons and draw a picture of squirrels in a scarf (or other winter gear)
Race a buddy down a snowy hill on FUNBOY's Snowmobile Sleds
Locate a snowflake cookie cutter in the kitchen
Do your best impression of Santa Clause for two minutes
Take a picture of deer animal tracks or boot prints
Grab a refreshing drink from the cooler and drink it
Don't Forget the Sleds! 
Nothing is more fun than zipping down a snowy hill on a great sled with good company. After the winning scavenger hunt team has been dubbed, invite everyone to go sledding. 
Or, even better: make sledding part of the challenge. Nothing says "teamwork makes the dream work" better than some mandatory team projects.
For your epic winter scavenger hunt, make it part of the challenge that participants must get from location to location in a Snowmobile Sled. This sled pays homage to classic snowmobile vibes and colors of the 1970's retro ski era. 
If you have a whole bunch of contestants, try something roomier. The beautiful Alpine Winter Snow Sleigh can fit two riders and will look picture perfect as the victors come racing down the hill. 
Our luxe inflatable sleds here at FUNBOY are quite literally the most fun ever. Unlike bulky traditional sleds that can sometimes weigh over 100 pounds, our inflatable sleds are unbelievably lightweight. 
Stylish, strong, and durable, our unique sleds are truly one of a kind and will certainly be the talk of the town. 
The (Competitive) Holiday Spirit 
This winter, break up the monotony and try something new — like an exhilarating winter scavenger hunt! 
A scavenger hunt is an excellent way to bring friends and family together to make memories and enjoy the beautiful winter season. Perfect for both younger kids and adults, you truly can't go wrong with this activity.
As long as you put together an epic list (and check it twice, just like Santa), serve yummy hot cocoa, and stock up on unbelievably cool sleds for endless sledding fun, your scavenger hunt will be one that won't ever be forgotten. 
Ready for an incredible sledding experience? Check out our inventory of high-quality inflatable sleds today and be the talk of the town tomorrow!
Sources:
Why your seasonal affective disorder could be worse this year | WHYY
10 Ways to Spread Holiday Cheer Volunteering | AARP
Vitamin D lifts mood during cold weather months, researchers say | Science Daily