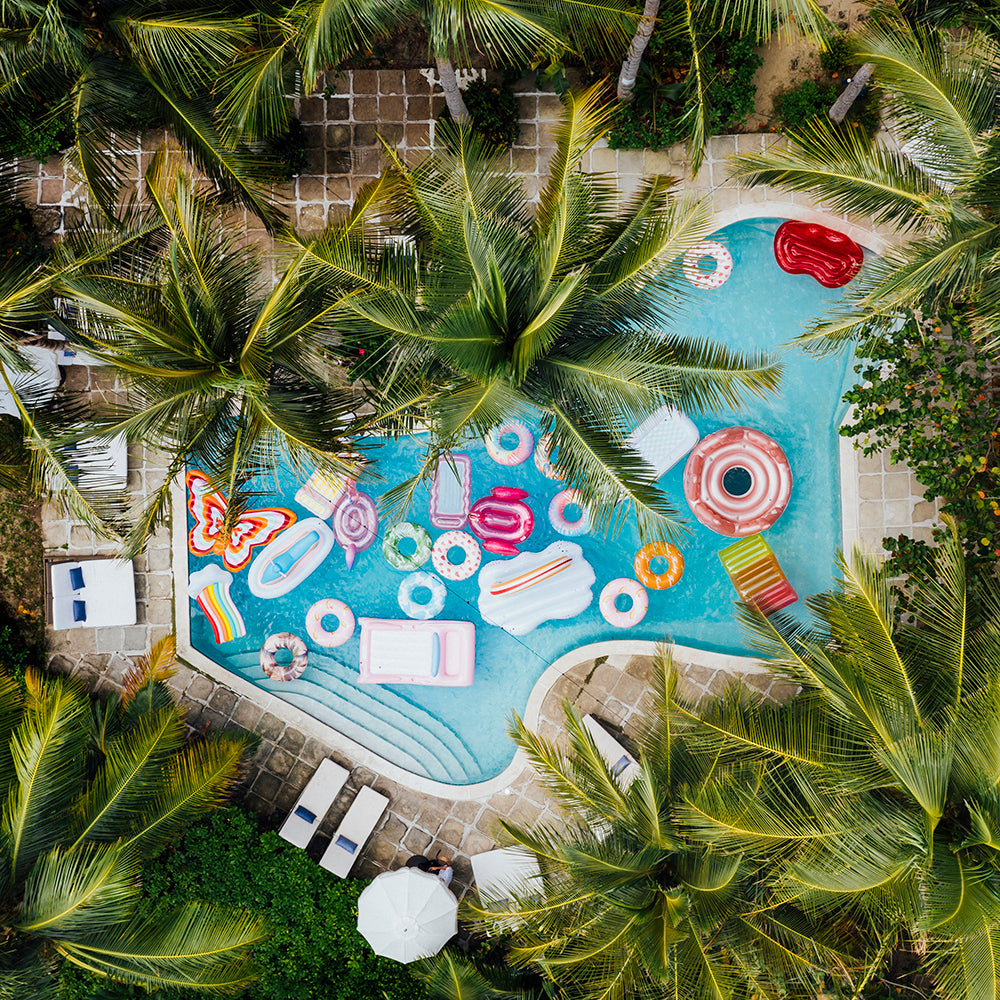 Best Pool Floats For Adults For Staying Cool All Summer Long
If you ask us, there's nothing better than slipping into your favorite bathing suit on a hot summer day and taking a dip in the pool. And if you have a pool or are lucky enough to have access to one, you're going to want to maximize your time having fun in the sun with a totally awesome and comfortable pool float, right?
We thought so!
In addition tosunscreen, cold drinks, and your best pals, good quality pool floats are an absolute must for days spent lounging in the water. Luckily, there are a ton of fun pool floats to choose from, including options for kids, babies - and even your furry friends. But what about the adults? 
If you're preparing for the sunny season and are looking for great ways to lounge in the water - you came to the right place! Keep reading for the best pool floats made specifically for adults to stay cool all summer long.
Summer Pool Floats 
Gliding blissfully across the glassy surface of the cool pool water while basking in the warmth of the sun - is there any better way to spend a summer day? Pool floats have become exceptionally versatile - perfect for the kiddos who are ready to play, parents who are ready to relax, and everyone in between. They're a necessity for a summer spent in the water. The only question is, which pool float is right for you? 
When shopping for a pool float specifically designed for adults, you'll discover an incredible variety of designs, construction styles, and materials. You'll find floats that let you recline or sit up, cool off in the water, or stay nice and dry. With so many options, the only thing left to wish for is an endless summer. 
Ready to pick your float? 
Fun Inflatable Floats 
If you're searching for a float that's as fun-in-the-sun as it is Instagram-worthy, look no further and get yourself a unique inflatable float. Colorful, easy to fill, and loads of fun, inflatable pool floats bring a touch of color and whimsy to your day at the pool. 
Inflatable floats come in a wide variety of designs that are sure to tickle just about anyone's fancy. Here are some of our favorite fun inflatable designs that you should definitely check out this summer season:
Butterfly Float
If you've ever wanted to float through the summer breeze as effortlessly as a butterfly,FUNBOYhas your back. With theFUNBOY Butterfly Float, you can add a pop of color and style to your pool day as the giant 9ft wingspan of this unique float gently hugs you for a romantic floating experience. 
The Butterfly Float features bold, beautiful colors on the front and a soft, simple pink on the back - mix it up depending on your vibe. This inflatable is sized perfectly for one or two friends and is perfect for a day at the pool. Be sure not to forget the matchingFUNBOY Butterfly Drink Holder to gently carry four of your favorite beverages on your relaxing pool day adventure. 
Clear Pink Glitter Unicorn Float
Trot into summer with theFUNBOY Clear Pink Glitter Unicorn Float. This beautiful float is made with a translucent material tinted with millennial pink. Filled with glitter for a magical touch, the FUNBOY Unicorn Float is sure to change the mind of any non-believer. Unicorns do exist!
This eye-catching float is big enough to hold two friends and a cold drink for an enchanting floating experience. 
Pink Banana Tube Float
Who doesn't love a good tube float? We sure do! Go "bananas" and spend the summer floating around the pool on FUNBOY's wildly funPink Banana Tube Float. This oversized design features big bright bananas adorn a pastel pink floaty. And of course, it comes with a reinforced cup holder to keep your favorite fizzy beverage perfectly in place while you relax.  
Lounger Floats 
A floating pool lounger is an excellent way to take it easy while spending time outside and getting your daily dose ofvitamin D. With a pool lounger, you can tan, read, or hang out with your besties while you float around aimlessly. When it comes to the best floating pool loungers, here are our top picks:
Clear Rainbow Chaise Lounger
If you want an unbelievably comfortable floating experience, look no further and relax on theFUNBOY Rainbow Clear Floating Lounger - the ultimate floating chaise lounge chair. FUNBOY's unique tri-color design creates a breathtakingly beautiful ombre effect on the water and is sure to melt your troubles away. The extra-thick, smooth, transparent material allows you to see through the chair and into the clear pool water, creating unique and stunning hues that change throughout the day depending on the light.
In addition to the pool, this versatile floating chaise can also be used comfortably on land. Use it in your backyard for ultimate relaxation on the grass, or bring it to the beach for some serious comfort in the sand. Whether you want to use it in the pool, chilling poolside, in the yard, at the beach, or for that special summer event, theFUNBOY Rainbow Clear Floating Lounger is, without a doubt, an excellent choice.
Clear Pink Mesh Lounger
Enjoy lounging in the pool while still being able to enjoy the feel of the crisp water around you withFUNBOY's Clear Pink Mesh Lounger. This simple yet luxurious float has a perfectly sculpted shape that gives the feeling of laying in a mini-hammock. Coupled with the elongated mesh bottom, you are sure to stay cool while enjoying the sun's rays. It also has a drink holder for your favorite summer beverage and a soft headrest for ultimate comfort and relaxation.  
Rainbow Cloud Lounger
Arguably the most comfortable solo pool lounger in the world, theFUNBOY Rainbow Cloud Lounger, will put you at the end of a rainbow with your head in the clouds. The colorful rainbow base allows you to be semi-submerged in the water to keep your body cool under the hot summer sun while the oversized cloud pillow cradles your head for an incredibly relaxing floating experience.  
Daybed Floats
If you want to read, relax, sleep, or even do yoga without ever having to leave the pool, you should definitely consider a daybed float. A daybed float is the perfect summer companion for any day in the water. Here are our favorite daybed floats for your next pool day:
Retro Pink Convertible Float 
The wind in your hair, the water on your toes - it's not the destination, it's the road you take to get there! Arrive at the pool this summer in style with theFUNBOY Retro Pink Convertible Float. Take a joy ride around the pool in this luxurious convertible fully equipped with a massive front cooler for ice, drinks, speakers, and more. This queen-size daybed is designed to resemble a classic convertible. The pink float with a retro design has a windshield that doubles as a headrest, aFUNBOY license plate, and decorative fins. 
Big enough to fit two adults, this float is, without a doubt, the coolest ride for the pool. 
Rainbow Cloud Daybed
Sure to brighten anyone's day,FUNBOY's Rainbow Cloud Daybed takes luxury to a whole new level. Featuring over 50 square feet of lounging paradise, this beautifully crafted float is uniquely designed for the ultimate comforting and relaxing experience. Grab your besties and float blissfully on the snowy cloud beneath the magical rainbow. But don't forget to pair your float with the dreamyRainbow Cloud Floating Bar to gently carry all of your favorite summer drinks.
Modular Sun Floating Daybed
Why float alone when you can float with your friends?The FUNBOY Modular Sun Floating Daybedis a pioneering float system that provides endless summer possibilities for up to six friends to lounge in complete luxury. Each beautifully designed float features five bungee cord quick connections to connect each oversized daybed independently or configure into a number of different float combinations. When each float is connected together in theline-up configuration, the entire modular system measures twenty feet long. 
Each floating daybed comes with one individual cup holder to perfectly cradle your beverage while the oversized backrest keeps you comfortably upright. Whether you are looking for a unique floating experience with your pals or want to float solo, theFUNBOY Modular Sun Floating Daybed is the perfect addition to any day in the pool. 
Recap
The market is saturated with pool floats. A quick google search will provide you with a sea of options. But when picking your very own adult pool float for staying cool all summer long, keep in mind that not all floats are created equal. 
Avoid heart-break from a cheaply made float and be sure only to purchase from a stellar company likeFUNBOY- the leader in fun inflatable floats!
Trust us, you'll be glad you did.
Sources:
https://www.unitypoint.org/desmoines/article.aspx?id=e0a22a4f-77c7-4a9a-b779-ed3c37956982
https://ods.od.nih.gov/factsheets/VitaminD-HealthProfessional/